Jay Gray reveals the details of the Sago Street bar he's built with Desiree Silva and George Abhishek, hoping to open soon after Singapore's lockdown is lifted. By Holly Graham.
A ginger monkey, a dapper gent and a hospo rockstar walk into a shophouse. There's no punchline – they just go right ahead and get to work, and Sago House is born.
The almost-ready-to-open bar by ex-Monkey Shoulder brand ambassador Jay Gray, Spiffy Dapper (Singapore) owner George C Abhishek, and hospitality powerhouse Desiree Silva (28 HongKong Street and EC Proof, to name but a few) has taken shape but like many, can't open due to Singapore's "circuit breaker".
"It's kind of been a blessing in disguise," says Jay. "I feel like if we'd have opened our doors before the pandemic, we may have been caught off guard in certain areas. Now we've got the time to refine the venue and take a closer look at the details."
So what of this bar-in-waiting? What can guests expect when they ascend the stairs to the old Singapore shophouse? "We didn't want a 'concept' bar," states Jay. "In the last five years or so, there have been a lot of really strong concept bars in Asia, with places like Junior (Singapore) that even change their concept every six months." Instead, Jay and the team harkened back to their past, noting what they loved about the bars they'd worked at before, and creating something that wasn't so strict that they couldn't change it up.
"We opened this bar with very little money and no investors – we knew we could build it ourselves"
From the way Jay describes it, it seems as if the fit out speaks in place of any firm concept. "We opened this bar with very little money and no investors – we knew we could build it ourselves." The team – who were all still working full time jobs during the build-out – worked every night and weekend, pouring their wages into the project but still keeping the purse strings tight.
"Aside from the aircon installation and a bit of plumbing, we did everything else by hand, learning from YouTube," explains Jay. "I grew up in the country where there wasn't much to do besides manual labour, so I learned bricklaying, tiling and electrics. I've wired the whole bar myself, so if it fucks up, I've only myself to blame!"
George and Desiree are credited with some ingenious upcycling ideas, reaching out to people in different industries to see what their waste was and how they could use it. For example, they acquired coffee bean sacks from local coffee companies to upholster the bar's banquettes. They also reached out to bars that were closing or changing concepts to see what they could salvage, creating what Jay calls a "mish mash vibe. But we have these beautiful, traditional Singaporean lime green stained-glass windows, and we wanted a theme that would complement them, so went for Southeast Asian textiles and prints, earthy colours and lots of plants inside and out on the terrace."
The team felt that a majority of bars only cater to nighttime drinking, with low lighting and shadowy corners. Wanting to utilise their terrace and appeal to early imbibers, the decor lends itself to daytime drinking with what Jay calls a "light, bright and refreshing scene".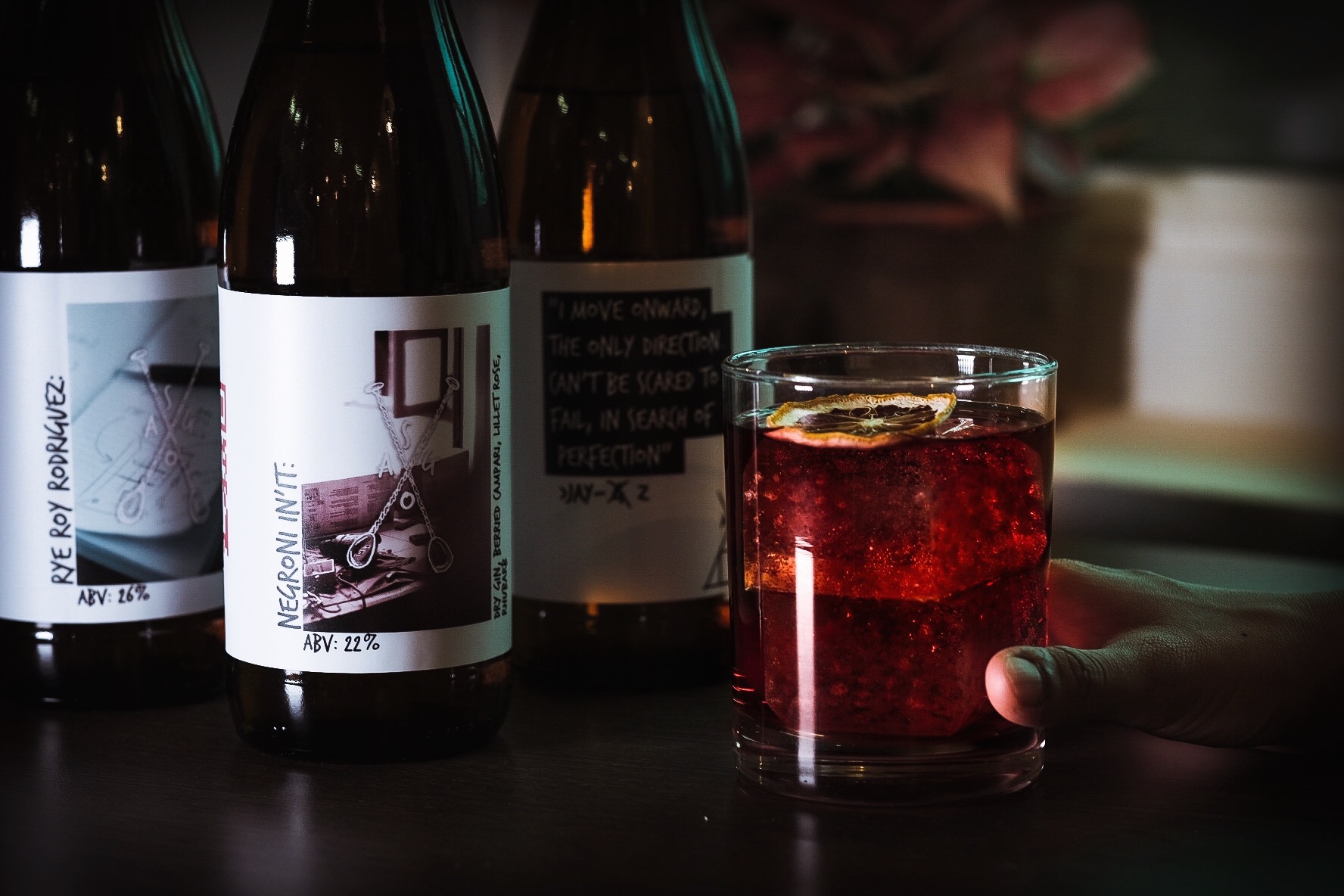 Cocktail-wise, Sago House strives to be as creative as possible without new technology. "A great menu is all about keeping it fresh and balanced – that's what keeps people coming back," says Jay. Inspired by his time at Sydney's Bulletin Place – which has a weekly rotational menu of six cocktails – Jay is focusing Sago House's menu on six core drink styles: Martini; Old Fashioned; Sidecar; flip; highballs and sours. "We base each of our six drinks on one core style, so we'll always be serving that cocktail, but it'll be a different flavour each week."
It also allows Sago House to support the f&b community from a sales perspective, because – as Jay explains – weekly rotating drinks means brands can also be rotated and therefore stay proportional.  "No one's getting preferred pour or treatment. At the end of the year we'll review how each brand has supported us – not financially – but asking did they come to the bar? Did they bring friends? Those who are most engaged from a personal and professional perspective will get a bigger share of the pie in the following year. It comes down to brand synergy, i.e. who isn't just looking for a quick buck."
In an ideal world, Jay says the bar will open from noon until midnight. Sago House has a coffee machine but due to Singapore's lockdown, the team has lost potential baristas. "We may lease out the space during the day to a more experienced cafe operator – a young person with great talent, and we can help with their business aspirations and avoid working long hours ourselves."
It's then that Jay really distills it down to what Sago House is all about: learning. "We are a learning bar," he explains. "We don't want to be full time owner-operators for the lifespan of this bar. We want to get it to the best place it can get to, and then start giving parts of it away. We'll get it to where it needs to be, refine everything and then we plan to slowly introduce someone in to see if they can keep it consistent, or – in an ideal world – make it better."
"We're putting it in decent glassware, and it's a fucking good drink, chill. You're gonna have a good time"
The importance of this is what Jay calls Singapore's "saturation of time and talent. You don't get to see as much young blood rise up through the ranks as quickly as you would in say, London. And you also don't see owners or managers having the time to share their knowledge with their younger staff." Jay points out it'd probably make their lives a lot easier to get experienced talent in from the get go, but says: "These skilled people already have heaps of jobs going for them, so we are looking out for those with great potential whose talents go unnoticed."
The bar, though not physically open, has been running online to facilitate deliveries and Jay says he's surprised but happy with the customers they're getting. "They fit into our mid-twenties to thirties age brackets but we're attracting a lot more young professionals than I thought we would, along with a pretty artsy crowd."  Jay attributes this to Desiree's "master promoter" prowess, having such a wide network full of those wanting to support.
"It's hard to predict what kind of personalities we will have until we open the doors, as we are a personality driven bar," says Jay. "We don't have a million-dollar fit out or new technology but we do have tasty drinks and great hospitality skills." Jay says that time will tell, but right now they're viewing their online customers as new friends, chatting to them after they order to see how the drinks are, which have – to Jay's surprise – been turning into friendly and personal conversations.
What it comes down to for the team is avoiding trying to be something they're not. "Sago House is built by hand, cheap and cheerful and it would be disingenuous if we came out saying 'we have the finest bespoke cocktails in fancy Japanese glassware.' Nah man, we're putting it in decent glassware, and it's a fucking good drink, chill. You're gonna have a good time."
And hopefully, with Singapore's f&b establishments allowed to open this Friday, June 19, you'll be able to have that good time sooner rather than later.
Sago House 40B Sago Street, Singapore. shop.sagohouse.sg