Jay Gray, founder and CEO of Sago House, Low Tide, Ghostwriter and Underdog Inn shares all on the group's two latest venues. By Holly Graham.
Jay Gray has long been a presence in Singapore's bar industry, making his mark in the Lion City as a brand ambassador for Monkey Shoulder. He finally took the leap into ownership, opening Sago House during the COVID-riddled summer 2020, shortly followed by Low Tide. In 2021, Sago House clocked in at 49 on Asia's 50 Best Bars, jumping up to 31 in 2022 and 51 on The World's 50 Best Bars 51-100 list 2022. Jay himself was ranked in Prestige magazine's 40 Under 40 list, and is currently listed at 25 on the Bar World 100 list of the most influential people in the bar industry. Not bad, but seemingly not enough for Jay and his business partner's George Abishek and wife Desiree "Dezzy" Silva, who have just flung open the doors to new venue Underdog Inn, and repurposed their Dirty Supper space above Low Tide to become Ghostwriter.
Jay describes Underdog Inn as another venue that goes back to their roots, drawing from the music and art he grew up loving. "I've always been into hip hop, jazz, soul and funk – especially the structure of the storytelling and the message that old school hip hop promoted about overcoming struggle or achieving greatness against all odds." 
The juxtaposed decor features street art and works by Keith Haring and Jean-Michel Basquiat at eye level, which contrasts with the plush leather banquettes and American walnut tables. "The setting is that of an Irish tavern in Brooklyn that has been reclaimed by the streets," explains Jay. "We start the evening with the sounds of Kamasi Washington, Guru and Erykah Badu and move progressively through different genres of hip hop to match the energy throughout dinner service into a more drink focussed environment."
Underdog's kitchen features an open fire grill with two smokers working overtime on a selection of aged meats. The kitchen team works nose to tail in the butchery, ensuring that there are daily specials as they work through the different parts of the animal. Ensuring nothing goes to waste, even the potato skins from the bone marrow mash are turned into delicious snacks.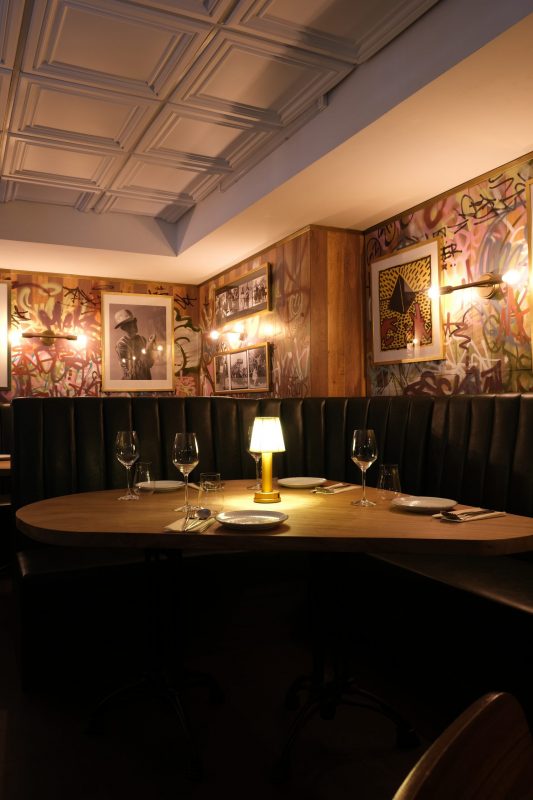 The bar program is headed up by Lee Rosli and focuses on 12 kegged and tapped cocktails including a mixture of carbonated highballs, nitro Old Fashioneds and mixed gas sours. "This isn't our first foray into carbonated and kegged drinks, but it's certainly our most extensive," says Jay. "We are also slowly building a backbar of batched classics to sit alongside our agave and whisk(e)y collection."
The team is passionate about both spirits as well as spirits education with Jay explaining: "In my opinion, education is a huge part of what we as hospitality professionals should be pushing, so the team and I select one bottle of agave and one bottle of whisk(e)y to present to tables during dinner for impromptu tasting sessions."
Alongside all of this, Underdog has six beers on draught – including Guinness, as well as a wine menu that has been written and consulted on by Tim Dopson of Tippling Club.
"The menu we are designing is based around an old comic book called History of Hip Hop that I found for our "reading material" in the Sago House toilets. It tells the story of hip hop's inception from Afrika Bambaataa spinning in the parks of Brooklyn, and demystifies rumours and misconceptions about who started what. There are 11 episodes of the comic book and they're beautifully drawn and hilarious to read. I figured if we were going to use paper in the venue, then it should be on-concept and entertaining," Jay concludes.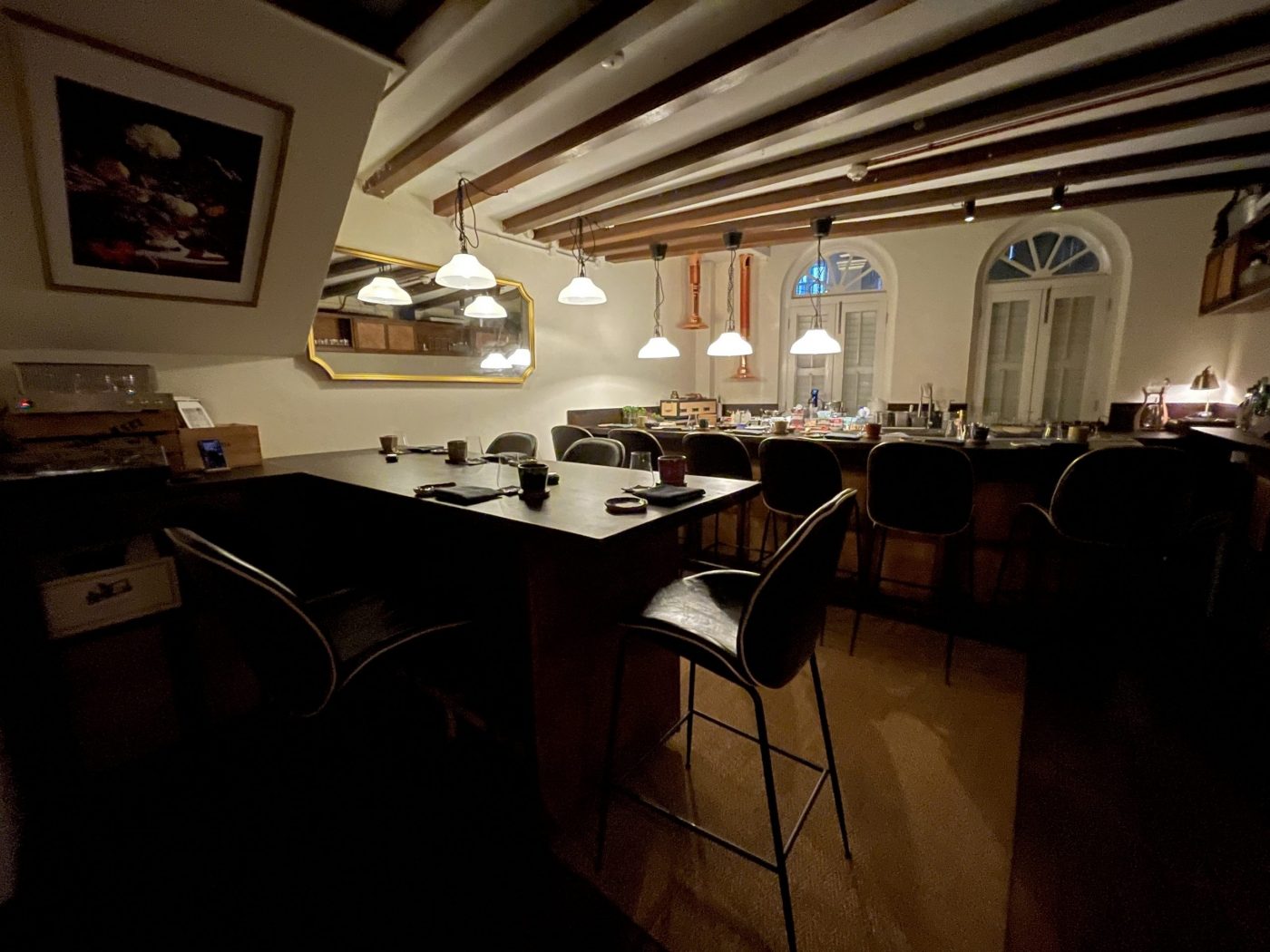 Above their second venue Low Tide, Jay and team used a small 10 seater space to incubate a restaurant called Dirty Supper, but as executive chef Pete Smit has taken the lead on Underdog, they decided to wind down operations at Dirty Supper until its new permanent home is ready later this year. Not wanting the space to go to waste, Jay created Ghostwriter. 
"I often get asked about how to start or build a bar and it's usually a few rushed conversations in the middle of my work day and I'm not too sure if it's ever really any help to those who ask. I know there's so much more to opening a venue than I could offer in a coffee break, so Ghostwriter is my solution to that problem," he explains. 
The venue is an open space that budding hospitality entrepreneurs can use to launch or test drive a concept without decimating their finances or renting a space for the minimum lease period. 
"Anyone interested can pitch their concept to me, and if I think they've put proper thought into it and they present something that is more than just a money making hobby project, I will allocate them a month to use the space to test run it. Some operators will need a longer runway to dial in the concept and get things together, and more seasoned professionals can move right in," Jay explains. He then acts as a mentor, guide or even just a landlord or investor depending on the level of help and guidance needed.
The venue has all the necessary equipment that most concepts would need, so there are almost no upfront costs to the tenant. Alongside that, they have a marketing and PR team that will help the budding team bring their digital presence to life. Whoever is operating the space will take the lion's share of the profits and will also learn how to negotiate deals like gross turnovers in the process. "You can't really put a price on years of knowledge and learning from one's mistakes, so instead of doing a traditional consultancy we are giving people the power to make money, learn, prove a concept and attract investors with basically no risk."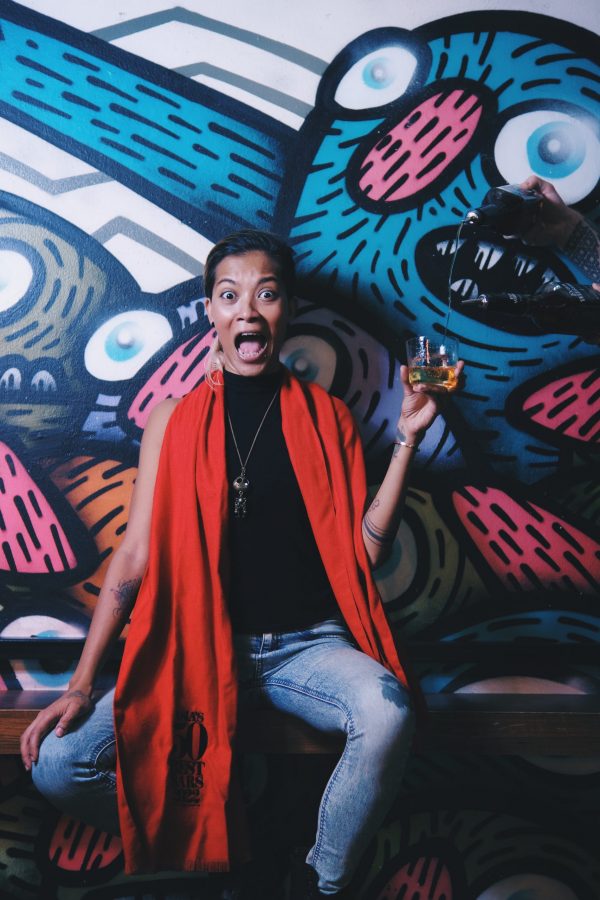 Considering Sago only opened in June 2020, and only really got off the ground once Singapore lifted COVID restrictions, the expansion to include three more concepts has happened very quickly, with Jay saying it feels like just yesterday that he and Dezzy were living in Sago just to make ends meet. "I guess you could call us opportunistic," laughs Jay. "We aren't particularly financially motivated to expand nor are we "starving artists" who just need to get our work out into the world. Every time we see an opportunity, we look into it thoroughly and consider the important things like how it will affect the culture of our people or if there are enough people to make this work."
Jay says he feels as if they are at a turning point of business ownership. "I sense that maturity has set in and we are staying true to our vision and mission but also understanding more every day, meaning we can't base venues or concepts around an individual. Our hiring practices have always been about giving people a fair shake, working to their strengths and welcoming them into our culture. This hasn't always worked out in our favour, but we are always ensuring that our culture is protected and bad apples are removed. Staffing has been and remains to be the most challenging aspect of operating any venue. That said, the highs of the last few years have really been in watching our team grow into new positions and even ownership. It's the most rewarding part of building something – letting those that you teach take the lead."
Dezzy and Jay started dating and very quickly moved on to opening Sago House, and Jay adds that to say they've been through a lot together would be an understatement. "She has always believed in what we do and was more than happy to take risks together and be uncomfortable living in the office at Sago for over a year with me just to get it off the ground. She's my rock."
That being said, when it comes to operations and service, they have the same goals and mostly the same tactics, as well as the same sharp wit and fire in their hearts. "I think it's what made Sago kind of fun and edgy during service as we were both each other's cheerleaders but also quick to turn on one another with every dropped docket or missed pick up."
Last year the couple decided to divide and conquer rather than work the same shifts together and Jay thinks that was a really healthy decision. It also makes the rare services that they do together a lot more special and fun. "Outside of that, we just naturally solve issues in the business together and help each other out when we are stuck on a problem." Jay also recommends having someone like George involved in a business that involves family. "George is the glue that holds everything together and he also has the final say when settling any disputes. Without him I think our relationship and business would have run the risk of becoming emotionally toxic. He keeps us both in check and ensures that we are leading with our heads and hearts, not only one or the other."
Sago House and Low Tide undoubtedly brought something unique to Singapore's bar scene, but what does Jay think the city needs more of? "That's an interesting question," muses Jay. "With Ghostwriter, we really hope to find out what's next. I think that the Singapore public has kind of been demoralised post-COVID and are being very specific about where they spend their time and money – this tends to be more environment-based than offering-based, but with a focus on quality."
Jay has noticed that guests are trending towards coming for the people and staying for the service, adding: "After all, it's 60% of what they actually pay for when they drink or dine with us, which I think all operators should be looking into. Cost of goods and business can get dialled in very quickly in an F&B establishment, but culture, team and guest experience is the most important and by far the hardest to perfect." 
With Jay and his team going pedal to the metal, it only seems natural to ask what's next. "Hopefully, this year will simply be a year of consistency and structure building," says Jay. "We have more than enough businesses to manage and Kes-Sho Glassware is taking off well and we want to expand it this year, but in reality, we remain a people-focused group and I really want my people to get the best they can out of 2023."
Anyone wishing to pitch to Jay for a spot at Ghostwriter should email him at Jay@sagohouse.sg