At their second venue, the team has zeroed in on European tradition – but not without some local touches. By Elysia Bagley.
Three years after opening as Guangzhou's first speakeasy, Hope & Sesame is a household name when it comes to China's bar scene. In November, it won two awards at our own DMBA 2018 for China Bar of the Year and Cocktail Program, and has spent the past few years earning itself a place amongst the country's most well-known cocktail bars – in a scene traditionally dominated by Beijing and Shanghai. Now, the team is onto their second concept, a traditional Italian café nestled in traditional Chinese settings.
Located just a stone's throw from Hope & Sesame in a historic three-storey brick house, Charlie's is serving up modern European with Chinese inspiration in the form of lesser-known cups of craft coffee, twisted classic Italian cocktails and a localised combination of the two. In Guangzhou, it's a novelty. Though it may be China's most populous city, it's still a developing market in terms of the international f&b scene – a fact that Hope & Sesame founders Bastien Ciocca and Andrew Ho are well aware of.
Having already gone down the bar route, and both having backgrounds in not only bars but hotels and restaurants, too, they wanted the next venue to explore more of their interests, and incorporate elements of their past. "We don't want to be only focussed on one thing and just stick with it," shares Bastien. "We are pretty much passionate about everything f&b and crazy about coffee, which is really a completely different industry to bars and restaurants. We wanted to create something where coffee is a big focus."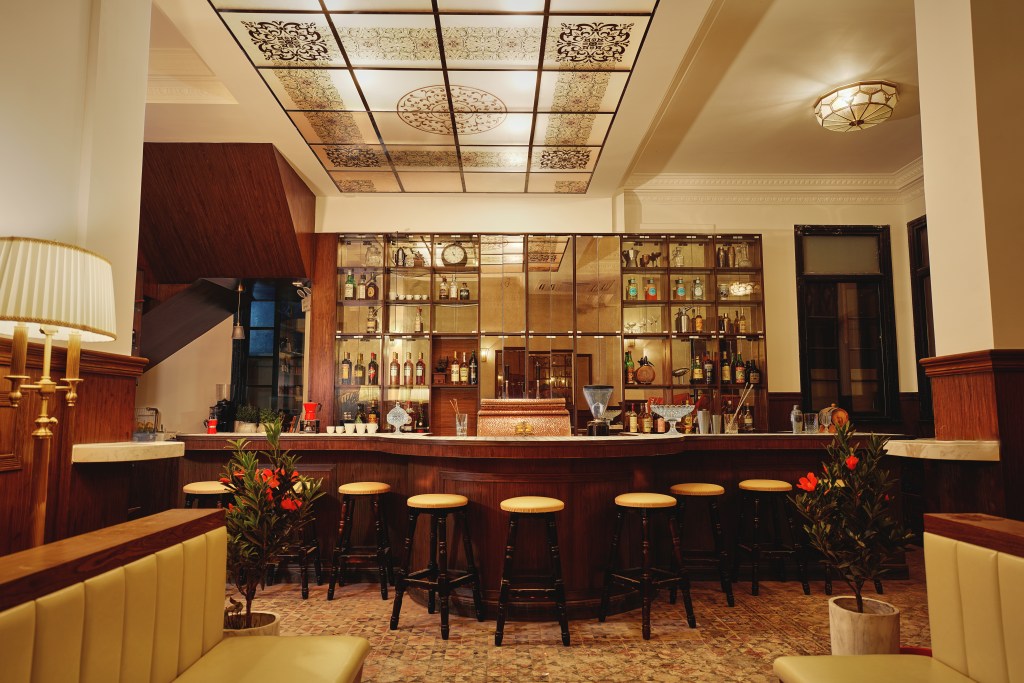 And so it is: at the forefront it's all about coffee cocktails and styles of coffee which are unique to China, but common in Italy (and predominantly northern Italy, to be exact). "There are a lot of coffee shops popping up everywhere, and everyone goes the same route: Japanese or Australian style, with drip and pour over coffee. The style tends to be kind of stiff – we wanted to almost do a 180 from that, and do something in a way that's a bit unknown to locals," says Bastien, "as in Guangzhou, people still don't know much about coffee." He continues to say that while obviously everyone knows standard cups like lattes and americanos, with Charlie's they're out to introduce lesser known ones, from simple spiked coffees such as Cafe Anisette and Cafe Corretto, to others which have a bit more to them. Take the Bicerin, a traditional drink from Torino consisting of silky layers of thick hot chocolate, espresso and cold cream; or the Charlie's Shakerato with espresso, dry curacao and sugar shaken with ice – you're not likely to find these elsewhere in Guangzhou.
As such, most of the staff hail from the coffee world to make the guest experience a bit more interactive in terms of both service and details of the venue. One such way is through their individual moka pot service, which they've really nailed for the trendy and aesthetic-crazed market. Order one and you'll get a cute little red moka pot atop a mini gas burner right at your table, which lets guests can see the whole process – and then ask questions. "We're not trying to scare people away with anything too complicated, but showing 'look what we do here.' We're trying to create an element where people are already somewhat familiar with what things are, but also want us to explain it to them more. It creates extra time for talking to people." Soon, they'll push the education front further by rolling out masterclasses on roasting and pouring, among other topics.
The team likes to "fly the 'Made in China' flag high", with most of their green coffee beans coming from Yunnan province and their signature espresso blend sourced from coffee plantations promoting fair trade. Those beans then get roasted in house in a locally made roaster just about daily and are all available for purchase – the team is currently finalising custom Nespresso pods filled with house blends of coffee, packaged upon order and thus always super fresh. And best of all, they're made from fully biodegradable organic materials.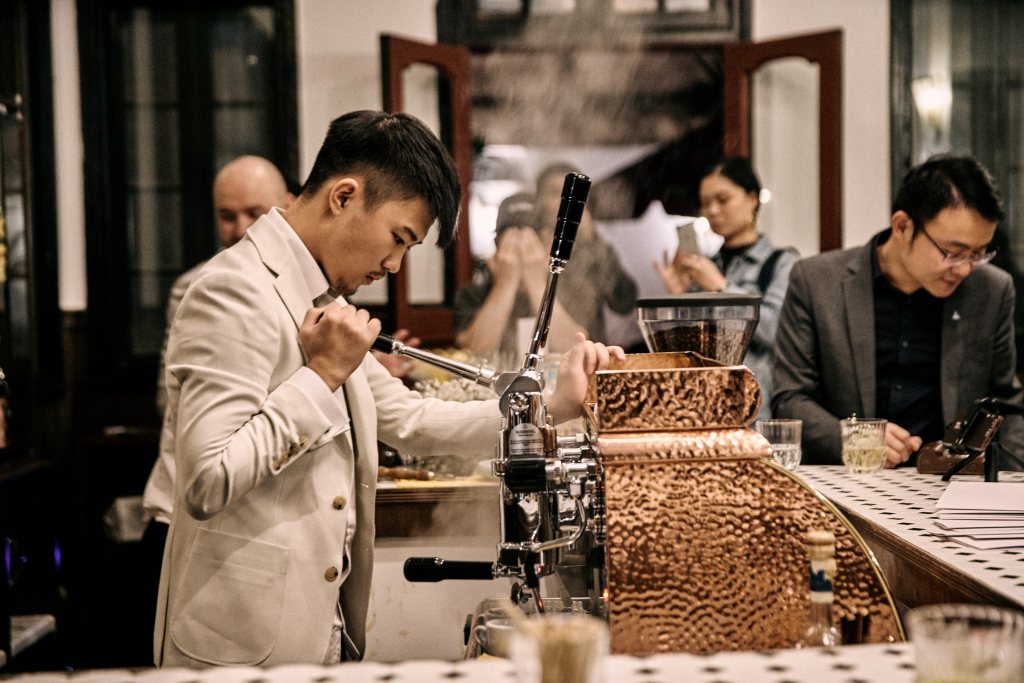 In terms of equipment, the crown jewel sits smack in the middle of the first floor: a Victoria Arduinoa espresso maker; a completely manually-operated and button-free machine which, with its gilded copper body and many levers, knobs and gauges, is a conversation starter. "The baristas were like 'Oh, scary!' when they first saw it. It's less forgiving – if you don't get the grind right, the pressure won't go through well. Think about the latest Ferrari – it's so easy to drive, it's almost frustrating. But if you drive an old one, you can feel everything, and you know when you are doing something wrong." For Bastien, it's a focal point from which people can learn what's going on behind their drinks, and adds a level of authenticity to the Italian concept.
Charlie's stands as a cosy coffee house from morning to afternoon, then things turn over to aperitivo time from 5pm. The cocktail menu is split into four sections – Coffee Cocktails, Spritz & Co., Martinis, and Spirited – each bearing five mostly familiar drinks with Charlie's' twists. Bastien and Andrew are particularly proud of the Coffee Negroni, made with their house roasted coffee-infused gin; a drink which Bastien says he knows may not sound too exciting to other bartenders, but they love it and worked quite hard to perfect it. Likewise, they're particularly psyched about The Charlie's – a blend of their house made coffee liqueur, espresso and Flor de Cana rum infused with spent coffee grounds, topped with salted mascarpone foam.
Another focus at the heart of the concept is amaro, as the spirit holds special value for Bastien and its presence will keep growing at Charlie's. "My grandpa made amaro – his whole life was making wine, making liqueurs, making spirits – and I really wanted to share more of what I grew up with," he says. Behind the bar, you'll even find a bottle made by his grandfather nearly 60 years ago.
Soon to follow, Charlie's will offer bowls of homemade pasta and other Italian bistro fare – nothing fancy, just "grandma's style" comfort foods; fresh, homemade and punchy, they say. And that's one of a few reasons they chose the casual name Charlie's for the venue: this is not a fine dining establishment. "We wanted to create that kind of exclusive feel, very classy – but that said, the place is quite casual. The team wears white jackets and red ties, like you would find in venues in the north of Italy, and so the mood makes people feel they can dress up if they want, but don't have to. It all gives a sense of quality."
Recipe (Click to view)
The Charlie's
---
Charlie's Qinming Lu 1, House #1, Dongshan, Yuexiu district, Guangzhou. hopeandsesamegz.com/charlies