He'll be competing against 12 other bartenders this weekend in London.
After beating seven other regional bartenders at the Continental Semi Finals of this year's Diplomatico World Tournament in Bangkok back in May, Singapore bartender Peter Chua is now on his way to London to try and bring back a prize to the region.
Over two days of drink-making at the Thai capital on May 16 and 17, three industry veterans David Cordoba, Niks Anuman-Rajadhon and Stanislav Vadrna tested the Asian country representatives' technique, presentation, garnishing and their knowledge of taste, texture, aroma and balance. The Singaporean bartender from Crackerjack eventually edged out his competitors from China, Hong Kong, India, Japan, South Korean, Taiwan and Thailand with his inventive presentation and cocktails like his chendol-inspired Heritage Flip.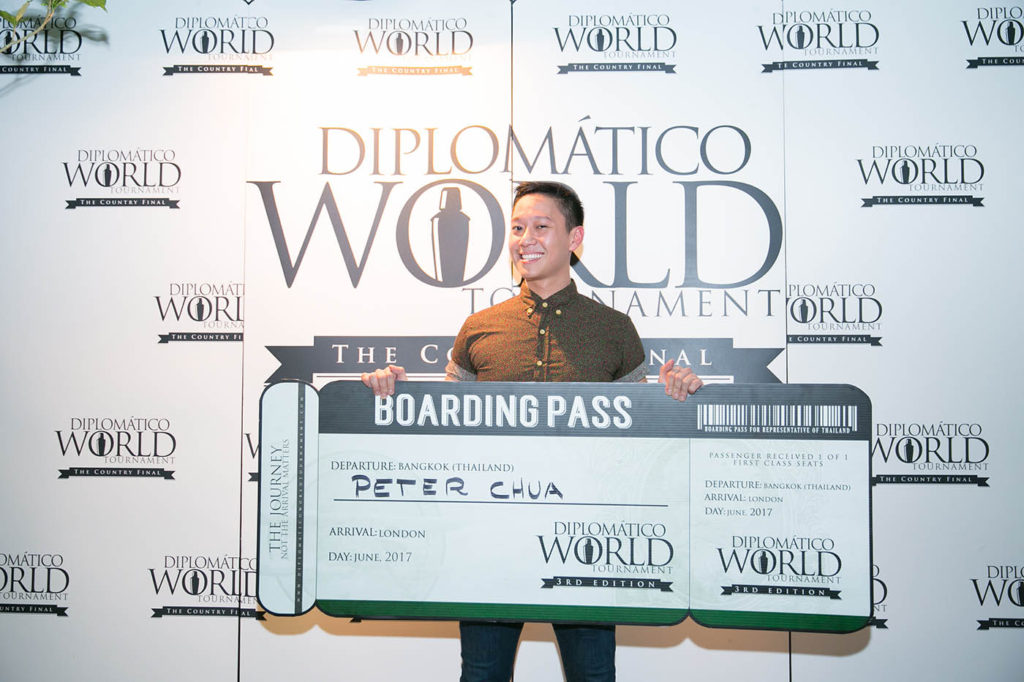 Now, on Sunday, June 25, Chua will be stepping up to The Savoy's Beaufort Bar to present his cocktail in a knockout round at this year's Global Finale.
In his words, here's what he'll be serving to impress the judges in the first round of the competition:
"The drink is called The Wayfarer – a wayfarer is someone who travels on foot – and this one is an homage to bartenders, distillers, blenders and brand ambassadors, who are the wayfarers of our industry. We may no longer travel on foot, but we leave footprints in every country we go to, and learn something new about someone else's bar culture that we apply to a new drink, a concept or an event.
I'm taking inspiration from my own travels for this drink, which is why I'm taking my own ingredients and mixing it with tropical ones. In it is Diplomatico Mantuano, Benedictine DOM, Kummel, lemon juice and a homemade pineapple syrup of juice and sugar. On the side, I'm serving a thumbprint cookie that's like a pineapple tart, filled with a jam made of leftover pineapple fibres."
In the run up to the big day on Saturday, Chua also enlisted the help of his colleagues at the bar and Proof and Company to help him refine his submission. "I got my colleagues – like Zee (Zdenek Kastanek), Joe (Alessandroni), Jason (Williams) and everybody – to taste my drinks. Some of them know the judges personally, so it helps to get advice form them too," explains Chua. "My team has also been very supportive. Whenever I need the time to do anything, they'll cover for me at the bar so I can get stuff done for my prep." Asked if he's nervous about the competition ahead, Chua said, "I'm kind of set in the sense that I know what I'm going to do. I just have to make sure I don't mess it up."
At the global finals in London, Chua will be up against 12 other region winners from around the world, who'll all be vying for the top prize: the title of Diplomatico's World Best Bartender and prize money of US$10,000.
To watch a live stream of the competitors this weekend, visit Diplomatico World Tournament's Facebook page from 11am GMT (6pm Singapore time) on Sunday, June 25.
Edit: An earlier version of the article mistakenly listed the competition's date as Saturday. It will be on Sunday, June 25.