The team behind Native – one of Asia's leaders in sustainability – opens their second venue in Singapore's Chijmes. By Holly Graham.
Vijay Mudaliar, the eco conscious brains behind Singapore's multi award winning Native is back to show the F&B industry a sustainable trick or two with his new opening Analogue.
"I find it hard to use the word sustainability now as so many people are using it the wrong way," Vijay laments. "Something that frustrates me in F&B is the idea of luxury. Diners seek these dishes of perceived luxury such as wagyu, uni, caviar and foie gras and I feel like this mentality is what causes over-farming and unsustainability."
Analogue's dictionary definition is a person or thing comparable to another, so Vijay and team set about finding sustainable analogues for items they felt were over-farmed, and things they didn't like about the food system. "Beef, pork, chicken, milk, eggs…these are all unsustainable because we consume so much, which means over-farming leading to land and ethical issues. Too much of something isn't good."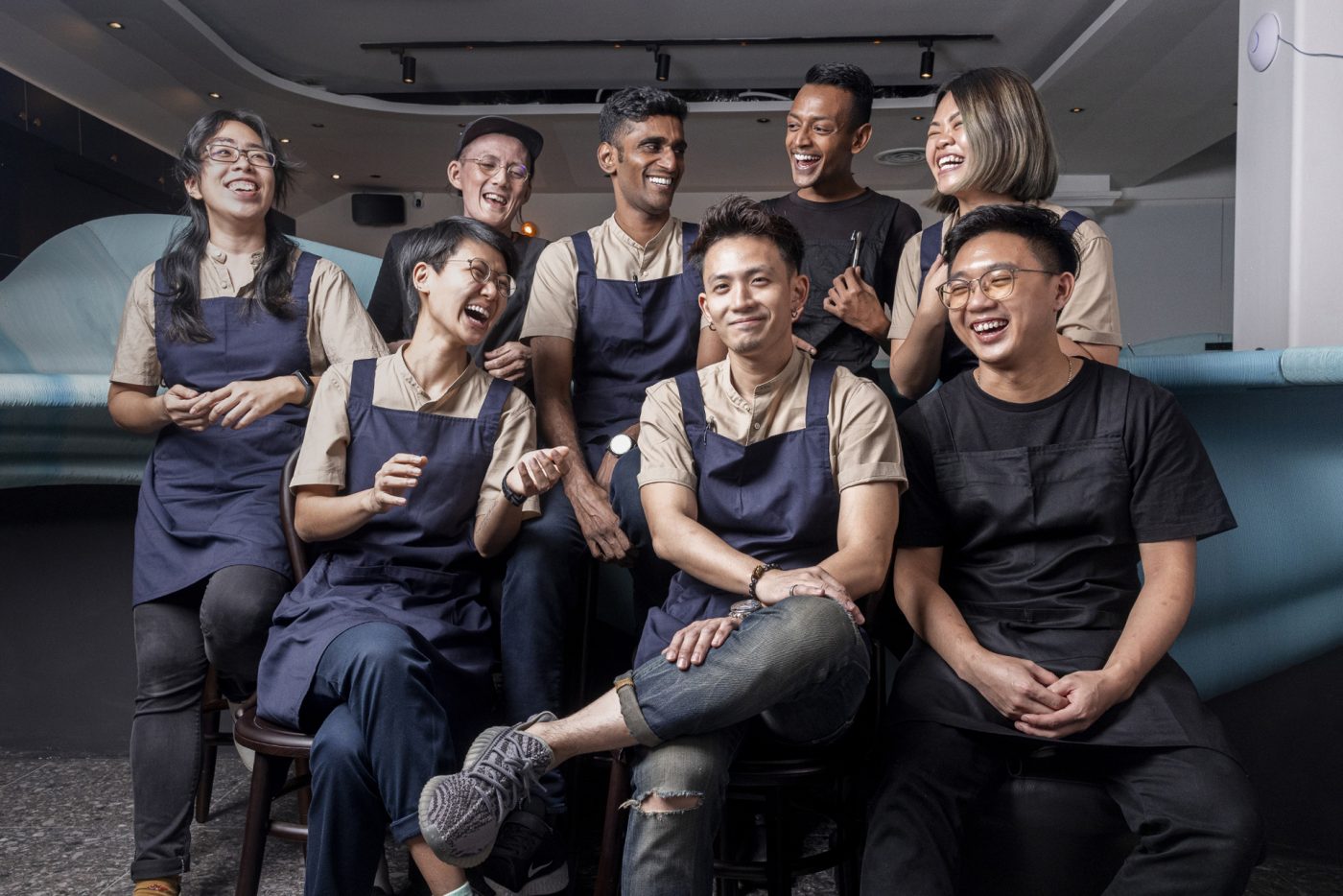 Analogue doesn't pitch itself as a vegan or vegetarian venue, rather a sustainable one. "Most of our guests aren't vegan or veggie," Vijay points out. "They're just curious about alternatives. We're also not saying that everyone else is wrong, and that this is the right way to be sustainable – we're just saying that there's a lot of people with great sustainability initiatives, and we're just trying to look at that in a different way."
Analogue's cocktail program looks at ingredients whose future is in danger such as chocolate, coffee and vanilla. Using the analogue concept, the bar uses carob instead of chocolate, chicory instead of coffee and tonka bean instead of vanilla as their flavours are comparable and the alternatives aren't as in demand.
The bar also explores ingredients that we may eat or consume more of in the future, due to the planet's rising temperatures making farming increasingly challenging. "Cacti and succulents thrive in hot temperatures," explains Vijay. "So we have a drink called Cactus using mezcal, prickly pear, pink dragon fruit, aloe vera, pasilla reduction and lime oil with a Tajin rim. The idea is to present these future ingredients and show they taste great too!"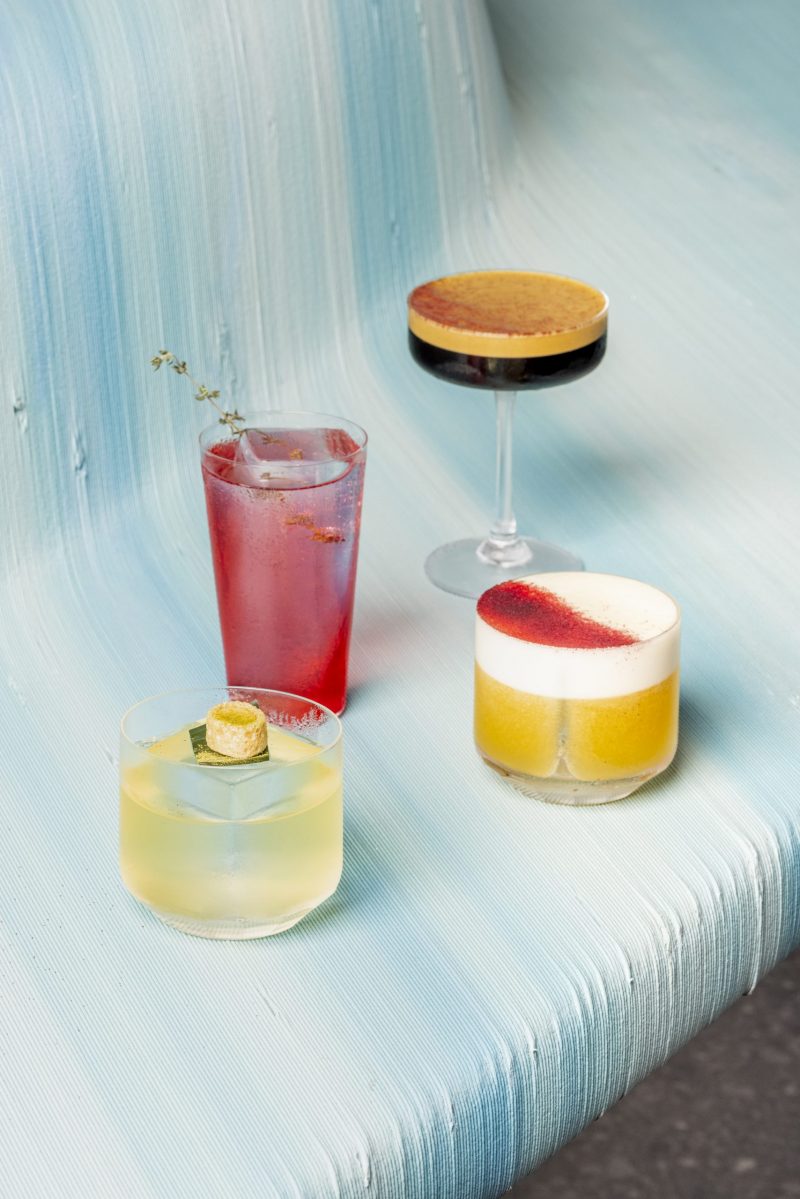 Another drink called Spirulina with gin, blue spirulina, verjus, wakame, clarified kiwi and lime distillate is designed to show drinkers that the cocktails can have another meaning beyond flavour. "Blue spirulina is an algae and scientists have started to harvest energy from algae, so we want people to understand the ingredient in their drink could be a small part of clean energy in the future."
Vijay adds that something that frustrates him is that people tend to look at drinks and dishes in terms of taste alone. "To me a lot of it goes beyond that. It should taste good and have a thoughtful idea behind it. I think in F&B we have a responsibility to showcase these future ingredients to educate guests and help them understand the food system, otherwise they may just keep going back to that familiar ground of "luxury" wagyu and the like." 
Non alcoholic and sugar free cocktails are also a large part of Analogue's drink offerings – something Vijay says took longer to conceive than the alcoholic cocktails. "Alcohol and sugar are such a great carrier of flavours and we've taken these both out of the equation, so making really tasty drinks was a bit of a challenge." 
To create these tricky drinks, Vijay and his team took inspiration from how perfumes scents are created, and are using edible essential oils in the cocktails for their intense flavours. Other hacks include hydrosols created in the rotovap and vegan honey – which Analogue also uses to ferment its kombuchas. In fact, refined sugar is not used at Analogue at all, using sweeteners such as xylitol and monk fruit instead.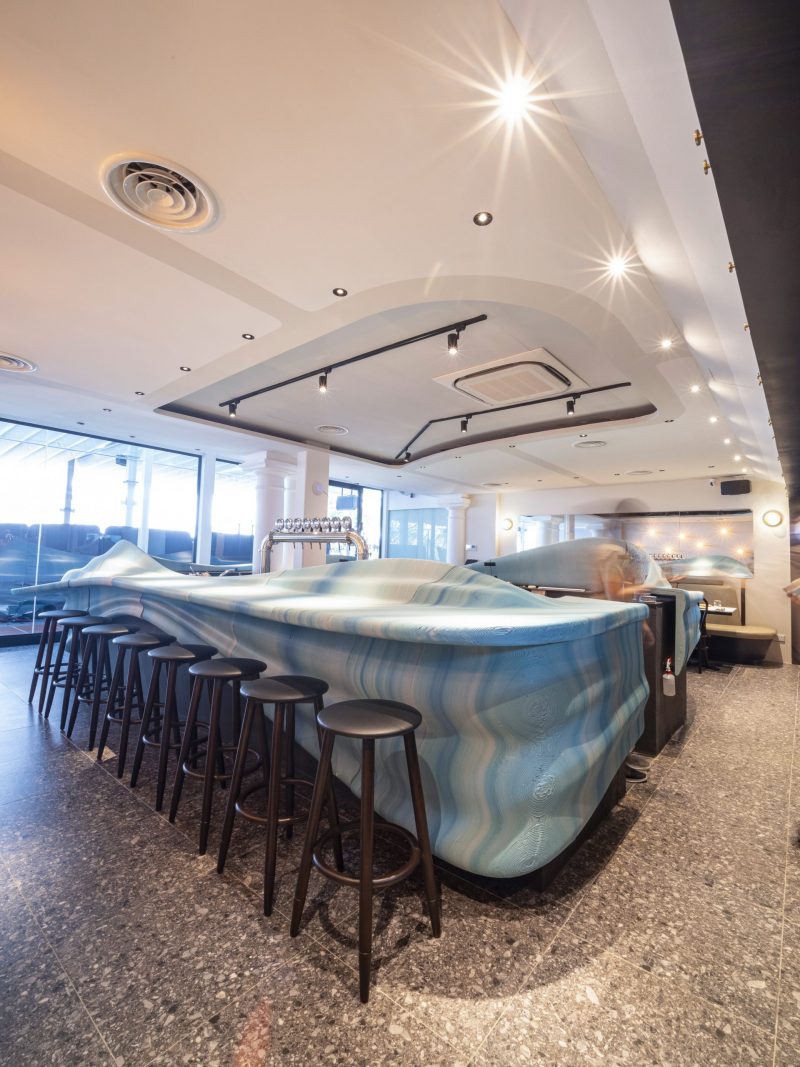 True to form, Vijay's sustainable concept goes beyond the food and drink offerings, extending to the design of the venue. "Plastic is demonised, and realistically plastic is bad because humans dispose of it in the wrong way, but as a material it's pretty durable and never goes away! Our designer's friend was 3D printing recycled plastic into furniture and we had this crazy idea that we could have a 3D printed bar top made entirely from recycled plastic." And the crazy idea came to fruition in the form of a 1600kg recycled plastic bar top surrounded by recycled plastic and mushroom – yes mushrooms – tables.
One part of the bar design Vijay is particularly proud of is that part of it is lowered for wheelchair accessibility. "My nephew is in a wheelchair and he just turned 18. I wanted to buy him a drink but unfortunately he couldn't get to Native as it's on the second floor. For a long time it ate at me, and I'm so glad we finally have a solution for him and others."
Vijay points out that while Analogue is an educational experience, it's decidedly more casual than Native. "We just want people to have a good time and once they buy the food or drinks, feel they are part of something that's forward thinking. Purchasing power can go a long way."