Jamie Koh, founder of Brass Lion Distillery, Singapore
What's your background?
I double majored in finance and management for my undergraduate studies, with the intention of starting my own business. In 2009, I moved back to Singapore from the USA to do so. In my first week back, I saw a sign that said "win this space!". It was a start-up competition where the winning concept would get the space rent-free for six months, plus some startup capital. We pitched the idea of a shots bar, based on the size of the space offered and the retail environment of the area, and won with my idea for Chupitos Shots Bar, which has been around for 10 years now.
In 2013, I also opened The Beast, which specialises in Southern comfort food as well as American craft beers and whiskey, but it was back in 2012 as I was travelling that a thought crossed my mind. As I was eating and drinking my way through several countries I couldn't stop thinking – why didn't Singapore have a spirit to call her own? That got me started on my journey towards opening a distillery in Singapore.
How did you become a distiller?
I wanted to create spirits that were made in Singapore that were uniquely Asian and featured ingredients familiar to our region. That didn't exist back then and it was a gap that I wanted to fill, so I enrolled myself in a distilling school in the US in 2012. I was running my two other venues at that time, but I would take time off every year to do apprenticeships in order to gain practical experience. This took me all around the world, from the USA to the UK, and finally to the Black Forest of Germany.
In order to get hands-on experience, I wrote to distilleries all over the world for an apprenticeship, but was turned down by every single one of them. Eventually, through friends, I managed to secure some apprenticeships. I decided to go to the Black Forest because I wanted to see the traditional way of distilling – it's a way of life for many of the residents, and most households have a still. I couldn't speak German nor did I know any German distillers, but I went around knocking on doors and that's how I got to know the community of distillers there, which led me to my mentor, Frank.
Frank produces everything himself at his distillery in the Black Forest, making everything from eau de vie to whisky. He doesn't believe in shortcuts and insists on doing things the traditional way so as not to compromise on quality. The first week I was in Germany, I was peeling fruit for hours and hours, for days on end – and this is something that we still do at our distillery today.
Back home in Singapore, we set up Brass Lion – Singapore's first stand-alone micro distillery which currently produces gins.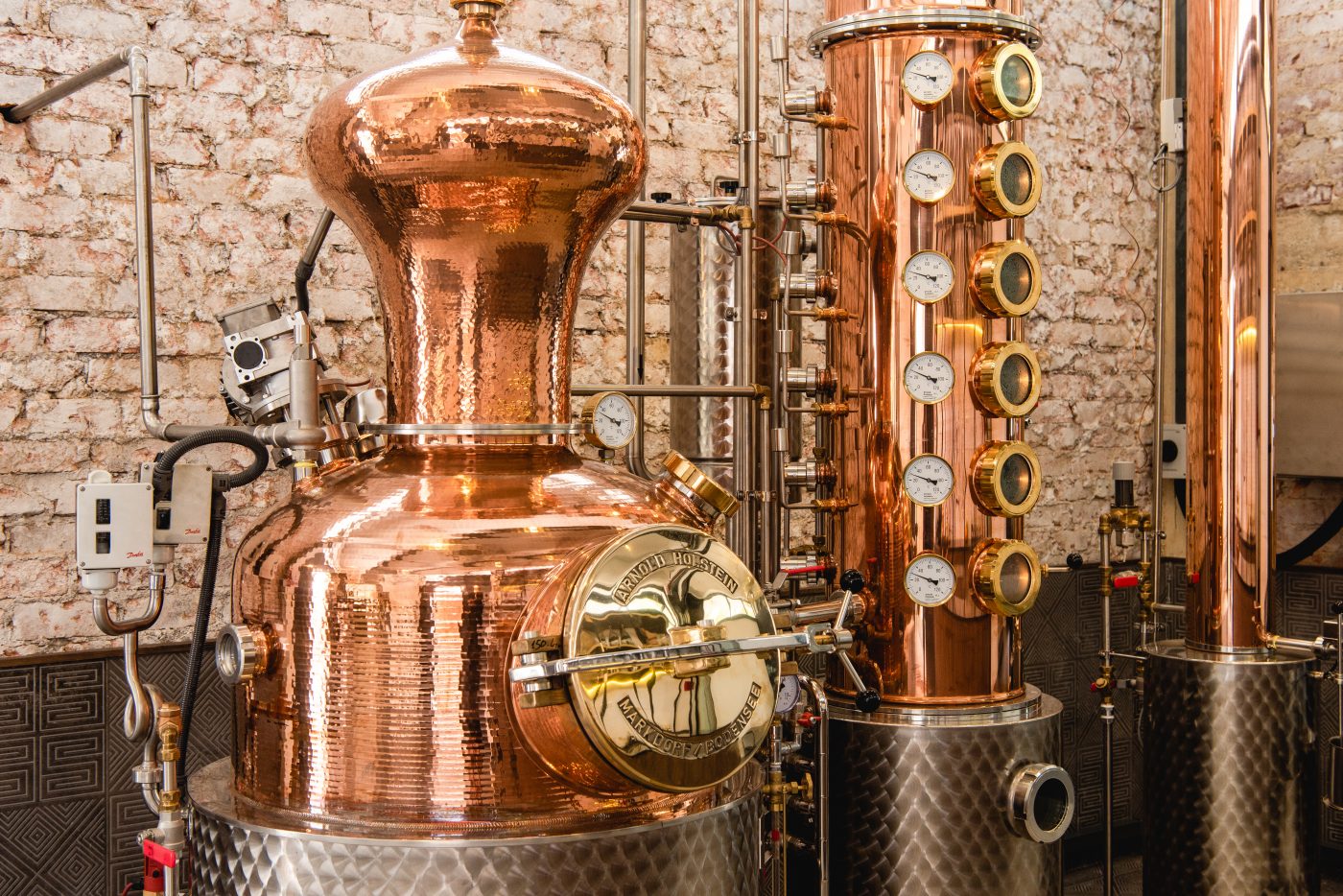 Why do you think there aren't as many female distillers?
Distilling was actually traditionally handled by women. They were mostly distilling at home, and for medicinal purposes for the family. In fact, the first distiller in the world was female! Most stills are named after women as well. However, when it became less of a household activity and moved towards industrial production, this was when it became a "man's job".
What advice do you have for women wanting to become a distiller or create their own spirit
Think of the product you want to create and the gap it would satisfy in the market. With such a crowded marketplace and so many great spirits out there, it's so important to think about how to make your brand stand out.