The female spirit: Women distillers in Asia
1/6
We chat with the women behind the stills of five Asia-produced spirits. By Holly Graham.
It's not new news that the alcohol industry is a male-dominated one and while female bartenders are on the rise, women in distilling are a rarity. To mark International Women's Day 2020 and celebrate the women behind these Asia-produced spirits, we profile five leading ladies in Asia's distilling world: Marine Lucchini of Chalong Bay (Phuket); Moang "Champich" Darachampich of Samai (Phnom Penh); Charnelle Martins of Stranger & Sons (Goa); Dimple Yuen of Two Moons (Hong Kong) and Jamie Koh of Brass Lion (Singapore). Click the slides for each interview.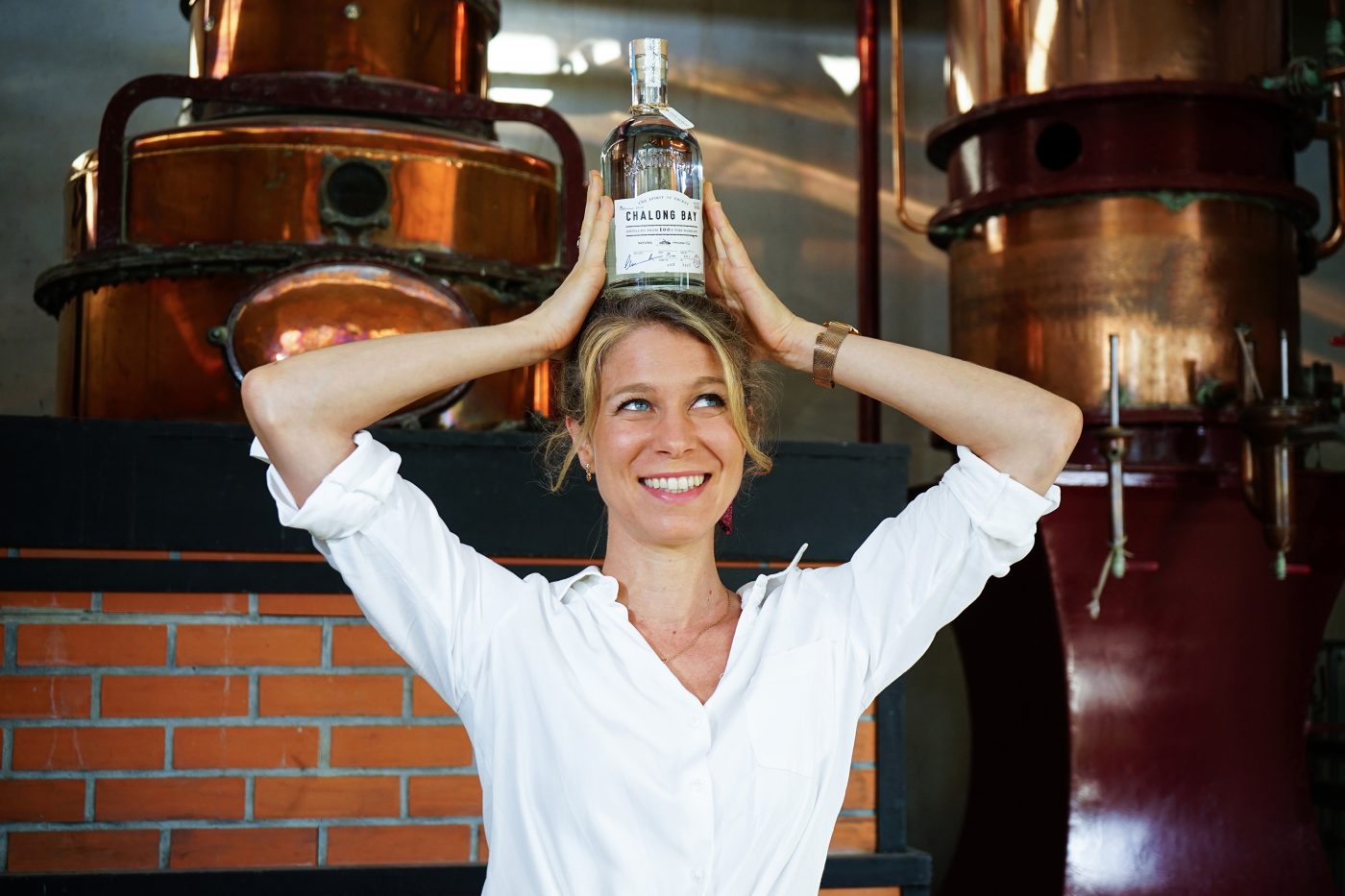 2/6
Marine Lucchini, co-founder and distiller of Chalong Bay rum (Phuket)
What's your background?
I was born in France and grew up abroad, moving around a lot thanks to my adventurous parents, who both worked in spirits distribution – including rums from the French Caribbean. I was raised with an appreciation and curiosity of spirits, often finishing glasses after my parents' parties without them noticing!
I always knew that I would be an entrepreneur, and that I would create my own product one day. I fell in love with biology at school and always wanted to incorporate it into my work. I went on to study management, followed by an MBA, which gave me the confidence to be able learn anything I wanted to. That's also where I met my partner Thibault Spithakis, with whom I founded and built Chalong Bay.
How was Chalong Bay born?
After finishing our studies came the big question – what do we do now? My family was pushing me to work with big companies first, but I felt that I wouldn't get the experience I needed in order to build my project, because as I was still young.
We had been going on family vacations to Thailand since I was 14. We were there for the tsunami in 2004, and it was infinitely lucky that we survived. I was already in love with Thailand, but the way the Thai people helped us that day deeply touched me, and bonded me to the country. So, we began digging into the spirits market and looking at the raw materials in Thailand, learning that sugarcane was born in Southeast Asia – but making rum from it is not a Thai tradition.
I fell in love with the idea of mixing the French Caribbean tradition of rhum agricole, the art of spirits making from France, and the Thai heritage of sugarcane. I also loved the idea of building a distillery and creating a natural authentic rum in Thailand in a sustainable way that promotes the natural treasures of Thailand. When the idea came to me, I knew in my gut that this was it – that's what I wanted to do. I felt like I had nothing to lose: no money, no kids, and everything to learn and build. Together with Thibault, we decided to go for it and never looked back, despite all the challenges along the way.
How did you become a distiller?
Distillation in France is a heritage passed from distiller to distiller, and I learned distillation from Michel, the maker of our still who has been making stills all his life. He came to Thailand at over 80 years old to teach us distillation because he particularly liked us and our story. It was touching and special to learn from him.
Rum legend Luca Gargano once said in a masterclass that a rum is like its distiller, in a similar way as a dog resembles his owner. He then pointed at me and cited Chalong Bay, and I can confirm that I pour myself into each bottle!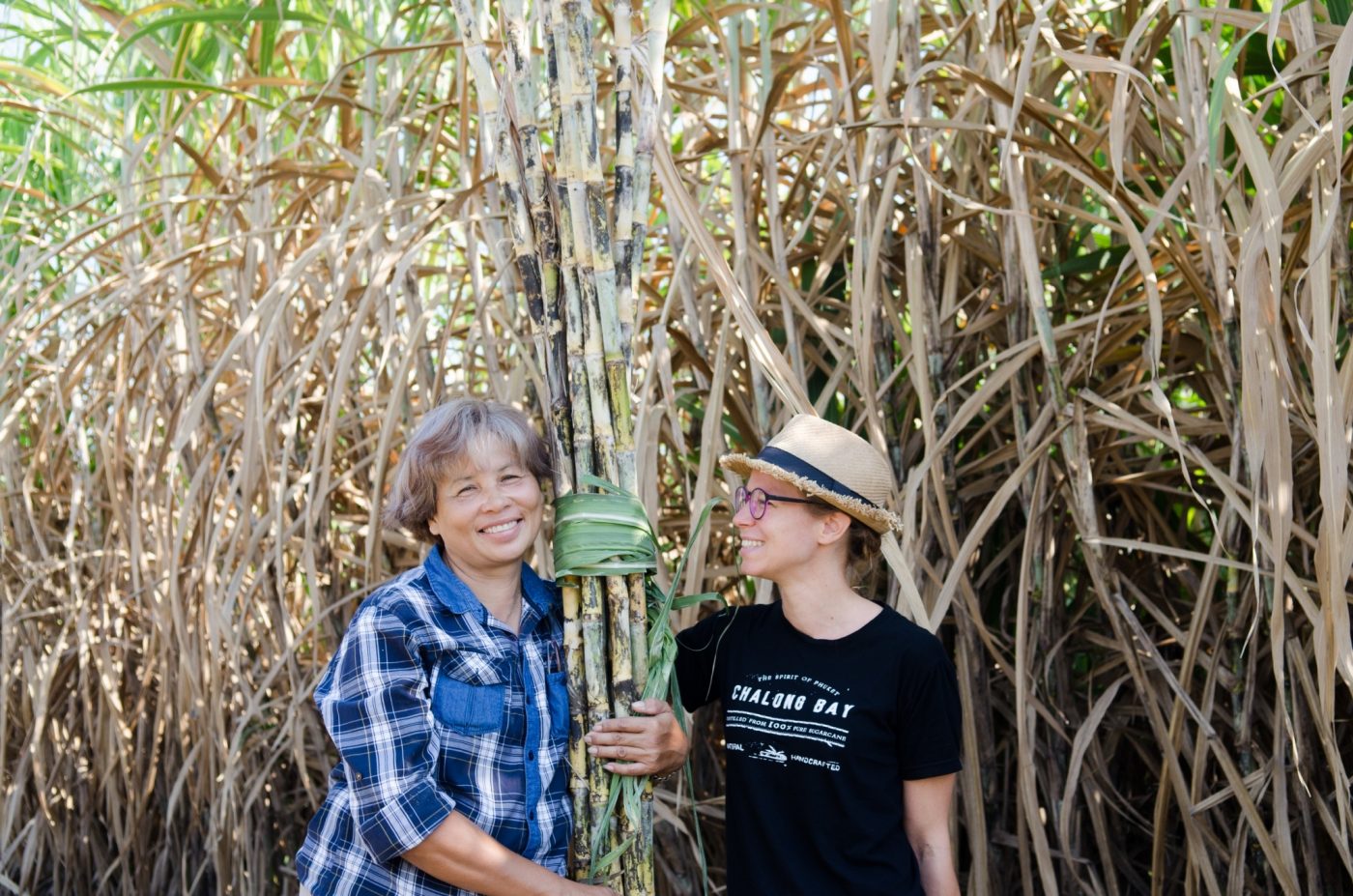 Why do you think there aren't many female distillers?
In my case, my work requires me to do quite a lot of physical labour in fairly hot conditions. I long work hours and I often have to try high proof alcohol, usually at random times as we start to distilling at 3am – I definitely think these could be reasons.
We have a three-month production season based on the best time to harvest our sugarcane, and our still is continuously working day and night. My still is like a baby, as I have to wake up at 3am to go and look after him, check on him all the time to make sure he's doing well – which means sampling the liquid at 70 per cent every 10 minutes for quality control – and spend most of my time with him during production season. Similar to a baby, it's a lot of commitment and dedication, both mentally and physically.
Moreover, all of our production process is manual. Our still is manual, operated with a direct recycled wood fire, and because we started our project from scratch with very little capital, our team is small, meaning my work is manual – I see it as really good exercise! But when the dream is big and the passion is endless, there is no limit to what we can do.
What advice do you have for women wanting to become distillers or create their own spirits?
It's a labour of passion, care and love. If you have those, then dream big, believe in that dream and believe in the fact that you can do it. Forge your own path and don't listen to those who do not believe in the legitimacy of both you and your product. Put your heart fully into it and accept that things will go wrong, but try and anticipate them and know that there's a solution to every problem – and that sometimes problems arise to put you on a better path. Be patient, don't give up and have long-term vision, as it takes time and a lot of dedication.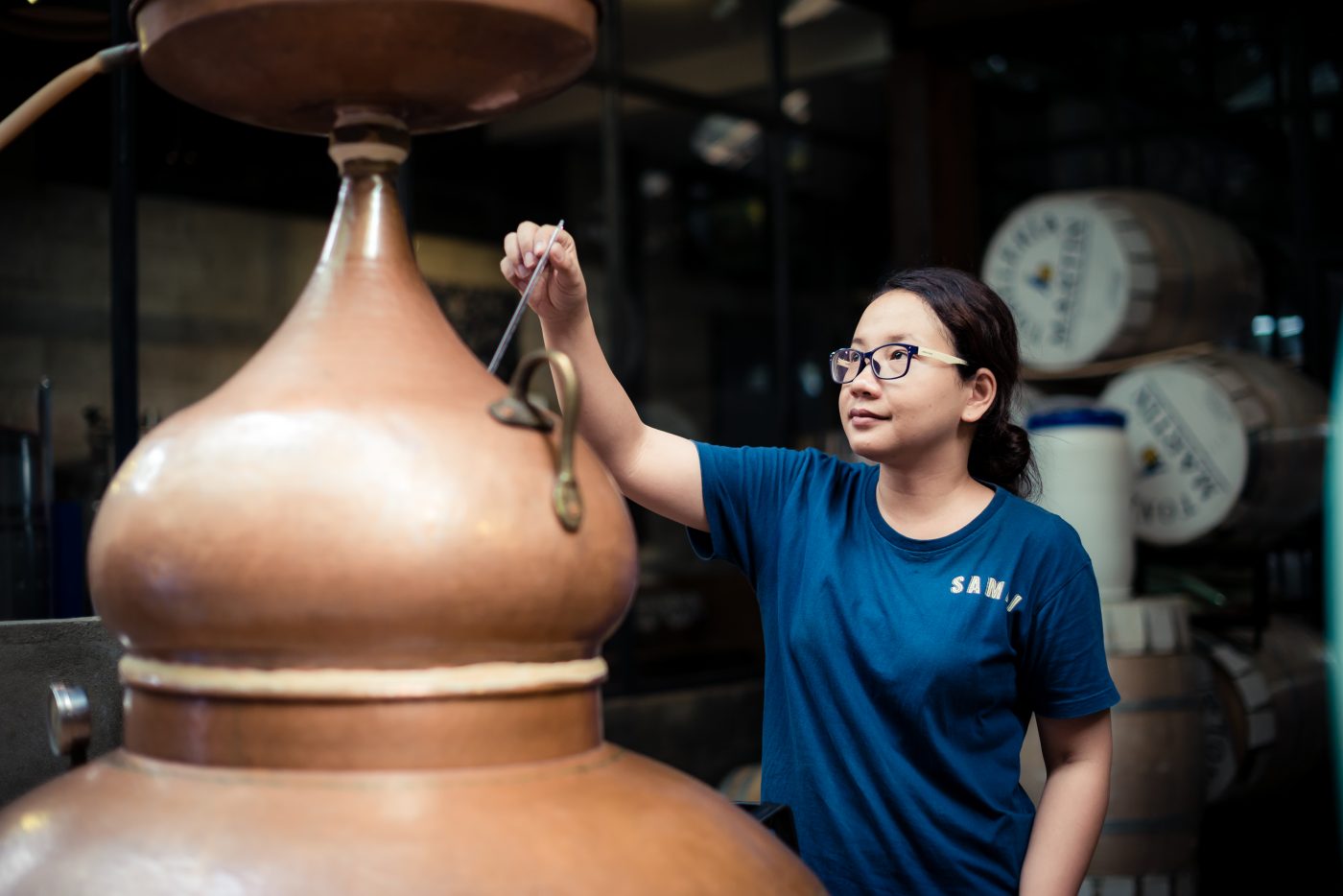 3/6
Moang "Champich" Darachampich, production manager and master distiller of Samai rum (Phnom Penh)
How did you become a distiller?
I have a BS in food science and chemical engineering and an MS in agro-industry and environmental engineering. I was the first person to join Samai's project when it started back in 2014, but when I was studying, I never thought about becoming a distiller. When I heard about the job position at Samai, I was curious and went to the interview to learn more. I got super excited about it and took the opportunity to try this new career and do something completely new for my country, as Samai was the first distillery in Cambodia at the time. My objective was to make the brand famous in Cambodia and all around the world, so I started to learn about rum and how to drink it, and I have loved it ever since.
Why do you think there aren't many female distillers?
Traditionally in Asia, working in the alcohol industry, and even drinking alcohol, is mostly done by men. People say that women can't drink and can't work as well as a men can in this industry, but they're wrong! I've been doing it for five years now, and Samai has won multiple awards from international competitions around the world. Also in Cambodia, the fact that we didn't have a distillery meant it was something completely new here.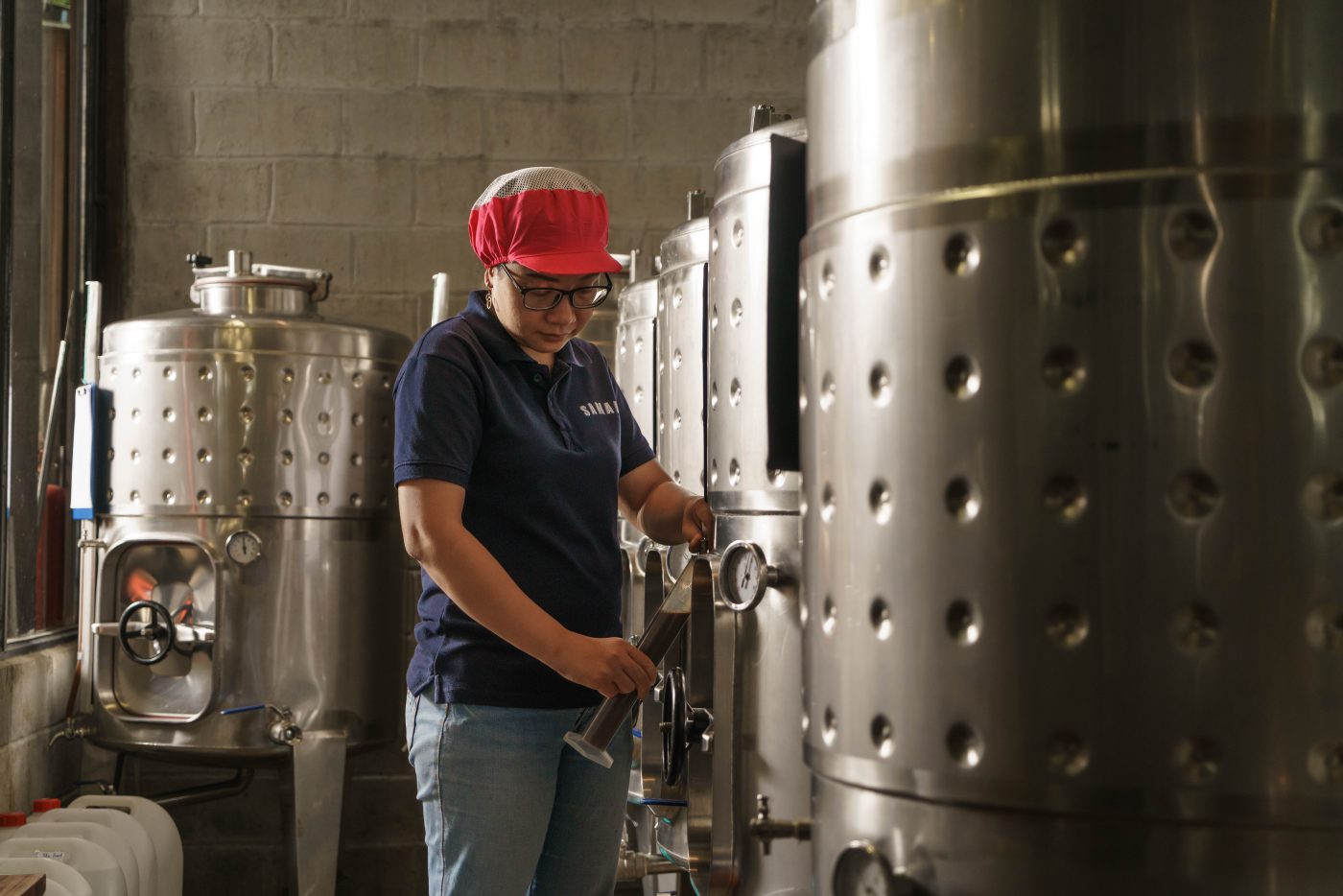 What advice do you have for women wanting to become distillers or create their own spirits?
Believe in yourself, your abilities, your passion and your career. Even if you feel like you don't know everything, that's normal and okay. You will always keep learning and growing and will gain experience and confidence. The only thing is to try: if you don't try, you will never know and never fully enjoy your work.
What does the future hold for you?
Samai is still just at the beginning and we are looking to increase our production capacity and continue to export to other countries in the coming years. I'm also working on new products, and like to experiment with new flavours – always with Cambodian ingredients. Right now, I'm working on a Samai spiced rum.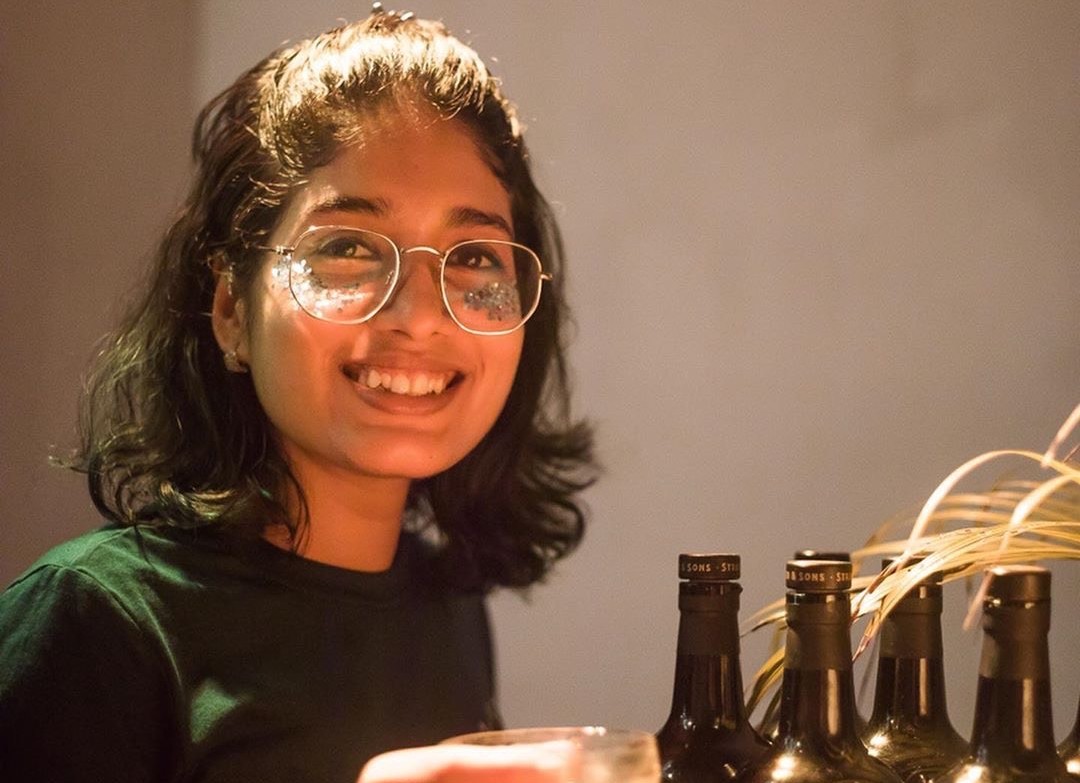 4/6
Charnelle Martins, distiller and head of distillery operations for Stranger & Sons gin (Goa)
What's your background?
I am an alcoholic beverages scientist with a passion for brewing and distilling, a master's in food and alcohol biotechnology and a diploma from The Institute of Brewing and Distilling. I'm a complete alcohol geek and previously worked with the Scotch Whisky Research Institute (SWRI) in Edinburgh, and with Diageo India perfecting my skills in whisky science and maturation before moving into the world of Indian craft gin with Stranger & Sons.
How did you become a distiller?
I always loved science and have been curious about flavours and food since I was young, tasting my way through everything in the kitchen. We often brewed wine and made liqueurs at home, and my dad would even let me sample his liquor cabinet because he said it's important to know what good alcohol tastes like! It was through this liquor tasting that he – albeit unknowingly – made me appreciate the finer nuances of good alcohol that set me on the path of becoming a distiller.
What drew me to distilling primarily was the chemistry and science involved in creating flavours through fermentation. After a lot of research and applying to dozens of universities, I secured a place in a master's course in Scotland – the heartland of whisky! I excelled at my degree and got the opportunity to intern with the SWRI, and there has been no turning back. It's definitely not been an easy journey, but I wouldn't want to do it any other way.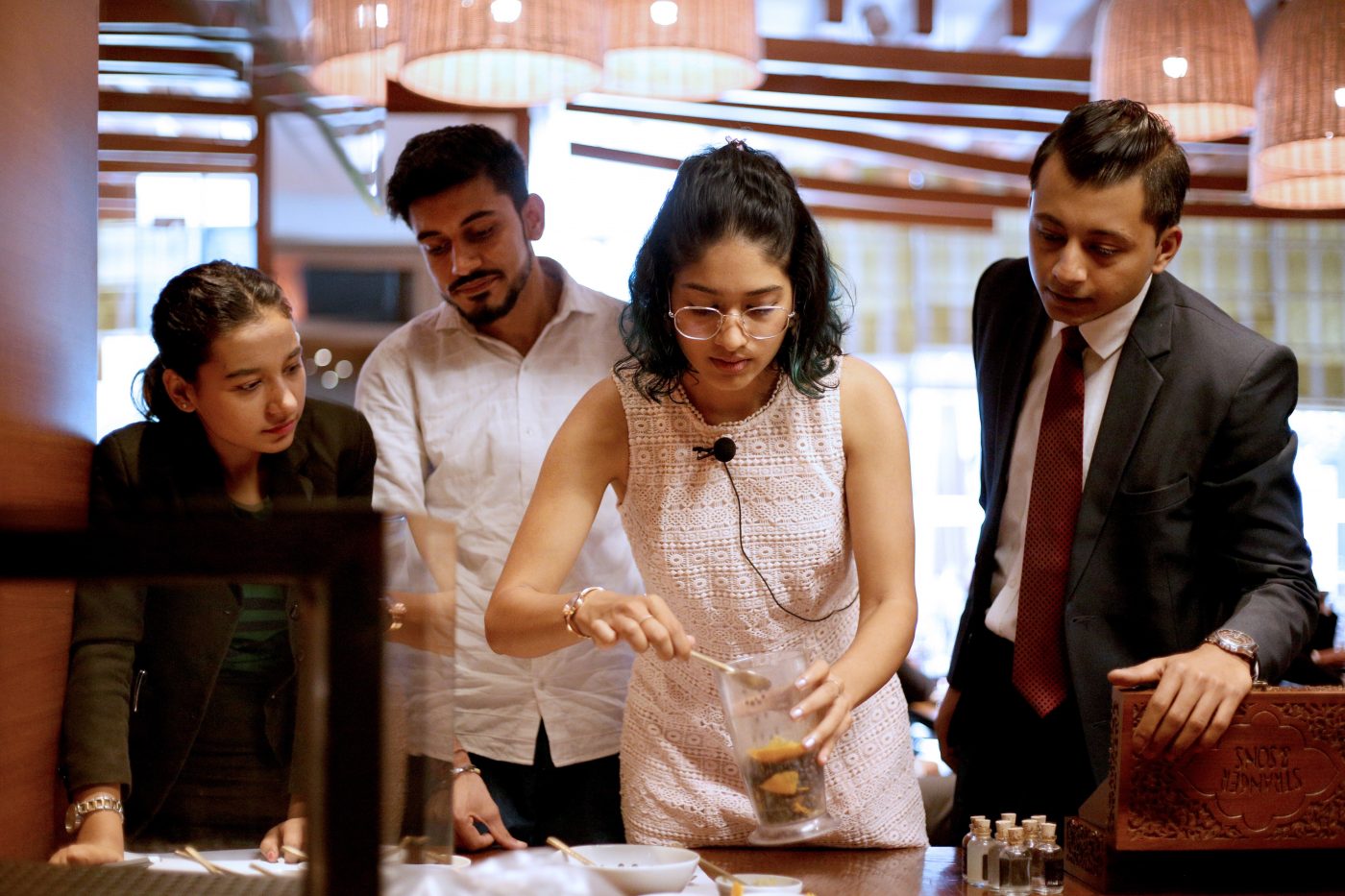 Why do you think there aren't many female distillers?
Distilling has always been a bit of a boys' club and lags far behind in the bartending industry when it comes to employing women. There is a social taboo associated with alcohol but I do feel that times are progressing, and there are now more women working in the alcohol industry than before, and the number is rising. At Stranger & Sons, we have built a team with women across strategic positions from distilling to marketing and executive leadership.
There are definitely a lot of talented women but in my opinion, the right exposure is lacking. I think it's important that we encourage more women to pursue careers in science, technology, engineering and mathematics to educate and empower the next generation of distillers.
What advice do you have for women wanting to become a distiller or create their own spirit
It's an incredible time to be a woman in the alcohol world! My advice is to do your research, because knowing what you're going to be jumping into is critical. Go on as many tours as you can, network with others in the industry and do a few courses or get an internship to gain first-hand experience. Most importantly taste, taste and keep tasting some more to train and build your palate.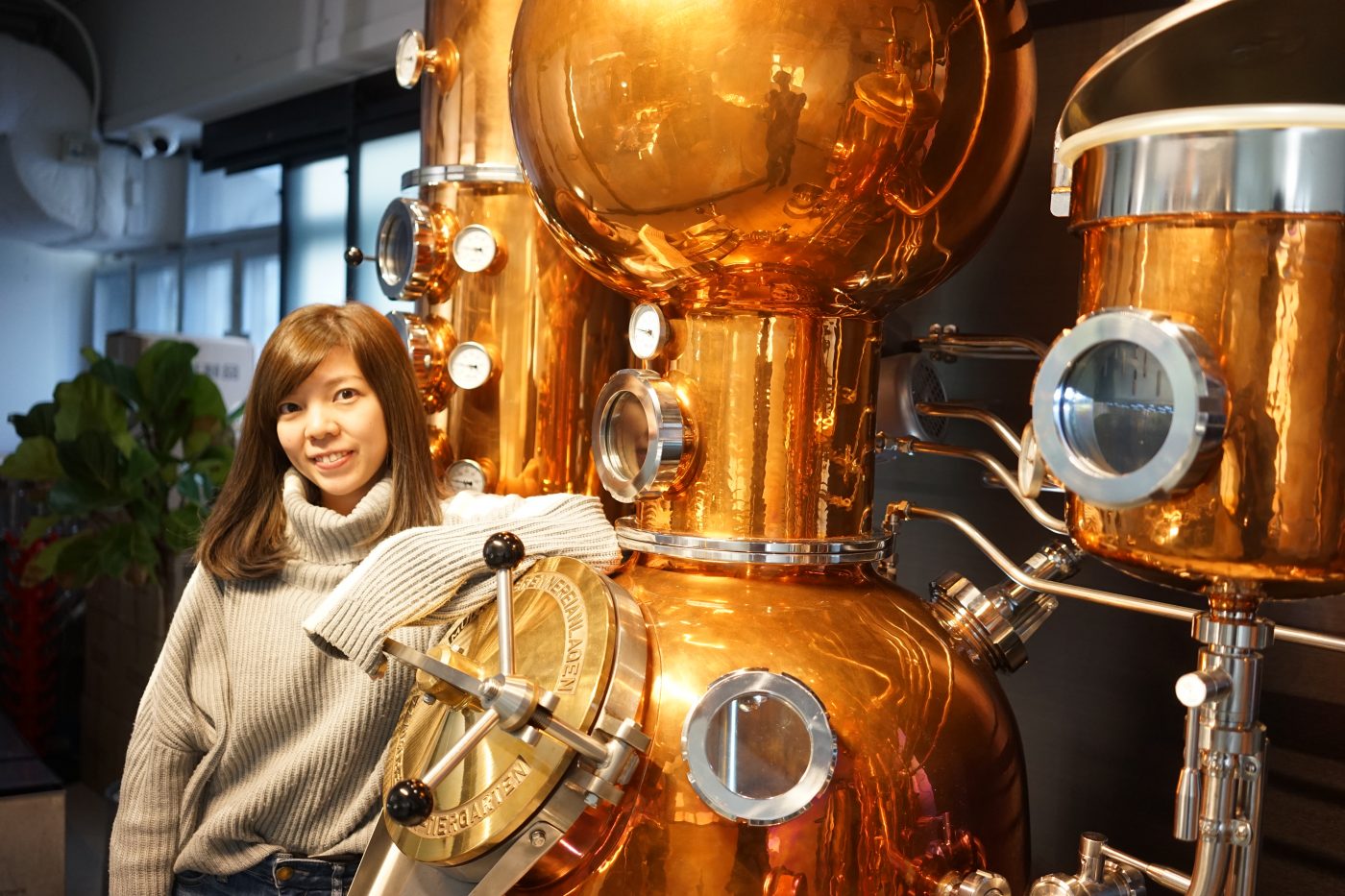 5/6
Dimple Yuen, head distiller and co-founder of Two Moons gin (Hong Kong) 
What's your background?
I studied business and used to work in digital marketing at a corporate firm before transitioning to become a programmer at a startup. To be honest, I was pretty determined to stay in the startup scene and had no desire to be a part of the f&b industry – until I discovered the art of distilling back in 2017.
How did you become a distiller?
I realised distilling was a fascinating craft after I tried my first sip of craft gin – Sipsmith's London Dry Gin, which completely changed my perception – and never looked back.
As avid gin lovers, Two Moons co-founder Ivan Chang and I used to infuse store-bought gins with ingredients to experiment and create interesting flavours. Having found no craft gin from Hong Kong at the time, the idea of establishing a micro distillery came to us spontaneously one night and we simply decided to take a leap of faith. This path then led me to pursue my diploma in distilling at The Institute of Brewing and Distilling while simultaneously embarking on a study tour around the UK, where I was lucky enough to meet a lot of great mentors who inspired me to keep pursuing this dream.
As a shy introvert, for me distilling is the perfect balance of creativity and geekiness, and it quickly became one of my favourite activities. It's a chance for me to tune out from the outside world, as it's just me and my copper still, and I get to be completely immersed in the distillation process without any distractions.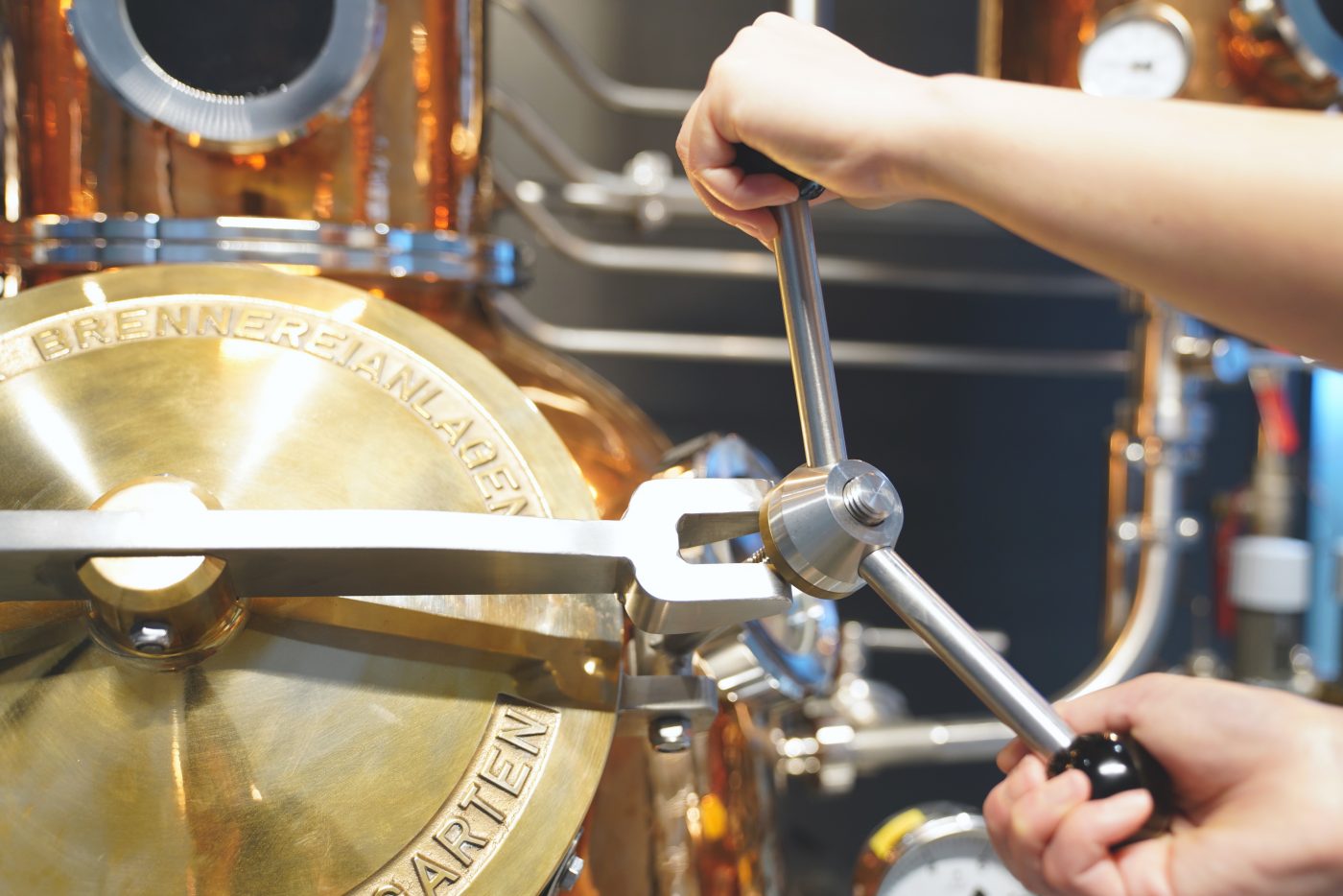 Why do you think there aren't as many female distillers?
There really isn't a reason why there should be more males than females in this industry. There's hard work involved – both physically and mentally – as it's a career that does require some heavy lifting and manual labor, but nothing that can't be handled. I really hope we start seeing more females in a traditionally male-dominated industry and it becomes the norm.
I've been fortunate enough to say that my experience so far has been really great, and I haven't been boxed into any gender stereotypes. As the first female distiller in Hong Kong, I feel extremely proud and lucky to be able to represent Asian women and I really look forward to seeing more female distillers on the rise. I do believe we can add a unique perspective to distilling and I embrace this opportunity to be able to tell my own personal story, as a woman, through gin.
What advice do you have for women wanting to become a distiller or create their own spirit
Stay curious – one of Two Moons' philosophies and core values. Be open to constructive criticism, but be careful not to let others belittle your beliefs and don't be afraid to share your knowledge.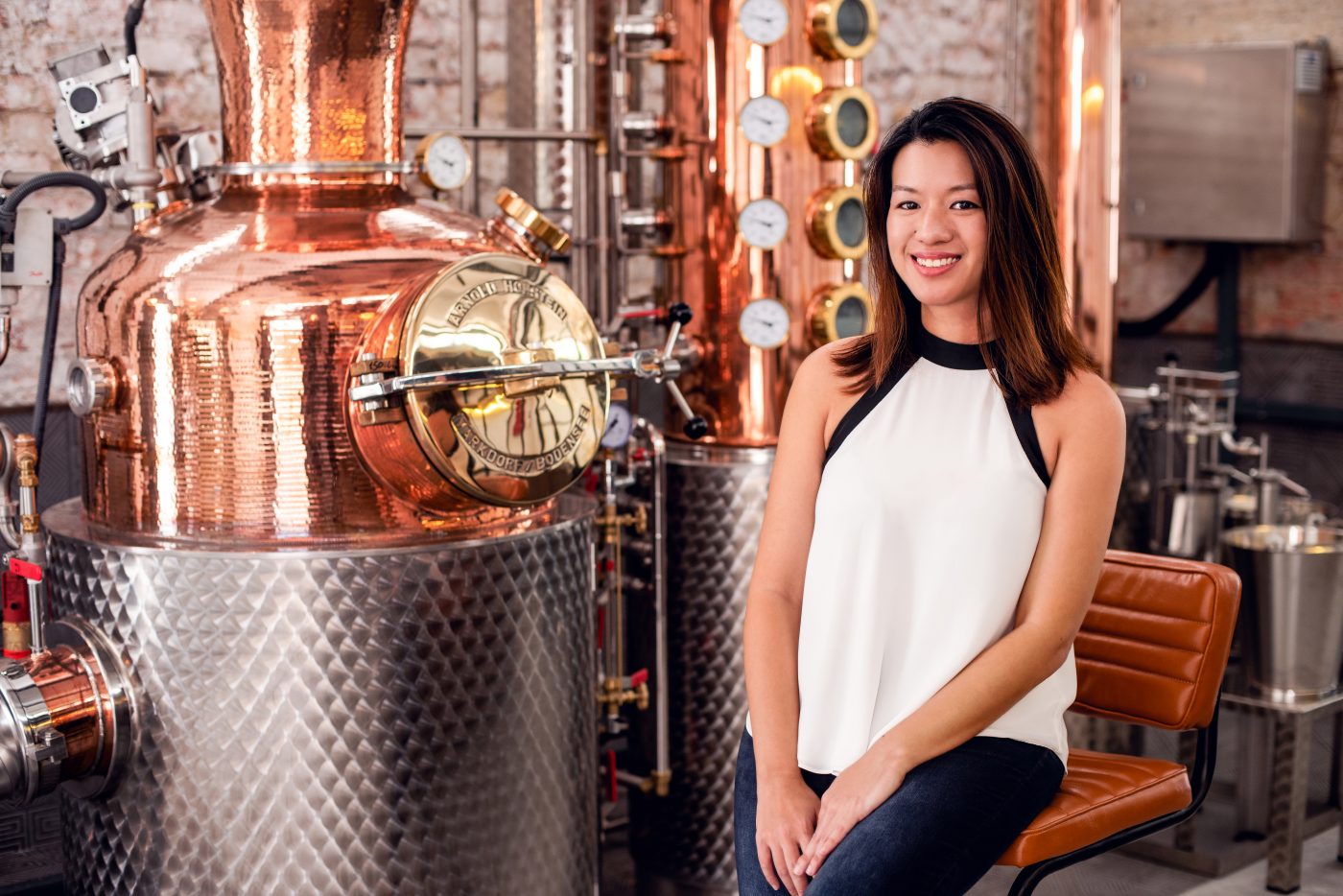 6/6
Jamie Koh, founder of Brass Lion Distillery, Singapore
What's your background?
I double majored in finance and management for my undergraduate studies, with the intention of starting my own business. In 2009, I moved back to Singapore from the USA to do so. In my first week back, I saw a sign that said "win this space!". It was a start-up competition where the winning concept would get the space rent-free for six months, plus some startup capital. We pitched the idea of a shots bar, based on the size of the space offered and the retail environment of the area, and won with my idea for Chupitos Shots Bar, which has been around for 10 years now.
In 2013, I also opened The Beast, which specialises in Southern comfort food as well as American craft beers and whiskey, but it was back in 2012 as I was travelling that a thought crossed my mind. As I was eating and drinking my way through several countries I couldn't stop thinking – why didn't Singapore have a spirit to call her own? That got me started on my journey towards opening a distillery in Singapore.
How did you become a distiller?
I wanted to create spirits that were made in Singapore that were uniquely Asian and featured ingredients familiar to our region. That didn't exist back then and it was a gap that I wanted to fill, so I enrolled myself in a distilling school in the US in 2012. I was running my two other venues at that time, but I would take time off every year to do apprenticeships in order to gain practical experience. This took me all around the world, from the USA to the UK, and finally to the Black Forest of Germany.
In order to get hands-on experience, I wrote to distilleries all over the world for an apprenticeship, but was turned down by every single one of them. Eventually, through friends, I managed to secure some apprenticeships. I decided to go to the Black Forest because I wanted to see the traditional way of distilling – it's a way of life for many of the residents, and most households have a still. I couldn't speak German nor did I know any German distillers, but I went around knocking on doors and that's how I got to know the community of distillers there, which led me to my mentor, Frank.
Frank produces everything himself at his distillery in the Black Forest, making everything from eau de vie to whisky. He doesn't believe in shortcuts and insists on doing things the traditional way so as not to compromise on quality. The first week I was in Germany, I was peeling fruit for hours and hours, for days on end – and this is something that we still do at our distillery today.
Back home in Singapore, we set up Brass Lion – Singapore's first stand-alone micro distillery which currently produces gins.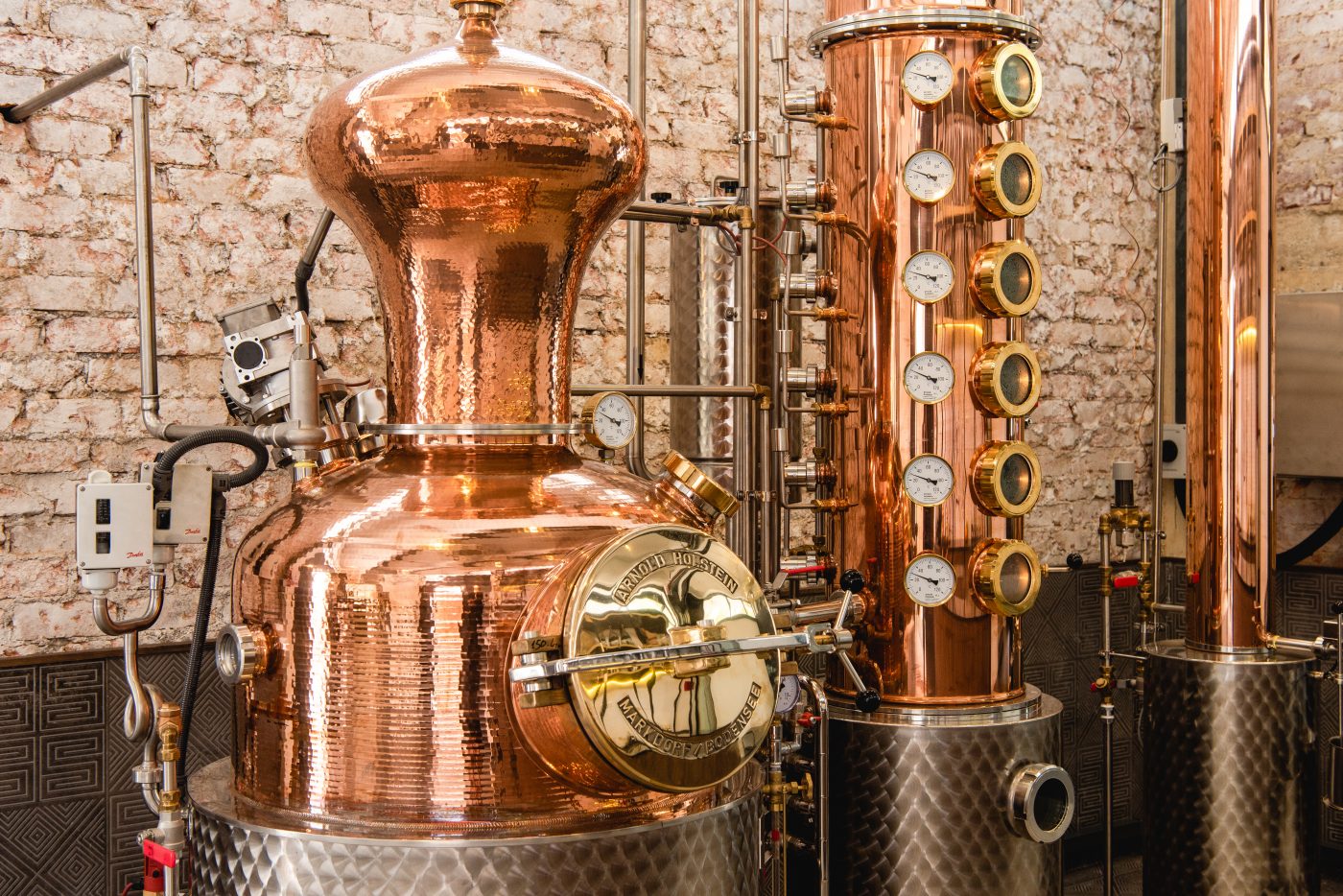 Why do you think there aren't as many female distillers?
Distilling was actually traditionally handled by women. They were mostly distilling at home, and for medicinal purposes for the family. In fact, the first distiller in the world was female! Most stills are named after women as well. However, when it became less of a household activity and moved towards industrial production, this was when it became a "man's job".
What advice do you have for women wanting to become a distiller or create their own spirit
Think of the product you want to create and the gap it would satisfy in the market. With such a crowded marketplace and so many great spirits out there, it's so important to think about how to make your brand stand out.