Minh Tan Pham's The Alley is a characterful hutch with Mekong Delta influences aplenty. By Natasha Hong.
Ho Chi Minh City might be a craft beer town – read all about it in our upcoming Issue 06 – but the cocktail revolution hasn't quite found its fanbase yet in the southern city, despite Saigoners' penchant for new flavours and experiences. Sure, last year we reported about the opening of QUI Lounge, catering beautifully garnished cocktails to the see-and-be-seen set, but most of its rooftop bars and ultralounges follow in the same vein, catering to well-heeled Saigoners. Now, though, the city has become home to a speakeasy that's lending more legitimacy to mixed drinks in the city.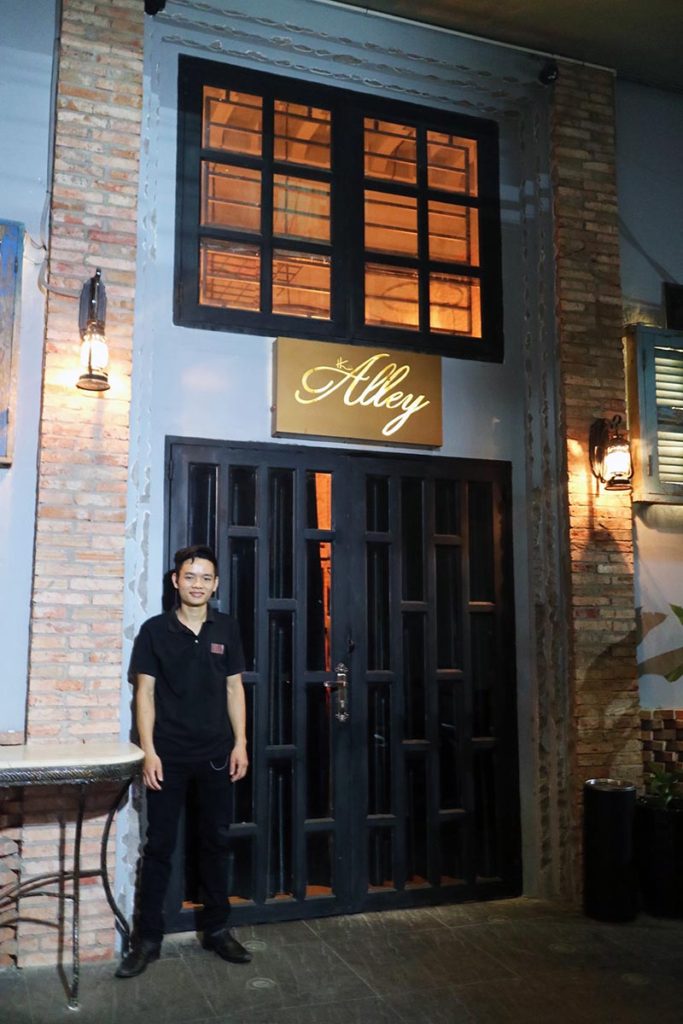 The Alley, tucked away on a darkened lane of Pasteur, is the baby of Minh Tan Pham. The former Diageo brand ambassador began his career after bartending school in 2003, then worked at the Park Hyatt Saigon and Park Hyatt Abu Dhabi before joining the spirits company in 2012. He ran the country's World Class program that brought through bartenders such as Pham Tien Thiep (Ne Cocktailbar, Hanoi), Le Thanh Tung (now at QUI), Tu Hoang Duy (Urban Kitchen + Bar) and Luu Tran The Vinh (Glow Sky Bar) to the global stage. It was during those trips where the foundations for The Alley were built. "When I worked at Diageo, I got a chance to travel around the world," he explains. "My wife didn't like me so much. Every time I returned, I'd bring just a small gift for her, but also bar tools, bitters, glassware and books and store them in my living room and even the bedroom. The day I emptied the house to move these to the bar, she was so happy!" he laughs.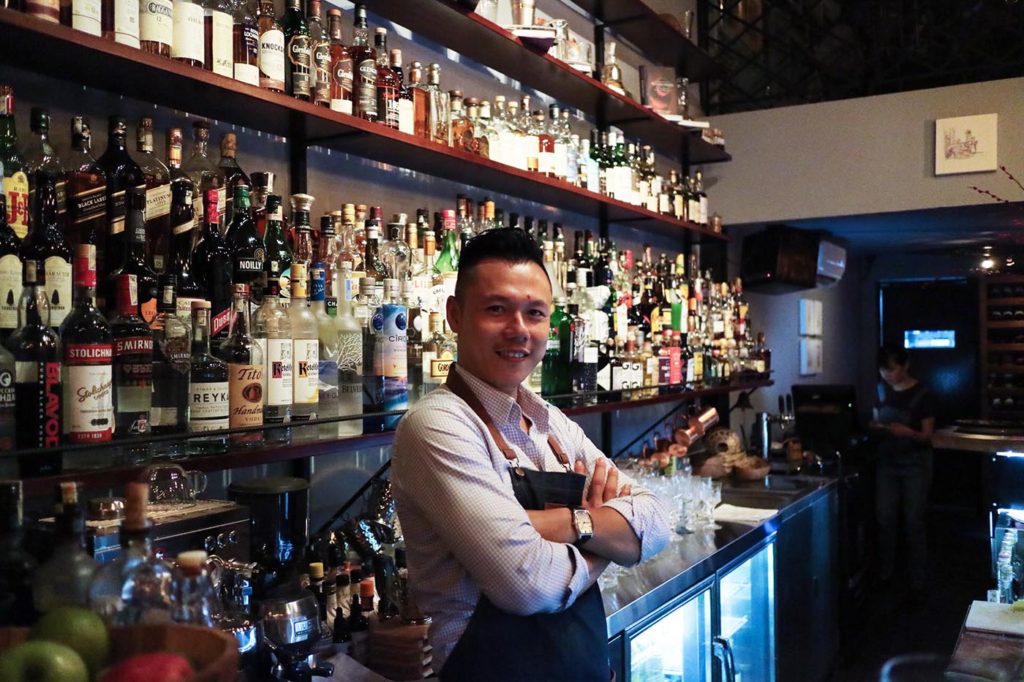 What ultimately helps his bar stand out from the oft-toted speakeasy trope is also its point of view. Pham hails from the country's Mekong Delta, and unlike the city's other monied f&b players, worked his way up from humble beginnings. At The Alley, that narrative is revealed in the details Pham infuses into his DIY decor and drinks, done partly to showcase his proud heritage and love for the vintage aesthetic, and also to keep start-up costs low. "I feel like it's a little bit late to open a bar in Vietnam now. I had the idea to do it like four years ago, but I didn't have my finances," explains Pham. "But last year I was thinking, if I have to wait a few more years, it's going to be too late and it's never going to happen."
In his high-ceilinged room with a mezzanine at the back, Pham's built the lights, filled a wall of photos he's printed of bar and music legends that inspire him, and customised coasters and napkins using the fabric the men and women of his hometown wear day to day. And while other hipster operators might go thrift store hunting for a TV and cassette player for a vintage touch, Pham's appliances each have an endearing story that just draws even more affection for his concept. "Back in '92, the TV show we all wanted to watch was the one about the Monkey King [Sun Wukong], but my family didn't have a TV in the countryside at the time," he says. "So my parents and grandma all combined their money and bought one for the family. We put it outside and welcomed my neighbours to watch, and every night, the space outside our house was full and packed. I was a little boy back then, and when I saw so many people I was very happy – I can't forget that. I asked my dad to give it to me to display in the bar."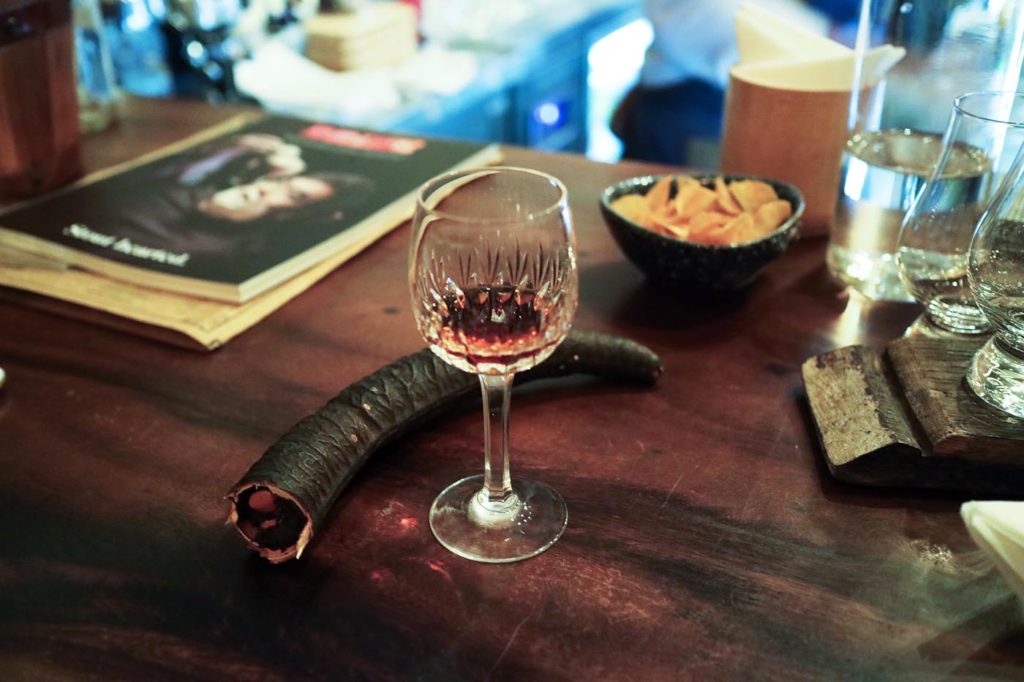 The house signature cocktail, The Alley, features an infusion of o moi Pham calls "Vietnamese amaro". O moi, a long, pod-like fruit popular in his hometown yields a sticky, brown pulp that breathes like fish sauce and mellows out into deep meaty, sour plum flavours when steeped in vodka for ten to 15 days. "When I was in high school, during break times, they'd used to sell these things as a snack," he explains, and here, the rich infusion is balanced with lime juice, simple syrup and a house made bitters. "There are a lot of bartenders around the world like Marian Beke or Luca Cinalli using hard-to-find ingredients," Pham smiles. "I'm thinking like, I have to find something they cannot get. So I used this."
Another signature, the Mekong Delta, deploys his favourite dried bananas from his teen years in a sour-style cocktail with bourbon. "When I used to get back from school and be hungry while waiting for my mom to cook rice for me, I would eat it this snack my mom made for me – it's my favourite." Here, his origins come through in the presentation. A coconut shell – just like the ones he used to dine out of as a kid – sits on a square of wrapping cloth from the Mekong Delta and a weaved bamboo basket that the countryside folk use to elevate rice or fish for steaming.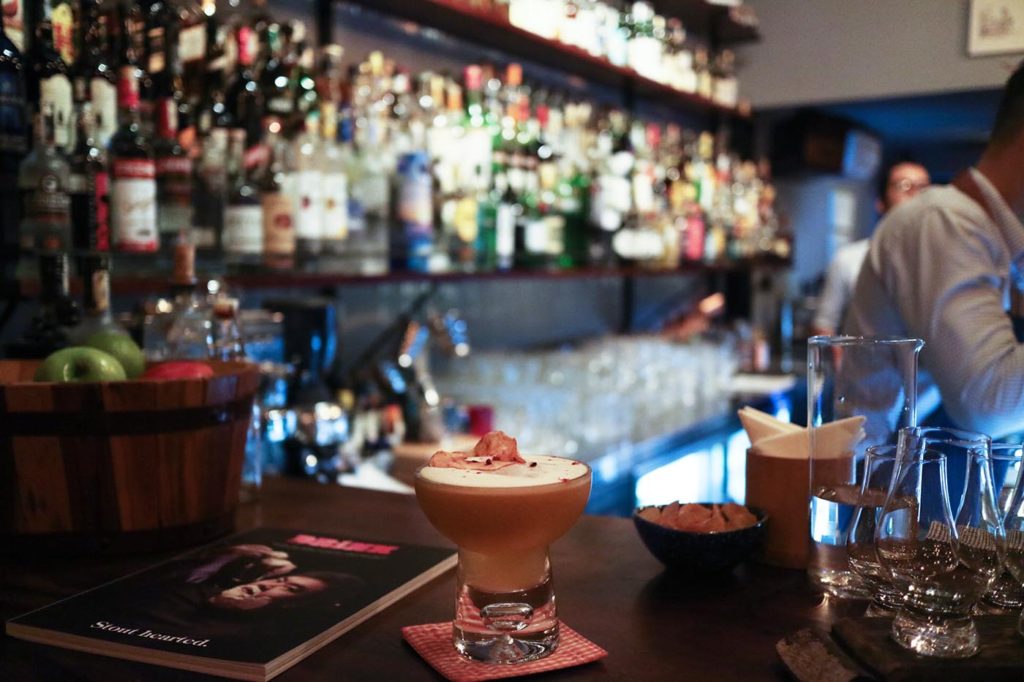 Despite what Pham thinks about the timing of The Alley's arrival on the Saigon scene, his bar's immense soul and character is busting notions that the speakeasy concept has become repetitive. Thankfully, he thinks the same way. "There are a lot of competitors in Vietnam, but I'm not worried or afraid," says Pham. "I'm in this with my passion and my heart." And to that, we say cheers.
---
The Alley 63/1 Pasteur, Ho Chi Minh City. +84 93 565 39 69, fb.com/thealleysaigon.