Love behind bars: Working with your partner in the bar industry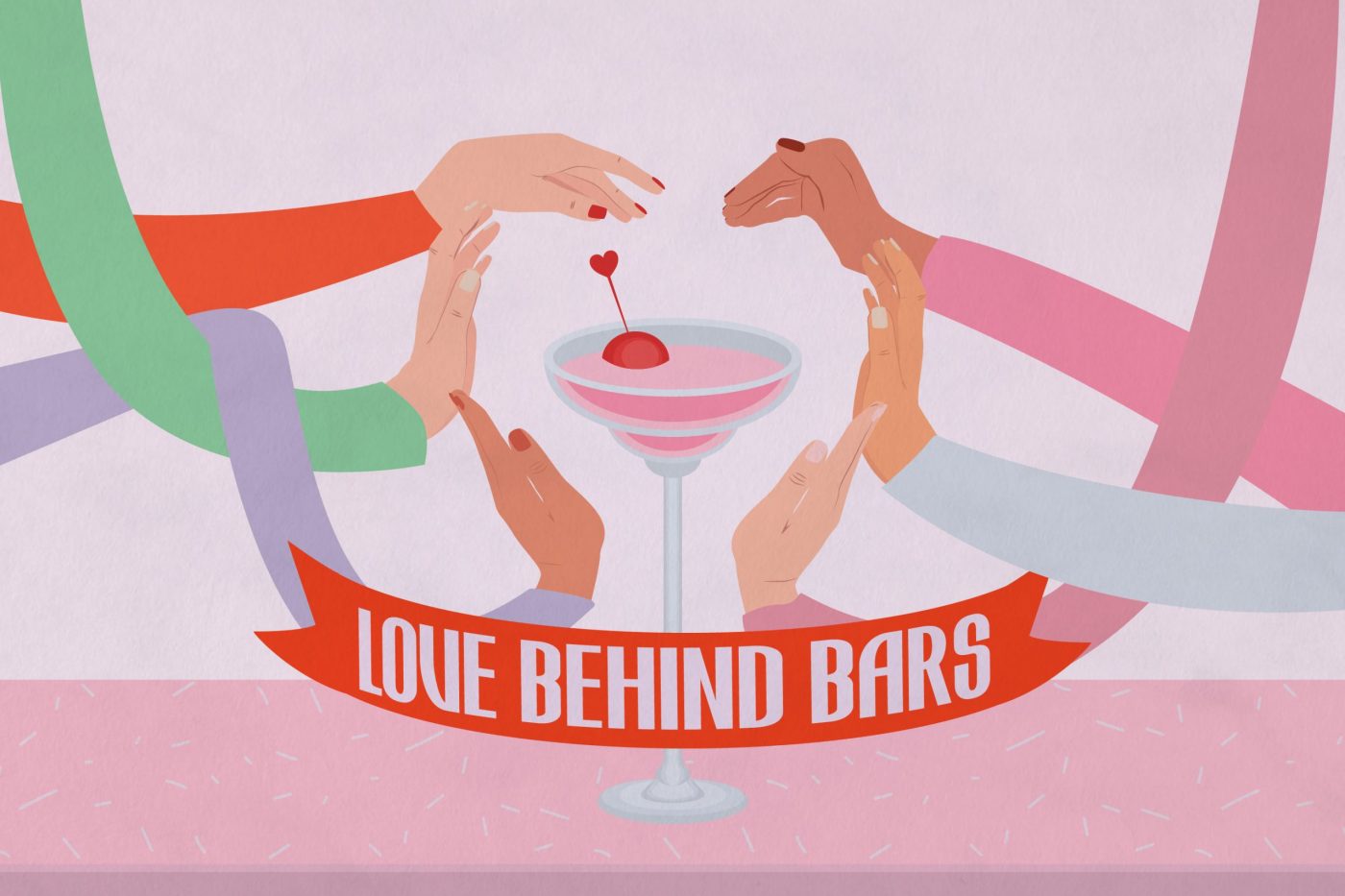 1/9
To celebrate Valentine's Day, some of Asia's bar industry power couples share how they work with their significant other, offering and intimate peek into their lives, as well as advice for those looking to go into business with their partner. By Holly Graham.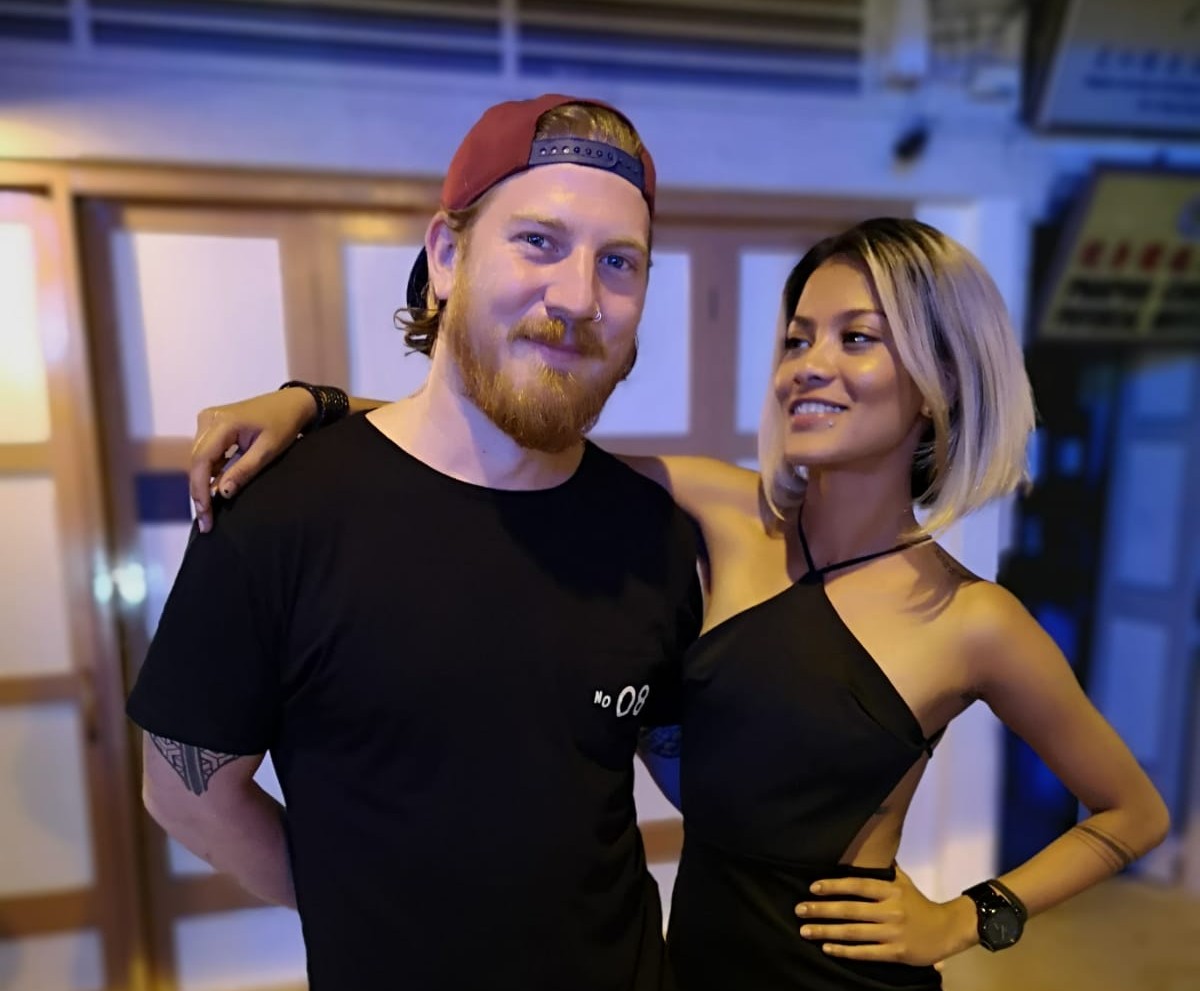 2/9
Jay Gray and Desiree Silva
Co-founders of Sago House, Singapore
How did you meet?
Desiree: I went to an industry event and saw Jay bartending and thought he was kinda cute. Like a skater boy that was trouble. I said "hey", and that was it.
Jay: She was the unmissable shining light at 28 HongKong Street, playfully having fun with her guests, talking shop with the industry folk and making sure everyone had a good time. I didn't so much as approach her to make friends rather than was attacked by her friendliness like everyone else. We never had any romance towards each other until during one Fastest Hands In the East competition, she kissed me out of nowhere! I had always had a soft spot for her but to put it bluntly I had only ever known her to date women so I had always respected that and never pursued anything other than friendship.
What made you decide to open a bar together?
Jay: We were actually looking for a new home together. We had – what we thought then – was a clever idea to find a commercial shop house that we could renovate together and build a small bar to host events three days a week. We never thought of it as a full time gig. It was something fun and creative, like a passion project. We felt that bringing both our strengths in the industry together would make for a pretty awesome place, while doing what we love. It got out of hand very fast. The small bar vs large living space became a fully fledged project when we decided to bring our friend and now business partner George Abhishek into the mix.
Desiree: We spoke many times about how hard it was going to be: working, sleeping, deciding, planning, organising, painting, everything together. Almost like we were preparing ourselves for everything that could possibly go wrong and trying to see if the other would back out. But hey, here we are. Don't try, just do.
Jay: Just knowing Dez and how she operated, I knew whatever we did together was going to be all heart. That's something incredibly important to me from a business perspective. I knew we could overcome any difference if she could stay with me through the year long build, living in sawdust, with nowhere to keep our things, with no space for "us". She had so many opportunities to call it quits on both me and the project and I would never have blamed her. She never did, she barely even complained. Especially when I was still travelling for my old role and then coming back and throwing myself into the build. She is so strong.
What has been the hardest part about working together?
Desiree: Definitely the separation between church and state. It's hard to tell what our partner needs from us when we're in the moment. Sometimes you really just need to be the partner and listen instead of being the colleague. We also spend so much time planning, thinking, dreaming and talking about Sago House, that we leave little of ourselves for each other.
Communication is also important – being in constant sync and communicating well all the time is pretty hard when couples work together.
Jay: Church and state for sure. It's incredibly hard when two passionate, stubborn and driven people work together with no defined roles. We manage and run the bar together, with our team. That doesn't mean we alway agree on systems straight away. Give and take is something that needs to be instilled and drilled into our heads. Also leaving work at work is difficult. Not letting a decision that didn't go in your favour play on your mind when you are at home together can be tough. All in all, we both always want the same things, but sometimes the road to get there can have forks in it. One day she will need to hold my hand and follow me into the unknown with trust, another day I'll need to do the same. Swallowing one's pride is tough in those moments. However, I feel like some of the best parts of Sago House are borne from the disagreements that took the longest to solve.
What has been the greatest part about working together?
Desiree: Seeing how far we've come together. It's like watching a really long and dramatic season of The Amazing Race. I constantly find myself looking at the wrecked bar and dirty dishes after a killer service thinking, "Damn, look what we did Jay Gray". And I feel super full and proud of us.
Jay: I think raising the bar and raising our team together, despite any petty dispute or operations decision. Seeing our team grow with us and stand by us and knowing that we made the decision to stand by these awesome people and that they trust us enough to be a part of our family. I think that's something that's hard to come by if you aren't in a relationship and business partnership. Our love for each other spills over to those who work alongside us.
How do you separate work and your relationship both while at work and at home?
Jay: Still working on that. It's been a crazy year and I honestly don't think we have even had that time to create distance from a toddler bar that needs round the clock attention.
Desiree: We try not to talk about work when we're at home, but we always do. I guess at work it's way harder than at home. Mainly because for me – once I step through those doors – I'm in my zone: work mode on, Dezzy face, little to no personal feelings. Jay hates that! But hey, it's definitely way easier, now that we moved out and have a separate space from the bar. We are both still learning how to not take things so personally while at work, and how to not be so "professional" whilst hearing the other person out at home. 
What's some solid advice you'd give to couples looking to go into business together?
Jay: Have a clear and defined set of rules. Set out who is in control of what from the beginning. Surround yourself with understanding peers. Always have a partner like George! You need someone to keep you both in check when the lines get blurred. Make time for each other, even the smallest amount. Make it your time and protect it. You can't help your bar or your staff if your personal life is falling apart.
Desiree: Communicate! Before you jump into anything together, make sure that both of you have a very strong foundation, friendship, trust and a common end goal and dream. And yes, a third person was a must for us. The mediator, the deciding vote, the peacemaker, the glue. So this person is very important. Thank you George and Joe (Hayward).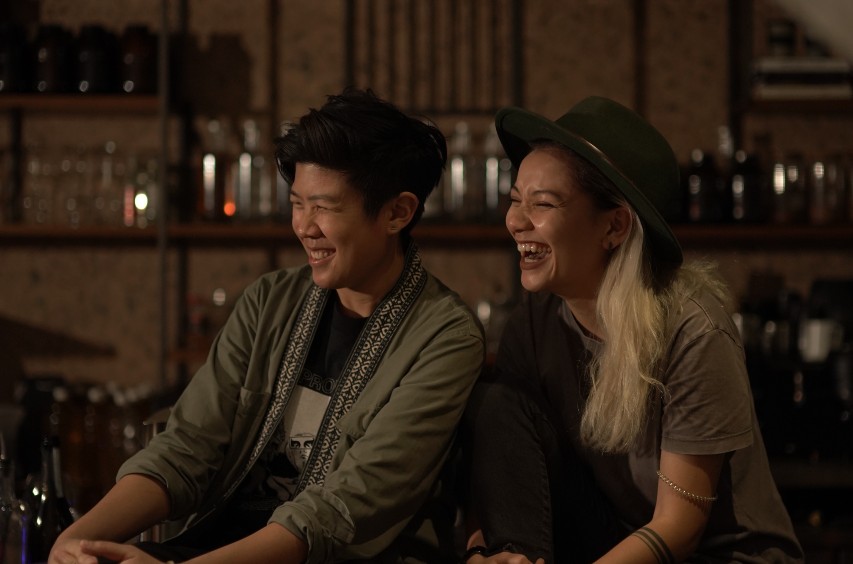 3/9
Jessica "Hutch" Hutchinson and Yi Jun Juan
Co-founders of No Sleep Club, Singapore
How did you meet?
Jun: There was an industry party during Singapore Cocktail Festival and I was trying to escape what looked like a night of debauchery. I couldn't get a cab for the longest time, and spotted Hutch who'd had a drink too many and had secured a taxi. I misheard Hutch's address as one that was near mine so we shared the ride.
When the taxi came, we got in, and the first thing that I heard Hutch say was "I need to puke". The driver freaked out but I assured him that she was fine and for some drunk crazy reason, I wound the car windows down, reached my hands out and told her to puke into them, and then threw it out the car window. I don't know why the driver continued to take us but it worked, I ended up on the other side of Singapore because it turned out Hutch does NOT live near me. When we reached her place I rolled her out of the taxi, and continued on what turned out to be the most expensive cab ride I've ever taken in my life. The next day, Hutch felt bad about what happened and asked for my number to text me an apology, and that's how we started talking. It's a great story for the grandkids.
What made you decide to open a bar together?
Jun: When you open something on your own, you want the best people around you, and Hutch is the best. She's the best at what she does, and I'd say the same whether we were together or not. I was confident of running an operation, putting out a product but I know for a fact that without a strong floor team and hospitality, there was no way a venue would work. I needed her there. I wasn't sure that I wanted to do something on my own as I tried it out when I started No Sleep Club on Club Street with Maxi Coffee Bar, just to have a feel of what it's like and see if what I know how to do would actually take. 
Hutch was working for Proof & Company at the time and loved her job, but at the same time was looking for something new and something that could potentially let her travel or work overseas. We spoke about working overseas together a lot mainly because we couldn't quite find anything in Singapore that felt like a good fit for us. It was these conversations that drove me to think about creating a space and category for ourselves. I wanted that for both of us and I'm definitely more of a fly-by-the-seat-of-my-pants kinda person, and trying it out first before getting Hutch involved was something that was important for both of us. Hutch is definitely the executor and the more organised of the both of us, but change is also a big thing for her. It took a while before one day I just told her I'm going to print her a name card and declare her a part of it whether she wanted to or not – and then it was born. 
What has been the hardest part about working together?
Hutch: For me, the hardest part is that sometimes I do tend to take advantage of the fact that because Jun knows me and my faults and my temper, I sometimes snap back at her faster than I would a regular colleague. I think also, on the flip side, I compartmentalise and I can separate work and partner so at times I can zoom in too closely to focus on a work problem and not realise I might be hurting her feelings or not take her opinions as seriously as I should. 
Jun: There are many difficult points about working together as a couple. I wouldn't recommend it to anybody. The most difficult part is definitely when there is conflict as we have very different styles and strong personalities. Separating work and emotional conflicts is difficult, but we have found ways to work with it and it has definitely made us a stronger couple. 
What has been the greatest part about working together?
Hutch: The fact that Jun immediately has my back when there's a tough situation. Previously, if I had a shit day or horrible experience with a customer, I've had to mull on it all day and then whine to her at home, hours later. Now, she can immediately see when shit is about to go down and because we are aligned on things, she can calm me down and help me reset so that the whole day doesn't go downhill and put me in a bad headspace. I also get to watch her work all day – she won't realise it but I'll catch her being inspired by something or an idea forming while reading and I get this intimate sneak peak at this new idea she's curating in her head. It's fantastic. 
Jun: Working with someone who knows you inside out – the best and worst of you – is not something that happens every day. I'm able to completely be myself working with her. When you put your whole self into a venue, you need someone in your corner.
How do you separate work and your relationship both while at work and at home?
Hutch: We have a safe word for when there is an issue that we feel one of us won't understand the gravity of,  and we know once that's used, it's time to listen to the other person 100 percent. That definitely helps. I'm also a strong believer of not talking about work on our days off together. I do set those boundaries, and it's harder for Jun, but she is getting some sort of balance now.
Jun: Other couples take off days to spend time together, but we make time to be away from each other so we can get some downtime, some space alone and reset. The safe word technique is probably the best thing we have for each other, as it means to shut up and listen and you can't speak or react til the other person is done. Sometimes in close proximity, people react to tones and words rather than what's really happening, and this really allows us to push all the triggers aside and get to the root of the issue. It's not entirely possible to separate work and our relationship, but I don't think it's necessary that we do so either. Our work is personal to us – we met through work, and we share the same passion for work. It's something that also keeps us together. 
What's one piece of solid advice you'd give to couples looking to go into business together?
Hutch: Don't be a brat about it. Realise each other's strengths and utilise those to each other's advantage. Listen to each other and – I don't know if this is something I'd encouraged but – Jun and I will randomly give each other a hug or two in the middle of a shift, just to reconnect in the middle of the rush. 
Jun: Respect. Speak kindly, think before you react. Also, DON'T DO IT!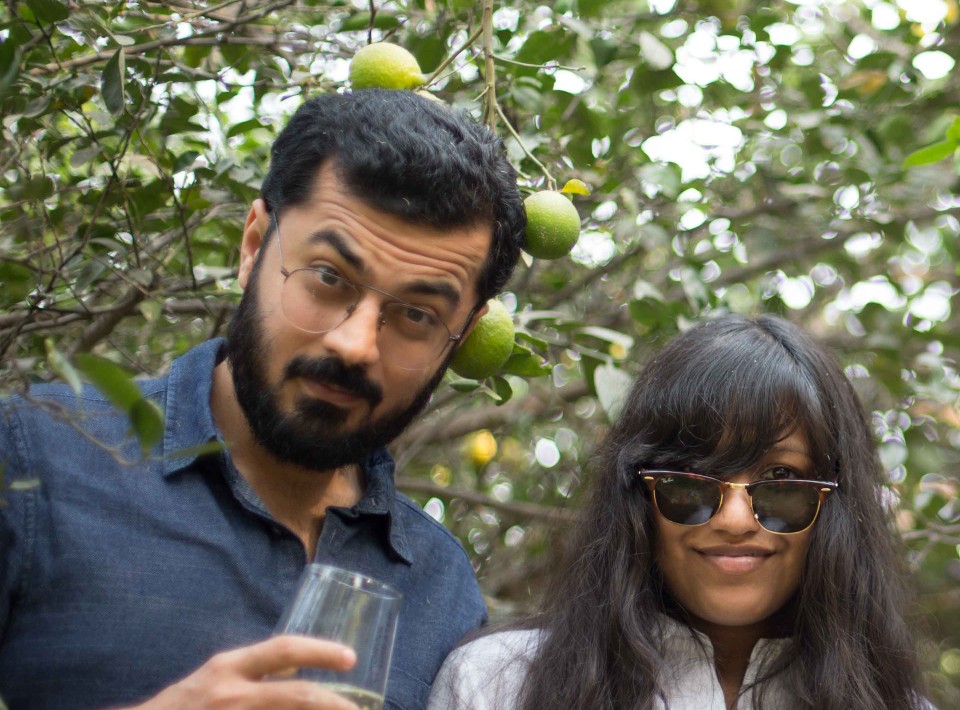 4/9
Anand Virmani and Aparajita Ninan
Co-founders Greater Than Gin, New Delhi
How did you meet?
We met in school back in 2003. We've been dating ever since and got married way back in 2011.
What made you decide to open a company together?
We had always spoken about creating something together. The gin idea just happened to be the first real thing that came along.
How long have you been working together for?
It's been almost 5 years now. Initially we were both part-time on this project and then we eventually graduated to spending all our time here once we felt the company could support us and we weren't being silly about putting all our eggs in one basket.
What has been the hardest part about working together?
We love it very much, but we do miss our old normal lives – a time when we talked about things other than gin. It really is difficult to separate.
What has been the greatest part about working together?
Easily the greatest part has been discovering a fantastic side to each other we weren't familiar with before. In our "normal" lives, we would go off and spend the majority of our day at work doing amazing (or mundane) things that we just wouldn't be able to share with each other. Now, we get a close-up look at each other's style of working, dealing with pressure and managing people and tasks. It really is something which builds a whole other level of respect in an already well-rooted relationship.
How do you separate work and your relationship both while at work and at home?
We don't. We have been doing the work from home thing before it became cool or mandatory! We launched our gin in September 2017 and had a baby in February 2018. We've both been constantly giving our all to work and home since then and have somehow managed to remain sane through it. This means having to pick up the slack for each other every once in a while and finding time equally for work and for each other – sometimes even for Netflix!
What's one piece of solid advice you'd give to couples looking to go into business together?
Learn to switch off! For both your sakes. It's equally important to switch off as an individual and to switch off together often and do something totally removed from work like travel, clean the house or take your two year old cycling.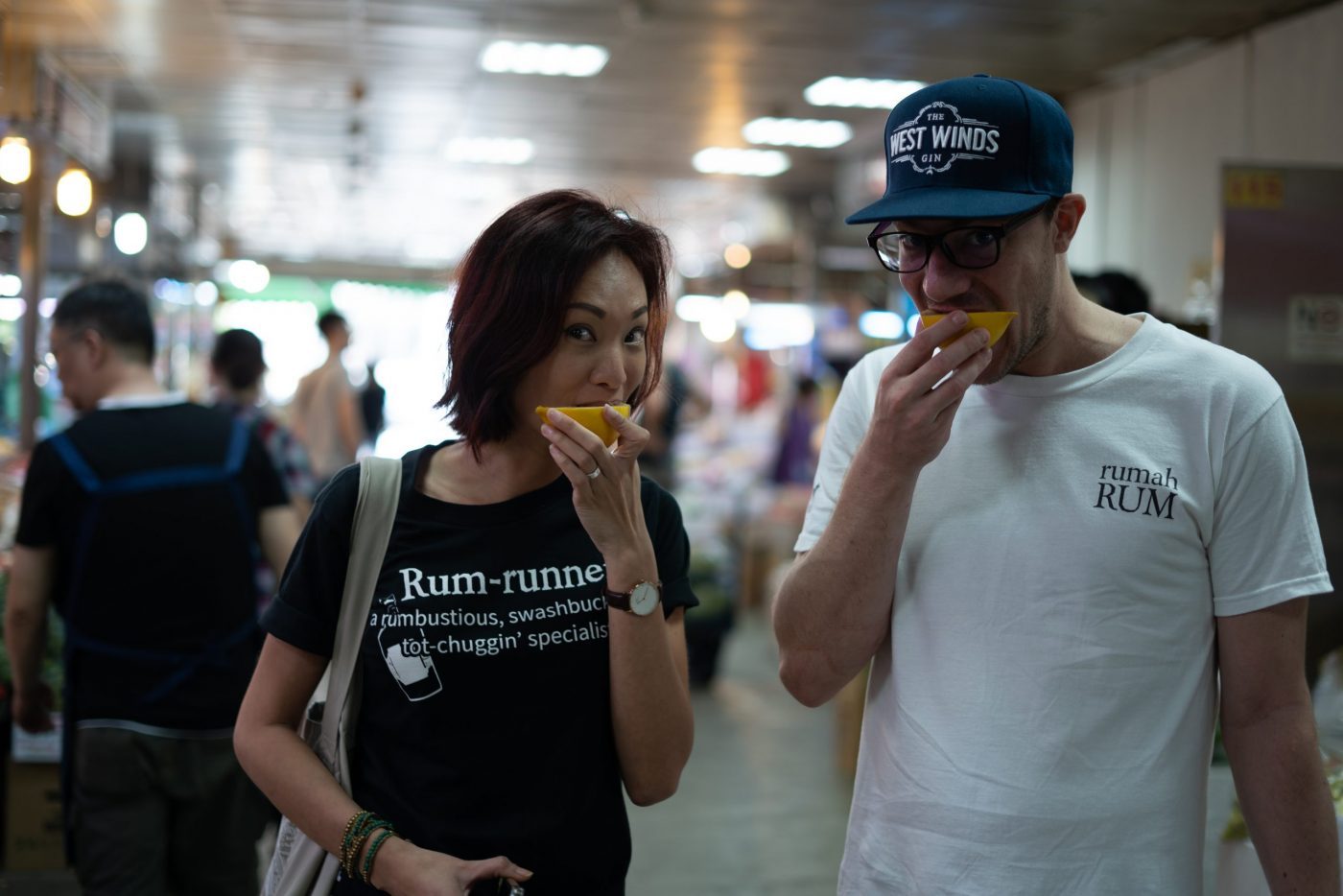 5/9
Josh Ivanovic and Lolita Goh
Directors of JungleBird, Kuala Lumpur
How did you meet?
Josh: As cliché as it is, we actually met in a bar. Loli had flown up to KL from Singapore for the weekend with a group of friends, one of which is a DJ and happened to be playing at the same place on the same night as a friend of mine. Both groups ended up sharing the same table, we got talking and I approached her… I think! That was back in April 2016.
What made you decide to open JungleBird together?
Loli: Josh had started an events and consultancy company shortly before we met, and around the same time I had been looking for a change of scenery from my current career. We started working on ideas together for about six months before the idea to open a bar came about.
What has been the hardest part about working together?
Josh: Drawing that line between home life and work life. Especially with owning and operating a bar. It's a tough industry to stop the work clock. Even if we're both at home on a "night off", it's never really a night off. If you're needed, you're needed. Something as simple as sending some emails or responding to messages. Although it's a simple task that takes very little time, it puts you in work mode which can sometimes be difficult to get out of. Certain things, I find, often can't wait until the following day.
What has been the greatest part about working together?
Josh: Definitely working with my best friend and wife so closely almost every day. Although we often focus on very different aspects and areas of the business, we're usually in close proximity to one another and ideas get bounced back and forth.
How do you separate work and your relationship both while at work and at home?
Loli: It's not always easy. In fact, it's rarely easy to completely separate the two. Owning a bar requires a huge amount of passion from all parties. That passion can all too easily escalate into a heated discussion, not just between the two of us, but with other partners as well. So just try to maintain a level head and remind yourself that in a professional environment, everyone should be communicated with on a professional level, no matter the personal relationship.
What's one piece of solid advice you'd give to couples looking to go into business together?
Josh: Define your roles and responsibilities clearly before you begin. You will always be in and out of each other's work load whether it be with advice or constructive criticism. After all, you're both working to reach a common goal. But just having an understanding of where, or to who those responsibilities fall makes it easier to maintain a healthy working relationship with your spouse.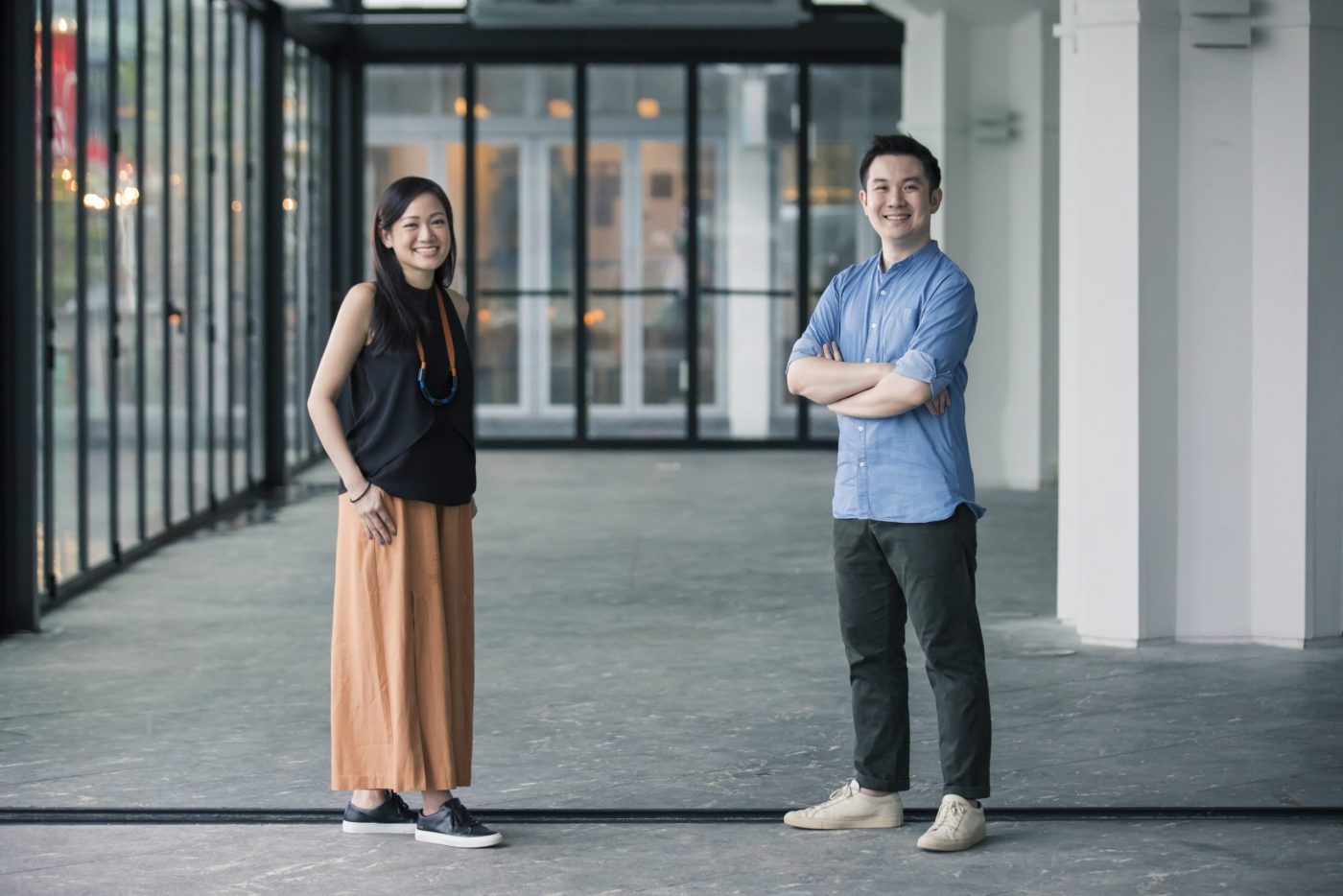 6/9
Indra Kantono and Guoyi Gan
Directors of Jigger & Pony Group, Singapore
How did you meet?
Indra: Of course it was at a bar! I met Guoyi at Ice Cold Beer, a casual beer bar on Singapore's Emerald Hill that was close to where we both lived. I went to the bar after work with a colleague, but every table was occupied. Meanwhile, Guoyi was at a table with her friends, and coincidentally she and my colleague were acquaintances. She offered that we join her table… an offer that I took up straight away.
What made you decide to open a company together?
Indra: Back in 2010, Guoyi felt it was time to hang up her Singapore Airlines kebaya after five years of flying. She has always loved meeting people and delivering hospitality, and we both love to drink. Meanwhile I was feeling restless at my private equity job but did not have the courage to leave a cushy job and start a business. It was the push and conviction from Guoyi that made the dream a reality.
We started doing research on bars. Singapore did not have a cocktail scene back then, and honestly, we knew next to nothing about cocktails! This is where Guoyi's globe-trotting job with Singapore Airlines became handy – she would do the field research in the cocktail capitals like New York and London, while I supported her with the desktop research. We started to host friends at home and serve them cocktails, and that is where the seed that became Jigger & Pony was planted.
We decided then that we wanted to create a place where people find comfort, forge friendships, and share happiness – very much like at our home gatherings. To this day, this has served as the company purpose of Jigger & Pony.
It has been a terrific decade-plus of working together now. Right from the start we have defined areas to focus on – Guoyi is the heart of the company and runs all things operations and hospitality related, while I take care of business development and the branding and marketing side of the business.
What has been the greatest and hardest part about working together?
Indra: For both the greatest and the hardest: When you work together with your spouse, the highs are higher, and the lows are lower. This becomes more than a job, and more than an entrepreneurial endeavour. This is our life.
When the bar accomplishes a milestone, we are the proudest "parents". You always want to share your happy moments with your loved one, so working together makes this really easy and gratifying.

On the other hand, when work stresses pile up, there is nowhere to run and hide. It is also tough when your first reaction is always to reduce the stress and burden of your spouse, but here you are overwhelmed by the very same set of challenges.

Having said that, for me working together with Guoyi has made me a better hospitality professional, a better company co-leader, and a better person – you'll need to ask her about the better husband bit! I am grateful that every step of the way, through the successes and the challenges, we are standing side-by-side together.
How do you separate work and your relationship both while at work and at home?
We don't. We have pretty much integrated work and home into our lives as one. It helps that we both share similar views and approaches. Some of the best discussions about work happen while we are in the car driving to dinner, or sometimes we go into spontaneous brainstorming sessions about an idea that occurs while we are watching TV on the weekends. On the other side, some of the best birthday celebrations we have had were at our own venues with friends and regular customers alike.
What's one piece of solid advice you'd give to couples looking to go into business together?
It is NOT for everybody, that much is obvious. Ask yourself two questions: 1) Would you actually make good colleagues if you were not in a relationship with one another? 2) Are you in a stable relationship with your partner where you positively influence each other, even if you were not working together? If you can definitely say yes to both questions, then you are ready to go into business together.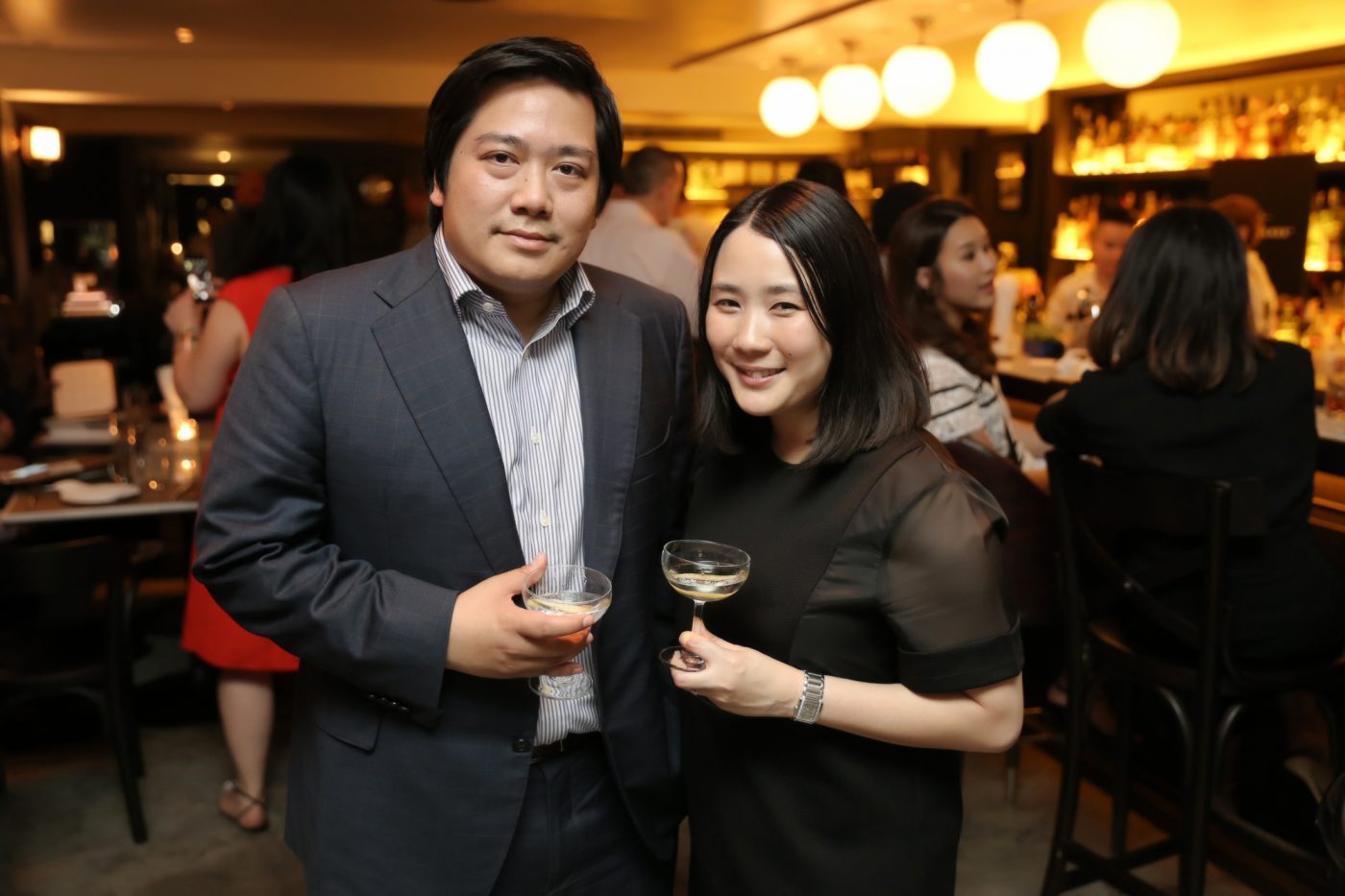 7/9
Choti Leenutaphong and Debby Tang
Managing partner and operations director of Foodie Collection Group, Bangkok 
How did you meet?
We have known each other since we were 12 years as we went to the same middle school. It was only after high school that we began dating though, and we married 15 years ago.
What made you decide to open a company together?
We were living and working in London together back in the early 2010s, and loved trying out new restaurants but didn't know much about cocktails. Then, a friend introduced us to London cocktail culture and we became fans of great bars like The Connaught, Dukes Bar, 69 Colebrooke Row and Callooh Callay. We have always been passionate about food and drinks and always wanted to open a bar and/or restaurant of our own, but never had a chance to do it. 
At the time, the cocktail scene was relatively non-existent in Bangkok, and we strongly believed there was an untapped opportunity to bring London cocktail culture and what we love about F&B in London and Europe to the city. So, after much consideration and planning, we decided to come back to Thailand in mid- 2013 and founded our F&B company, Foodie Collection Group. We opened Vesper as our first project back in March 2014.
What has been the hardest part about working together?
Choti: In the beginning, it was hard to separate between personal and professional relationships. Even when we had a day off and tried out new restaurants, we couldn't stop talking about our work – talking about their places – what they do well and what they do badly, and how we can improve ours.
Debby: When you are in this industry, work tends to overlap with your personal life. We have the same circle of friends so when we socialise with them in our venues, that becomes part of our professional lives as well.
What has been the greatest part about working together?
Choti: That we have the same vacation days and same working hours! So, when we manage to get time off, we switch off and get to travel together. Also, because we work together, I can talk about everything with Debby, knowing that she understands where I am coming from.
Debby: That the successes we have with our company can be shared and celebrated with each other because we go through the same process of achieving them together. These can range from getting a Michelin star for one of our restaurants or Vesper entering the Asia's 50 Best Bars list for the first time in 2016, to small things like seeing our place packed with guests on the first day of opening, or how a guest compliments, saying they really love our bar.
How do you separate work and your relationship both while at work and at home?
It was quite difficult in the beginning but after a few years, we introduced a golden rule where we will not discuss work – unless we really need to – during our day off or after working hours. That really helps a lot.
What's one piece of solid advice you'd give to couples looking to go into business together?
If you are having a tough time in business, start with reminding yourself why you decided to work together in the first place. Surely it's because you share the same passion, goals and commitment, and when you think like that, any obstacles – whether they are because of work or relationship in general – can always be overcome. You just need to find joy in any challenge you face together.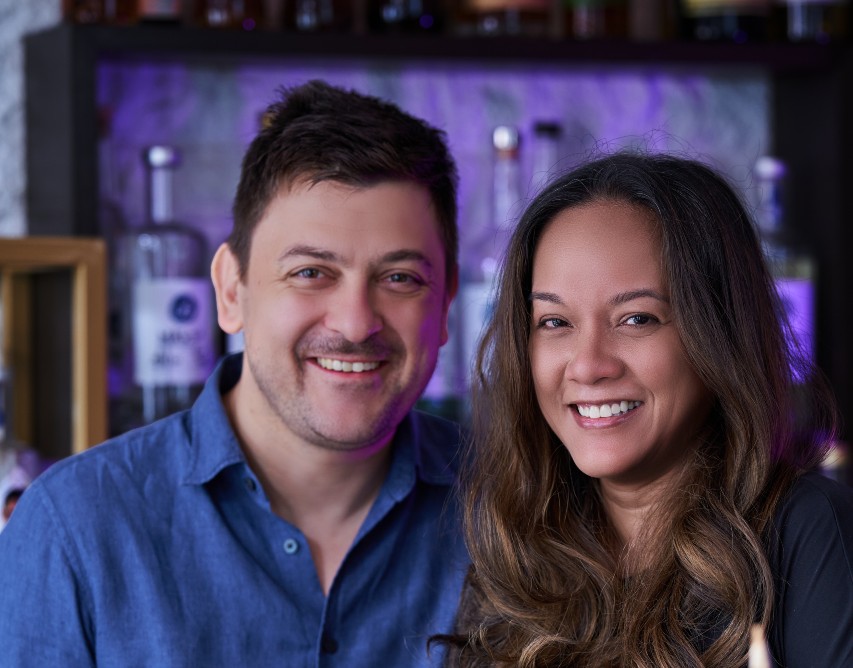 8/9
Zurina Bryant and Kamil Foltan
Co-founders of IB HQ, Singapore
How did you meet?
Zurina: We were introduced very late one night at 28 HongKong Street by Zdenek Kastanek, who was Kamil's flatmate at the time. Serendipity stepped in after this and we kept meeting over the next few weeks which led to Kamil asking me out on a date.
What made you decide to open a bar together?
Zurina: I kept hearing Kamil's clientele talk about his amazing cocktails and asking if he'd thought about having his own bar. We talked, the idea grew, pitches were made and the rest is history! Working together came naturally to us. I love working on a good project and Kamil makes all the amazing cocktails and handles all the operations.
What has been the hardest part about working together?
Zurina: The hardest part is remembering that there is a life outside of work and to not talk about work every moment we're together.
Kamil: Keeping personal and working relationships separated is the hardest part. Sometimes it feels like being back in the corporate world, where you have to schedule and time discussions about work.
What has been the greatest part about working together?
Zurina: Being able to spend some working hours together. Otherwise with Kamil's schedule and mine, we wouldn't see each other very often.
Kamil: I love working with Zurina. The brainstorming sessions and her different points of view on how to execute things is fresh air to my daily routine.
How do you separate work and your relationship both while at work and at home?
Zurina: On Sundays we aim to not speak about work and try to get out of the house and do something different to keep life fresh. 
Kamil: Sundays are our family day: no phones, no work emails and nothing work related is mentioned on that day. It keeps us connected on a personal level.
What's one piece of solid advice you'd give to couples looking to go into business together?
Zurina: That communication is key to working together. I often use the phrase "When answering this question, would you like me to answer as your wife or your business partner?".
Kamil: Cherish any occasion as a couple that you can. Keeping the love magic and clear communication about topics are the hardest things to maintain for couples working together.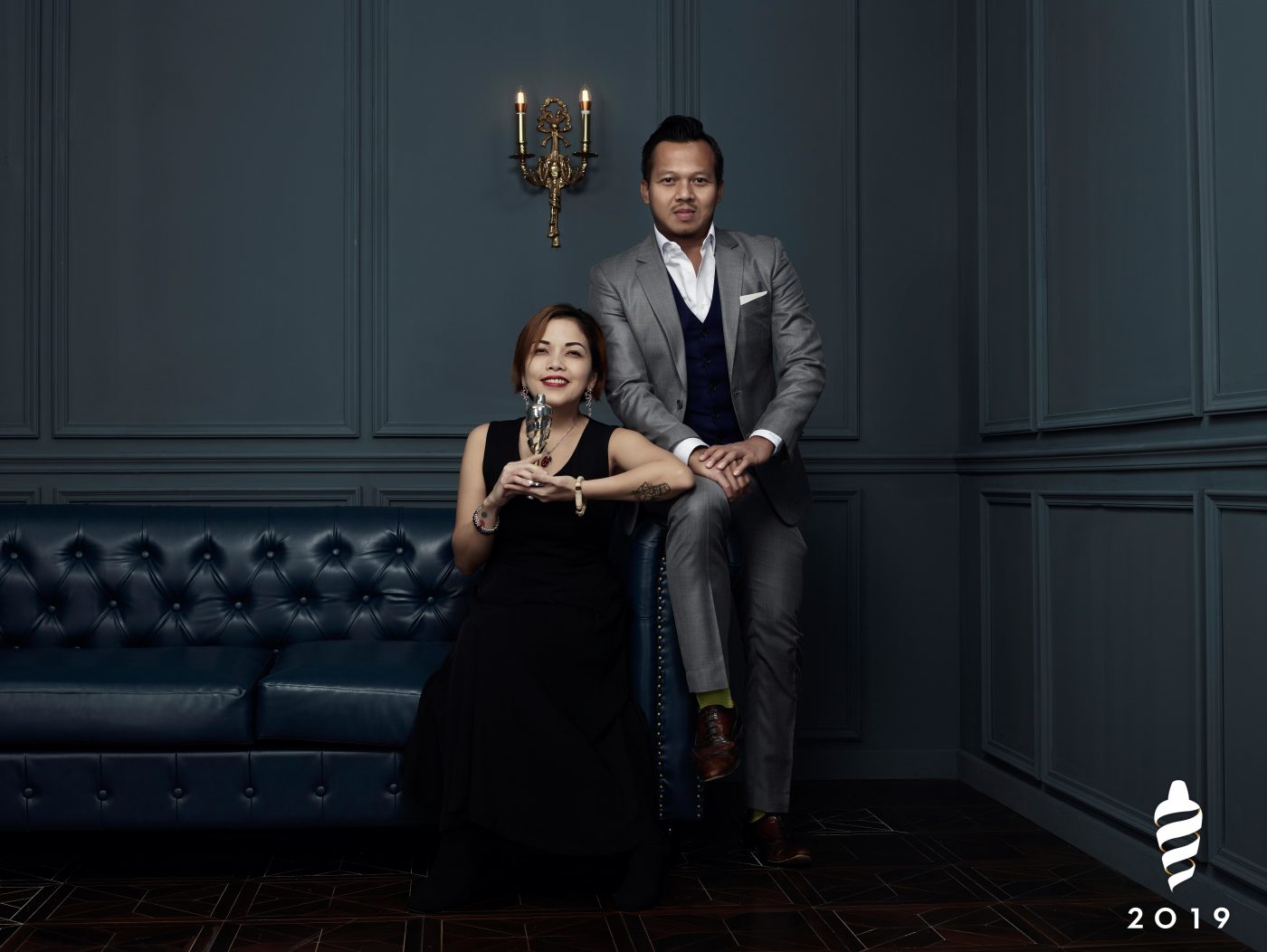 9/9
Laura and Agung Prabowo
Co-founders of PENICILLIN and DEAD&, Hong Kong
How did you meet?
Laura: At a flair bartending competition. Agung came first and I came second.
What made you decide to open bars together?
We thought why not?! Last year during the height of COVID-19, everything really slowed down and we had time to drink more, talk more and think more. We started talking about opening a bar, thinking about a niche that hadn't been filled in Hong Kong, then we threw around many ideas which lead to us eventually deciding to team up.
What has been the hardest part about working together?
You have to keep each other's likes and dislikes in check. Everyone can sometimes let their ego get the better of them. When it comes to making decisions – such as choices of furniture –  both of us have different tastes, different reasons for that choice, and sometimes we have to end up agreeing or agreeing to disagree! 
What has been the greatest part about working together?
Feeling proud when our work as a team is recognised. It's the best feeling to know when our hard work is paying off and people acknowledge it. Hopefully we can inspire other couples to do the same thing – start a team and build one dream together.
How do you separate work and your relationship both while at work and at home?
Respect each other. Even if you may not always agree on some of the choices your spouse makes, you should try and respect it. For example, let's say one of you finalises the uniform and you're not really into the way it looks, respect your spouse's process and work it out to make it look as perfect as possible for both of you.
What's one piece of solid advice you'd give to couples looking to go into business together?
Always remember to respect each other and work as a team with one vision. Even if it's not as successful as what you'd hoped, own it, make it better and plan it again with a better strategy to make sure when you come back, you make a big fucking bang!