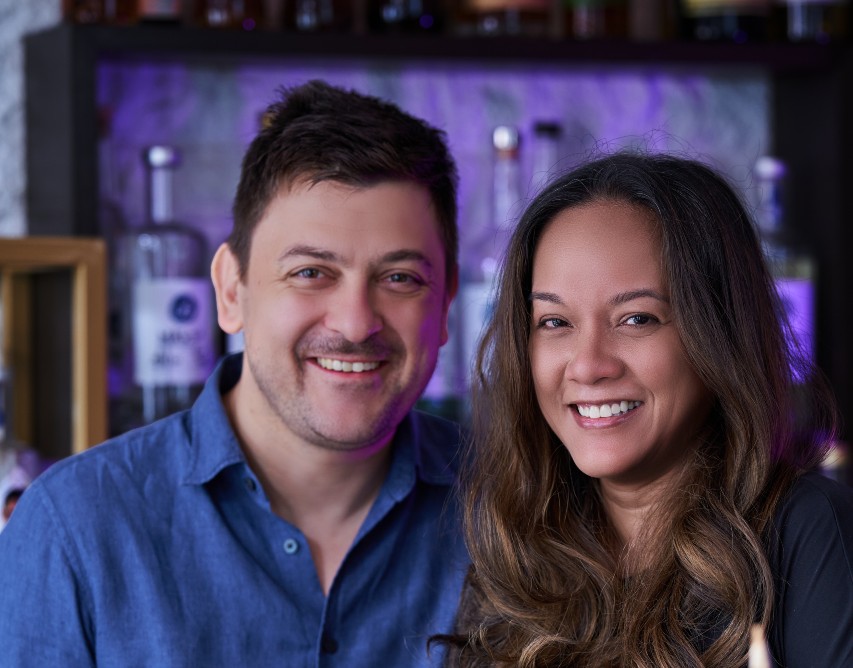 Zurina Bryant and Kamil Foltan
Co-founders of IB HQ, Singapore
How did you meet?
Zurina: We were introduced very late one night at 28 HongKong Street by Zdenek Kastanek, who was Kamil's flatmate at the time. Serendipity stepped in after this and we kept meeting over the next few weeks which led to Kamil asking me out on a date.
What made you decide to open a bar together?
Zurina: I kept hearing Kamil's clientele talk about his amazing cocktails and asking if he'd thought about having his own bar. We talked, the idea grew, pitches were made and the rest is history! Working together came naturally to us. I love working on a good project and Kamil makes all the amazing cocktails and handles all the operations.
What has been the hardest part about working together?
Zurina: The hardest part is remembering that there is a life outside of work and to not talk about work every moment we're together.
Kamil: Keeping personal and working relationships separated is the hardest part. Sometimes it feels like being back in the corporate world, where you have to schedule and time discussions about work.
What has been the greatest part about working together?
Zurina: Being able to spend some working hours together. Otherwise with Kamil's schedule and mine, we wouldn't see each other very often.
Kamil: I love working with Zurina. The brainstorming sessions and her different points of view on how to execute things is fresh air to my daily routine.
How do you separate work and your relationship both while at work and at home?
Zurina: On Sundays we aim to not speak about work and try to get out of the house and do something different to keep life fresh. 
Kamil: Sundays are our family day: no phones, no work emails and nothing work related is mentioned on that day. It keeps us connected on a personal level.
What's one piece of solid advice you'd give to couples looking to go into business together?
Zurina: That communication is key to working together. I often use the phrase "When answering this question, would you like me to answer as your wife or your business partner?".
Kamil: Cherish any occasion as a couple that you can. Keeping the love magic and clear communication about topics are the hardest things to maintain for couples working together.