Highline's multi-offering takes inspiration from American classics. By Jonathan White.
'Three men walk into a bar' is the setup to most jokes, but when the three men are Muse's Michael Sun, restaurateur John Liu (Coquile and Scarpetta) and Le Baron's Cody Allen and they're opening the bar in question, it's no joke. With a collective CV that also includes Shanghai industry favourites The Nest and The Cannery, and extends to Liquid Laundry and Maya with chefs Anna Bautista and Sean Jorgensen added into the mix, this portfolio DNA should be a recipe for success.
Highline is an all-day, all-night offering that's open from breakfast onwards. Found on the 6th floor of the Ascott Hotel in Shanghai's Xintiandi, it's aimed at tapping into the changing expectations of consumers and a move from operators to build more interesting, integrated concepts: "People are looking for a place at any time of day to get great quality food and drinks, that's not a club," says Liu. "That needs an amazing location."
Sun found this spot before bringing in Liu for his f&b expertise, who in turn roped Allen in for his guest relations and programming background. The overall concept? "Being able to offer consistency and ease, we're always open in that sense. You're not looking on some website or trying to call us," says Allen, who explains that it's inspired by the strong hotel lobby environment in New York City, something he sees as missing in Asia.
The multi-concept result is airy and features aspects of the mid-century modern design – something Allen admits to getting "nerdy and ridiculous" about (which he does in the next issue of DRiNK Magazine). That school of design defined post-war Southern California, so it is no coincidence that the trio have all spent time in and around LA, while the food takes similar new American cues of "updated American classics restaurant with heavy California influence".
The most noticeable thing, although not many have had the chance just yet, is the roomy patio, which also opens up so the bar is half outside. "No one has experienced that apart from John and I," says Allen, "but to sit on the low end of this bar with all of the windows open and the breeze on your back is a really pleasant experience."
With the welcome shift in the weather, it's probably high time to hightail it over to see for yourself. Even if the sun's not out, you'll see the rarest of things – a hotel outlet that doesn't impose a service charge.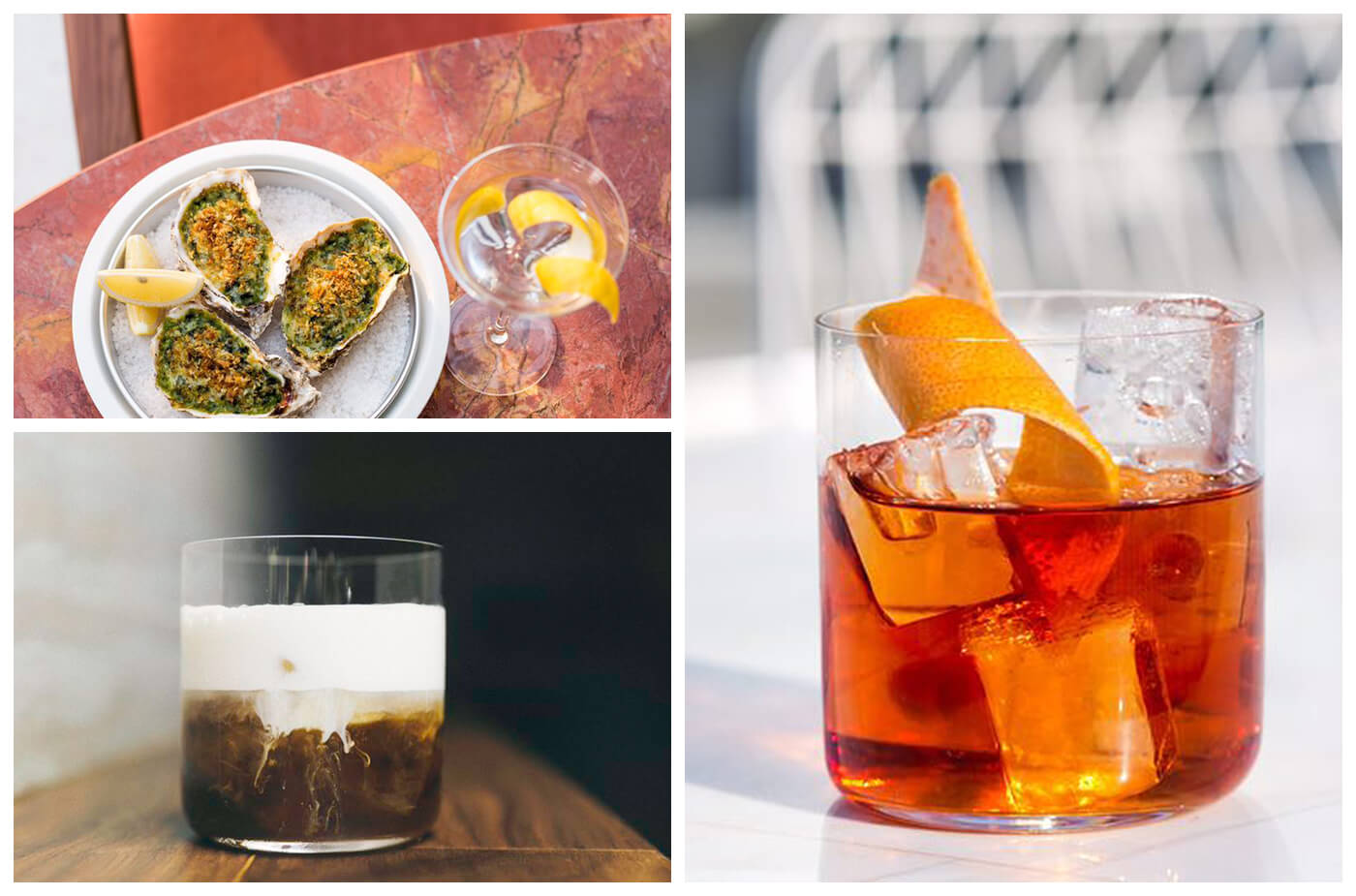 Drinks take in cocktails, beer and wine plus bottle service, but they've found people are drinking more interesting bottles in High Line as people are more open to trying something new, such as vermouth. They also have an extensive sake selection thanks to their partnership with Elliot Faber from Yardbird and Ronin in Hong Kong. The trained sake samurai has ensured that High Line stocks a number of bottles available nowhere else in the Mainland.
---
Highline / 6/F, Ascot, 282 Huaihai Zhong Lu, Shanghai / +86 21 2329 8888 / facebook.com/highlineshanghai