Zach Luther explains the ideas behind KL's Shelley Yu's, which makes its tonic waters, and more, from scratch.
"People keep asking me, 'Why gin and Nyonya flavours?' If you think about it, a lot of the spices like coriander, cinnamon and so on are the same, and a lot of gins work with Nyonya's sour element. It makes sense, and gin seems to be an up-and-coming trend in KL. For Shelley Yu's cocktail menu, I sat down and compiled a long list of all the flavours and spices of Nyonya cuisine. Besides the liqueurs and gins themselves, I wanted all the flavours in the bar to have a Nyonya element to them. Instead of your standard gin bar with a big focus on Gin and Tonics, we have that, plus classics like the Gimlet, Martini and Negroni.
We're starting off with a strong focus on West Winds' gins because they have a diverse portfolio and each one is very, very unique. The menu has a page for each classic and four versions of each made with different gins and their own twists are mapped on the graph according to how they taste. For the G&Ts, we've made four different tonics – with tamarind, bunga telang (blue pea flower), pandan and a regular one – that we're carbonating in-house and bottling. For the Gimlets, we've made different lime cordials and one is served with a calamansi marmalade. For the Negronis, we're using different liqueurs, and for the Martinis, we're using different vermouths, smoked turmeric brine, achar (Nyonya pickles) foam, salt-cured pineapple to spray and one of them even goes as far as to have sambal belachan (chilli paste) painted on the rim of the glass. For the non-alcoholic drinks, we're making a longan, mango and jackfruit shrub with just vinegar, and we sweeten those and top up with soda water.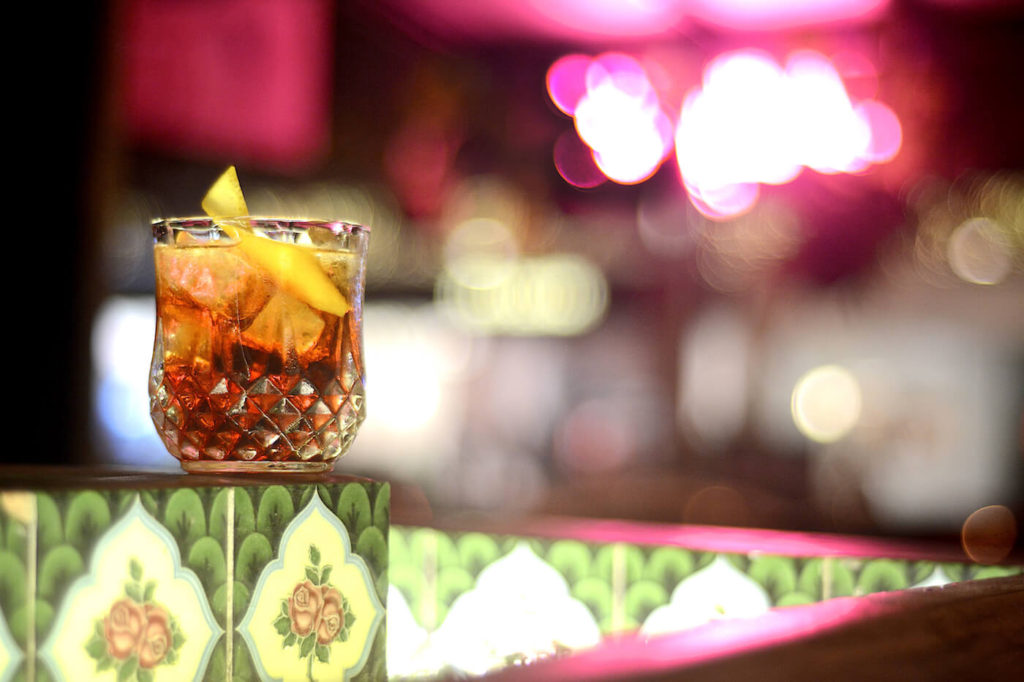 We make all the flavoured tonics by boiling down powdered red cinchona bark with lime peels, then clarifying it through a coffee filter and sweetening it. We make a big batch of this base, and then sous vide the flavours in. It adds a lot of prep time, but one of the cool things we've done is to create a really sustainable bar program. We're making everything a little less wasteful by, like, collecting leftover lime juice at the end of the night at Ril's and cooking that to make the lime cordial. The great thing about what we're doing, also, is that for just about everything – with the exception of the lime cordials – all the brines, shrubs, marmalades and all that have a really, really long shelf life. We can just make massive batches of them and have tons of back-ups, so it doesn't have to add too much cost to the drink, because most of the things aren't very labour intensive to make. Actually, the costing is also great. The ingredients are really cheap because they're all local, so it doesn't add too much cost to the drinks. This is the most cost-effective bar I've put together by far, which wasn't certainly my number one goal, but is a really nice thing that it became.
The cool thing about Malaysia is that all of these really intense, interesting flavours, people are pretty drawn to. I don't think I could really pull off the salt-cured pineapple in the States, but when I give that to Asians, their eyes just light up and they're like, 'Wow! What is that?' So that's pretty cool. Head bartender Jenghis Pettit just moved to KL from Baltimore, where he also worked on the highly acclaimed bar program at B&O American Brasserie. We expect Shelley Yu's to be a high volume place, because the street has a few venues that get really loud and quite busy at night – but everything is approachable and familiar enough, yet different enough that it's been very well- received and not too foreign for anyone."
---
Shelley Yu's / 49 Jalan Telawi 3, Kuala Lumpur / +60 3 2201 4139 / fb.com/shelleyyus
This story was first published in Issue 04 of DRiNK Magazine Greater Asia. Subscribe to the magazine here.