Aussie brewer talks beer measurements, mass appeal and his blueprint for a successful brewpub. By Jethro Kang.
Australian brewery Little Creatures made their first foray into the overseas market last year with a brewpub in Hong Kong's Kennedy Town, with Fremantle native Tom Champion in charge as the local brew master. Amid rumours of them tackling the Mainland next, we caught up him on his stop in Shanghai to find out what it takes to transfer a brewpub to Asia.
Brewing a smaller batch isn't just about measuring down.
Little Creatures's flagship brew is its pale ale, and one challenge Champion faced was adjusting that recipe from 20,000 litres per batch (at their brewery in Geelong, Victoria) to 5,000 litres locally. "You can just scale all your ingredients down," he says, "but it gets more complex than that because you have different efficiencies in the [new brew] kit." The amount of malt extract, for example, was not right, and the level of bitterness from the hops fluctuated. Champion had to experiment with the mix until he was satisfied: "You have tune those, adding up a few more hops, maybe a little bit too much, pull the hops back a bit, but now we have signed off on the pale ale in Hong Kong, which is good." And figuring it out brings one benefit – he wouldn't have to repeat the calculations again if the company decided to open another similar-sized brewpub. "The recipes are much more transferable now because the efficiencies would be very, very similar," Champion says. "All brew kits have their own efficiencies and differences, but I imagine it would be much quicker now we have done the big scale down. It's just tweaks."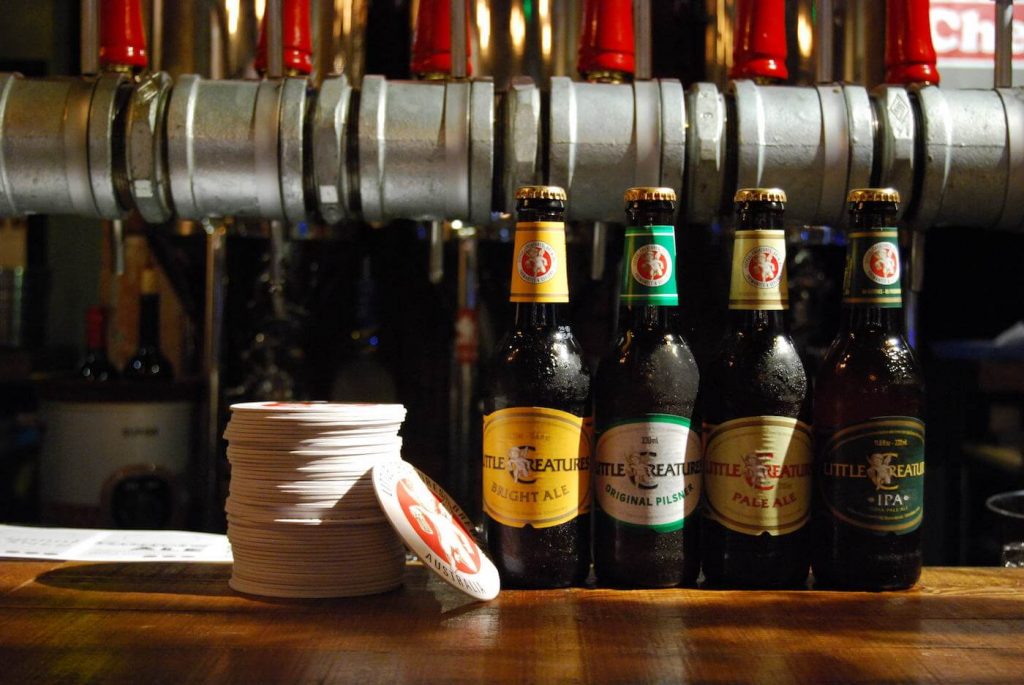 Reach out to the top, but don't lose sight of your main audience.
To satisfy the nerdier of beer drinkers in town, Champion created some HK-only brews like a 7.5 per cent abv Belgian tripel with cinnamon, allspice and mace, and the Red Sail Porter, a style loosely based on two seasonal Little Creatures beers that's named after the junks that bob in the Hong Kong harbour. But he remains mindful of his main audience, which is why he wants to please them all. "In Hong Kong, the sessionable beer seems to be what they're after," he says. So the pale ale remains indefinitely on one of the two taps, while the house brew is constantly rotated. "We want to be approachable to the pointy end of the craft beer spectrum, but we also want to be approachable to people who don't even drink beer," Champion adds. "They come into our restaurant and we offer them a cider or maybe have a little taste of the beer, see if they like it, but never turning people away."
Create a brewpub that is about much more than the beer.
Little Creatures has two brewpubs in Australia, and they're known for their rambunctious atmosphere. "One time when I was there years ago having my dinner with a friend," Champion says, "and all of a sudden there was a fire breather next to me!" In Hong Kong, the brewpub involves guests in other ways, such as education through their Beer School, or experimentation by the way of a Randall. "You can load it up with what you want, whether it's extra hops or fruits or chilli," Champion says. "But if it sits in there overnight infusing, the first pint is always like, 'Wow, this chilli will burn your face off! "But these gimmicks, combined with a laser-like focus on hospitality, serve a higher purpose. "We find that is almost like a living billboard for us," he says. "People come in, have a wonderful experience, go away and tell people to come to Little Creatures, and that's how our business grows."