Hope & Sesame reflects the city's changing tastes. By Jethro Kang.
A lowly Cantonese cafe may not be the first place that comes to mind when dreaming of a cave full of gold, but this bingshi in Guangzhou hides treasures of the liquid variety. Located in Dongshankou, Miaoqianbingshi is the name of this old-school ice room, and inside it lies Hope & Sesame, a 30-seat cocktail bar opened by Andrew Ho of Vietnamese restaurant District Boho, and Bastien Ciocca, former restaurant manager at the city's Shangri-La Hotel. With the bar's unassuming storefront drawing unwitting locals in for traditional fare and a brass lion knocker hinting at a secret door, it's easy to dismiss the knowingly named Hope & Sesame as just another weary speakeasy. But the association stops there. "Speakeasy is just the first step to get people into the cocktail bar," Ho says. "Cocktails in Guangzhou are still lagging behind Shanghai, Beijing and Hong Kong, so it's just a way to get people through the door."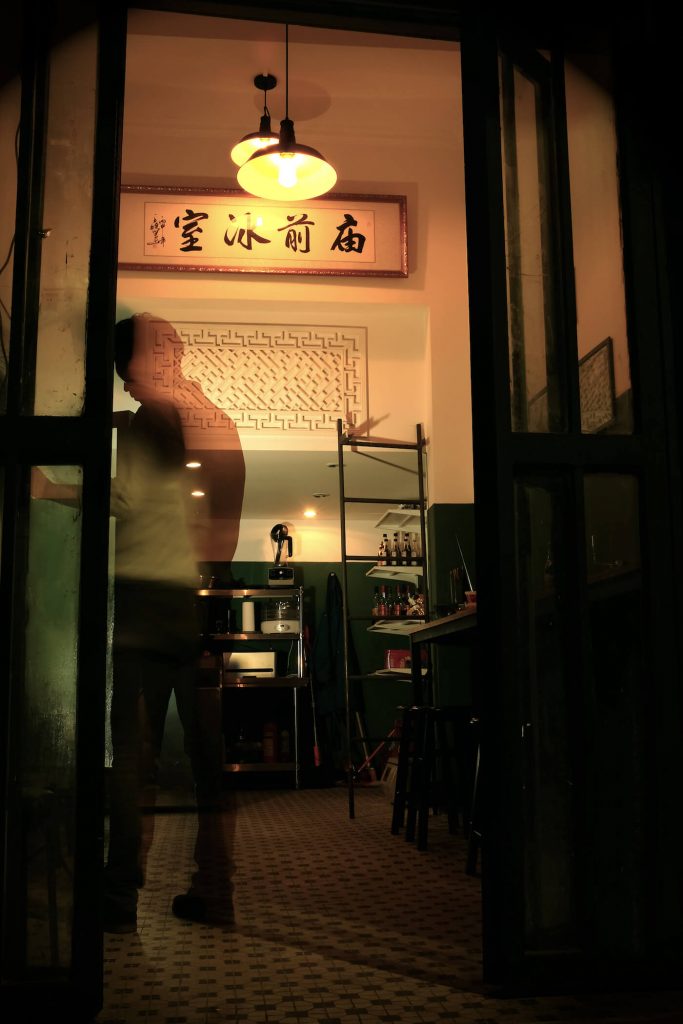 Still, the hush-hush feel of an underground watering hole influences how Hope & Sesame serves many of its signature drinks. The Earl Grey Dark & Stormy (Earl Grey-infused rum, lime juice and homemade ginger beer), for example, comes in a glass Coke bottle with its cap on, accompanied by a tumbler with ice made from Earl Grey tea. "The whole cocktail is inside the Coke and you can pour it into the glass," says Ciocca, "but if you don't explain to people, [they'd wonder] 'How come the colour is really weird?'" Another is the Char Siu (bacon washed Chivas 12-year, huadiao wine, rose liquor, honey and ginger extract), which comes in a brown paper bag with the Chinese characters of the bingshi's name stamped on it. These drinks are also driven by the climate and ingredients of the bar's home turf. "The weather is a little bit hotter, so people tend to go for something a little bit fruitier, easier to drink, refreshing," says Ho, so libations are lumped under categories such as "Fresh Fruity Drinks" and "Bright Sour Cocktails" for easy picking.
The spirits, though, are all from the top shelf, which both owners claim is something that many local joints steer clear from. "In Guangzhou, some of the bars' mentality is that they don't want to go for too fancy spirits," Ciocca says. "Some suppliers told us when they came to our bar is that you don't need to have that fancy stuff. They say that Guangzhou people don't know enough, so it's like wasting money." But bucking the trend could be Hope & Sesame's trump card, with an evolving economy and growing middle class that has taken root in the city. "There will be a big time in Guangzhou like one, two years from now," Ciocca says. "The city is changing. Before it was more like a trading, factory city, now it's more focused on high-tech developments. I think it'll be interesting to see a change in the guests, people with a bit more money and want to spend more in the city, not just pass by to look for suppliers and leave." While local residents may not be as exposed to cocktail culture, they're eager and "quick learners", Ho notes. "You have to explain it to them," he says. "You have to give the story, tell them how it's made and the story behind it, and they love it." And when the locals get it, Hope & Sesame will be one cocktail cave that people will plunder.
Recipe (Click to view)
Earl Grey Dark & Stormy
---
Hope & Sesame / 58 Miaoqian Xijie, Yuexiu district, Guangzhou / +86 188 1935 3462
This article first published in Issue 45 of DRiNK Magazine.