Canned cocktails are here to stay, and these tins are some of our top picks. By Holly Graham.
What came first? Whiteclaw or the pandemic? Either way, the rise of popularity in hard seltzers – thanks to America's Whiteclaw – and bar's pivoting to delivery cocktails during the pandemic, the canned cocktail has seen a rise in popularity the world over. 
While there are lots of hard seltzers on the market, we've picked out some of the best canned cocktails and innovative tinnies available around Asia.
COA x Young Master: La Paloma de Oaxaca (Hong Kong)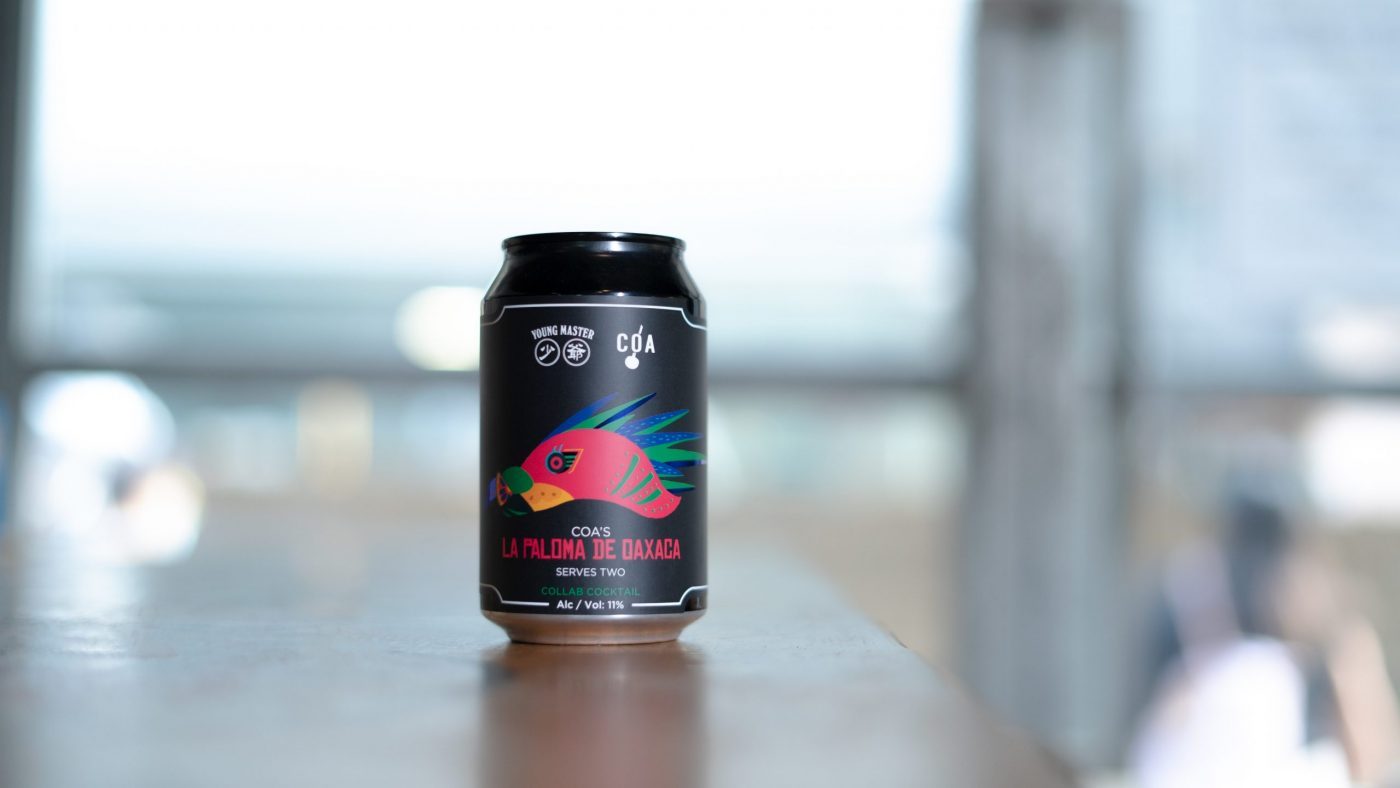 Currently number one on Asia's 50 Best Bars, Jay Khan's love affair with agave goes beyond his bar COA and into a can, in a collaboration with local Hong Kong brewery Young Master. 
Jay's La Paloma de Oaxaca has become a somewhat iconic cocktail in the city, and in response to the pandemic, he and Young Masters released a run of the cocktail in 330ml cans, complete with a little pouch of worm salt for the rim. 
Created with the same spirits used at the bar, the cocktail uses Arquitecto tequila and Alipus mezcal, combined with a homemade grapefruit soda and each can has two servings. 
Jay says of the can: "While born out of necessity due to the pandemic, to go cocktails are definitely one way to help with business sustainability and I believe they are here to stay for a long time due to an unpredictable future ahead."
He believes the emerging trend of canned cocktails will see more partnerships between bars and liquor companies in the future, and says the project has been a huge success. "The drink is very popular at the bar and we've received enormous support from our guests, selling around 6,000 cans to date."
Order here
The Drugstore at Sago House (Singapore)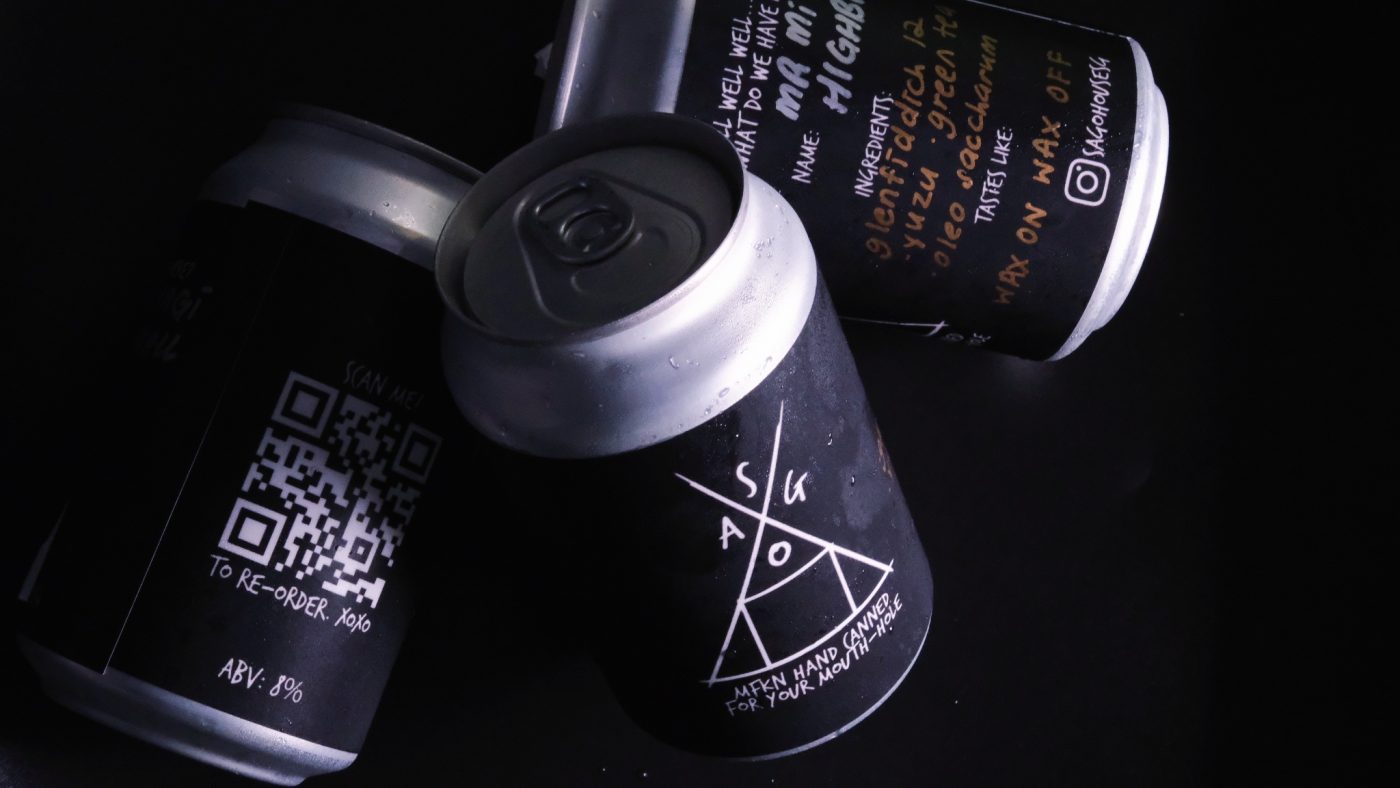 The team say The Drugstore at Sago House is the bar's answer to the annoying 10.30pm alcohol ban and the ever-changing dine-in measures Singapore has faced during COVID-19.
Born during Singapore's first lockdown in April 2021, The Drugstore was Sago House's solution to bringing the experience to their guests when they couldn't visit the bar. They began canning their flavour-packed drinks for takeaway and delivery. Since then, they have developed the Okay Can cocktail range, featuring three flavours: Ay Caramba with tequila, Cointreau, Ancho Chilli, pink grapefruit, lime, honey, citrus and red tea; Sago Sling with Amass dry gin, pineapple, passionfruit, green tea, burnt marshmallow and citrus; and Mr Miyagi Highball with Monkey Shoulder whisky, yuzu, green tea, oleo saccharum and citrus. 
Sago House co-owner Jay Gray will be collaborating with Russell Cardoza to turn The Drugstore into a canning facility to allow other Singapore cocktail bars to can their drinks and expand the growing market, and hope to launch this project by December 2021.
"In my eyes, canned cocktails are stronger than ever because they finally have a bar or individual behind them," says Jay. "They're no longer just RTDs from a big company that contain E numbers and questionable ingredients. You can finally support your favourite bar, hopefully from across the globe one day."
Order here
Four-Twenty (Hong Kong)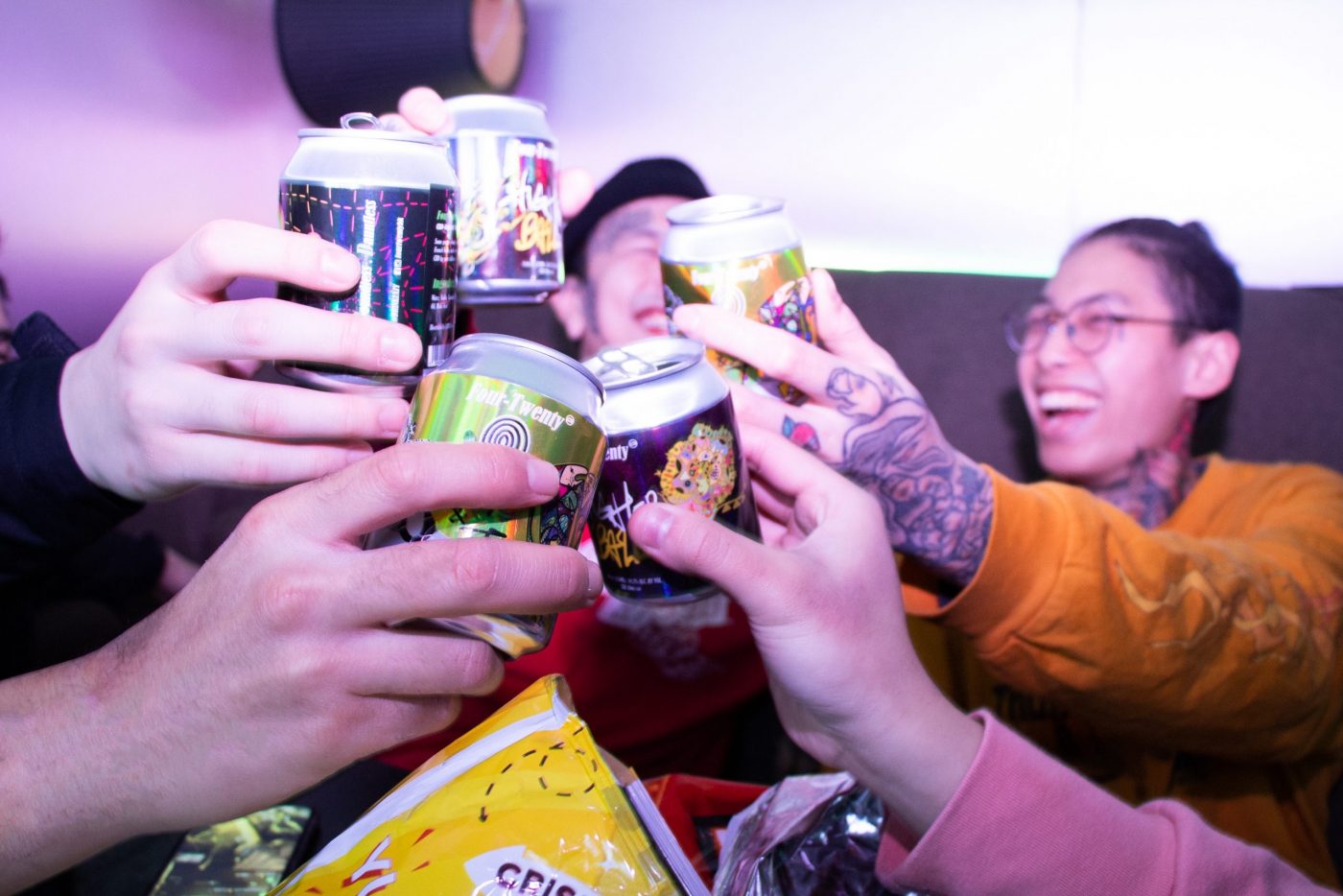 Four-Twenty is one of Asia's first CBD canned drinks, thanks to Hong Kong being one of the first places in Asia to legalise cannabidiols which can be found in coffee, cocktails, smoothies and more all around the city.
Four-Twenty infuses 20mg of CBD into its range of three cans, which are essentially a spirit and mixer with a little flair. The Higher-Ball Whisky Soda is a blend of Scotch, soda and lemon oil; The OG&T Gin Tonic uses a base of London dry gin and craft tonic water, and the Magic Acid Vodka Soda features French vodka, soda water and citric acid to give it a sour candy twist.
Co-founder Tony Chu says: "Canned cocktails just make life a lot easier. As much as I love drinking a nice cocktail in a bar, I believe people still need something tasty that they can just pop open on the street or at home. This is sad but true in Hong Kong where people always have a fast-paced lifestyle, so this is what people need – a little downtime with a canned cocktail and CBD to chill out."
Order here
In A Can (India)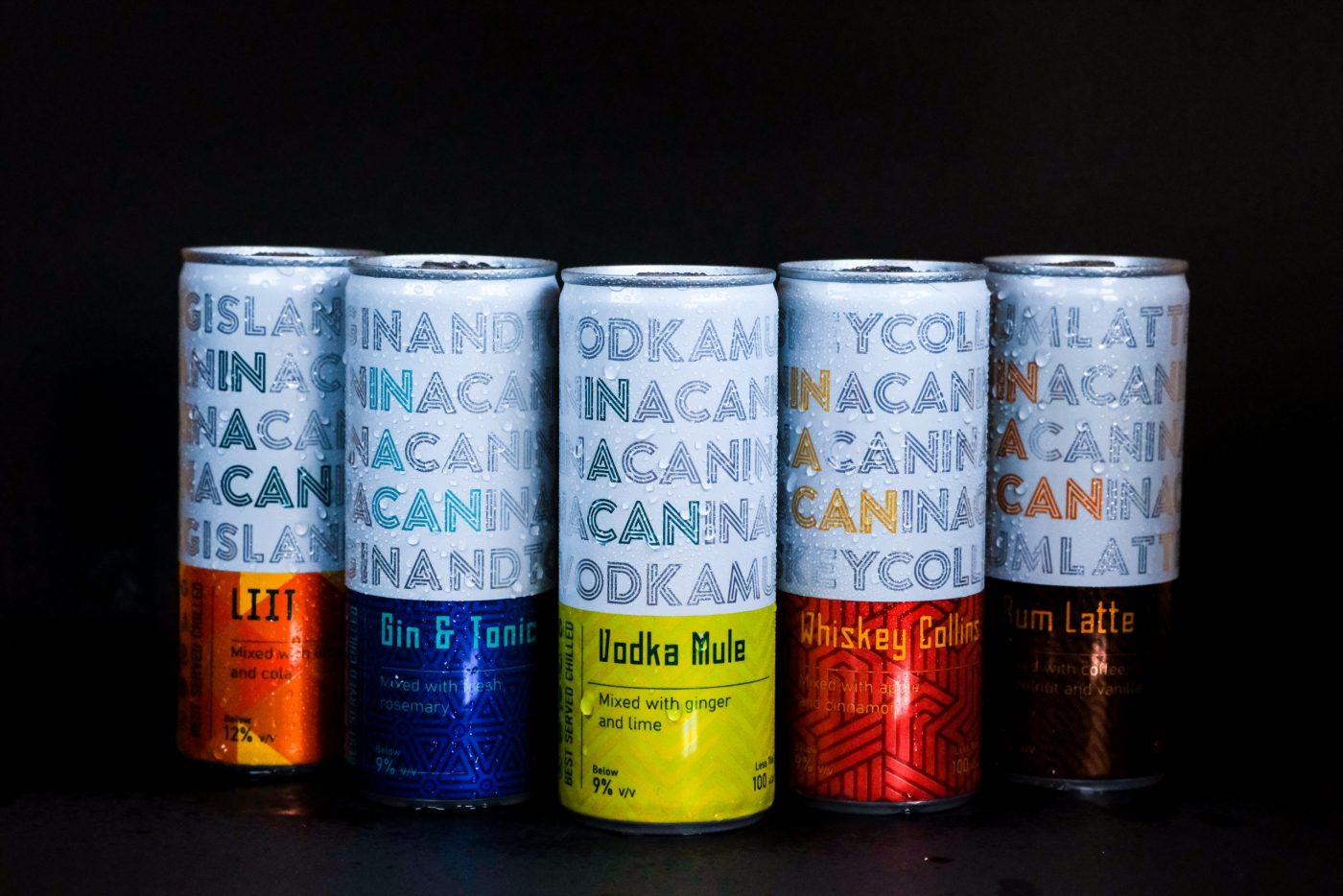 In A Can is a range by RM Beverages founders Sameer Mirajkar, Viraj Sawant and Varun Sudhakar based in Pune, India. In A Can claims to be the first canned cocktail available in the Indian market, aimed at bringing a high-quality cocktail drinking experience to the convenience of home. The team felt that during the height of the pandemic, there was a lack of good quality drinking experiences, and over nine months and 15,000km by road across three states, they searched for perfection and quality to build this product. 
This journey included developing their own semi automatic can seamer machine which eventually produced the first five variations of In A Can cocktails during the development stages. 
The team uses alcohol distilled and blended specially for In A Can cocktails and each can uses natural flavours and has a low calorie count of 100 or below. The range includes the Vodka Mule, Rum Latte, a Whiskey Collins mixed with apple and cinnamon and the LIIT.
"Canned cocktails are so much more accepted nowadays," says Varun. "It opened us up to a completely new clientele who never had access to craft cocktails before. The pandemic kept people stuck indoors, so canned cocktails became a convenience for those who wanted quality drinks at home."
For more info, click here
Fernet Hunter Hard Peach Tea (Hong Kong)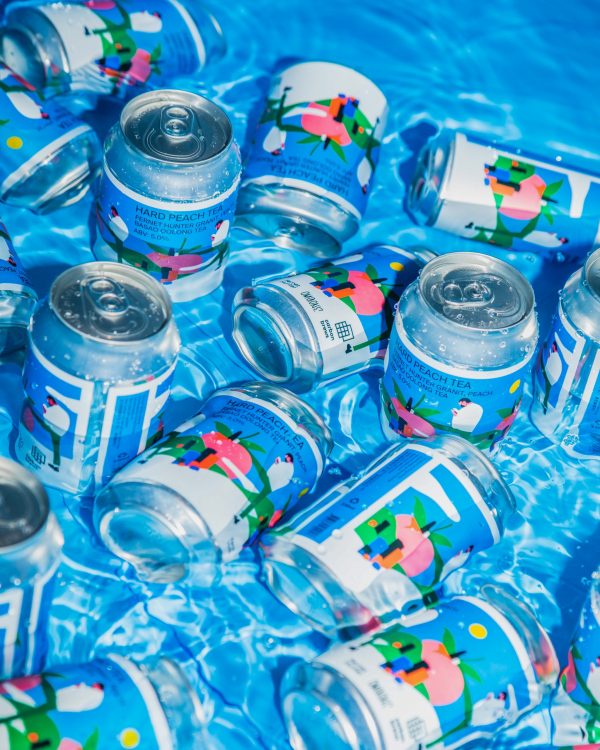 This can is a collaboration brew between Fernet Hunter, bartender and artist Mack Ross aka Omacke, local brewery Carbon Brews and Basao Tea. Fernet Hunter founder Raphael Holzer and brand manager Sebastian Robinson came up with the idea with Mack, when the gang – who met in mainland China – were reunited in Hong Kong. As they say, when a bartender meets a brewer who meets a spirit producer that likes tea, and it just so happens that said bartender is a talented graffiti artist – magic happens!
The can – designed by Omacke – is carbonated, with not-too-sweet peach and dry tannins from the tea and the bitter notes that Fernet Hunter Granit is known for, with a low sugar content and a mellow 5% abv.
"The story of our RTD is a bit different to most," says Sebastian. "We simply saw it as an opportunity to collaborate with some friends from different sides of the beverage industry. We knew we could make delicious cocktails together but scaling up and making the drink stable threw in some new challenges." 
He goes on to say that after the success of their first round, they now understand the process and science behind making RTDs. "It's also really fun to work with your pals, so we'll continue to explore the category. We really didn't expect our Hard Peach Tea to be as popular as it has been but after selling out in only four weeks we've already begun to develop our next instalment. Gotta give the people what they want!"
Order here
WAT (Taipei)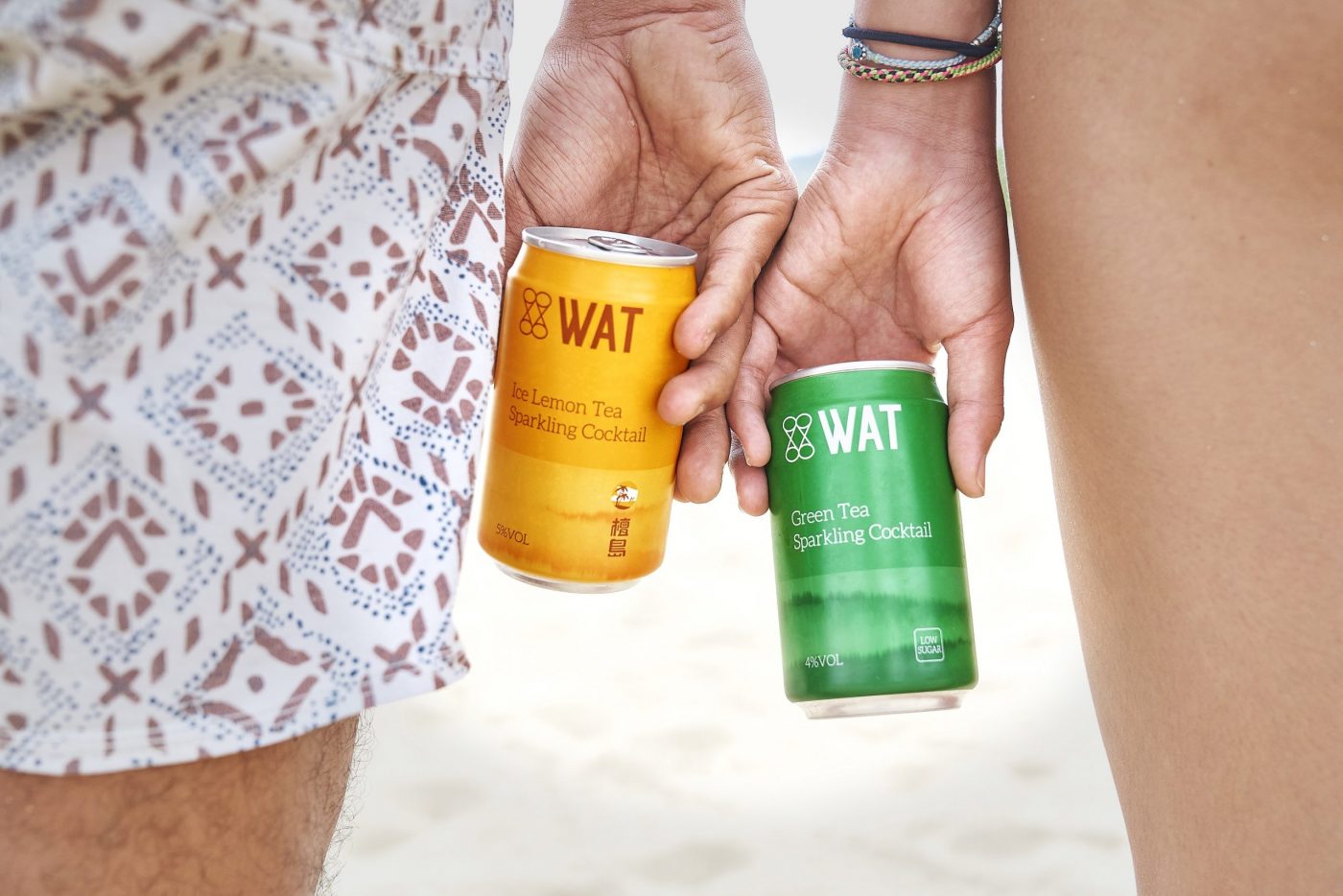 WAT's range of canned tea-based cocktails line as well is an extension of their initial bottled cocktail range, using rigorously selected quality ingredients such as tea that undergoes a quasi hand-pouring extraction process.
The WAT Ice Lemon Tea Sparkling Cocktail uses black tea from Sri Lanka from the Kandy and UVA regions, which is known for its aromatic and concentrated flavours, and takes inspiration from their most popular and award-winning WAT x Honolulu Café Ice Lemon Tea Cocktail bottled cocktail series, and takes inspiration from the much loved Hong Kong lemon iced tea. The WAT Green Tea Sparkling Cocktail uses high-quality green tea from local tea farmers in Taiwan and comes in at under 100 calories per can.
Order here