Asia maintains its position as the leading bar region in the world, with a record number of bars appearing on The World's 50 Best Bars list in 2020. By Matthew Fergusson-Stewart (Director of Spun Spirits Pte Ltd).
The Oscars of the bar world, The World's 50 Best Bars, were announced on November 5 as reported here by DRiNK. 2020 has been a difficult year for bars with social distancing and lockdowns, but this seems to have had little effect on some major long-term trends in the list.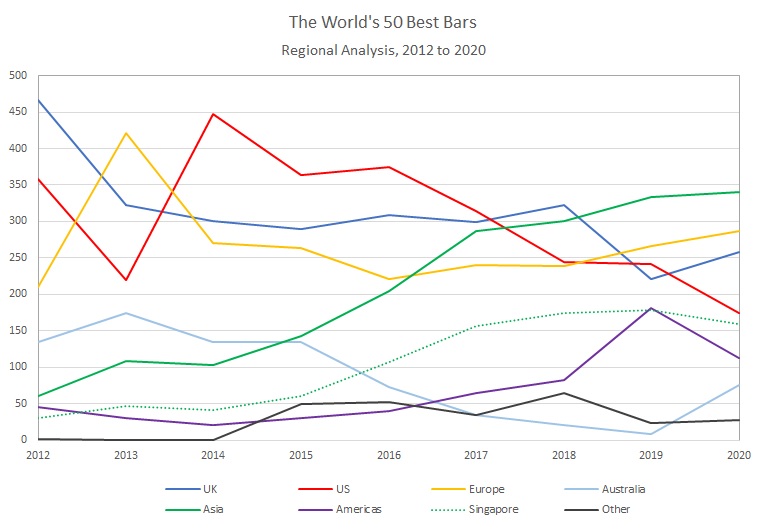 The USA, despite Dante taking second place on the list, continues to decline in the rankings with only five bars – down from seven in 2019 – among The World's 50 Best Bars this year. Of course, the USA has been particularly hard-hit by COVID-19 and may well spring back in 2021. Just across the pond, the UK has already partly sprung back from a large decline in 2019, while Europe has continued a steady but slow rise since 2016.
From 2012 to 2015, these three regions were the shaking and stirring superpowers of the bar world, with no other regions coming close. In 2016 this started to change when Asia nudged Europe and then knocked them off one by one to emerge at the top in 2019. This has not changed in 2020, with Asia achieving another small point gain. In getting there, Asia clocked a personal best chalking up 15 bars on the list – up from 13 in 2019 – though many of these are at the lower end of the list. It's worth noting that Asia's 50 Best Bars was introduced in 2016 and may have helped elevate Asia in the minds of judges and contributed strongly to the tremendous growth that started in 2015.
Asia's strong 2020 performance is largely due to new players like Korea, Thailand and Malaysia entering the list while stalwart Singapore dropped to four bars this year after having six in 2019, and five in 2018. While Asia may have gained breadth, Singapore has not lost its depth as they still secured Asia's Bop Bar with ATLAS in an impressive fourth place. But is it ultimately fair to directly compare Asia to the USA, UK and Europe? There are billions of people in Asia and as wealth in the region grows, they should be expected to perform even more strongly than much smaller regions. If we take population into account, places such as the UK and Singapore still massively outperform the others.
Looking to the rest of the world, the Americas lost much of their large gains from 2019, Others remained rather flat, and Australia has taken a big jump, finally breaking their continuous decline from 2013. This may be partly a result of the relaxation of Sydney's infamous lockdown laws as all three Australian entries are from Sydney, including Maybe Sammy at 11, a huge jump from 43 in 2019.
Overall, unless something changes radically, it is likely that Asia will remain at the top in the foreseeable future, while the UK, Europe and the USA duke it out for second place. Competition is still stiff though, and if the bars of Asia became complacent, they could be knocked off quickly and easily. Of course, with more Asian nations joining the list there are no signs that this is happening just yet. And of course, it is almost impossible to know exactly how COVID-19 has affected the rankings this year, but that should be clearer next year as the world hopefully gets back to normal.
Notes on analysis graph:
Bar #1 each year is awarded 50 points, bar #2 is awarded 49 points etc and then they are grouped into regions
"Americas" includes all of North and South America except the USA
"Others" includes Middle East, Puerto Rico, all of Africa and anything else popping up year to year that doesn't otherwise fit into another category