Atlas stocks not just the world's largest collection of gin, but has all the workings to make it one of the world's best new openings dedicated to the category. By Natasha Hong.
"You know, the day we had our last drink, put up the hoarding and cleared out the furniture, I walked through the space and was like, 'Oh my god! What am I doing?' And then the day they started breaking the marble, it was like, 'This is my grandfather's marble!'" Vicky Hwang, third-generation member and current managing director of the family-owned Chyau Fwu Developments, is recounting the day workers began swinging sledgehammers at the immaculate lobby of her grandfather CS Hwang's legacy, Parkview Square in Singapore.
For years, the building cast its shadows over Bugis as a lone, imposing tower that locals dubbed "The Gotham City building". What went on past the postmodern, Deco-revival facade, the sculpted busts of Albert Einstein and Plato, the gilded framed doors and glossy marble, was between the building and Batman, as far as anyone knew. But it wasn't meant to be this unapproachable.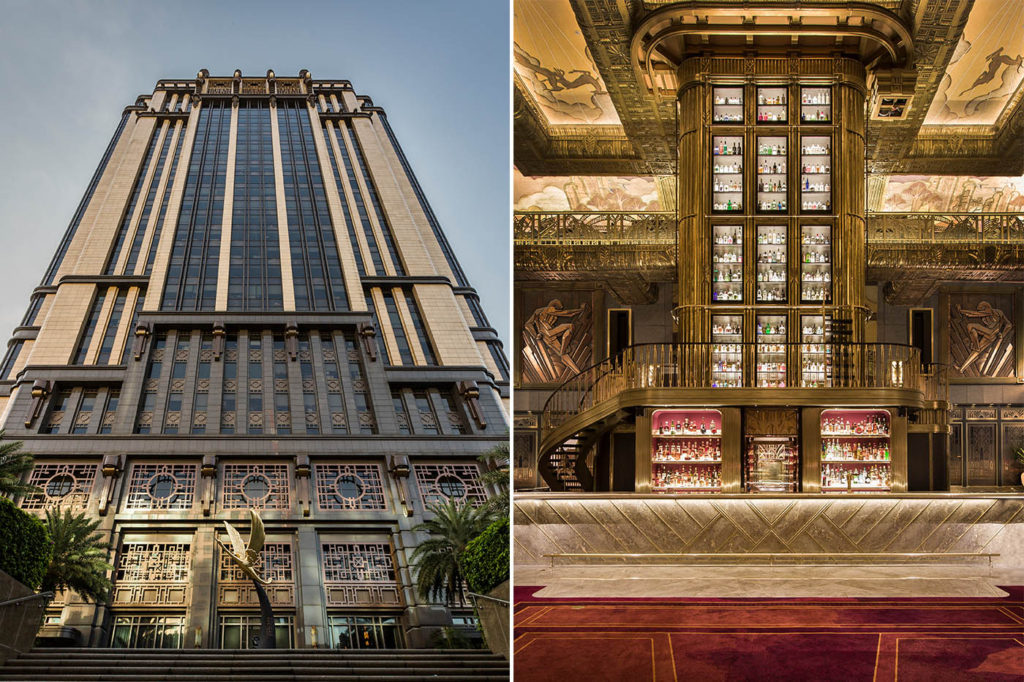 Parkview Square was a passion project by the late CS Hwang, then in his 70s, after a lifetime in property, including highlights such as the Hong Kong Parkview – Hong Kong Island's largest residential project. "He said, 'If I'm going to do something, then it must be really iconic'," Hwang explains. The money saved not buying expensive CBD land was splashed decking the totem out in details designed to the nth degree, with design references borrowed from Irwin S Chanin's 1929 Art Deco building in New York. With an ethos described as "generous", the lobby was the grand hello for Parkview's embassy and corporate tenants, and the tower above cleverly engineered without internal columns.

The patriarch didn't get to enjoy the building for long before his passing in 2004. With the rest of CS's sons – including Vicky's father, Victor Hwang – busy with the group's other projects in Taipei, Beijing and Hong Kong, it wasn't until Vicky's move to Singapore in 2013 that more thought was given to the impression her grandfather's building was leaving on the city.
"At the time, I was looking at really boring things like changing the air-conditioning, updates that had to happen. But I would sit down in this space – and I love it, I've always loved it – and even though it was beautiful, people were intimidated," she muses. "The hardware was here, but the software was missing." The lobby's former occupant, Divine Wine Bar, even with a tutu-skirted "flying" wine fairy retrieving wines from a three-storey wine chiller, was a time capsule of its opening in 2002, and the ultra-high ceilings only made the vibe even more vacant. "I didn't think it represented our family well. I didn't think this is what my grandfather intended," she says.
But before she could make her move, she first had to convince the family. "The building is very sentimental to my family," Hwang explains. "Because there are four brothers and they all had opinions, it took a long time for anything to get off the ground." A path forward was cleared by her uncle, George Wong, the noted patron of the arts and driving force behind the family's impressive collection of vintage whisky, wine and cigars. "He was like, 'You want to do this? Okay, fine. If anyone has a problem, you tell him to talk to me.'"
Presented with two options by Paul Gabie, CEO of bar creators Proof & Company – one to refine Divine's concept, theme and staff education, the other to build an entirely new bar for the lobby – Hwang says, "Ultimately we decided to just go for it, because if we just did a little refresh, it doesn't give you anything to talk about." And go for it they did.
Proof & Co's creative director Jason Williams describes Atlas as the group's "most intensive creative project yet", with the not-insignificant aim of creating the world's most ambitious gin bar. In execution, they took inspiration from the timeless, grand lobby bars of the Roaring Twenties in Europe, with Proof & Co responsible for everything from bar build to recruitment and the acquisition of the world's largest collection of gin. Far from a mere PR boast, Williams, also the bar's "master of gin", worked with Atlas' gin researcher Jonathan Teo to lay out a set of criteria for a label's inclusion, then invited gin brands to donate bottles in order to meet their vision.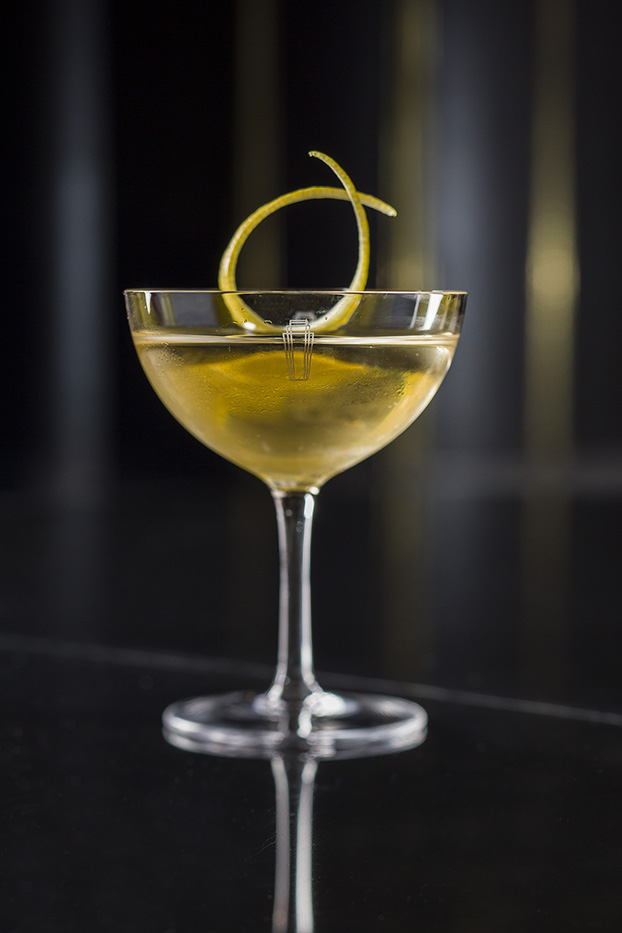 Even with strict guidelines requiring bottles to come in at 40 per cent abv, be distilled, and sport a level of transparency around production, the team managed to collect over 900 labels to fill the 15-metre-tall gilded Gin Tower (previously Divine's wine chiller). Bottles are categorised in tiers, with a rare (and top) level dispensed by discretion only, then a second tier where only one serving is allowed per visit per person – a Gin Ration, as its dubbed.
A wider swath of 240 labels will be available to order from, incorporated into bespoke versions of gin classics to enhance each specific label's qualities. And because Proof & Co procured deadstock and vintage bottlings of Gordon's, Beefeater and Booth's gin, as well as Italian sweet and French dry vermouths from the 1930s and '40s, cocktail geeks can order a Florentine Negroni or a 1930s Art Deco Martini to taste a true snapshot of flavours from the era.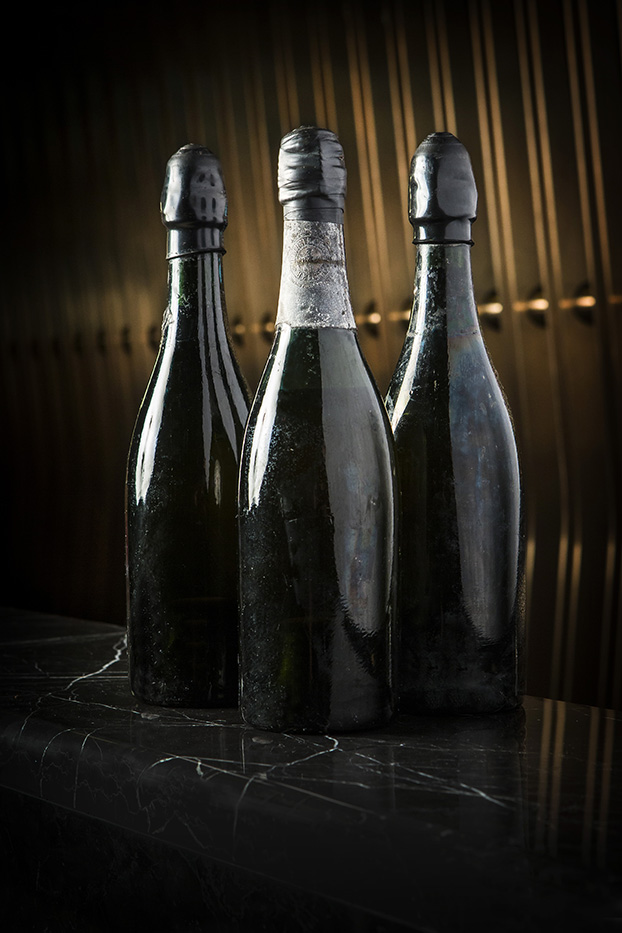 The vast private wine cellars of the Hwang family were also mined to stock the rose gold champagne room, carved out below the gin store. For opening, family sommelier Jack Cheung selected no fewer than 250 champagnes, with six to eight available by the glass, including 80 labels that traverse the terroirs of all 17 of the region's grand cru villages. The showpiece bottle, securely locked in its own case, was one of CS Hwang's favourites – a 1907 Heidsieck & Co Monopole "Gout Americain", retrieved after a watery 82-year slumber in a shipwreck under the sea. Transported illicitly to Czar Nicholas II during World War I, the schooner carrying it was sunk in the Gulf of Finland by a German U-boat in 1916, before being recovered in 1998.
"I think this is the first time we're really putting the family collection on show – we used to keep them very low-profile in Hong Kong," explains Hwang. "This is very in line with our family philosophy of generosity. We have the art and the liquor, but it's for everyone to enjoy." Leading the wine experience at Atlas is Mason Ng, the in-house sommelier who built his experience at the wine-steeped Les Amis Group.
Gallery with ID 7 doesn't exist.
Indeed the biggest coup for the detail-driven bar is perhaps the staff who add muscle to the project's impressive framework. In pursuit of an all-rounded experience, they've recruited the Genoa-born, Alinea-trained former group head chef of the Spa Esprit Group in Singapore, Daniele Sperindio, to run the kitchen. From acclaimed London bar Artesian, Atlas hired Roman Foltan and Carla Davina Soares to shape and run front of house operations – him as head bartender, her the maitre'd. The pair, after handing in their resignations with the rest of their team a day after Artesian took top spot on the World's 50 Best Bars for the fourth time, decamped to Singapore in 2016 when offered the opportunity to build a concept from zero. "When I joined Artesian, it was already open. For me and Carla, this was a project we can be at since the beginning," says Foltan. Soares, meanwhile, is setting the tone with friendly service backed by plenty of substance.
The act of one of the world's most influential cocktail bar creators being invited into a venue with such untapped potential as Parkview Square's lobby has clearly turned out one of Asia's most important openings of 2017. "I really feel like this has been as much Proof's project as it is mine. We would not have been able to do any of this without them," says Hwang. "Emotionally, we in the family all have such a strong feeling about this place, and the space has come out as a very faithful restoration, but elevated. If he was alive he would be like
– yeah, this is about right."
---
Atlas Bar Parkview Square, 600 North Bridge Road, Singapore. +65 6396 4466, atlasbar.sg.
This story was first published in DRiNK Magazine's Issue 05 (Asia edition) and Issue 47 (China edition). For more on the service and rare gins at the bar, get a copy of the magazine here.