From foraging with shamans to multi-concept venues, drinking options are getting more diverse in the capital of the Philippines. By Holly Graham. 
Manila has been a bit of a slow-burner when it comes to cocktail culture, but well-established venues such as The Curator and ABV have successfully kept the city's fine-drinking scene ticking over – even if other bars have come and gone. Bitters, consulted on by Lee Watson, and long-standing Niner Ichi Nana (see The Island, below), have both closed. But there's positive news too: Manila's metro area has two new joints aiming to celebrate local produce and change the way Filipinos drink.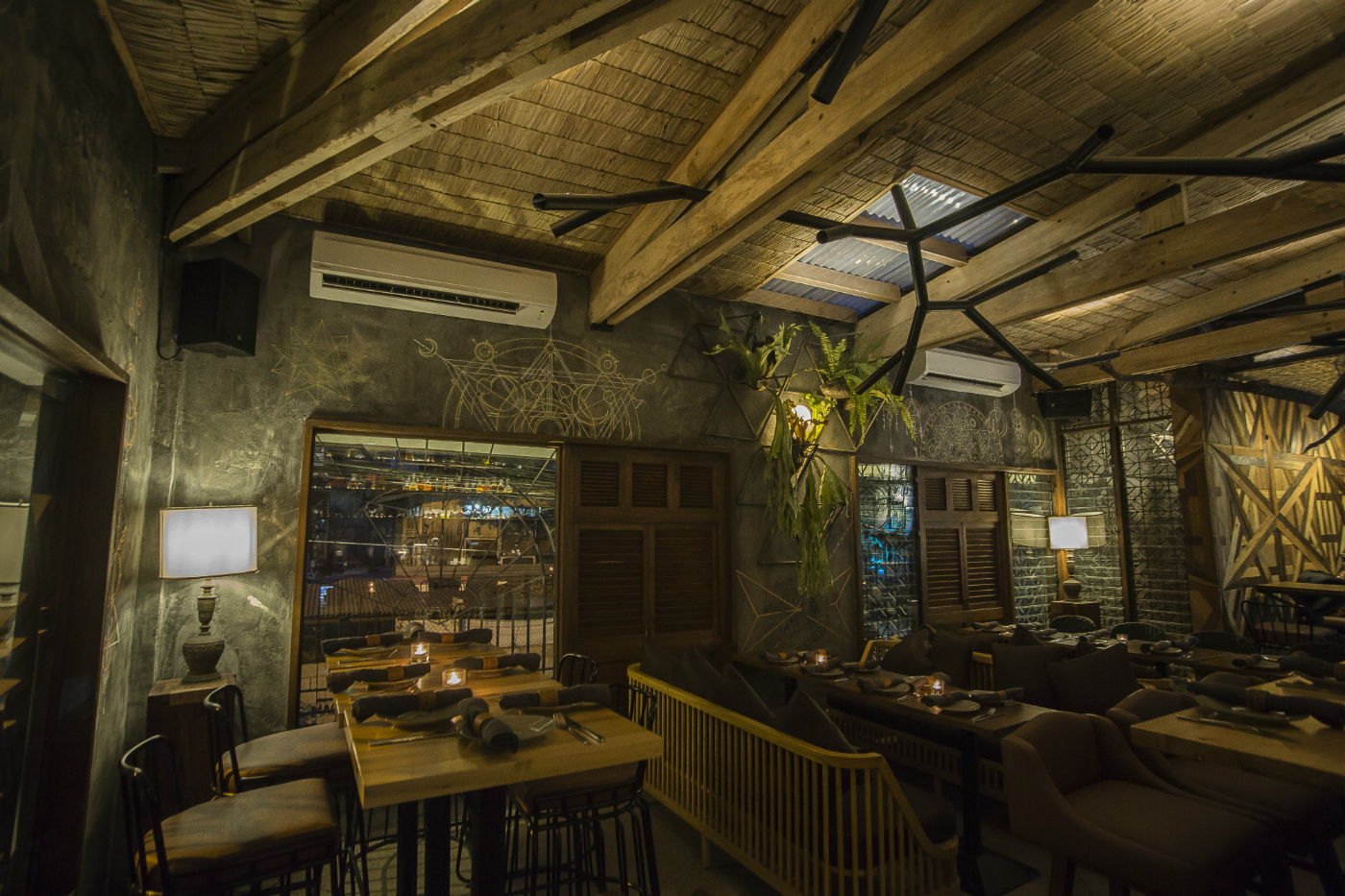 Agimat Foraging Bar and Kitchen
Agimat is the Filipino word for a talisman or charm imbued with special powers to protect the holder from different forces and give them power. It's also the name of Poblacion's new foraging bar and kitchen. The bar highlights one province in the Philippines on a rotating basis, changing every three months. "Right now, we are focusing on Batangas, a province in the south. It's so diverse thanks to the bounty of the ocean, highland and upland produce, and it's home to many cultures," explains owner Kalel Demetrio. "I travel and navigate the province using local historians and shamans who have a great knowledge of the local produce and ingredients that aren't commonly used."
Demetrio, also a bar consultant (dubbed the Liquido Maestro), started his hospitality career as a server at Japanese chain restaurant SumoSam, ending up behind the bar and climbing the ranks to become the beverage director for the group, and taking care of other concepts including farm-to-table restaurant Green Pastures. It was there he met chef Robby Groco and when the two would visit small farms, Demetrio found a passion for advocating local ingredients and agriculture.
Produce from the target province will make up at least 90 per cent of each menu, which will be divided into five elements – fire, water, land, air and life. Demetrio explains: "Drinks from the fire section have been prepared using fire – grilled, torched, cooked, boiled and presented with fire when served. Water drinks feature forced carbonation to create effervescence and homemade spritzes or tonic waters. The earth section features all the foraged fauna, herbs, fruits and vegetables, while the air section incorporates different gases into the liquid, using liquid nitrogen, edible dry ice, volcano vape and smoking guns. The life section is simply about my love for all ingredients."
Fermentation also features heavily throughout the menu. Demetrio explains Filipinos love fermentation, as it was an age-old survival method to extend the shelf life of ingredients. "I use a lot of shrubs and ferment my own vinegars from different produce to create them. I also use ginger bugs (fermented ginger soda), kombucha, mead and kefir. We use these probiotics with non-alcoholic drinks – coffee, smoothies and cold pressed juices."
Demetrio explains that although the original meaning of the word agimat is an ancient belief, his bar re-imagines the concept. "Our talisman and power is in our ingredients that are just as good, if not better, than mainstream produce. In the long run, I want to help the small producers and farmers in the Philippines, as we are documenting our travels and giving them exposure."
---
Agimat Foraging Bar and Kitchen 2/F 5972 Alfonso cor. Fermina Street, Poblacion, 1210 Makati, Metro Manila, Philippines. +63 917 530 2580, fb.com/agimatbar.
---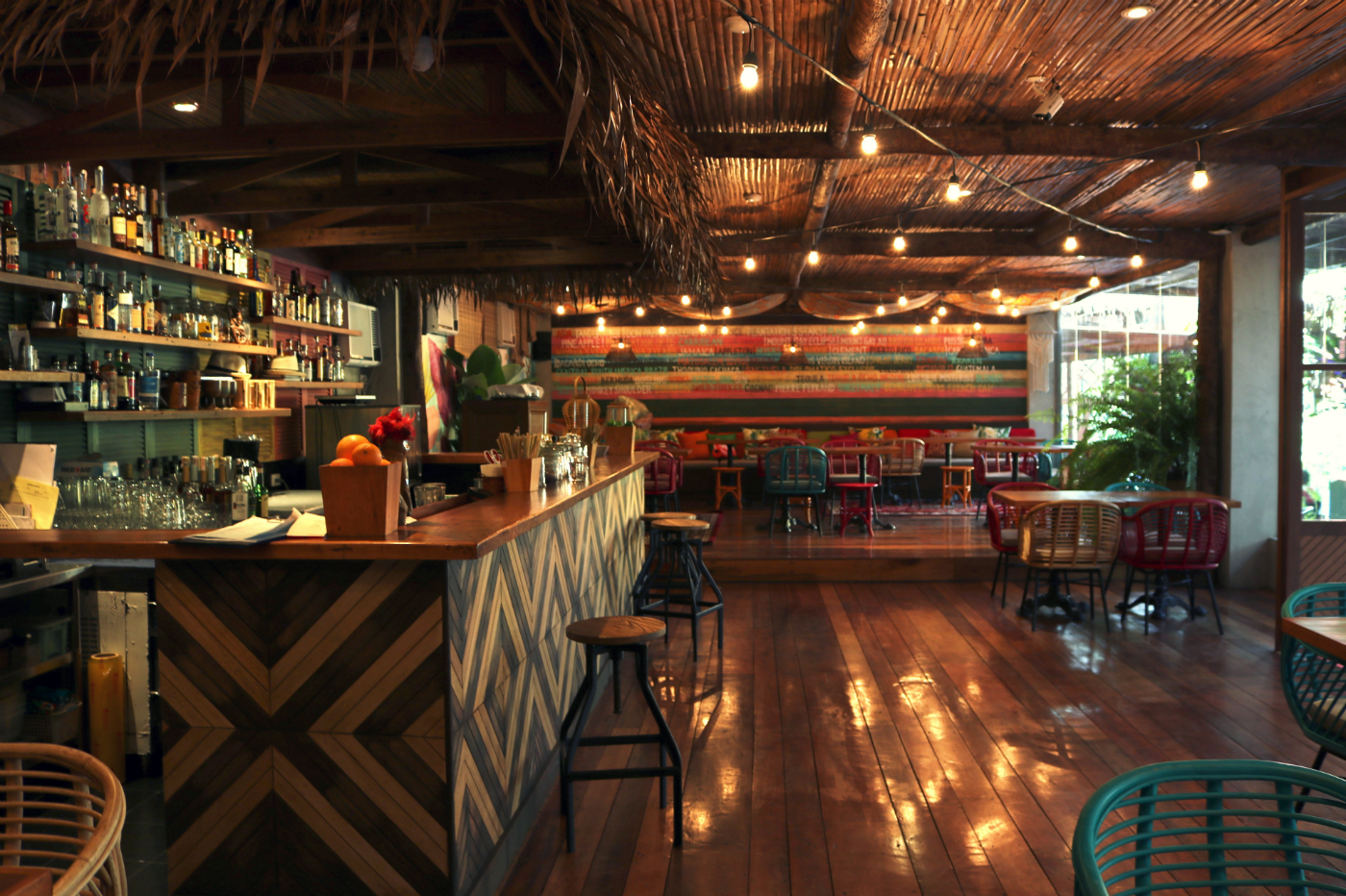 The Island
Part of mega-complex The Palace, the space formerly known as The Pool Club is now multi-concept venue The Island. "Each area of The Island has its only personality," explains co-owner Erwan Heussaff. The space features food stalls, a beer bar, shot bar and more notably, two cocktails bars – tiki bar Rum Jungle and The Pelican, which changes concept every six to eight months.
Heussaff left the Philippines at 17 to study abroad and after traveling the world, landed a career in hospitality in Russia. Upon returning to the Philippines, he worked at larger-scale catering companies and eventually launched the now-closed Niner Ichi Nana, which was one of the city's few cocktail bars when it opened at the same time as The Curator, and The Palace, which is also home to high-volume cocktail bar Yes Please, as well as The Island. Heussaff is also something of a local celebrity, creating travel and food shows with huge social media followings – Instagram, 1.9 million followers; Facebook 917,000 page likes.
Discussing the new look, Heussaff says the space is very open. "We want customers to have a DIY experience, where they can wander, pick up food and drinks and sit wherever they want. There's a myriad of different seating areas with different ambiences including the verdant Sunken Garden and a German beer hall serving smoked and barbecued food and draft beers. For a more tropical atmosphere, there's the Courtyard next to the pool, which has a Bali-resort vibe and we have private bungalows for hire." With this set-up, Heussaff also aims to promote alfresco drinking, which up to now hasn't been common in Filipino culture due to the stifling heat. "We wanted an open-air space, to encourage outdoor drinking and with the right ambience, hopefully people won't care too much about the heat."
Rum Jungle is The Island's tropical cocktail bar, with a big focus on rum. "The Philippines has a strong rum and tiki culture. A lot of the first bartenders in tiki America were Filipino and though we're not super strict tiki, we want to pay homage to them. We use local fruits and really highlight local produce because it tends to lend itself well to our cocktails." Heussaff explains that Rum Jungle's selection of rum isn't huge, but well curated, including some local moonshines and well-loved local brands. "The Philippines has one of the highest rum consumption rates in the world, and while we love Tanduay and Don Papa, more craft distilleries are popping up. There's pineapple rum coming from the south and a few coconut rums too. I think we're going to see a lot more of that in the future."
Concept-shifter The Pelican is currently home to Poppy's Gin Bar. Heussaff and his team noted a growing interest in the Philippines so are serving a range of gins, tonics and sodas, as well as aperitivo-style cocktails. "Changing The Pelican regularly gives customers and opportunity to try out new things, plus it gives us the opportunity to collaborate with other bars and bartenders, in turn giving them a chance to test the market out."
---
The Island 9th Avenue, corner 36th Street, Uptown Bonifacio, Taguig, Metro Manila, Philippines. +63 917 689 8888, thepalacemanila.com.