Manhattan bags the top spot for the second year in a row as Singapore leads with 12 entries, while the 2018 ranking also adds six new bars. By Holly Graham.
Manhattan, at the Regent Hotel in Singapore, has been dubbed the Best Bar in Asia in the 2018 Asia's 50 Best Bars ranking, after taking the number one spot for the second year in a row.
At a bartender-packed ceremony in Singapore's Capitol Theatre, the bar's elegantly masculine space and flawless service and drink-making were once again held in the highest regard by the industry peers who vote for this award.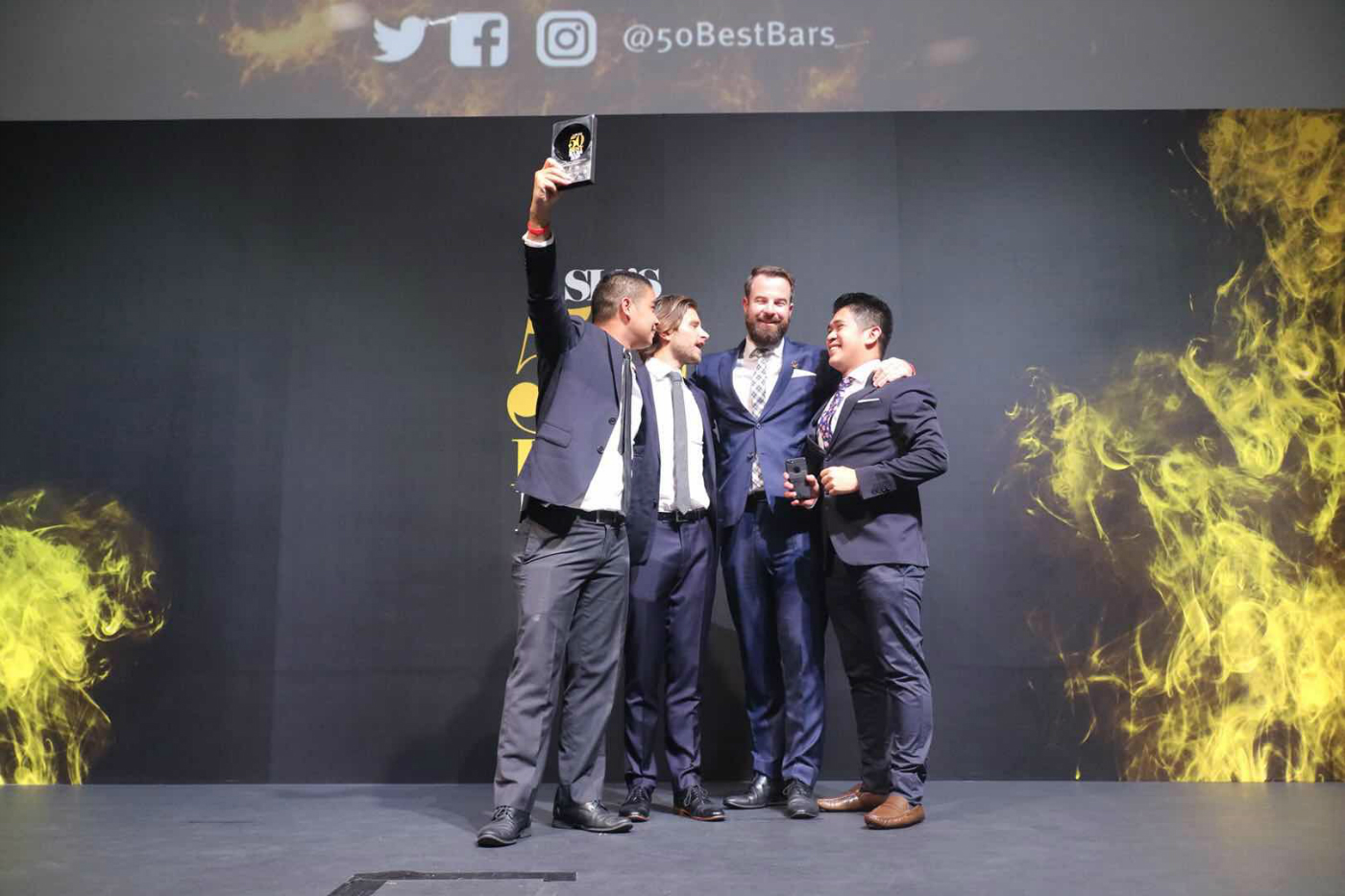 On receiving the title, bar manager Philip Bischoff said: "Thank you everyone – thank you to 50 Best for putting this together. It's an amazing occasion for Singapore." Commenting on the afterparty to come, he added: "Let's enjoy the evening and make the guys at Origin work really hard."
On a night that was attended by the cream of Asia's bar industry, the top three places went to Manhattan (Singapore), then Indulge Experimental Bistro (Taipei) and in third Speak Low (Shanghai). Singapore dominated the Top Ten with four positions: Manhattan (1), Atlas (4), Tippling Club (7) and Native (8).
Now in its third year, this year's list was the first to be announced at a live ceremony, and the first time the event had been used to kick off Singapore Cocktail Festival.
Special mention must also go to The Old Man (Hong Kong), winning Highest New Entry at five. Among the other individual awards were Speak Low (Shanghai, 3), which was named Legend of the List (for staying on the list longest with the highest rankings compared to any other bar), and Vijay Mudaliar of Native (Singapore), who was named Bartenders' Bartender.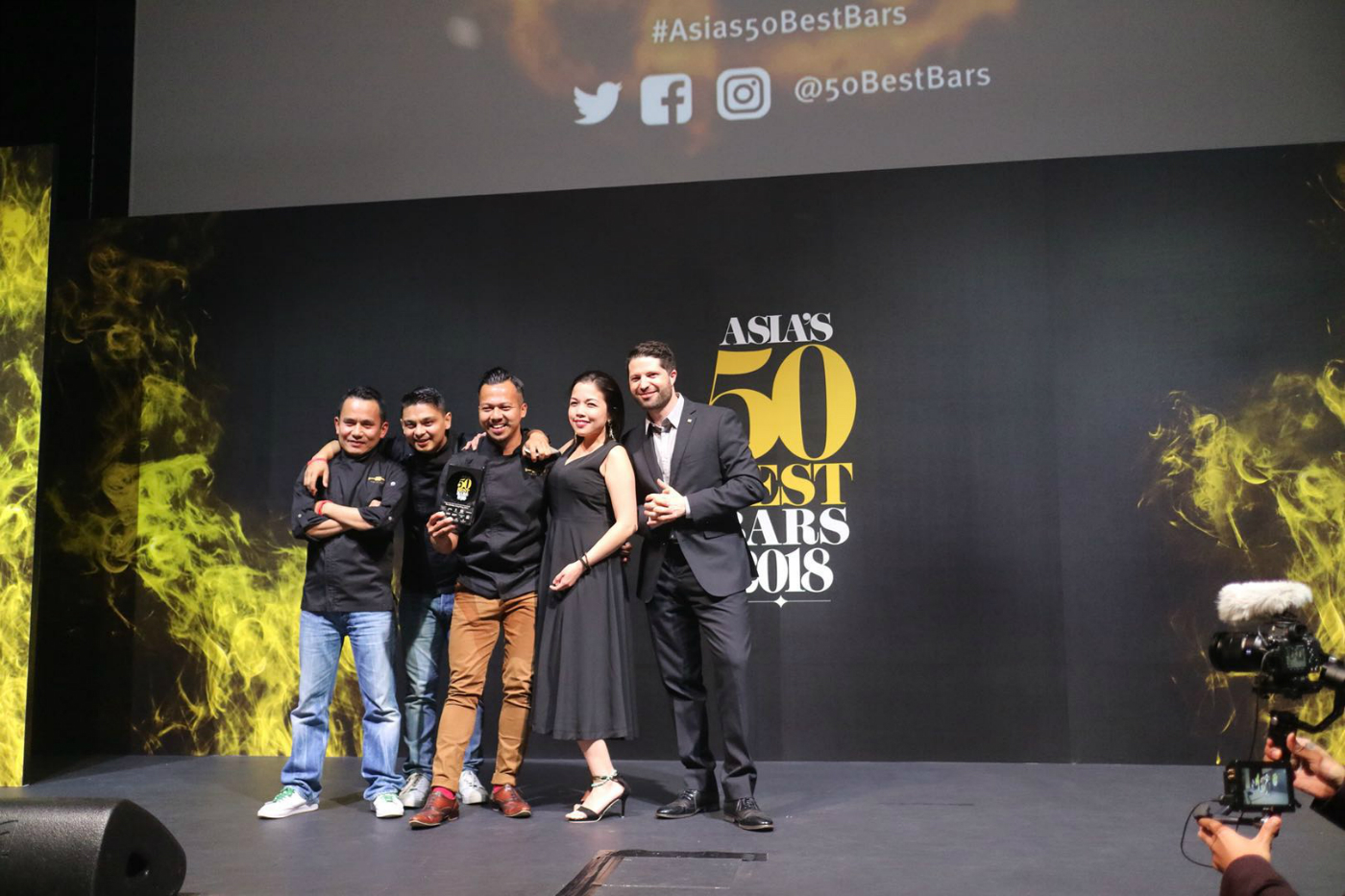 2018's list saw Macau make the list for the first time, with the Ritz Carlton Bar and Lounge (48), while Le Chamber (Seoul) was the highest climber in Asia at 17, as well as the best bar in Korea. New entry Junglebird (Kuala Lumpur, 38) won best bar in Malaysia, while Potato Head Beach Club (Bali, 36) bagged best bar in Indonesia, The Curator Coffee & Cocktails (Manila, 25) in the Philippines, and The Bamboo Bar at the Mandarin Oriental (Bangkok, 9) in Thailand. The top three – Speak Low (Shanghai), Indulge Experimental Bistro (Taipei) and Manhattan (Singapore) – were the best bars in China, Taiwan and Singapore respectively.
Though Singapore (12 entries), Tokyo (seven entries) and Hong Kong (seven entries) cocktail scenes dominated the rankings by city, Bangkok is coming up fast with six entries. New entries from Coley and Junglebird showed recognition for the development of the bar scene in Kuala Lumpur.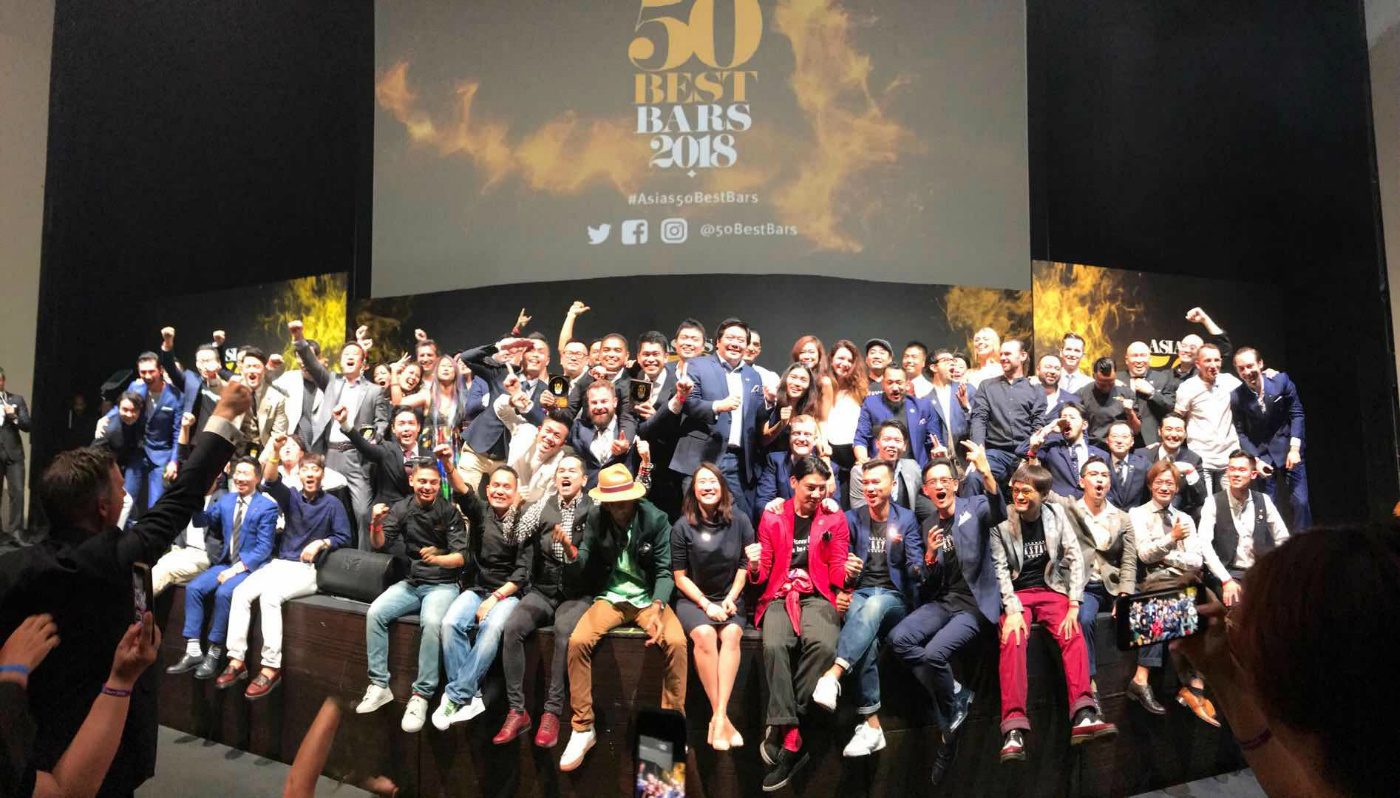 The full ranking of 2018's 50 Best Bars in Asia:
Manhattan (Singapore) – The Best Bar in Singapore
Indulge Experimental Bistro – The Best Bar in Taiwan
Speak Low (Shanghai) – The Best Bar in China
Atlas (Singapore)
The Old Man (Hong Kong) – Highest New Entry
Bar High Five (Tokyo) – The Best Bar in Japan
Tippling Club (Singapore)
Native (Singapore)
The Bamboo Bar at the Mandarin Oriental (Bangkok) – Best Bar in Thailand
Lobster Bar and Grill (Hong Kong)

Stockton

(Hong Kong)
28 Hongkong Street (Singapore)
Backstage (Bangkok)
Sober Company (Shanghai)

Quinary

(Hong Kong)
Bar Trench (Tokyo)
Le Chamber (Seoul) – Highest Climber and Best Bar in Korea

Zuma

(Hong Kong)
Operation Dagger (Singapore)
Bar Benfiddich (Tokyo)

Charles H

(Seoul)
Gibson (Singapore)

Employees Only

(Singapore)
8 ½ Otto E Mezzo Bombana (Hong Kong)
The Curator Coffee & Cocktails (Manila) – Best Bar in the Philippines
Alice (Seoul)
Vesper (Bangkok)

Union Trading Company

(Shanghai)
Smalls (Bangkok) – New Entry
Janes & Hooch (Beijing)
The Pontiac (Hong Kong)
D.Bespoke (Singapore)
Nutmeg & Clove (Singapore)
Gen Yamamoto (Tokyo)
TCRC (Tainan) – Re-entry
Potato Head Beach Club (Bali) – Best Bar in Indonesia
Bar Orchard Ginza (Tokyo)
Junglebird (Kuala Lumpur) – New Entry and Best Bar in Malaysia

Loewy

(Jakarta) – Re-entry
Mixology Salon (Tokyo)
Union Brassiere, Bakery & Bar (Jakarta) – Re-entry
Jigger & Pony (Singapore)
Star Bar (Tokyo)
Teens of Thailand (Bangkok)
Lamp Bar (Nara)
Coley (Kuala Lumpur) – New Entry
Keepers (Seoul)
Ritz Carlton Bar and Lounge (Macau) – New Entry (and first from Macau)
Ku Bar (Bangkok) – New Entry
The Other Room (Singapore)
Other Awards:
One to Watch: Rabbit Hole (Bangkok)
Sustainable Bar Award: Potato Head Beach Club (Bali)
Bartenders' Bartender: Vijay Mudaliar (Native)
Legend of the List (Speak Low)