Menaka in Siem Reap paves the way for Cambodian craft cocktails in the temple town. By Holly Graham. 
In a stark contrast to the incredible temples in Siem Reap's Angkor region is the infamous Pub Street, a cacophony of backpackers and debauchery. But changing that is Vissoth Nam, a French-Cambodian from Paris and owner of cocktail bar Menaka.
At university, Nam was the president of his student union. "I had to organise events and parties and quickly discovered a passion for hospitality, so I dreamed of owning my own bar. I noticed the speakeasy concept had been booming since its modern reinvention, and after travelling around Asia, I saw lots of bars being marketed as speakeasies. So I moved back to Cambodia to open my own."
Menaka's facade is a coffee shop, while up the stairs that lie behind mirrored doors is the bar itself. "The coffee shop suits the area and people don't expect a bar to be above it. I wanted a shock of atmospheres between the two." Upstairs, the design of the bar is inspired by the landscape of Cambodia. There's elements of 1960s architecture, temple ruins, rice fields. "I used French-Khmer designers because I wanted an aesthetic that represents Cambodia, unlike the neighbouring bars of Pub Street. We even have a V-shape in the walls – a signature of architect Vann Molyvann, who shaped 60s architecture in Cambodia."
"We're striving to improve as Cambodia grows and the demand for creative bars is slowly growing"
Menaka is all about the details. The walls are donned with handmade Hindu flower motifs from the Angkor Wat temple, along with locally commissioned paintings of album covers from Cambodia's golden age of the 1960s and more classic touches such as Chesterfield-style sofas. "It's a bit here and there design-wise, but ultimately, we want to show tourists what Cambodia is," says Nam. The ceiling above the bar boasts a large mural of Menaka herself, a beautiful apsara (the female spirits prevalent in Hindu and Buddhist culture). "There's no real story about Menaka apart from her reputation for seduction, so the painting is to let customers create their own stories. Everyone has a different version," says Nam.
A vast majority of Menaka's clientele are expats living in Siem Reap, followed by European tourists and a small amount of Asian tourists and locals, so Menaka is clearly filling a niche. "It's a relaxed atmosphere completely different from Pub Street. Before, there weren't bars that were quiet enough to talk with friends or have a romantic date. A lot of people visit Siem Reap for their honeymoon, so we're appealing to that market, and have also created a calm and cool place for business people to meet," he says – adding, "We're really proud of our soundsystem, which is low frequency, so no matter how loud it is, we guarantee customers can talk to each other."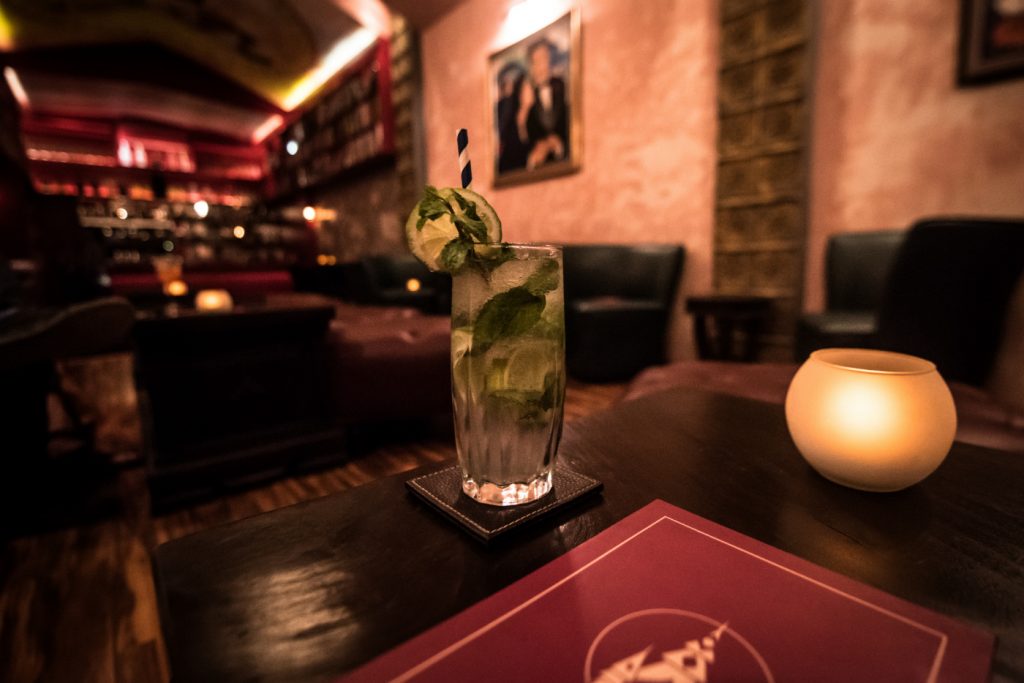 Menaka's menu is presented on a scroll and split into three Cambodian eras: The Angkor Era, The Sangkum Era and The Great Era (present day), with cocktails courtesy of Annemarie Sagoi, co-owner of Le Boutier in Cambodian capital Phnom Penh. "I collaborated with Annemarie to create cocktails using ingredients from Cambodia, such as kampot pepper, jackfruit, coconuts and mangoes. The drinks also reflect the era they're grouped in. For example, in the Sangkum Era section, there's a drink called Yuvakjon Kohj Jit, meaning broken heart. It's named after one of the most famous Cambodian songs from that era and is strong and bitter, to reflect the song's message. Locals love it because they know the song."
Nam has seen Siem Reap's nightlife scene develop a lot in the last five years but thinks it's not always progressing in a positive way. "There's too much noise and it's crowded. Everyone is blaring their music and you can't even hear each other. That said, we're striving to improve as the country grows. Many bartenders are better trained and know how to be hospitable. The demand for creative bars and restaurants is slowly growing and in the long run, Menaka will improve even more as competition grows."
Recipe (Click to view)
Monsoon Perfume
---
Menaka 2 Thnou Street, Old Market Area, Siem Reap, Cambodia. +855 89 696 789, fb.com/menakalounge.