You wait years for Eddy Yang to open another venue and then two, wait, three, come along at once. By Jonathan White.
"Busy." That's how Eddy Yang describes his life right now. He likely has a point. It's been quite the few months, after all. Tailor has now closed its doors for the last time and while plans for Tailor 2.0 – whatever form that may take – are percolating in Yang's mind, he's gone and opened two new bars and is consulting on another. And that's just in Shanghai – he's still running around the country in a variety of gigs. All of this might explain why a bleary-eyed Yang has put such a focus on caffeinated cocktails at the more starry-eyed of his own new venues. Above The Globe is not above anywhere called the Globe, rather it's found atop the McKinnon Hotel, the faux-tel that's the setting for Sleep No More, Punchdrunk's immersive version of Macbeth that has made its way from New York City to Shanghai.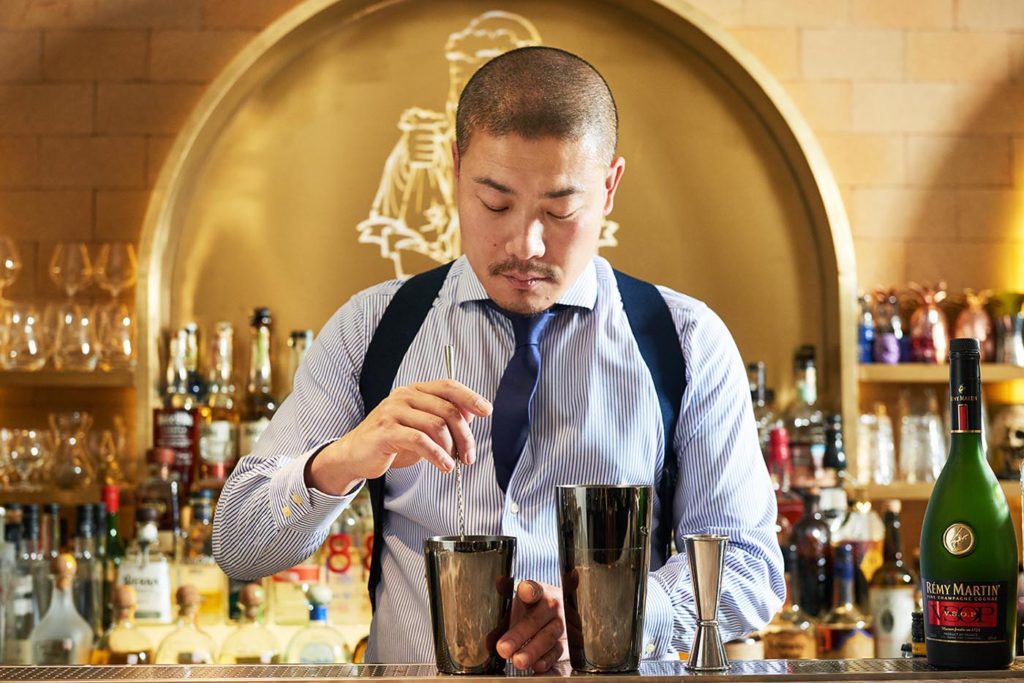 The bar's name is Yang's own nod to the Bard – Shakespeare's Globe being something he walked past everyday when he lived and worked in London – and he admits that, "Not everyone gets it". But customers might get the references found in the names of many of the drinks on a menu that's split into three acts: History, Comedy and Tragedy. History is pre-1960s classics; Comedy features lighter abv, approachable drinks; and Tragedy is strong, bitter and aromatic – "strong could be abv or it could be caffeine," adds Yang. Fitting that the menu kept him up at night: "There were originally 35-40 drinks on each menu, but it was too much. Now there are only 12." That's easier for guests to work through, which is what Yang finds many doing with his encouragement to take drinks in turns from the different sub-menus. One thing they all take is a bottle of water when they leave, with Yang insistent on this. But arguably one group comes above even the guests when it comes to Yang's care: his staff.
Above The Globe has already become the de facto headquarters of the Tailor Group. Staff training for all venues takes place there once a week. It's the current pinnacle of a circuit that also includes BU Club – the private members club Tailor Group consults on – and the newly opened Second Moment. It will also include Tailor 2.0 when the time comes. When Yang explains the journey, it's easy to see why so many of the Chinese bartending fraternity refer to him as "Yang Ayi". Bartending school graduates are taken on at BU and work there for a few months before graduating; after that Yang might get them work in another city for another few months, while they are replaced with an intake of fresh students – with the plan to bring them all back for Tailor 2.0. For more experienced staff, the ones who worked at Tailor before, and have already put in the years making their the way from barback to bartender, they will either be at Above The Globe or at Second Moment – and may be earmarked for more senior roles still in the future. "A good bartender is not only fantastic at cocktails," explains Yang. "It's teamwork, it's running a bar".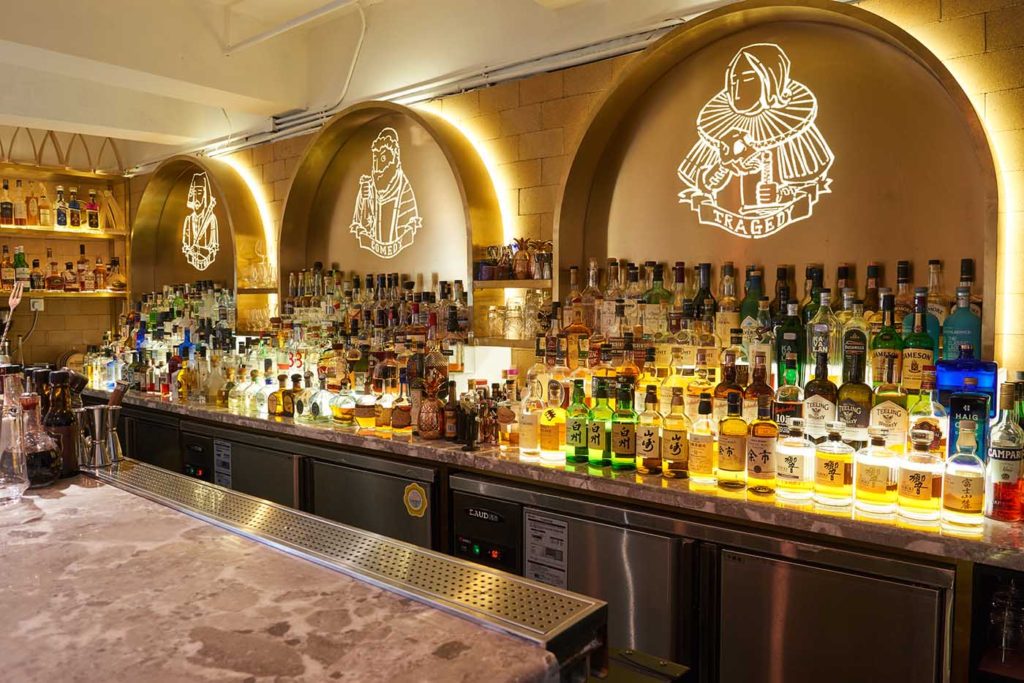 Yang's belief is being put into practice at Second Moment, the bar he's opened in the back of Dant Deng's Hunan restaurant Spicy Moment. Deng had been looking for someone to do something with the space for a while and realised Yang might be just the man while enjoying a drink at Tailor. "I thought it was perfect for a speakeasy," says Yang, and so it is. Day to day operations are under the care of David Hong, who has spent three years learning under his mentor and is now a partner in Second Moment, with the running shared with Tailor Group so he "always has support". The staff are all ex-Tailor guys, Yang points out by way of example, so training takes less time – meaning "David is happy, out on the floor, learning the business."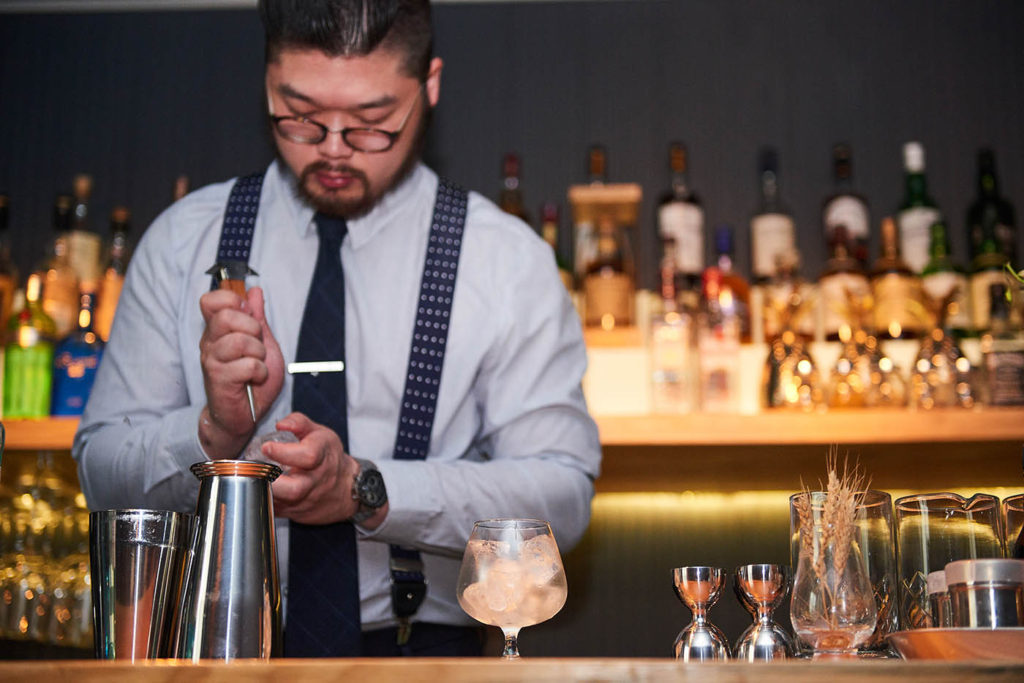 Contrary to Tailor, the bar also has what Yang calls a "proper menu", split into two parts, and with just 13 drinks on each. The more seasonal side, "From Shangri-La", is more tiki and tropical, while "Behind The Curtain" is classics and twists thereof that have proved popular with post-dinner restaurant guests and neighborhood drinkers. Yang reels off the ideas that he has in mind for his guests over the next few months of Second Moment – Hunan brunch, a beer garden, maybe even a bouncer for the full speakeasy effect – but he keeps coming back to his staff. "Bartenders have a one to two year shelf life: they get a better offer, open their own place or return home," says Yang. "Staff retention is an issue." With Yang's holistic vision for Tailor Group and staff-first attitude, it might be an issue no more.
*Update: In a fitting tribute to the greatest storyteller the world has ever known, Yang announced his third act just prior to going to print: Tailor 2.0 would open in September in Le Sun Chine, a boutique hotel in Shanghai. Hong will be moving over to take the reins of the reincarnated bar with Sebastian Robinson coming in to oversee Second Moment.
Recipes (Click to view)
Sleep No More
Tiki Time
---
Above the Globe 7/F, 1013 Beijing Xi Lu, Shanghai
Second Moment 71 Wuyuan Lu, Shanghai
This story was first featured in Issue 48 of DRiNK Magazine's China edition.