The head bartender at Manhattan, in the Regent Singapore, discusses scuba, rum and memory recall.
Our previous f&b director, Martin Dell, had a plan for Manhattan. Before, it was called The Bar and it seated 20 to 30 people. He came to me when I was working at Basilico, the Regent's Italian restaurant, and he said: "You see that spot, we are going to make that the best bar in the world. Are you with me?" I was like, "What did he eat today? The best bar in the world – ok, sure." Then he showed me the plan, and he was so passionate about it, that his vision became my vision.
I was opening wine at Basilico, organising bottles – a server basically. But being a server and being a bartender is basically the same. You have to communicate; you have to show people that you are hospitable. Maybe he saw that in me. So I started reading books about bartending and cocktails, and it's still exciting now, two and a half years later.
In Basilico, I used to shake a Negroni. Then I moved to Manhattan and learned that shaking a Negroni is illegal. I could go to jail.
The main guy who taught me to bartend was Manhattan's first bar manager, Ricky Paiva. There was also a local guy called Alex Ng with us who had been bartending for years. I was like a sponge back then and Ricky was really open. He taught me American bartending, Manhattan twists, taste profiles, classic twists. Then when Philip Bischoff came along I started learning other aspects of bartending, wider in a sense – how it's not just about the drinks, but the whole idea behind making the drinks. About service, about organization, about events. Now, I'm even training other people.
If I'm a yoda teaching bartenders in 50 years' time, I wouldn't want to go to some place where people aren't hungry
At the end of the day, bartending is about making people feel welcome, so they don't feel alone. Having fun; occasionally making fun of them. Knowing when. First impressions? I don't believe in them. People can seem rude, but then you work out you have the same tastes, the same hobbies. The most serious people can turn out to be the most fun. So being a good bartender is about making connections. You never know, until you really talk to the guests, what they're like. The more you talk, the more they might become your favourite customers.
I'm also a psychiatrist for tipsy people. You have to pretend to act a bit drunk even if you're sober. It's a stage and you perform. They ask your advice – mostly love advice! But I make them answer their own questions. Listening, but at the end of the day, they answer their own questions.
I strongly believe Singapore is third in the world for cocktails. Of course New York and London are one and two – I don't know which is first. But Singapore is closest to those two. Japan has a really nice scene, and their showmanship is some of the best in the world. Of course, Australia is there – the bartenders are always very happy. But Singapore is attracting a lot of international talent – we have Australians, Japanese, Americans, Filipinos. It's a mix, just like New York and London. You learn a lot from all these different people – so that gap, we are starting to catch up. And yes, London has 100-year-old hotel bars that have produced classic cocktail books. But I believe that in 50 years from now, Singapore will be the country you go to learn cocktails.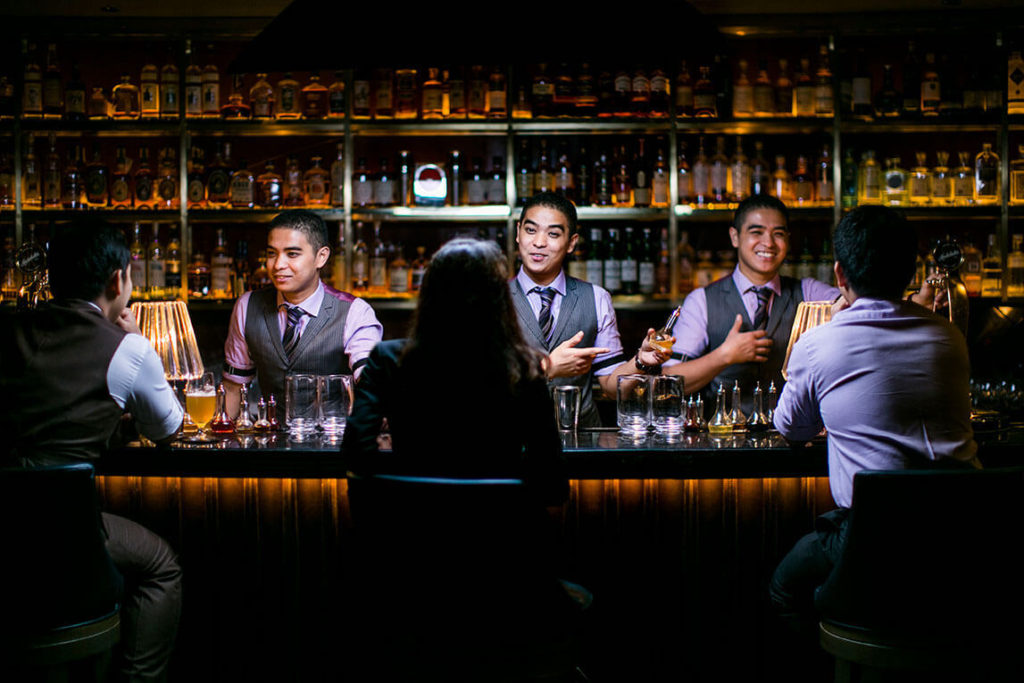 The hardest part of producing a cocktail culture is to destroy the drinks culture the country already has. Three or four years ago, Singapore was just about whisky or vodka bottles. It takes an aggressive and passionate community of bartenders to change that. Educating the consumers about quality over quantity. But it's got to be really positive. If someone asks me for a Cosmopolitan, it's "Ok, but maybe you want to try this – it's going to be a similar flavour profile as your Cosmo." I don't think saying no is a good thing. It's rude.
In Southeast Asia, the pace of change is really fast. I'm from the Philippines and three years ago I didn't see any cocktail bars there. But then I went back three weeks ago and it's so different. KL, as well. The bartenders are incubating the scene in a very nice way. Filipinos are returning home and educating consumers why you should drink this way.
The hardest part of producing a cocktail culture is to destroy the drinks culture the country already has
All the bartenders in Singapore are serious about their craft. They are hungry, in terms of knowledge. You don't see that everywhere, so I think that's also why experienced bartenders like coming here. If I'm a yoda teaching bartenders in 50 years time, I wouldn't want to go some place where people aren't hungry.
I really strive to remember people's names. It's really important. In fact, it's magical. There is a trick to it. You try to incorporate that person with that name and a personal experience you've had or a favourite food. The first time I see you, I will be stepping back and looking at you from every angle, to make that memory, until "Now I know." It's hard work, but when I meet someone new, if I've had a nice discussion, I take that five minutes, and it works. And when it works, then that expression they give, you can't take it away. The guests are like, "Wow!" That never fails to make me happy.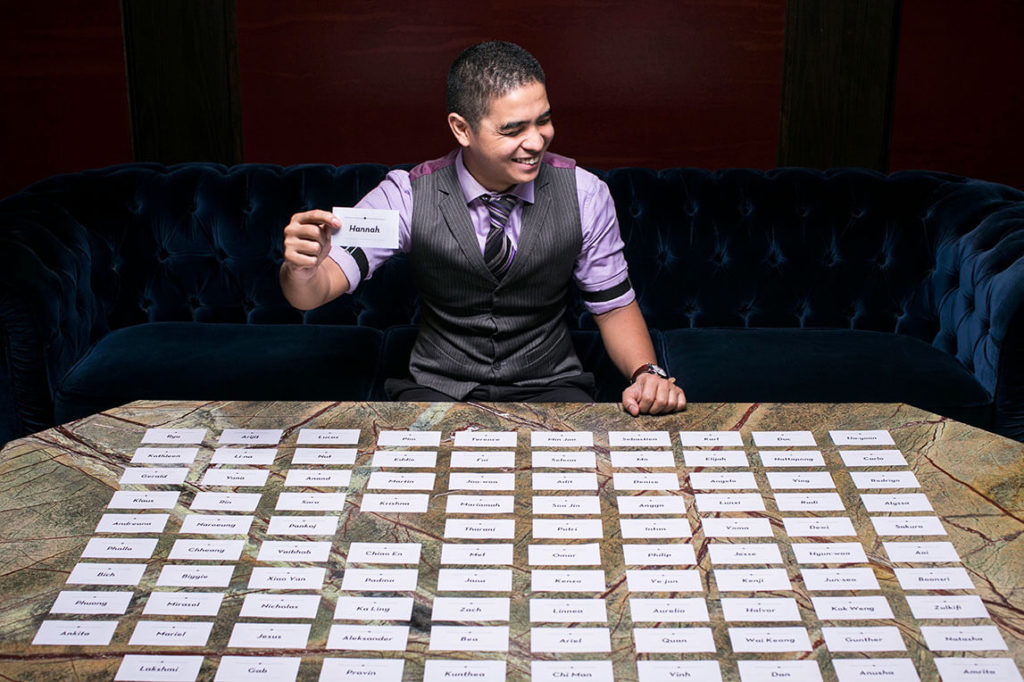 The best thing about creating a new menu at Manhattan is the bartenders have the freedom to show off their art and their skills. As long as it fits the theme – here it's the neighbourhoods in New York. We are the hardest critics of our cocktails ourselves. Proof and Co comes here and asks us questions about each new drink; the f&b director is a tough judge; then the PR team, the chefs, the hotel manager, the GM. But we are ready. We have to do a show-and-tell for all of them – it's fun, but really challenging. We are clapping when it's over.
I still read books: the PDT book, the Schumann's book (which Philip Bischoff helps me with because it's in German), The Savoy Cocktail Book . You get inspiration from old books, to make twists. I also just made a cocktail for the new menu inspired by some food that I ate in Manila at this new restaurant called Toyo Eatery. Their dish is based on this traditional song, and it's presented like a garden with the plants growing up out of a peanut powder soil. Chef Jordy Navarra came here and said he was really inspired. And I went there and I was really inspired. The next neighbourhood on the November menu is Central Park, so we'll have some soil… you will see.
As a bartender that relies on teamwork, Manhattan coming number 11 in the World's 50 Best is the greatest achievement that I have got personally in my career so far.
We are trying to keep everything we use behind the bar more and more. If there's celery that we don't use, we dehydrate it, then we powderise it, mix with sugar or salt and serve with the Bloody Marys – so the guest can add it to the drink. Even orange, the same, so you don't need to buy in more ingredients. We are going to be developing the bar's sustainability.
Honestly, I tend to have a bit of OCD, When something is not organized, I twitch a bit. That makes me uneasy, not angry. So if I'm sitting down in another bar, and I see something disorganized, I want to look away.
At school, I was the class clown. Making fun of everyone, and them making fun of me. Joking, gullible, happy go lucky. Didn't take life that seriously, even in college. I did hospitality management because it was kind of the bandwagon – my friends were doing it. I thought it was the easiest way to get through college. But actually it was one of the hardest courses – so much to learn, and after you graduate, you have a lot of competition for jobs.
I really love the sea. I have a licence for scuba diving and if I ever stop bartending, I would like to teach people how to dive. That's my inspiration. I want to travel the whole world to scuba dive, so I always try to make four vacations each year – places like Langkawi, Bali. But I still think Philippines has the best diving spots, sorry! Palawan especially.
I had a close experience with a shark once. It was a tiger shark; I was sitting on a rock and this thing was just watching me. It was twice the size of me. And I couldn't breathe. My instructor had to hit me again and again on the back to get me to start breathing again. But it didn't attack. Usually they only attack when you are surfing because you resemble a seal.
I have been down to 30 metres, which is what my licence allows. It feels like you are flying. No weight. It makes me so happy, nothing ever gets old. The rock formations, the coral, the fishes, it's always new.
I could combine teaching scuba with bartending, and have a bar on the beach. If I owned my own bar, you could describe in three words: fun, friends and cheap. That's a beach bar. Scuba in the morning, at night I make drinks. And I wouldn't forget what I've learnt about cocktails. There would be a great spirit selection, but I'd make it casual. I don't think I could imagine that as work!
I'd love to be able to time travel. Imagine how unlimited your resources could be? I could be a millionaire by tomorrow after work. But I'd also use it for family – go back and give my aunt another hug.
I like having a beer after work. We have a special food court the team goes to, where we can have the best supper – sweet and sour pork, bak kut teh – and where the aunties serve us beer afterhours in teapots, so we call it the Speakeasy. We ask them for "cold tea". Sometimes we go to Skinny's, but sometimes, when we want to build the team, then everyone will go to the Speakeasy. And I mean everyone.
When I go to other bars, I'm flexible about what I drink, just as long as it's made with rum! I grew up with rum. It's the cheapest spirit in the Philippines, so it's what my palate is used to. I like rum Manhattans, experimental Mai Tais. I would love to get Tanduay 15-year-old rum here, but they don't export it out the Philippines. That brand has a lot of potential, but they need to be transparent and open up the distillery.
I like old soul music. I love listening to old music. But I have different tastes, too. I have all of it – hip hop, house.
I am a young bartender, still. I am 26. For me, if you want to learn something, you should not be blinded by money. Money comes after all the hard work. I am doing the job and I am getting paid and I am more than happy. When you stop thinking about salaries, you can get a lot of things done. That can stop young bartenders sometimes; they are kind of blinded by the money.
---
Manhattan / 2/F, Regent Singapore, 1 Cuscaden Road, Singapore / +65 6725 3377 / Manhattan Bar
This story was first published in Issue 04 of DRiNK Magazine Greater Asia.