Singapore's The Other Room is less Edison-light cliche and more warehouse hideaway. As told to Natasha Hong. 
"The Other Room started as a 'what if' question. I thought, what if prohibition happened again today? What would I do? That's how the whole concept started. So let's say the police come and throw away all the alcohol I have, but I manage to keep my hands on a couple of precious bottles that I like. Will I make cocktails with them? Probably not, because I don't have vermouths or modifiers. I can drink it – good option – or I can throw it away – not a good option. So I say, how can I, without destroying the product, give it a beautiful, different finish in order to make myself, or whoever comes to my house, enjoy the last bottle we have, in a lot of different ways?
I decided to do something that's usually done by distilleries or small independent bottlers, but no one else out there – I decided to cask finish spirits in house that are not finished in the distilleries. I'm not discovering rocket science here or bringing something new or cutting edge. I work with products that most people have developed a palate for. If you're an aficionado, if you truly love the spirit, you'll see six different finishes you'll want to try. Not all of them are going to be your favourites, but some, you're going to be like, 'Yes, this is exactly what I want.' I shipped over 60 American virgin oak barrels, medium char, two litres each, to finish the spirits. My main goal is not to cover the product's flavour – the master distillers of the vodka, mezcal, tequila, gins, and so on that I work with are doing an astonishing job, so I try to make their products shine in different ways. You'll smell, taste the product you know, but then something happens. My goal is to make you fall in love again with your favourite spirit in a new, different way.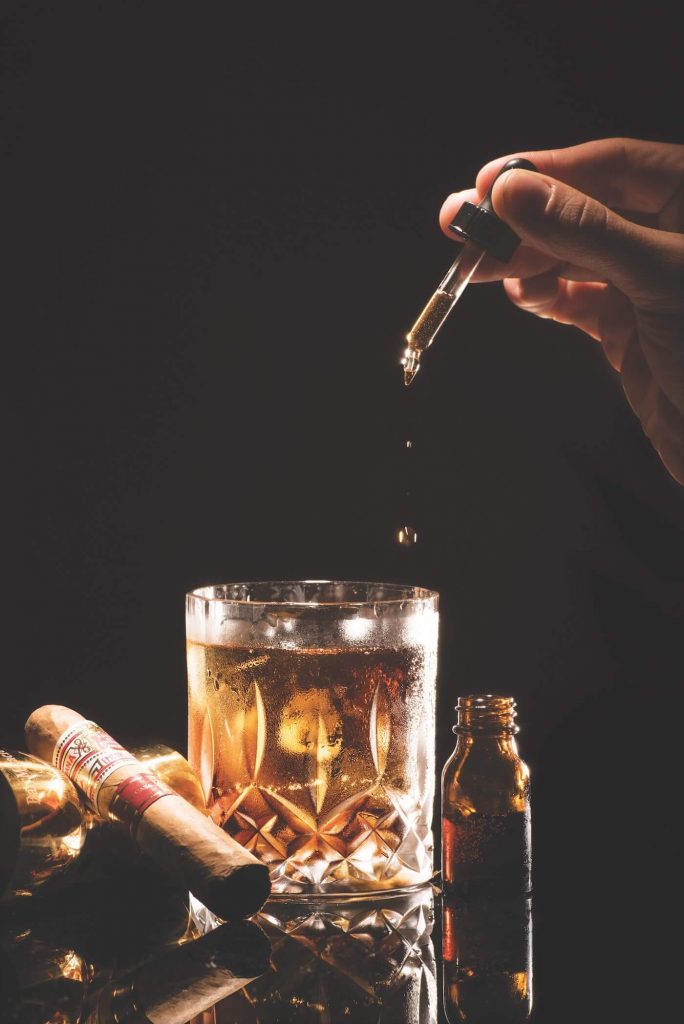 In some other spirits, I don't cask finish because I couldn't add the right flavour. Instead, I macerate roots, barks, spices, herbs, leaves, citrus and fruits to create a finalised product. They can all be drunk neat, or on the rocks on its own. I have around 340 recipes, but it's like having kids – you can't pick your favourite one. We have degustation flights to try them in, but to me, when you step in over here, you don't have to know what we do.Only one per cent of the people come out and want to learn things – if you're kind of interested in what we do, I can guide you through it. But we're not here to save lives or teach anyone – we don't have to take ourselves too seriously.
There's a phrase written in my bar, taken from Harry Johnson's Bartenders' Manual, and this is what the owners – this is my venue with the guys from FOC backing it – agree this place should be. "The best accomplishment of a bartender lies in exactly suiting his customer." That's it. It's all about hospitality. We also call this a drinking house, not because we're different, or we're cool – the offering is different. If you go to a cocktail bar, you expect a certain offering. This is the first drinking house. No one has done this before, so there are no comparisons. My ultimate goal though, is to get the whole industry inspired, and do this way better than what I'm doing. I would love that in five years time, we go around the world and there are drinking houses everywhere, and ten times better than what I'm doing, so I can learn from them."
---
The Other Room / Marriott Tang Plaza Hotel, 320 Orchard Rd, Singapore / www.theotherroom.com.sg
This article first published in Issue 03 of DRiNK Magazine Southeast Asia and Hong Kong.