Kuusi by TUNG Hanoi and Hybrid Saigon opened at the same time at opposite ends of the country to change Vietnam's cocktail game. By David Kaye.
Richard McDonough had commitment issues. Formerly an advertising agency founder and based in Hanoi – and also known as the Mood Therapist – Richard enjoyed his appearances at pop-up events, for international brands like Dior and Moet Hennessy, local brands like Marou Chocolate, and events like the Luang Prabang Film Festival in Laos and Saigon's Gin Fest. However, he did not enjoy the day-to-day operational grind of running a bar. He'd had the chance to collaborate with a few including BarMini in Washington DC and Quinary in Hong Kong. 
Then, out of the blue, T.U.N.G Dining's Hoang Tung announced they were opening a cocktail bar together online.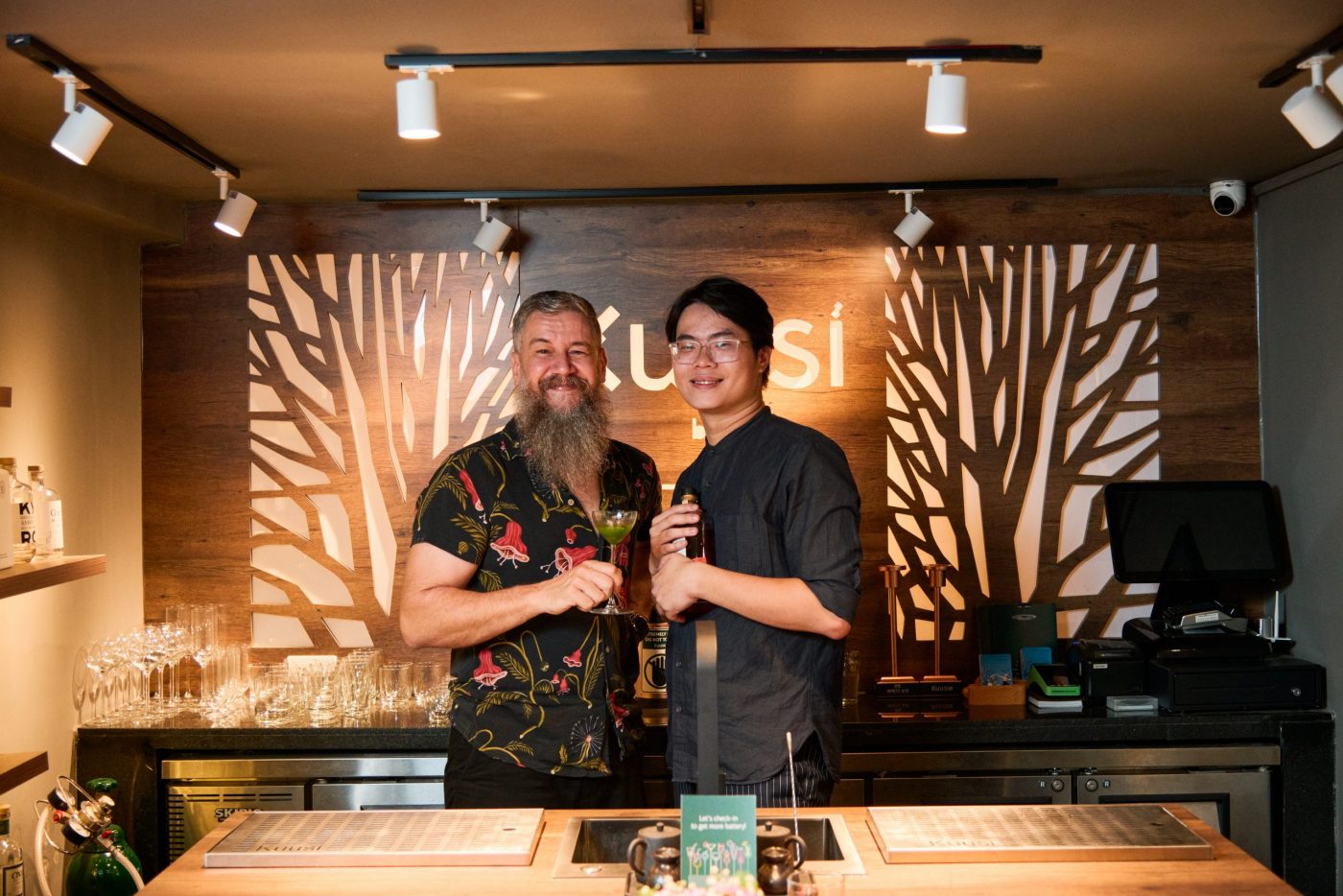 During lockdown, Richard had busied himself pumping out bottled cocktails from his home lab – including a reimagined Manhattan, called New York State Of Mind, and Rhumble In The Jungle featuring Sampan Rhum, which is distilled in Hoi An. Tung ordered some of the bottles and Richard reached out to invite him over "for an afternoon slurp" – the kind of secretive tête-à-tête the pandemic was so good at instigating. Talk quickly turned to a collaboration on a cocktail pairing menu for his award-winning restaurant, T.U.N.G Dining.  
Although that plan didn't materialise, Tung decided they'd take over the mom-and-pop noodle shop next door to the restaurant and turn it into a bar. He announced it in a magazine interview and sent the link to Richard – the first he'd heard of it. Despite the surprise public announcement, Tung and his business partner were well-versed in operations, meaning Richard could focus on the drinks, so they set about creating Kuusi.
If Richard had commitment issues, then Hybrid Nha Trang owner Lam Duong was in flight mode. Lam had taken a career path common to budding bartenders in a country with a nascent bar scene, mostly working in hotel bars. When he returned to Vietnam in 2017, young locals were embracing cocktail culture. He joined Qui – Cuisine & Mixology in Nha Trang and then Irusu Lounge in Saigon, which he left in May 2019. A month later he retreated back to his hometown of Nha Trang to open Hybrid. Everyone told him he was "fucking crazy" trying to open his own molecular cocktail bar in the commercial beach city. Nha Trang is a place where all people want is buckets of ice-cold beer and fresh seafood, so opening there rather than Vietnam's capital Hanoi or the buzzing southern metropolis of Saigon was a gamble.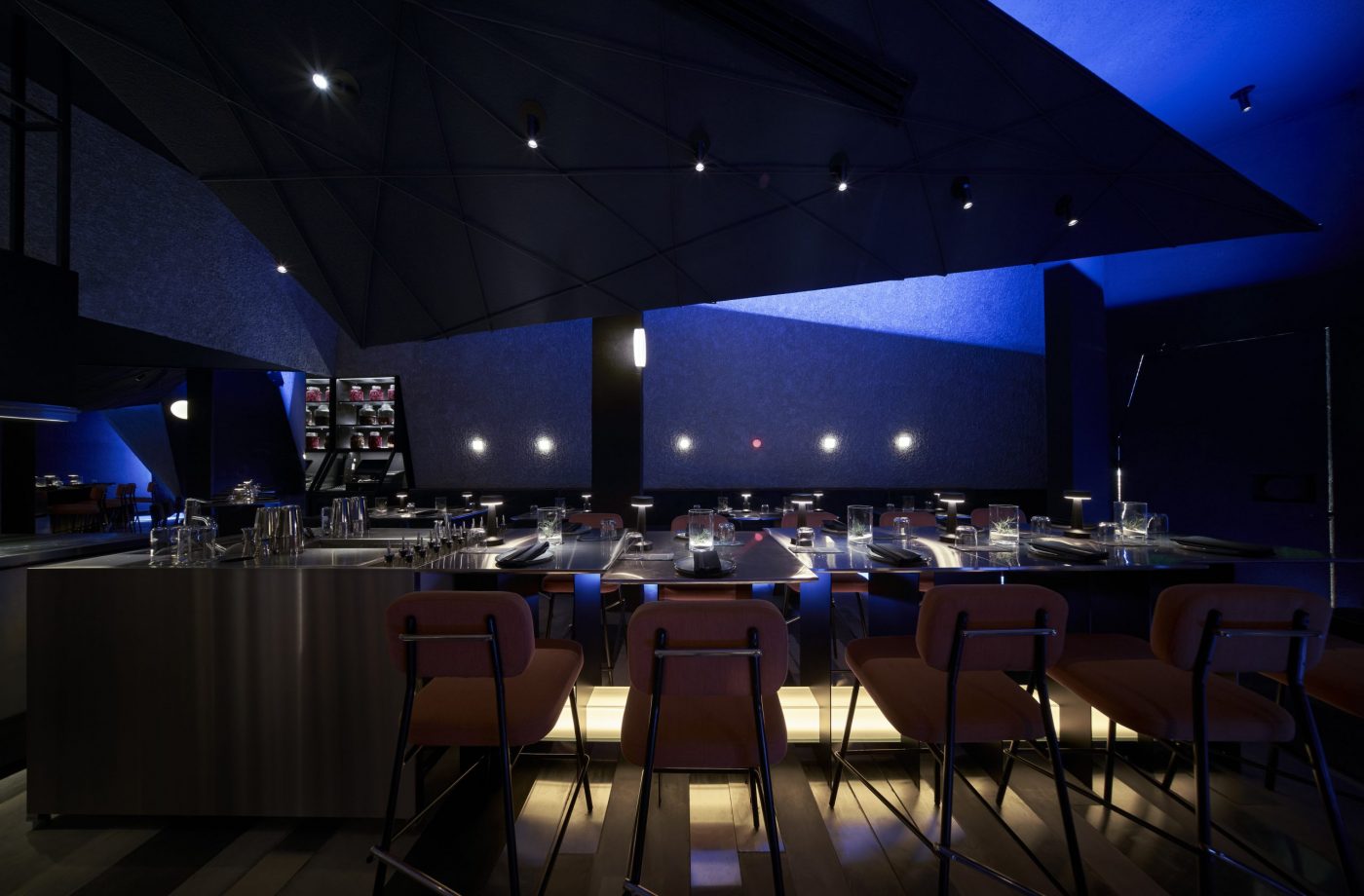 Lam describes it as "a homecoming of sorts" and in 2021 silenced everyone when Hybrid (Nha Trang), improbably, made it onto the Asia's Best Bars extended list at 96 – one of only three bars in Vietnam to make the top 100. 
Richard's Kuusi By TUNG and Lam's second Hybrid both opened in June, in Hanoi and Saigon respectively. And both are changing the cocktail game in Vietnam. 
Kuusi (which, in English, is a tree called a Norwegian spruce), is a "12-seat recharging station" that feels secretive and magical. The experience is entered around a tasting menu of five cocktails, and the drinks are full of Richard's wry sense of humour and molecular cocktail savvy. For example, the highball, is literally a high ball – a spherification served on a tall pedestal using a base of Mortlach 12. 
Then comes 66% More Bubbles – a cocktail that looks like pink champagne but drinks like rich chocolate, due to its distilled Marou Chocolate cacao nibs, and it has a tartness from a clarified rhubarb cordial. Then a herbaceous, vivid green cocktail that's a twist on a daiquiri called Quid Quo Pro, which Richard makes by theatrically crushing nitrogen-frozen lá quế vị –a leaf from the highlands of Vietnam that contains a compound found in anise, tarragon, and liquorice.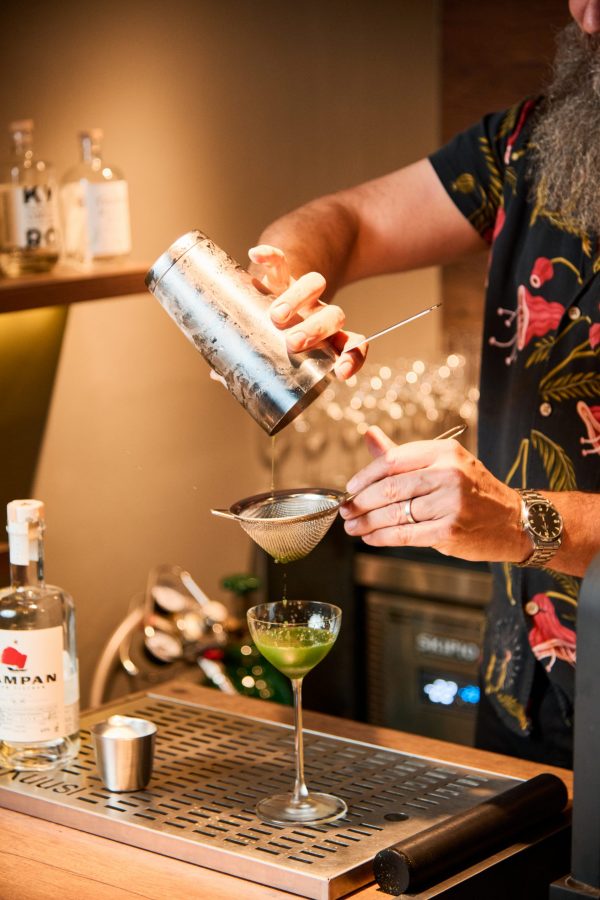 Then there's The Crystal Onion, made with an exclusive-to-Kuusi cognac barrel aged Sampan Rhum with clarified pear and clarified onion syrup. And finally, CNDNSD Milk, a take on iced Vietnamese coffee with condensed milk. Richard describes it as "Bailey's on steroids."
He views the five drinks as a culinary journey, perhaps partly because he developed an interest in modernist culinary techniques when he was in Ghana where he threw complex dinner parties that gradually became cocktail parties so he could accommodate more people. "I think of it like this: first there's an amuse bouche, then some bubbles, fish, meat, dessert, and we're done," he says. "So I tried to make every drink different in flavour profile and played around with the textures too." 
Plus, there's an actual culinary journey. Chef Hoang Tung pairs nibbles with each drink – a prawn cracker with aioli with the Mortlach High Ball and sweet shrimp with chorizo oil with The Crystal Onion.
Unlike Kuusi, with its Nordic wooden paneling that perfectly matches its next door older sibling T.U.N.G Dining, Hybrid Saigon feels incongruous with the sleepy alley that it has landed in with its Buddhist temple, gated homes and Airbnb apartments. But, like Kuusi, it's windowless, giving it an immersive, escapist feeling. 
Lam says it's "an abstract exhibition space." And the lack of windows is deliberate so customers focus on the drinks. Everything happens on counters in front of guests – plating their hamachi dish in a swirl of his Bloody Mary sauce, stirring their rich caramel-flavoured Death's Choke Sazerac.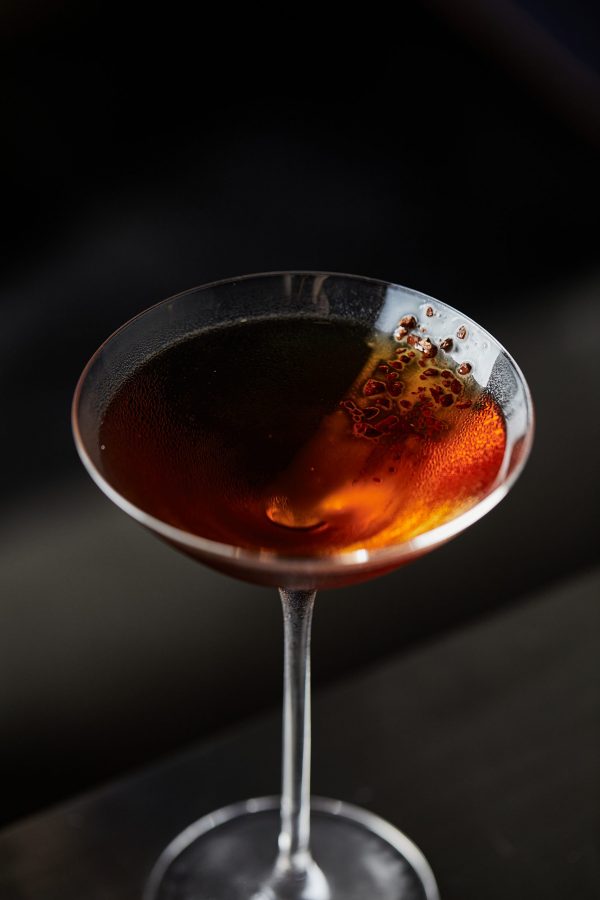 Most of his creative energy has been trained on taming intense Vietnamese culinary flavours and applying them to cocktails: fish sauce and soy sauce, oysters and sea urchin. "We use milk washing to control the 'fishiness' of seafood while also levelling the spiciness and bitterness of ingredients, which becomes drinks like our Urchin Gimlet. We caramelise or create solutions from other ingredients, as with our Death's Choke Sazerac, we use pickling for clams and mussels, as in our Save The Dirty B*tch, and we use curing to get super savoury umami flavours that we incorporate into our Fish Never Sleep, and distillation, for adjusting flavours, like in our Mezcal Ant CO2."
Lam bottles all his spirits and solutions into brand-less brown bottles that are stacked on the shelves. And the menu often avoids any mention of the spirit-base entirely, to emphasise his obsession with cocktails that are flavour first. For the Death's Choke Sazerac, for example, there's no mention of Hennessy and absinthe at all, only burnt cocoa butter, shoyu caramel and Peychaud's bitters. 
For two venues in the same country but over 1,000km apart, the big question is: how are customers taking to these highly conceptual, molecular cocktail bars?
"The molecular approach to cocktail making is still new here, and maybe weird for some," Lam says, "so the openness at Hybrid is deliberate too – it helps us show customers our process and the differences between making molecular cocktails and traditional cocktails."
"The most confusing feedback we had was from one guest who ordered the five drink cocktail menu with no food and then complained they got too drunk. They also said the drinks were too small. I didn't know what to do with that one…" Richard shrugs.