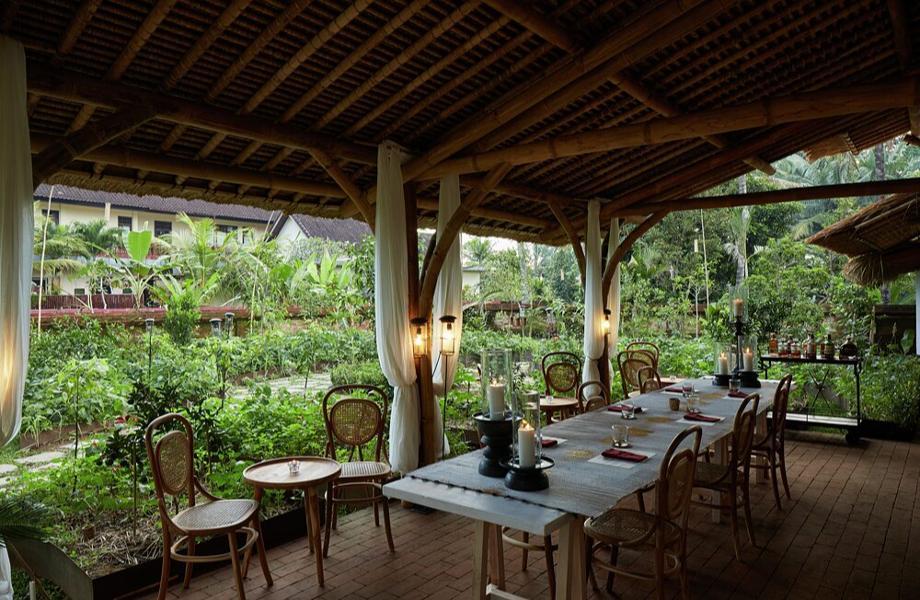 Room 4 Dessert (Ubud, Bali)
My first visit to Room 4 Dessert was back in 2015, a year or so after their official opening. I met Will when he was executive pastry chef at Ku De Ta and I was excited experience the rebirth of his famous New York brand on Balinese soil. As I approached the bar I saw a patron sipping a cloudy, light green cocktail in a chilled coupette glass. I sidle up next to the guest and ask" "What are you drinking?" to which he replied: "I think it's a Spoken Word?"
Despite him forgetting the name of the cocktail, I immediately understood what the guest meant and I looked at Will in disbelief. It's no secret that green Chartreuse and Maraschino liqueur were next to impossible to find in Indonesia at that time. Will grinned mischievously and presented a large bell jar with a few gallons worth of liquid filled to the brim with leaves, stems of assorted herbs.
Using neutral grain alcohol, a mixture of twenty-odd different local herbs and local honey, he is making his own Chartreuse in-house. Another component of the classic Last Word is Maraschino Liqueur – Will decided to try making his own using the stones of soursop fruit, given that Marasca cherries are not native to Indonesia. The taste of the final cocktail was undoubtedly a Last Word, though the component parts were very different and the trajectory of flavour somewhat more tropical than in the classic version.
Having trained directly under Will's supervision, Komang, the incumbent general manager at Room 4 Dessert, utilises many local herbs and plants in their bar program:  Salak –­ known as snake fruit – stones are used to make amaretto and jasmine, coffee flower, marigold and oxidised wine is used to make bianco vermouth for the Room 4 Dessert white Negroni.
Komang explains: "We now have a 4000sqm garden where we grow 300 types of plants, including wormwood, six different types of basil as well as a number of indigenous and native species of plants."
Many of the chosen herbs and plants in the Room 4 Dessert garden are intrinsically linked to ancient Balinese culture and medicine. Turmeric, for example, is widely used across Java and Bali as the basis for local jamu – a natural herbal liquid containing roots, bark, flowers, seeds and fruit – and it forms the basis of their spiced vermouth which they use in their Boulevardiers and Manhattans. "Sustainability is central to who we are," adds Komang. After six months of macerating in high proof booze, the collection of leftover and spent herbs from the Chartreuse maceration are dried, blended to a paste, then mixed with the skins of ginger and recycled into making paper which they use to print their dessert and cocktail pairing menus.
Will and Koming's Room 4 Dessert Chartreuse
Chartreuse Starter
3l neutral grain alcohol
2pcs lemongrass
3pcs lemon leaf
3pcs lime leaf
20g kemangi (lemon basil) including stalks
10g Thai basil
10g mint including stalks
10g fennel
2g thyme
5g coriander seeds
1pc mace
10pc star anise
2g clove
2pc cinnamon stick
Method:
Crush the lemongrass and the spices
Put all ingredients in a glass jar and cover tightly
Let the mixture macerate for six months
During the maceration, shake or stir twice a week to speed extraction
To get a good green colour strain the mixture and replace with new ingredients (with the same quantities) every month or before the mixture starts to oxidise
After six month strain and filter
The next step is to down proof as below
Chartreuse 55% ABV
1l of Chartreuse starter at 90% abv
Sugar syrup (225ml water & 75g sugar)
Chartreuse herb mixture:
160g wild honey
480ml water
1pc lemon leaf
1pc lime leaf
7g kemangi (lemon basil)
3g Thai basil
3g mint
3g fennel
1g thyme
Method:
Blanch the Chartreuse herb mixture and freeze immediately
Blend the honey, water and frozen herbs
Filter the syrup, mix the syrup with the Chartreuse starter
Keep it at room temperature for another month to rest
Lastly, strain and filter the Chartreuse a final time