Outer space, electric disco, retro fab, future love: the multi-concept lounge is everything the 70s imagined of 2021, and more. By Elysia Bagley. 
Last January, Cross Yu had just been named Bartender of the Year, was also the recipient of the Founders Award, and was celebrating E.P.I.C.'s fifth anniversary. After that, he and his staff went off to celebrate Chinese New Year, feeling psyched about all they had accomplished and ready ride the wave of their new accolades into the year ahead. But just a few weeks later (when that special you-know-what arrived), he, like so many others, was fighting the good fight to keep his bar open and his staff paid.
In the weeks and months that followed, Cross promised his staff that he'd pay their salaries no matter what, and worked to assuage legitimate concerns from his partners over the uncertainty of the pandemic and tough situation they were faced with. He forwent his own salary, made further personal financial investment and brought the team back to work in mid March – all of his "brothers and sisters," he says fondly – even with the restrictions on opening hours that made it nearly impossible for bars to conduct business.
One year later, and they're back in that happy place – E.P.I.C. has now celebrated its sixth anniversary, the team literally saw overnight success and made lots of noise with its Andy Warhol-inspired canned cocktail sets, and business is even better than pre-COVID times. They took home the Bar Team award at DRiNK Awards 2020; the good fight they fought ending in glory and Glory.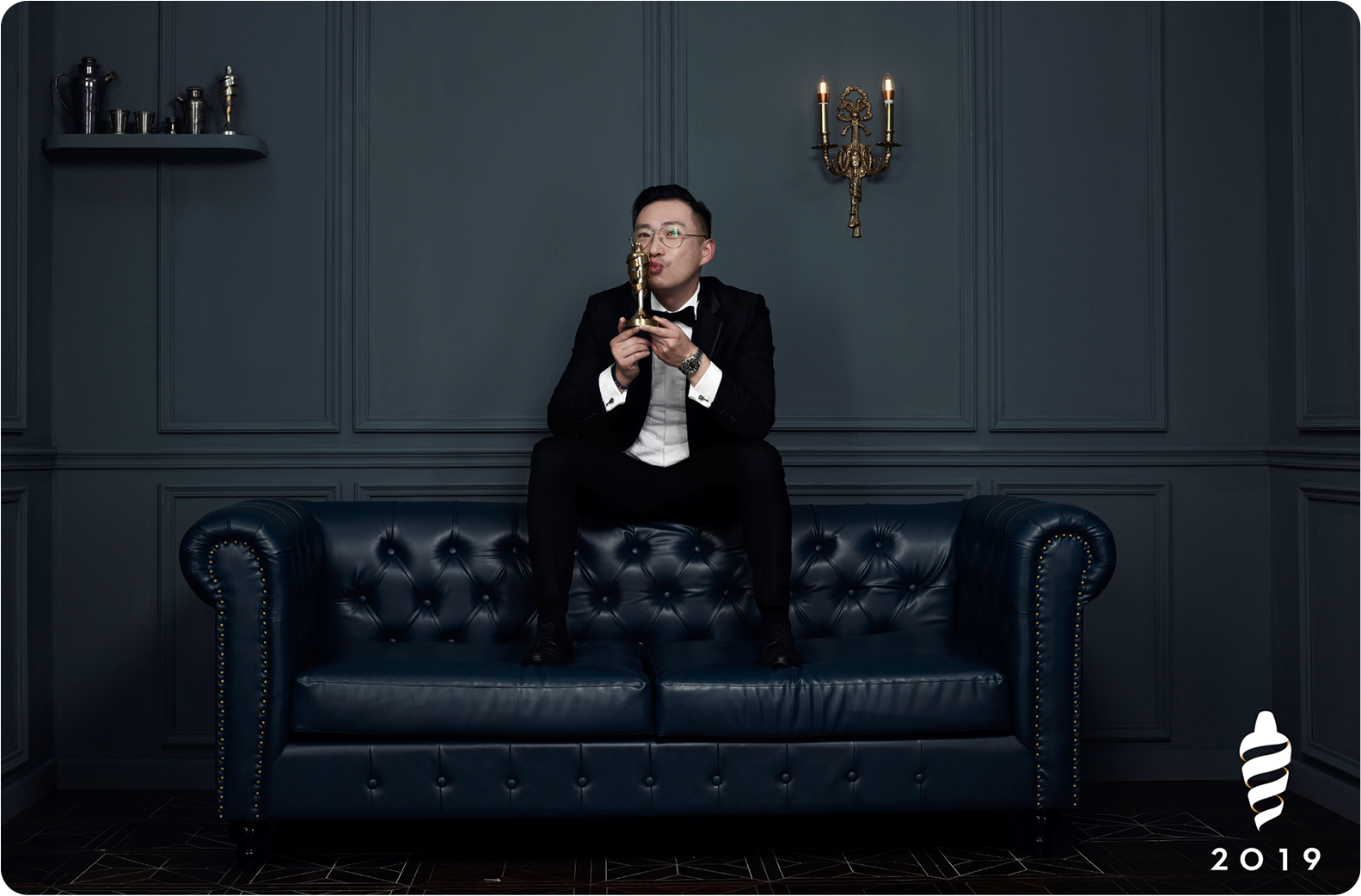 When things did pick up last spring, Cross and his business partner knew they'd been lucky. With the market being set up for finding well-priced rent, they decided to take the opportunity to pursue the second venue they'd been thinking about for awhile.
Cross went to check out a spot in Shanghai's northern Jing'an district, in a somewhat forgotten plaza called Tonglefang. While standing outside the huge space that formerly housed a hot pot restaurant, he ran into Logan Brouse, his former partner in crime behind the stick at Muse many years ago. Logan had recently opened the new location of quirky taco and drinks hub Tacolicious just next door, and in that moment, the two vowed to revive Tonglefang with side by side venues.
And so Glory found its home. Cross split up the original bar team, bringing half to build the new concept and confidently leaving the other half to run the show at E.P.I.C. while he focused on this next project. The original team of nine has now grown to a collective staff of almost 30.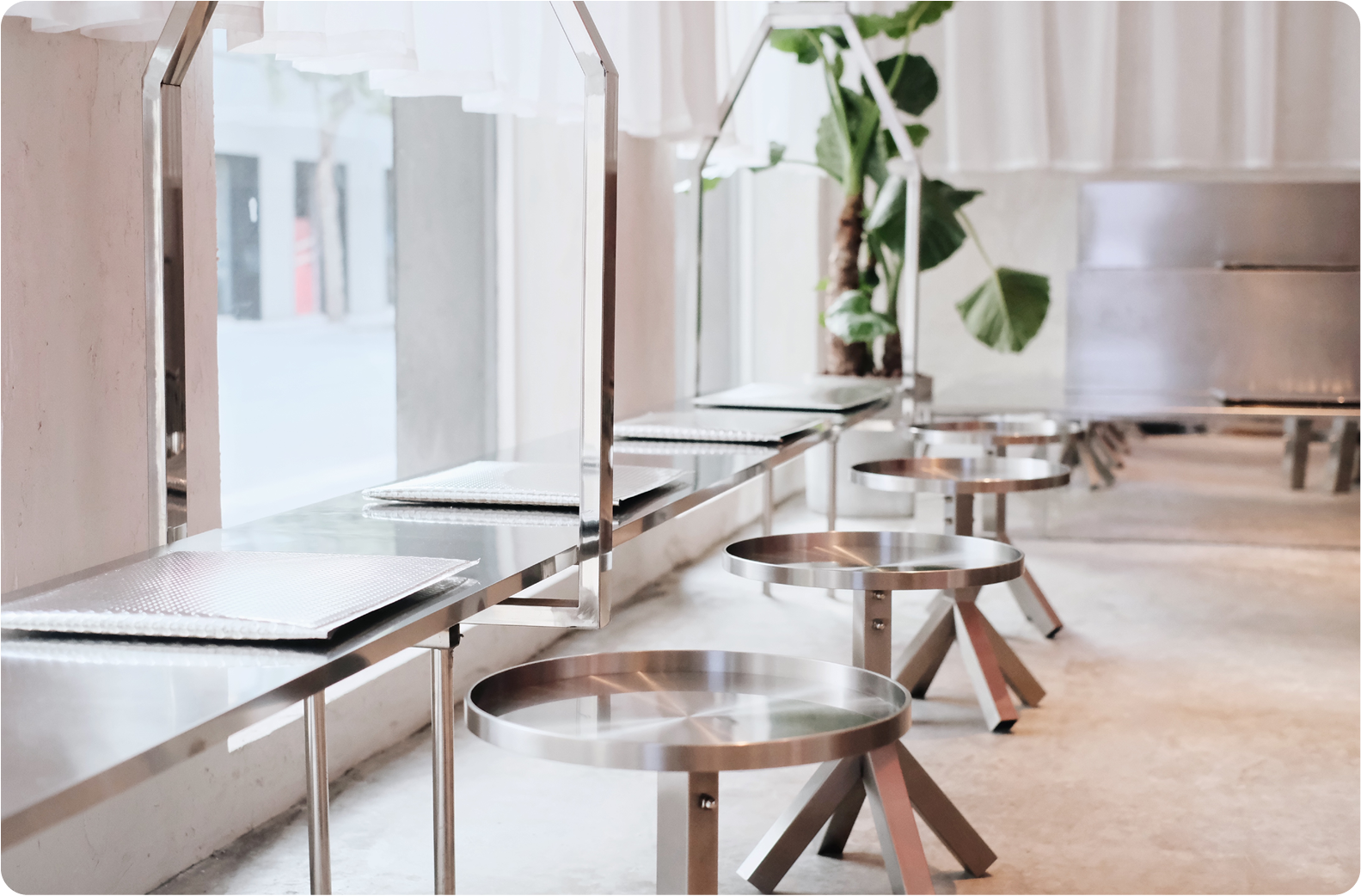 Stretched across multiple levels of space and time, Glory is a retro-futuristic smash hit with a disco soul – "an energy field supplemented by coffee, alcohol, food and music for you to take at ease", as the slogan reads. Part lounge, part creative space, part cafe and part kitchen, it's an ambitious venture with big plans up its sleeves – "a bit crazy, a bit classic, a bit future", says Cross. It also opened with a serious bang: guest shifts from local and out-of-town bartenders, masterclasses, industry nights, and several days of opening parties for friends and media, all coming to a head with the unofficial DRiNK Awards afterparty.
For those who frequent E.P.I.C. and its seven cosy bar seats, at first, Glory's size and multifaceted concept may look like quite the turn from the funky, down-to-earth cocktail bar that all associate with Cross. As he explains it, E.P.I.C. is like your house – it's the warm, comfy place you take your close friends to catch up and kick back. But sometimes, you need to get out of the house and be a socialite – and that's when you go to Glory. As soon as you spend some time there, you know his second home carries as much of him as the first.
The first level, Glory Space, has an open floor plan with silver space-age trimmings, steel stadium seating and this super cool, metal canteen-like table that can swing out in any direction to reconfigure the room. Space primarily functions as a coffee shop during the day, but it's designed with versatile and multipurpose intentions.
If recent times have taught us anything, it's that all this is what it really means to do epic shit.
Cross hopes to occupy Space with community events, exhibits and gatherings of any and all kinds, be it visual art, fashion, fitness or just fly parties – whatever suits, sparks and excites. He also wants it to be a place he can offer to those who've supported him time and again – at the time of visit, for instance, Space is exhibiting paintings from E.P.I.C.'s designer, who Cross fondly calls "Magic Ben".
"I like crossover concepts, not just drink-drink-drink," he explains. "Here we can gather people, share thoughts, talk about ideas, inspire each other – local people think a bar is just somewhere you can drink, but really it can be a lot of things."
Glory's overall layout and flexible functionality make it the ideal place for lots of things Cross has wanted to do, but can't pull off in E.P.I.C.'s close quarters: competitions, masterclasses, industry gatherings and other events that dive into realms beyond drinking, as he mentioned. It's the perfect answer to the kind of community-lifting crossover culture he values and wants to help thrive.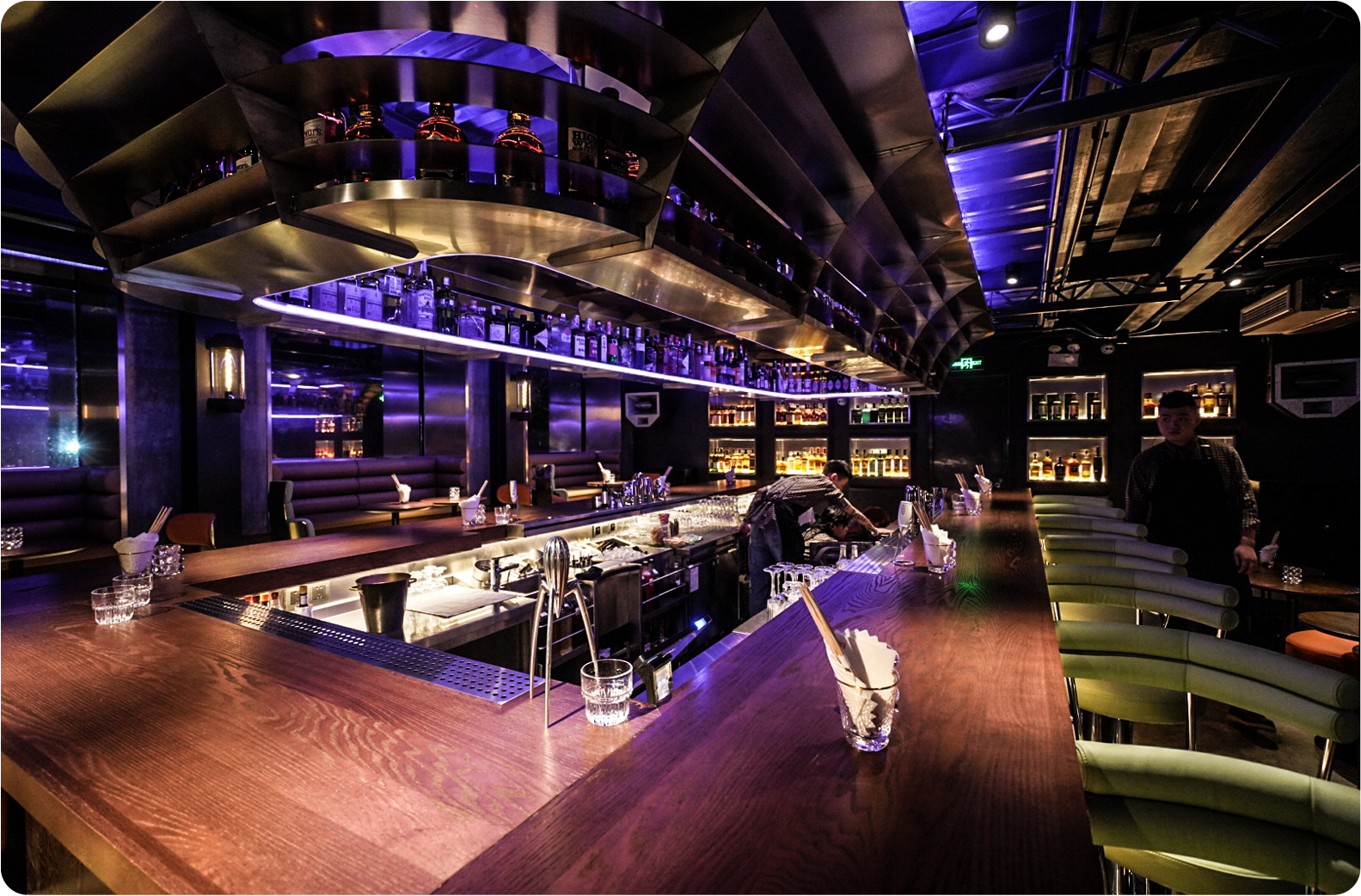 Moving on from Space to the second level, in comes the main event: Glory Lounge & Kitchen. Above it, there's the private attic, with smooth-lined leather alcoves looking down over the bustling outlet below.
Up here in the bar-lounge, it's polished metal, retro-chic leather and a touch of dimmed neon lighting surrounding a slick, polished island bar with visibly strong mise-en-place. Many will gravitate right towards bar seats – high stools on one side, level chairs on the other for two different vibes, thanks to a step up that divides the room. It's a sunken bar, so guests get full view of the bartenders at work, which really makes the experience from the start (albiet presents a new challenge for the staff: keeping things uber-tidy). There's also lounge-style seating along the sidelines of the room, where guests can be feel slightly removed but still part of all the action.
The lounge level is set up to attract a large party crowd on the weekend – a vibe Cross knows well from his early days as a club bartender at Muse and M1NT (the latter which he consulted to design the venue's killer sound system). Being Cross, of course the music program is great and shows that disco soul; highly curated by the house DJ whether he's on or off the decks. That aforementioned quality sound system allows for either melting into the tunes or having a conversation without shouting, so wins all around.
You have goals and you share your talent, and together you put on a big show.
The kitchen's elevated bar bites are a hot final touch to Glory, helmed by a young, creative chef from Wuhan who knows how to dish out trendy, tasty and photo-worthy plates that will hit the right notes with Glory's happening guests – things such as pate mousse with umeshu and milk toast, Korean fried cauliflower, and tartare with root veggie crisps. The East Asian-fusion flavours on the menu are good neighbours to the cocktails: modern twists on classics with whispers of Chinese ingredients.
With Glory, Cross pushed the idea of "getting back to the start" when it came to the drinks program, and actually pulled them venue's name from Morning Glory Fizz, a classic he felt captured the overall vibe he wanted to push out. The simple natured Pandanroni (pandan infused Beefeater, Campari, Dolin Rosso, chocolate bitters) is done perfectly, starting with an infusion using dehydrated leaves for a maximum pandan punch and finishing like a creamy dessert. Glory 75 reworks the French by swapping in sparkling sake and lemongrass spice, while Northern Comfort is a sour that gets its fruity edge from hawthorn infused Maker's Mark and ruby port.
While the current menu captures some quintessential fresh Chinese flavours, Cross and bar manager Sean are in the midst of a new menu that imparts more Shanghainese flavours into the drinks. As we chat, they're fat-washing spirits with hairy crab roe, carbonating a clarified salted plum milk punch, and tasting mini congyou binggan with a dollop of miso caramel ice cream to sit atop a teacup of a green tea-gin concoction. "Cross and I are both from Shanghai, and so is most of the E.P.I.C. team," shares Sean. "We really want to share some local flavours in the drinks – we're creating versions of classic local snacks and using some very Shanghainese ingredients."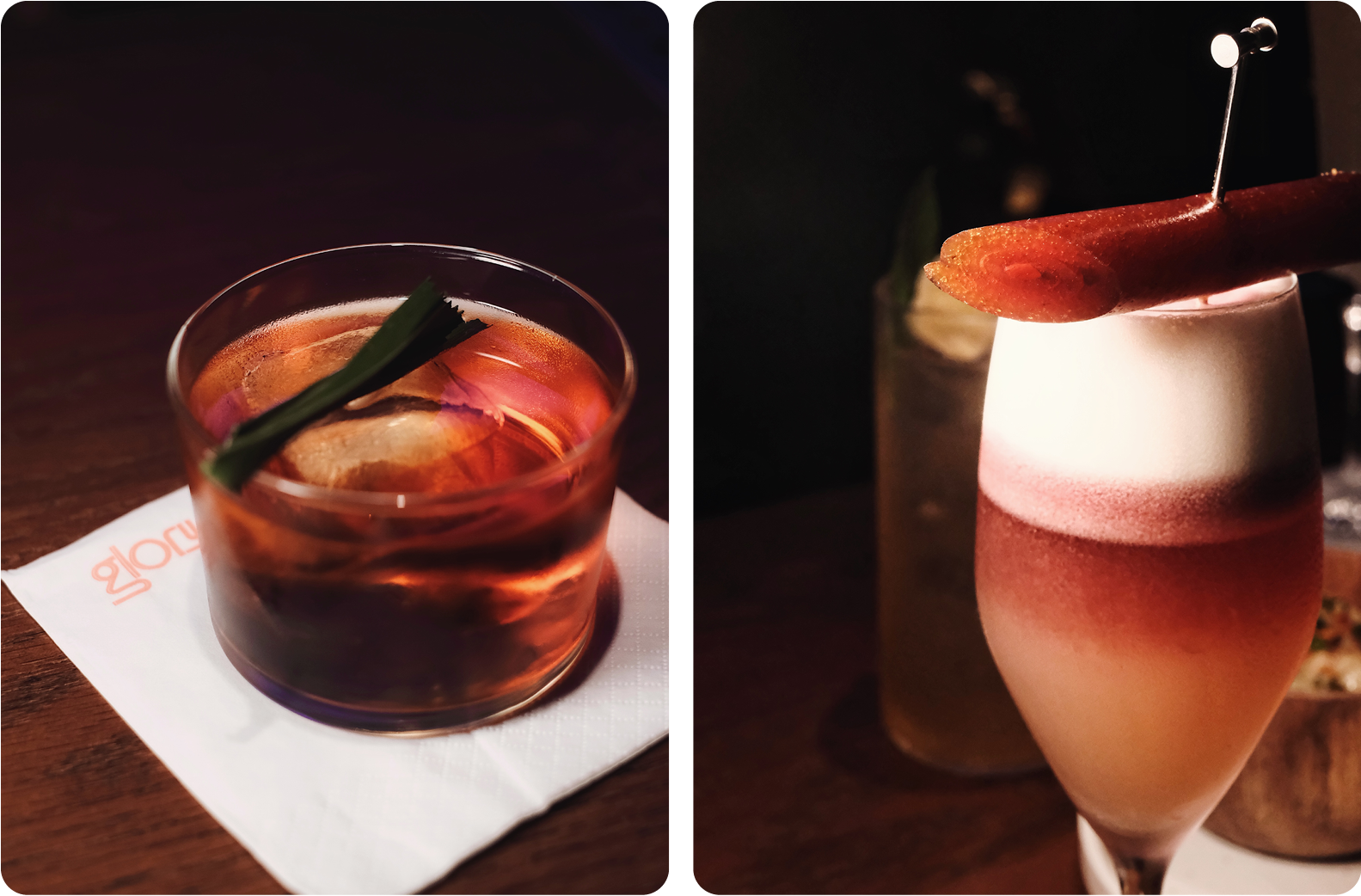 Visiting Cross at Glory and watching him guide and give feedback in his altruistic way further solidified some things that came through in his Founders Award interview in 2019: he is a ever- positive pillar of support for his staff, he takes care of everyone around him, and he is devoted AF to showing the world the awesomeness of the bar industry. Moreover, he's a knowledgeable teacher who also has the humility to become the curious student when others present different expertise – "stay humble, but stay hungry", he says. If recent times have taught us anything, it's that all this is what it really means to do epic shit.
Reflecting on the overall message of last year, members of the industry were pretty aligned when it came to what's really important: community, support, teamwork and giving everything you can to the staff without whom your business could not succeed. "The most important lesson I learned last year was support each other," Cross shares.
"My team really supports me, and one another. I know most of them love what they do here because of what I promise: I'll give you the pay you deserve, I'll give you support, I'll give you training, I'll help you be strong. This year, some people came and some went – now we have all the right people. You have goals and you share your talent, and together you put on a big show."
With Glory on its way forward, Cross has a new goal for 2021: to become an industry KOL. But he's very clear on one thing – it's not for the fame. As he's expressed time and time again, what he truly wants is for more people to get to know the industry and realise just how cool it really is. He plans to continue working on his vlog; showing venues, people and cities beginning all across China and hopefully then expanding to Asia and beyond.
If people will follow his journeys, then he can relay the bigger message: the bar industry is the best there is, and he'll prove it. "If someone thinks you're a hero," he says, "then you need to save the world."
"I want to inspire the next generation of bartenders: if you want to do something, just do it! If you can do what you love and enjoy, then why not go for it? It's not like 20 years ago, when a career in bars was looked at as a bad thing. I showed my parents this by bringing them to Laris at Three on the Bund when I was there years ago. I remember my dad, arms crossed behind his back as he looked around and gave a nod of approval. Now, I can bring him to Glory and E.P.I.C. and say 'hey dad, I'm a laoban.' You can, and should, do something you're proud of."