The dream team will unveil their '80s-inspired cocktail lounge this November and tell all to DRiNK in an exclusive first look. By Elysia Bagley.
The year is 1983, and amid that neon-glowing fury of spandex, big hair, acid washed jeans, synthesizers, Pac-Man and glam metal, so too did the world witness the birth of two of today's global bartending greats – Shingo Gokan (of Shanghai's renowned Speak Low and Sober Company fame, and newly opened SG Club in Tokyo) and Steve Schneider (of NYC legend Employees Only, its sister bar of the same name in Singapore, and The Strangers Club in Panama).
Year of birth and passion for the delights of the '80s aside, for over ten years Gokan's and Schneider's careers have paralleled in a series of uncanny coincidences: being head bartender at the East Village's Angel's Share and principal bartender and bar manager at the West Village's Employees Only in New York, respectively, for nearly the same decade-long stints; both opening bars in Asia within one day of each other's; competing together (and losing) at what was the first bartending competition for both of them. With a list of path-crossings that just kept on going, it was about time the two make it official.
Odd couple they may be, but the pair really are the perfect match
So now, 35 years after providential birthdays in 1983, they'll go back to the future with The Odd Couple: a retro-funk slam of a cocktail bar that's what cool kids like these two in the '80s imagined 2018 would look like – with Shingo-style drinks and Steve-style preparation.
Set to open in Shanghai's Xintiandi area this November, The Odd Couple promises to be a concept of epic counterparts, creativity, coolness and crazy. As two of the biggest names in the business who together take up two spots on World's 50 Best Bars list and three on Asia's 50 Best, Shingo and Steve have set out to develop something quite different than what's found in the current Shanghai landscape.
The two have been itching to collaborate ever since they met years ago. "I thought he was the coolest dude in the room; he thought I was the craziest," says Steve of their first encounter. Alongside that quirky sentiment, it's clear that it's a partnership built on a foundation of fond memories and mutual respect. "On paper, we couldn't be more different," says Steve.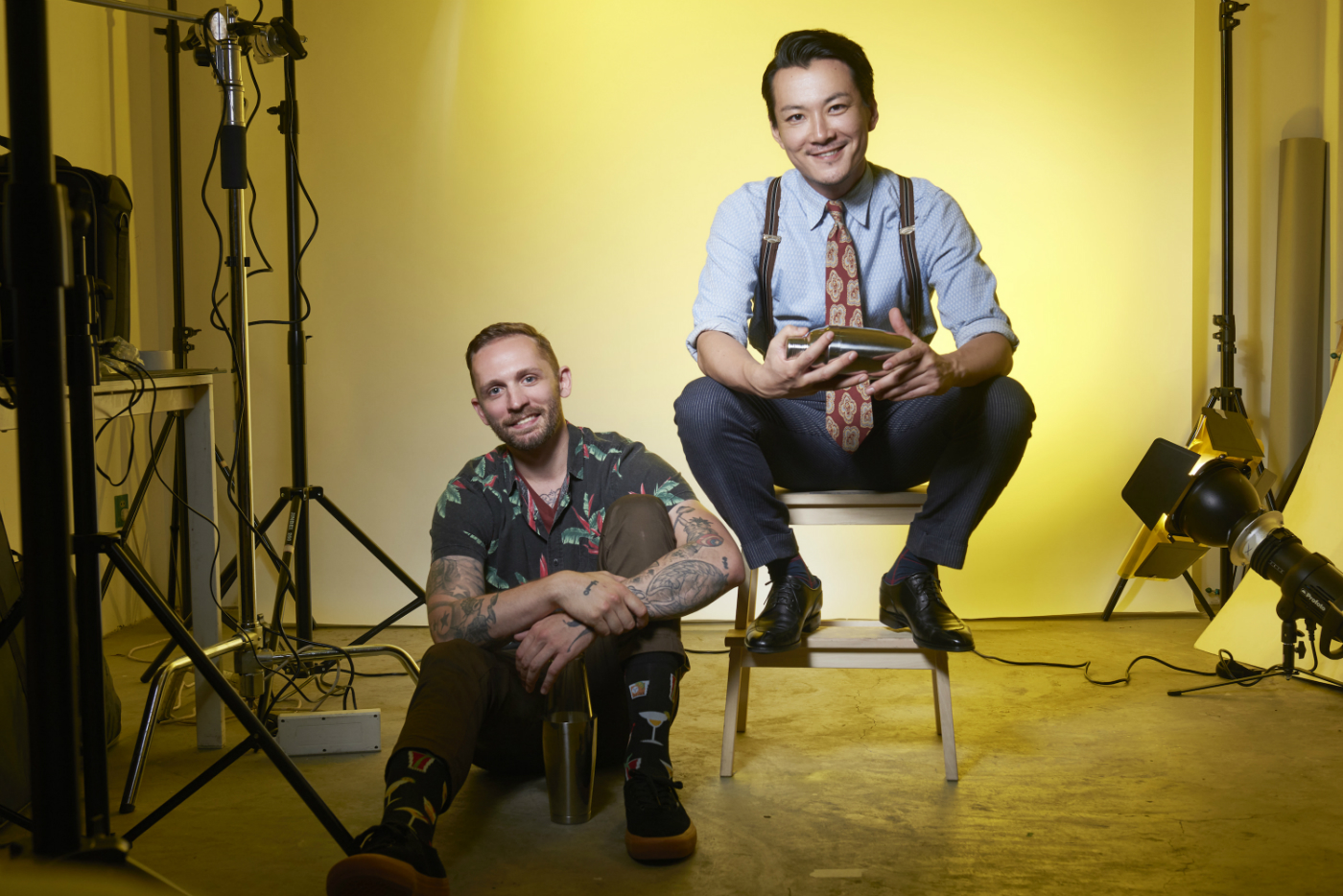 And ain't that a fact – Steve, the tattooed, off-the-cuff, old-school American pre-cocktail-revolution-styled bartender, known for uber-fast, free-pouring magic, jiggerless and armed with a Boston shaker and pint glass; Shingo, the clean cut, dapper AF chap, dedicated to a refined amalgamation of Japanese and American techniques, with complex behind-the-scenes prep and a meticulously precise execution. But it's this very contrast that's going to drive the concept into something wild.
The "lounge" (they're using that word for its era-specific connotations) will be high-energy, high-volume, with a full-on '80s vibe: bright colours and neons, moving lights; a disco-retro-funk '80s soundtrack and some winks at the decade's favourite video games (with ones you can play yourself). The idea is mostly standing room with limited seating, a no-stools-at-the-bar kind of business where people can just chill out – Steve says the capacity is "YES" (well, to the point where they can still provide the level of service that's expected of them, he explains). But the thing they touch on the most: it's going to be fun. Real fun.
A retro-funk slam of a cocktail bar
How did this zany project come to pass? This past spring, the two met up at the Singapore Cocktail Festival and decided it was time to make it happen – bring their relationship to the next level, so Steve says. Ten days later, Shingo had a venue.
The two have bartended all over the world together, and they say there's always a great dynamic. In fact, it was during a shift together in Japan when they got their name, when the other bartenders started calling them "the odd couple". When it was time for a name for the new concept, it was the natural choice.
Odd couple they may be, but the pair really are the perfect match. "We have the utmost respect for each other, our energy and our vibes. We know what each is best at – he's got his ideas and I've got mine. Nobody can make drinks like Shingo, and nobody can train bartenders like me; I consider [Shingo] the best in the business; he considers me the fastest. I'm the how, Shingo is the what."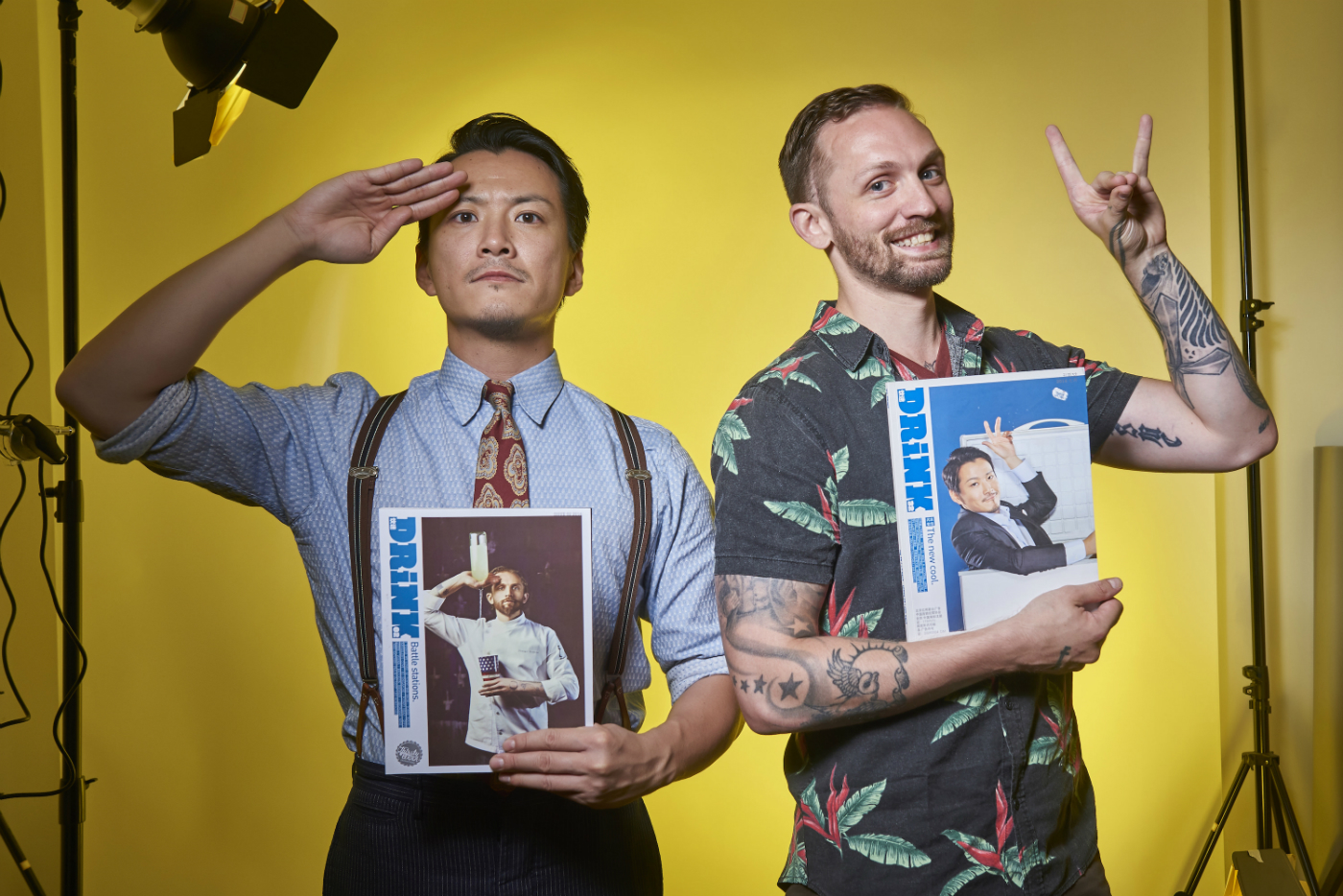 Steve states wholeheartedly that Shingo makes the world's most beautiful cocktails, and with equal sincerity Shingo shares his awe for Steve's affinity for speed and guest attention: "I have the confidence to make a drink fast, but he is even faster," says Shingo. "I've always felt that Employees Only is one of the greatest bars in the world. They're super quick, but they always pay attention to guests. The speed is truly amazing. Their style – free pouring, no stations – this is completely new for me. His style is something completely different, and I respect it." This is how they'll achieve the high-volume goal: again, Shingo's drinks, Steve's style.
The cocktail program is where the idea of the odd couple comes full circle. The menu will centre on a collection of eight pairs, each under a particular sensation or flavour – think matcha, refreshing, dry, hibiscus – as examples. You'll find one drink from Shingo, one from Steve, for two different expressions of the same profile. They say there will be "many different shapes and sizes of drinks for many different shapes and sizes of people" within this treasure chest of signatures, plus a collection of classics they enjoy drinking themselves – highballs will definitely have a place.
Now about that air of the '80s. Shingo explains: "I really like 1983: the music, the uniform, the atmosphere, the decor. In 1983 people were envisioning a future where cars are flying, where there's projection mapping and everything is done by eye scan, where shoes are automatic and people would be wearing silver jumpsuits." Basically, set your mind at the level of Doc and Marty: "It's like Back to the Future II," he explains. "A future vibe but retro at the same time – futuristic but also nostalgic."
We've always done our own thing in this industry.
The two do emphasize that they're not going for an overly-themed bar, however. It's more the vibe and energy – dope music, energizing colours and a big step away from the dominant prohibition-inspired environment of China's cocktail bars. Plus, a lot of attention will be paid towards the style of service, which falls into Steve's domain: a humouristic approach to bartending with that aforementioned fun and some playful trash talk. It's not going to be what you typically expect from a cocktail bar, they say, with the guest interaction setting them apart from others.
If anything is clear, it's that both personalities are equally confident, and more importantly – equally psyched about what will arrive come November. Steve says he hasn't been this excited about bartending in a long time: "I'm still behind the bar around four nights a week, but it doesn't have the same magic as what's about to happen."
"It's great to collaborate," Shingo says. "You never know how it's going to be in terms of the chemical reaction of what I'm doing and what he's doing – we'll see. But what I am sure of is that it's going to be a success."
"We march to the beat of our own drums," adds Steve. "We've always done our own thing in this industry. You have a plan, you open your doors, and know that plan was made to be altered. In the end it's about making the best possible product. That respect for the bar business: it's what we share 100 percent."
---
No 25, 181 Taicang Lu, near Madang Lu, Huangpu District, Shanghai, China.