American Bar's renowned hospitality ensures every guest leaves happy – even if something goes wrong. By Elysia Bagley.
Senior bartender Pippa Guy and bar manager Alice Glayzer of the American Bar at London's The Savoy hotel graced EQUIS at The Four Seasons Beijing with their knowledge last month.
Currently number one on the World's 50 Best Bars list and Europe's oldest cocktail bar, the American Bar has surpassed hospitality expectations for over a century with memorable storytelling and a heavy focus on all discernible aspects of guest service. This all becomes quite obvious from the moment you interact with Pippa and Alice, who enlightened DRiNK on how they achieve a level of hospitality that's become revered around the globe.
1 Instant engagement is key.
The pair emphasise that you have to talk to your guests, but instant engagement is the real key. "With our service, the instant engagement is also trying to figure out why someone is at the American Bar," says Pippa, "that varies massively, and you can cater your service to why someone is there." Even when the bar is slammed, Alice says, "It gets busy and we can't do it for absolutely everyone, but from the heart, we try, and this is important to us. Engagement is key. You never know, you may make a friend for life."
2 The guest comes first – so don't be pushy.
Even if you've poured your sweat and tears into an awesome menu concept filled with stellar drinks and their stories – like American Bar has created – remember it's not all about showing off your signatures. "As much as we love our menu, some people just want a daiquiri," says Alice.
Pippa adds that while their drinks program is something they're proud of, it's important to remember that plenty of people just want a basic pour or to hang out with a coffee while working – not everyone who visits is a cocktail connoisseur. "We're not pushy," she says, "if someone lets me know that they're invested in cocktails, I'll go all out, but if they just want to talk about their kids, that's fine as well."
3 Take notes. Literally.
The American Bar keeps notes on every guest that comes in, from drink preferences to personal details. "We know the preferences of guests that have been in a few times, and sometimes we create drinks for them," says Pippa. "One Mr White has a White Tie instead of a Mai Tai."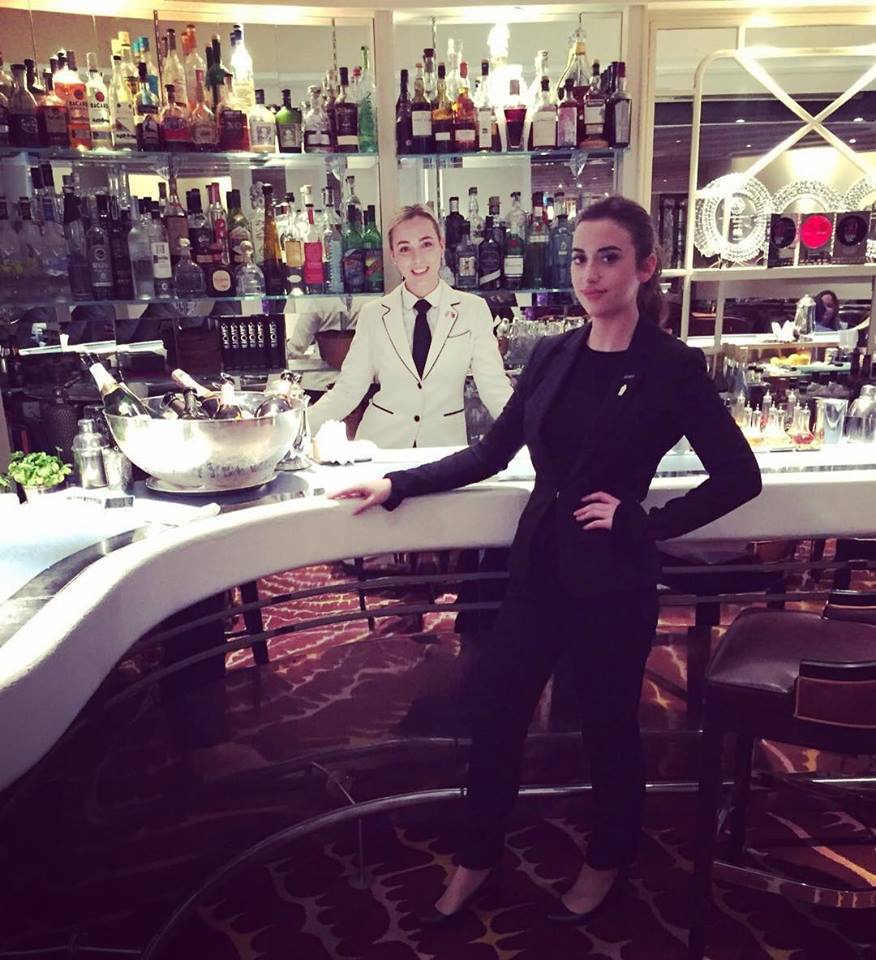 4 Don't let peak hours and wait lists become negatives.
Upon achieving the number one spot on World's 50 Best Bars, the American Bar saw an overnight boom of guests, and they've had to adapt. "We had to find a way to love these people who are willing to wait that long", explains Alice. Their solution was to turn the hotel's museum into a waiting bar, where people can have a small drink.
Of course, you don't need to build a waiting room for incoming guests – you just need to communicate and be aware. At the American Bar, hosts keep track of who's waiting and try to give them some extra attention. "Servers know which guests have been waiting a long time, so we try to get them extra love. There's nothing worse than waiting for your table, then waiting for your drink, and so on. We do what we can to make you happy."
5 Tell stories and create magic moments.
The hotel has a history of creating fond and zany memories, or what Alice and Pippa call "magic moments". Their current menu was completely designed around Terry O'Neil's photographs throughout the bar's history, based around the theme "Every cocktail tells a story." These stories serve as talking points, and those talking points become memorable. Plus, The Savoy and the American Bar have a collection of awesome tales – like the famous flooding of the hotel's interior complete with transport by gondola for a very special guest's party, or the time one very famous musician (who shall remain nameless) came down the stairs and promptly joined the bar's piano player for a tune. "Moments into memories – this is what we talk about in making a day special for a guest."
6 Never let anyone leave unhappy.
Alice has actually chased someone down the street rather than letting anyone get away unhappy. "If I see a guest that's leaving and they're not smiling, I run out of the hotel to ask what's wrong. I always manage to turn it around, even if it's not on the spot: I will get their details and make it happen."
That's everyone at the American Bar's goal – to ensure each guest leaves happy, whatever it takes. "It's important you realise immediately if there's a problem and make an effort to fix it. Everything is fixable and there's no reason that anyone should leave unhappy. A guest might not like the drink or the environment: but it's the service that makes it a good experience."