Lorenzo Antinori, head bartender at Charles H, Seoul, shares the inspiration that created his liquid homage to Hong Kong. By Holly Graham. 
At Charles H, our menu changes every four months. We pick one destination from Charles H Baker's travels and build the menu around that. We're currently focusing on Hong Kong, which is where Baker married his third wife Pauline Paulsen – so there's some really nice, romantic excerpts about the wedding and the city.
All the drinks on our menus have a story and the Wellington Tea Punch pays homage to Hong Kong's blend of local culture and colonial British elements. Inspired by Hong Kong milk tea and the city's famous Lin Heung Tea House on Wellington Street, I wanted to introduce the milk-washing technique to my staff. So, using whole fat milk, I wash Plantation 3 Stars white rum to give it a silky texture and smooth the edges to build into a rum sour.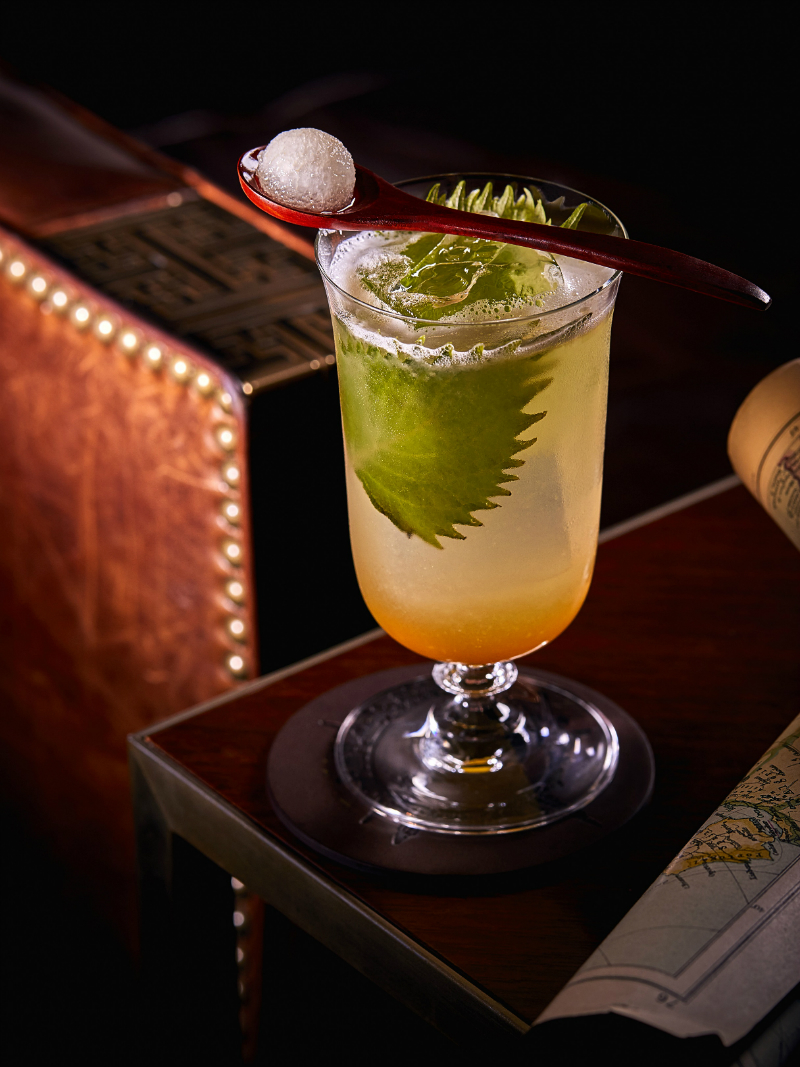 That textural element of the cocktail triggers the palate. The dash of egg white also helps give the drink a silky and creamy mouthfeel, then there's the savoury flavour from the doenjang (Korean white miso) syrup. Our drinks all need a Korean connection so that comes from the doenjang syrup, as well as the Korean pear and perilla leaf, which is used a lot in Korean cuisine. These elements keep the guests interested too – they're always surprised when we use Korean ingredients as they aren't usually associated with cocktails. The doenjang syrup is also sweet, so lemon juice cuts through that, and the Korean pear is less sweet than other pears with a nice acidity that works well in the drink, keeping it very bright and fresh. And to incorporate the tea element, I created a pu-erh tincture.
The drink is inspired by location and tradition, so these techniques all make sense in the final execution and flavour. But our drinks also have to be approachable: Korea is a fairly new market for cocktails, so we don't want to freak our guests out with weird flavours. But we do want to pique their curiosity, and I think the Wellington Tea Punch does that. You have to remember we're not making cocktails for our own pride and glory. A bar programme needs to have interesting elements, but at the same time you need to make sure your bar is full and the guests are enjoying themselves. That said, every menu has a black sheep cocktail, where the bartender has tried to challenge guests and the palate. This was a black sheep at the beginning, but now our regulars love it. No one expects the flavour and it's inspiring me to step things up for the next menu – guests have been really receptive.
Recipe (Click to view)
Wellington Tea Punch by Lorenzo Antinori
---
Charles H Four Seasons Hotel Seoul, 97 Saemunan-ro, Jongno-gu, Seoul, South Korea. +82 263 885 000, fourseasons.com.