This article is sponsored by The London Essence Co.
Looking beyond the classic gin and tonic, with The London Essence Company's distillate-accented mixers.
The London Essence Company's three signature tonics have been designed to pair with leading quality spirits – and not just gins. With their softer quinine profile, lower sugar and added complexity thanks to each one's added distillate, London Essence offers a more contemporary approach to mixed drinks, especially when it comes to alternative pairings with tonic water.
"The fact we've got less sugar and softer quinine equals a lightness that allows different spirits to work well,"  says founder Ounal Bailey. "Other tonics can smother the complexity of premium spirits, but London Essence allows the unique characteristics to shine through, with an added signature accent to complement the notes already in the spirit." In particular, after conducting tastings with groups of bartenders, aged rums and reposado tequilas seem particularly suited for alternative tonic highballs. "It's genuinely opening up the versatility of those spirits."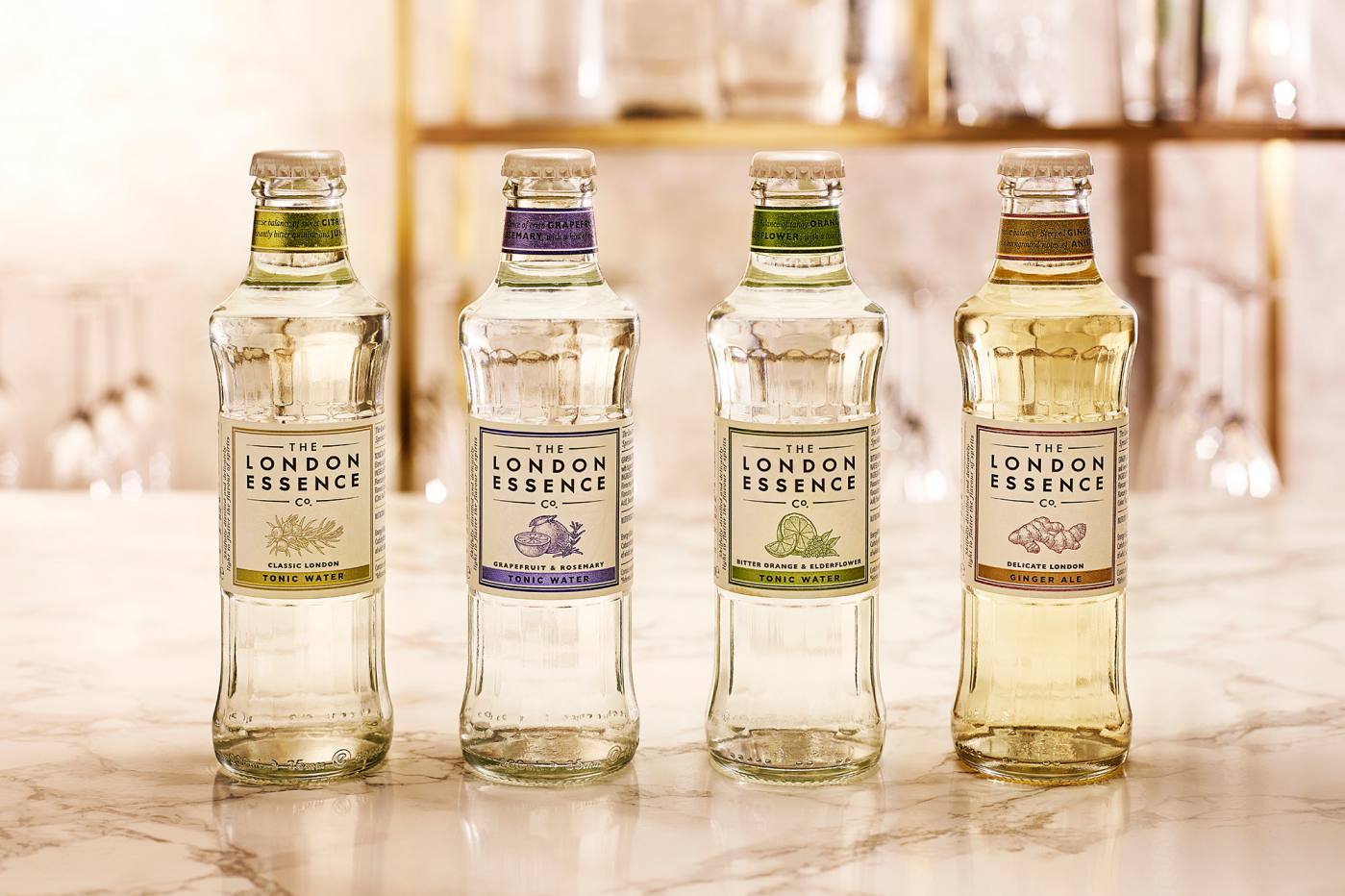 What and tonic?
1. Havana Club 7 and The London Essence Company's Classic London tonic
Take the London Essence Classic London tonic. Move the gin to one side and pick up a bottle of Havana Club 7 instead. Pour 25ml of the rum with 100ml of tonic over ice in a coupe, garnish with fresh peach, and you have The Cuban (pictured top). The fruity notes found in a large variety of aged rums such as Havana 7 (ripe banana, orange marmalade), create a strong harmony of flavour when combined with the tonic, while the rum's natural sweetness helps taper the tonic's bitterness. A wide glass allows the full aromatic intensity of vanilla and peach to open up on the nose.
"The rum and tonic is just a beautiful pairing. With rum you might go to a cola, but you can really showcase the rum's depth and flavours through a tonic that isn't too heavy with quinine," says Bailey. "Even though it's got that note of juniper, which you wouldn't expect to match with rum, there's an alchemy that makes the whole greater than the sum of the parts."
2. Don Julio Reposado and The London Essence Company's Bitter Orange and Elderflower tonic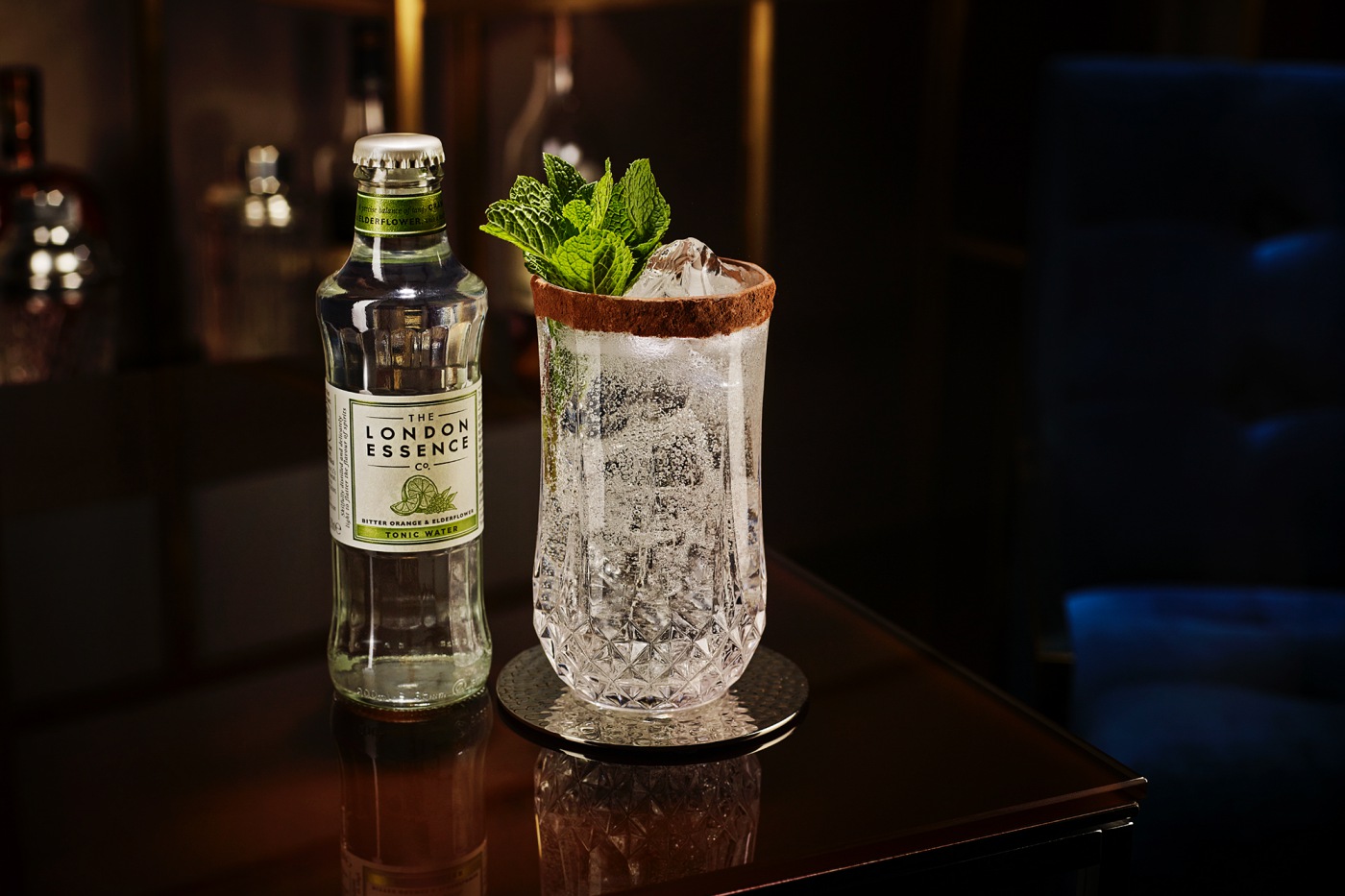 Another unexpected partner is reposado tequila, this time with the Bitter Orange and Elderflower tonic – what London Essence has named the Dark Side. First prepare a highball glass with a chocolate-dusted rim, then pour 25ml Don Julio reposado over ice with 100ml of tonic, and garnish further with mint. The citrus from the tonic combines with the soft lemon notes of the tequila to create a zesty aroma, while the reposado's woodsy, cinnamon flavours blend to beautiful effect with the tonic's orange notes to leave a honey-smooth finish.
"We are trying to show people that there's interesting complexity that might be lost when drinking some spirits neat or in overly boozy cocktails," says Bailey. "When we paired the reposado with the bitter orange and elderflower, with that little floral sweetness, it elevated and showcased the tequila. That was a surprise to me, but it's become a bartender favourite."
3. Campari and The London Essence Company's Grapefruit and Rosemary tonic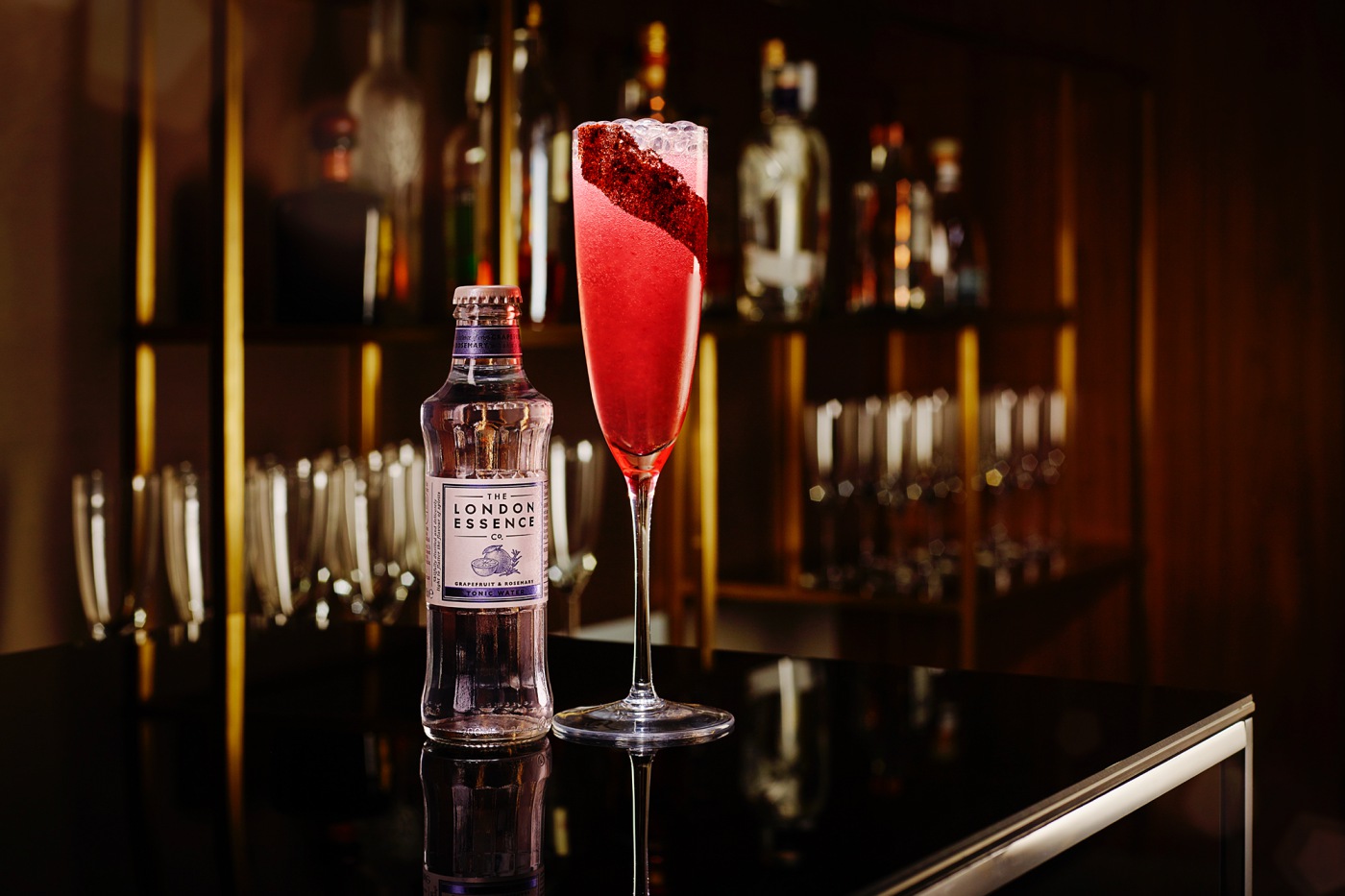 For an alternative to the Spritz, try the Grapefruit and Rosemary tonic with Campari. Shake 25ml of Campari with 5ml of damson jam and 10ml of elderflower cordial, strain into a champagne flute (ready prepped with a grapefruit dust garnish), then top with 100ml of tonic. In this case, the liquids' shared herbaceous bitterness builds into a robust backdrop for candied rhubarb and grapefruit top notes.
"We want to help drinkers enjoy and savour the flavours – long drinks allow you do that," says Bailey. "These aren't complicated, but if you've got beauty in a spirit or other product, and you've got a really good mixer and a great garnish, then it's like a couture dress – it shows itself."
Elevating the mixed drink
What ties all three drinks together is London Essence's new approach to mixed drinks. "There is definitely a subtlety that is important here," explains Bailey. "The reality is that London Essence doesn't allow a poor spirit to hide. If a mixer has a load of sugar, and a tonic lots of quinine, you are hiding that spirit. Our job is to flatter the spirit, but the spirit has to be worth flattering."
In turn, London Essence wants to re-think what mixed drinks stand for. "If you are constantly putting intense combinations into your mouth, you are getting a one-dimensional experience," continues Bailey. "We are trying to unlock the layers of each spirit we mix with, so long drinks become more grown-up, for a more discerning palate."
For more information visit londonessenceco.com. The London Essence Company tonics and ginger ale are available from: Singapore, Tuck Lee (+65 1800 222 3777, marketing@tucklee.com, tucklee.com); Hong Kong, Brand Connect, (+852 9722 4640, hkorders@brandconnect.asia); Taiwan, epiQ International (+886 2 2713 3143, order@formosa.com, epiq.com.tw); Vietnam, WSD (+84 9 8851 5586, phung@wsdvn.com).