Indra Kantono gives DRiNK a first look at the group's newest venture. By Natasha Hong.
For a while now, the concept of a restaurant-bar has been grappled with, mulled over, but ultimately unsettled upon. It sounds easy enough to grasp – it's a venue that's both restaurant, and, well, a bar. But consumers and industry alike seem to struggle with equalling out perceptions that one venue can both have great food and beverages and their respective stars shine. For the Jigger & Pony Group and its co-owner Indra Kantono though, that's an endeavour worth pushing for, because, as he says, "Whatever is not easy to do is worth doing, because in business terms, it gives you a competitive advantage."
With venues like Sugarhall and Humpback under their belts – cases in point: most of us likely don't think of Sugarhall beyond being a rum joint, and Humpback beyond its bracing seafood plates and air-flown oysters, despite the latter's advanced offerings of natural wines, craft cocktails and sour goses, or Sugarhall's prime grill selection – Kantono and his team are pushing that envelope further with a new venue, slated to open its doors at the Fullerton lifestyle quarter in mid-February. The idea for Caffe Fernet sprung out of one question: "If the Jigger & Pony Group were to do an Italian concept, what would it be?"
Group chef Polo Seah's initial reaction to that question was understandably sceptical. "He rolled his eyes at me and said, 'Do we need yet another Italian place in Singapore?'" explains Kantono. It's a cuisine that has long been plied by chefs like "Giovanni and Giuseppe from Italy, cooking only their grandmothers' recipes," as he puts it, and the mould has long been cornered and cemented by the more established Il Lidos and Gattopardos in Singapore. In Caffe Fernet's concept-building however, Kantono touts a head start: the group's strong DNA and recognised knack for combining influences and narratives into inventive venues with convivial personalities, and the friendly and attentive hospitality built into its operations by co-owner Guoyi Gan.
"We've been doing this for almost six years as a group, and what we've realised over the years is that we've gotten more and more comfortable about who we are, and what we do better than everybody else," Kantono explains. "The product is one aspect of our concepts, but I think what we do well is to put together concepts that haven't been put together before, to add something a little different to the city." That ingenuity and track record built across the group's five bars and restaurant-bars is how Kantono believes the group secured its prime location – a built-to-their-specifications glasshouse for 130 on the edge of the Marina Basin, with breathtaking views of the Sands and the CBD's southern expanse.
"To me, pairings are always so frustrating, so egotistic, so undemocratic and formulaic"
In execution, Caffe Fernet will draw from the "mind-blowingly good" restaurants that Kantono, Seah and Sugarhall's head chef Gary Lian bravely ate their way though in New York back in October of last year. "Even in the US, for example, there are a lot of Italian immigrants and their cooking foundations, but there's less of a reliance on traditional or authentic Italian cuisine. Like in cocktails, where everyone's inventing their own twists on things, every chef seems to incorporate his or her own influences and when you eat it, is it Italian food? Yes it is, but of course, if you let an Italian grandmother try it, she would say it's not right," explains Kantono. "But it's still fantastic, and definitely lighter and brighter."
In Caffe Fernet's drinking blueprint too, is a very conscious ditching of the formula that perhaps pigeonholed the drinks operations of aspiring restaurant-bars into very tight, unapproachable boxes. "If I go right now to an authentic Italian restaurant, they're not going to make me a good Negroni, but they'll want to sell me a Super Tuscan wine," says Kantono. "To me, [wine and beverage] pairings are always so frustrating, so egotistic, so undemocratic and formulaic." To him, where the restaurant-bar category has the potential to do better than its traditional counterparts is the wider opportunity for breaking conventions about food and beverage pairings, in offering free rein for punters to choose their sips without judgement.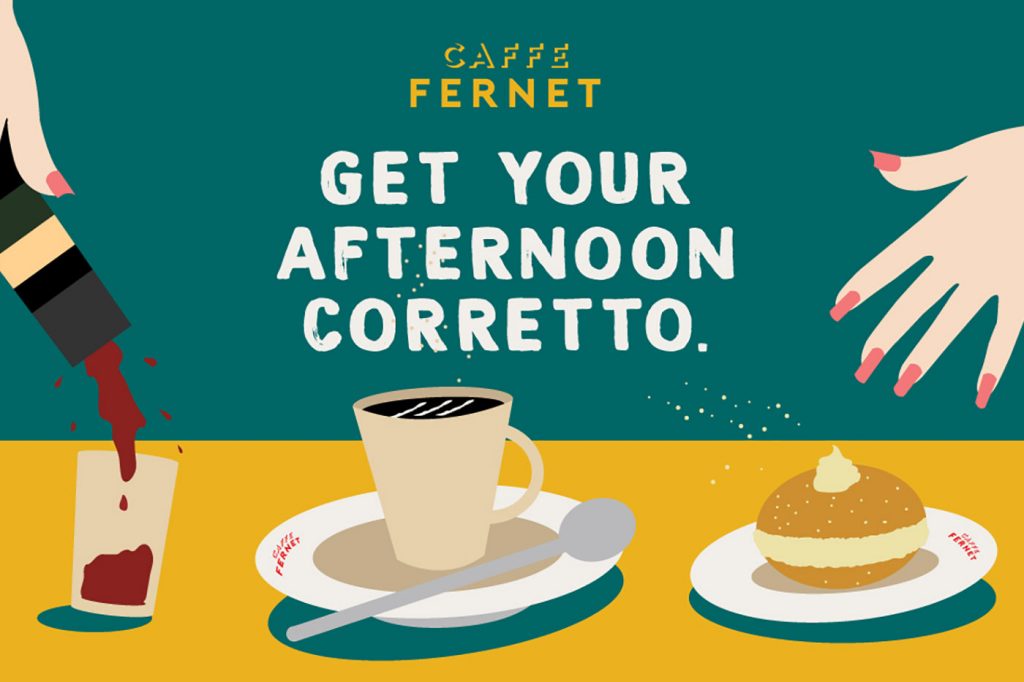 The drinks program, led by the group's bar program director Aki Eguchi, will do just that, although Italian amari and a menu of twists on the Negroni and Spritz, given the food's heritage, will headline the selection. "I think most people are not looking to go out to be educated, but we will look after the people who are looking for it," says Kantono. "If the opportunity presents it, we might introduce you to something new – like instead of just having an espresso, why not a corretto with an amaro on the side?"
And when it comes to formulating an all-day menu that can transition from lunch to late night – hours which Caffe Fernet will ply – Kantono believes that diversity is key. "During happy hour, for example, I'm primarily looking for something that's lighter and lower in abv – I'm here with my colleagues and don't want to embarrass myself after two strong Martinis," he explains. "Come dinner, my primary motivation is to eat good food and have something interesting to drink while I eat. Later at night, I want to explore the full breadth of a cocktail menu, for the bartender to surprise me, for example."
Perhaps the opportunity Kantono has spotted is for cocktail bar owners like him to carry the discipline of craft and creative, but loose, regard for convention over to the restaurant side of operations. Caffe Fernet's name, after all, is a nod back to the cocktail bar beginnings of the group. "I'm very proud of the fact that we grew from the craft cocktail movement, and that we're a proud member of that community," says Kantono. "I love what fernet represents – even though most of us in the community will say that we don't really like it. What it represents though, is an ethos of hospitality among bartenders, and we're proud to carry that flag that our genesis is in cocktail bars, and that we're taking the craft beyond cocktail bars into restaurant-bars." We'll raise a Negroni to that.
---
Caffe Fernet 70 Collyer Quay, #01-05, Singapore. fb.com/caffefernet.