This post is sponsored by The Macallan.
With three distinct expressions bottled at 12 years old, The Macallan provides a masterclass in wood management and a refined taste of how different oak influences final flavour.
The Macallan's reputation as one of the world's most awarded and admired single malts is the result of the devotion, commitment and skill of the masters of spirit and wood, the craftsmen at heart of The Macallan. Always known as the quintessential sherry-oak whisky, The Macallan imports more sherry casks into Scotland than anyone else.
But The Macallan's highly innovative wood policy goes beyond European sherry oak; it also ships new American oak thousands of miles across the Atlantic to Spain, where it is seasoned with sherry, before being sent to mature whisky in Scotland.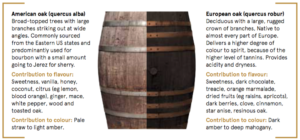 That practice gives the craftsmen at The Macallan not two, but three different casks with which to shape their whiskies: European sherry oak, American bourbon oak, and American sherry oak. Bourbon-seasoned American oak is slightly drier and more oaky than the sherry-seasoned American oak, but the latter still imparts the sweetness and lighter colour associated with American casks. The European sherry-seasoned oak meanwhile delivers a darker colour with cooked and dried fruit.
To celebrate and explore that breadth of influence, alongside the The Macallan Sherry Oak 12 Years Old and The Macallan Fine Oak 12 Years Old, the distillery now releases The Macallan Double Cask 12 Years Old. For each, the whiskies are matured separately for 12 years and then married together to form a trilogy of the same age.
Two top bartenders on the The Macallan Double Cask 12 Years Old:
"Sponge cake and toasted buckwheat give way to honey, fig jam, and vanilla custard. On the palate, it grips well, with malt and soft summer fruit taking centre stage. A great everyday dram." – Tristan Stephenson
"It has the typically enticing Macallan nose. Lots of orchard fruits, but with a greener savoury note in the background, alongside some dried fruits. The profile is a good balance between sweetness and the grip from the oak. – Ryan Chetiyarwardana
Recipe (Click to view)
The Macallan Copa
Products (Click to view)
The Macallan Sherry Oak
The Macallan Double Cask
The Macallan Fine Oak
---
Follow The Macallan on Facebook and Instagram for the latest updates.
This story was first published in Issue 06 of DRiNK Magazine.