The Kuala Lumpur rum haven is moving to a new location and expanding its concept. By Holly Graham.
One of Malaysia's best bars, the rum-centric JungleBird, is only moving 200 metres down the road and staying in the Bukit Damansara neighbourhood, but is expanding its concept to include food, a new cocktail program and all day operations.
After three years in its old location, the new JungleBird – which is currently 37 on Asia's 50 Best Bars – has predominantly been designed and built by founders Josh Ivanovic, Lolita Goh and Divyesh Chauhan. While the team says the space is fresh yet familiar, the main change is the new food and drinks, as well as all day operations. 
Acknowledging the changes the COVID-19 pandemic has bestowed on many, the team decided to grow their brand, and began work on the new site in October 2020, while still operating the original outlet. "After consulting a handful of design firms locally and also partly inspired by our close friends Jay Grey, George Abishek and Desiree Silva who built their own bar Sago House in Singapore, we agreed that we would boldly attempt to achieve this renewed vision by rolling up our sleeves and getting our hands dirty," explains Josh. He goes on to say the team spent hours teaching themselves through YouTube videos, and have done everything except the electrical and plumbing works themselves. "I still can't believe that we've managed to do it and I am immensely proud of how we've come together and built a bar with our bare hands."
The "Rumah Rum" – which means "house of rum" in Bahasa Melayu – retains its rattan furniture and framed photos but has fresh plants and an airier feel, thanks to a full window which the original location never had. "There were so many things we felt needed to stay so we could stay true to the original site," explains Loli. "But we also wanted the new site to project a noticeably different feel so we went with a lighter, brighter, airier design and used lots of natural materials and textures. We filled the space with a lot more greenery and edible plants – which have been grown from scratch in the months leading up to the build – compared to the old venue, where we didn't have the luxury of doing so."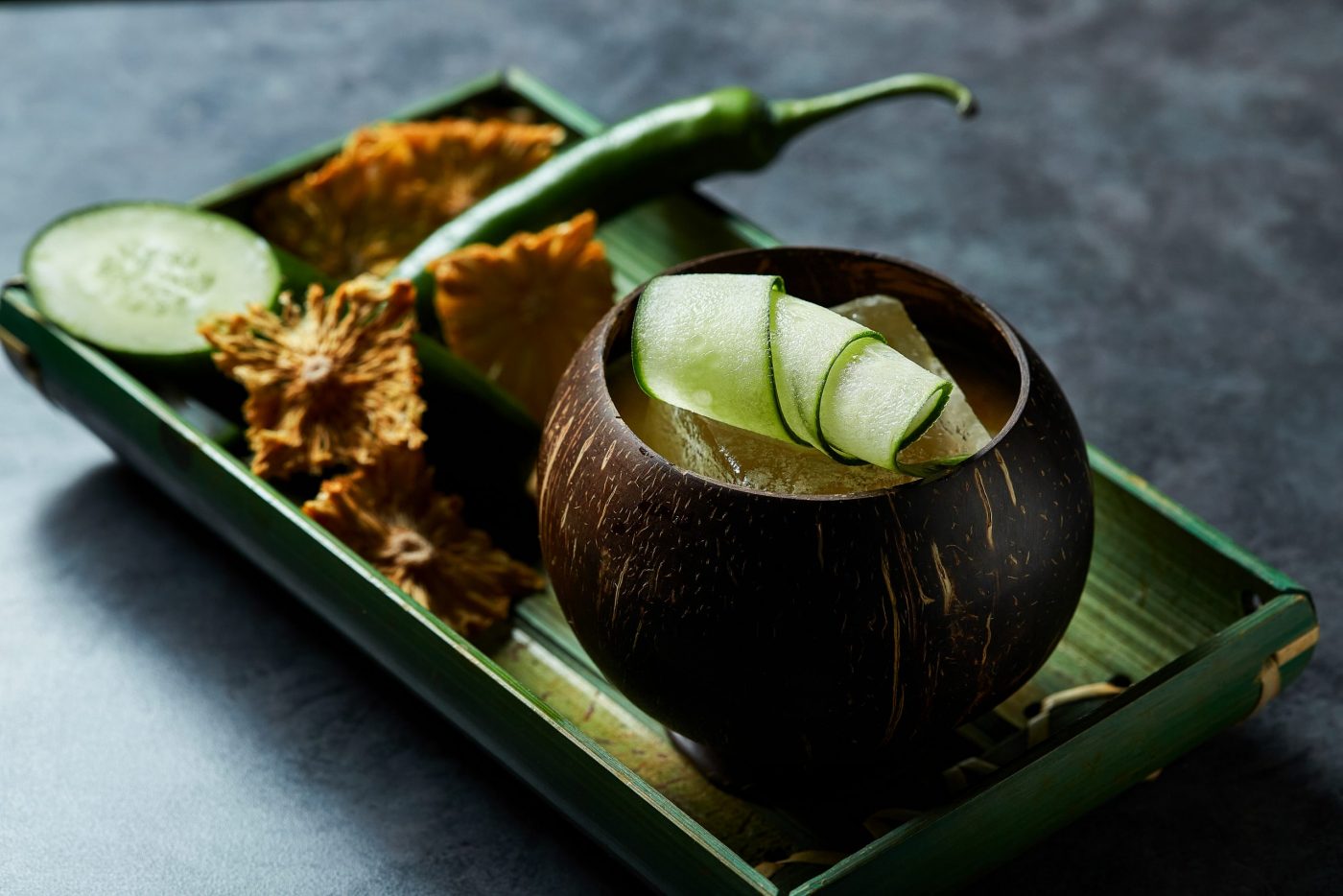 Taking its name from the Malaysian classic cocktail, the bar boasts a revolving collection of over 300 bottles of rum and a new menu. "The updated menu took a few months to rewrite and develop and is the product of the journey that we have embarked on together at JungleBird, spanning the last few years, says Divyesh. "Our travels, experiences, conversations among ourselves and with our loyal guests have allowed us to develop a creative, sincere and exciting new cocktail program that uses fresh locally sourced produce where possible. Our new menu will consist of a selection of beverages created specially with the intention of reflecting the rich cultures and individuality of the many rum producing nations around the world."
New drinks that reflect Malaysian culture includes Nyonya Business, inspired by Peranakan cuisine with fermented shrimp based Rojak sauce, cucumber, chilli, cashew, pineapple and Diplomatico Planas, and the Cendol Colada, a Pina Colada twist based on the local dessert of cendol, featuring pandan and gula Melaka. 
And what of the food? Drawing influence from the team's varied heritages and cultural influence as well as inspiration drawn from their travels, the menu will feature all-day Asian, British and Caribbean cuisine, as well as lesser known staples from rum producing islands.
The team hopes that the move will create a fresh vibe and exciting new opportunities, especially as the team have always envisioned JungleBird to be a home away from home for everyone, and an avenue for them to continue on their constant mission to advocate and educate about rum.
JungleBird will continue to operate at its current location of 15M Jalan Medan Setia 1, Plaza Damansara, Bukit Damansara 50490 KL until Saturday, December 12 2020 and will relocate to the new outlet at 61M Jalan Medan Setia 1, Plaza Damansara, Bukit Damansara 50490 KL starting Monday, December 21, 2020.