The rum haven brings Caribbean drinking culture to the streets of Soho. By Holly Graham
Hong Kong is currently in its third wave of the COVID-19 pandemic, resulting in the toughest restrictions yet. This means bars operating under a bar license can't open, and restaurants – as well as bars operating under a restaurant license – are only allowed to serve dine-in customers between 5am-6pm, operating at 50 per cent capacity and no more than two people to a table.
It also means that newcomer The Daily Tot a can open its doors until 6pm, thanks to its restaurant license. At the moment, it's one of a very small handful of bars operating under these restrictions in Hong Kong.
"We can't wait any longer, so we won't!" exclaims Tiana Ludhani, owner of the rum-driven concept. Originally from the Caribbean, Tiana has realised her dream of bringing a slice of home to the streets of Soho, and has created a rum den that swerves away from the Tiki watering holes often associated with the spirit. Teaming up with bartending veteran Gerry Olino (formerly of Dr Fern's Gin Parlour and Foxglove), the pair met while working on past projects together. 
The bar's name is an ode to a 300 year old tradition in which sailors used to have a shot of rum – known as a tot – at noon to keep warm, build courage and to boost community spirit. This ritual took part on a daily basis, and initially sailors would down 70ml of booze, but it was reduced to 30ml as men were getting a bit too… well, rummy. 
We want to encourage people to drink rum as the sailors did – in its purest form
The tradition finally came to end on July 31, 1970 – known as Black Tot Day – as people began to realise it wasn't a particularly healthy habit for sailors to be slinging back high proof rum on a daily basis.
"We want to encourage people to drink rum as the sailors did – in its purest form," explains Tiana. "But we also want to showcase it through cocktails without masking it. We also serve our own daily tot of rum which will change daily according to our collection, as well as cigars."
Tiana – who grew up in Barbados – says for her, having the bar's decor reflect the colours and themes of her home is important. "The colours of the Caribbean feature lots of pastels, patterns, tiles, funky rugs and the like. I've also visited many distilleries, and ones like St. Nicholas Abbey are essentially someone's house with these vibrant couches and different patterns on the floor. That's the true nature of the Caribbean. We don't have tiki-esque palm tree patterns or florals and hibiscus flowers. That's not really what we're about, so we've channeled that in the bar design."
The bar also stands at 1,300 sq ft, which is large in a compact city like Hong Kong. "The bar is right in front of the entrance as we've got a beautiful pane window so it's pretty open to the street, and has a terrace and take-out window," – an essential with the neighbouring Peel Street crowd.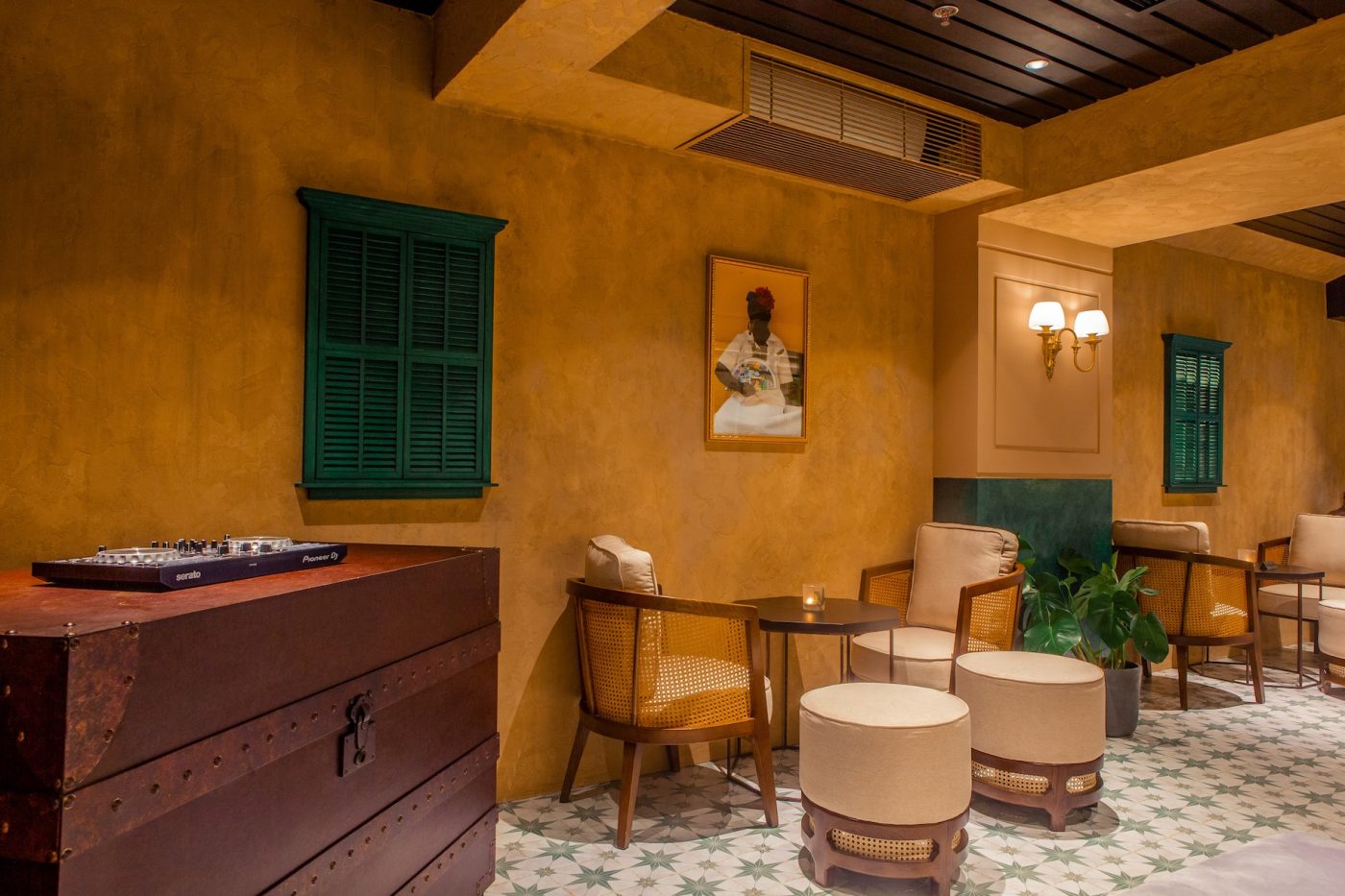 The location of The Daily Tot is well worth noting too. Hong Kong has had a rough ride for the last 18 plus months, and Tiana – hyper aware of the situation and the strong competitors in the neighbourhood – says: "You've got Quinary next door, Shady Acres – that's transformed the industry in a very different way – just round the corner from us, and there's La Cabane a few doors down that's been around for ages with an extremely loyal clientele. Peel Street really came to life after Shady opened and they deserve a lot of credit for that. I think they brought an incredible atmosphere to the area and it's become where it's the place to be, so we also have to make sure The Daily Tot appeals to everyone."
Tiana explains the Cuban tradition of sobremesa, where after dinner with your family, you have a shot of rum with a cigar and relax. "At The Daily Tot, we're trying to create an atmosphere where it's kind of cosy, so people can just sit around, have the cigars on the terrace, drink rum and relax."  
Bar manager Gerry says that he thinks rum has the potential to be the new whisky, but lots of people don't know how to drink it. Both he and Tiana say that Jay Khan – of neighbouring agave bar COA – is a huge inspiration to what they want to do for rum. "Jay took the negative perceptions people had of tequila and turned them upside down by taking agave to another level," Tiana explains. "From the moment you walk into COA, until the moment you walk out, it's a full experience. And that's exactly what we want to do: we want to bring the true Caribbean drinking experience to Hong Kong as it's not been done before."
So how does one drink rum Caribbean style? "We'd usually chase it with some ginger beer or coconut water – whatever really brings out the flavour of the particular rum you're drinking," Tiana shares. The bar will be serving its daily tot – mixed with something like soda, lime, Campari or whatever showcases that particular rum best – and aged sipping rum flights which can also be accompanied by other beverages to ensure it isn't going down too heavy, and to bring out aromas and flavours. "We'll constantly keep switching up the flight when we update according to season or what we have on hand."
The Daily Tot team wants to introduce people to the different categories of rum, and their current focus is on Caribbean and European rums, with plans to introduce Asian rums later. "We don't want the biggest rum collection. We want the best collection of sipping rums that have great stories behind them. The focus is on what they are, not where they're from."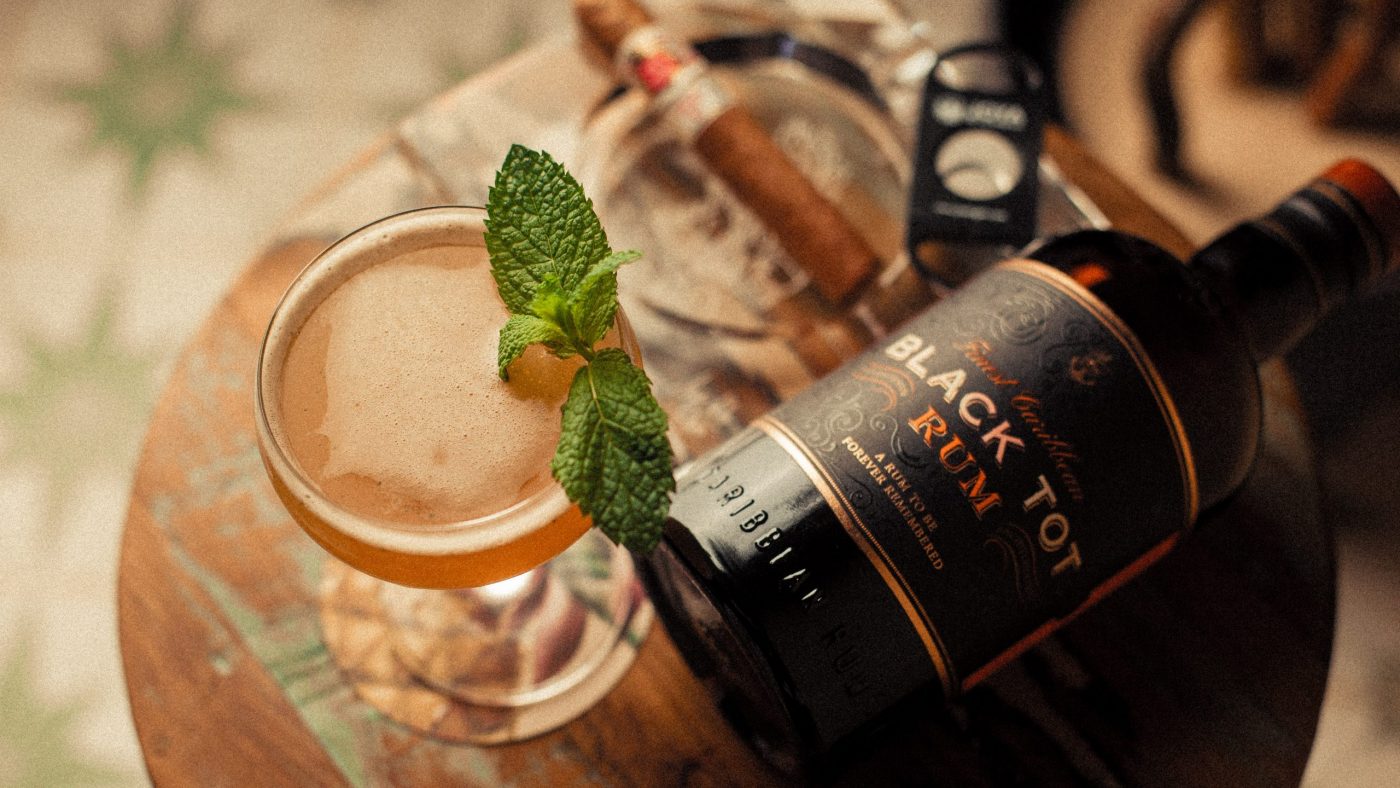 That's not to say there aren't cocktails at The Daily Tot. "People always mask rum with fruit, sugar and syrups," says Gerry. "A lot of the time, you can't even taste the rum cocktails, but good rums don't need to be masked. We want to bring out the spirit's flavours." Tiana also adds: "We're going to put fresh fruits in our drinks, but it's less about putting twists on classics – that's been done to death. Let's move on from that!" 
The menu of 11 cocktails will feature a white rum, agricole rhum, dark rum and house pours or special rotating rums that the team wants to focus on, but sans theatrics or fancy glassware. Gerry and Tiana are insistent that drinks are simple yet delicious, and most importantly, you can understand and taste the base rum. "But you're gonna still get a great, creamy Pina Colada if you need it," laughs Tiana. 
The bar currently has 118 rums on their menu, including unique bottles such as a 1980 La Favorite – a rhum agricole from a family owned distillery in Martinique; R.L Seale's 10 Year Old Rum from Bajan rum producer Foursquare, and The Daily Tot also has exclusive pouring rights to Black Tot rum in Hong Kong.
COVID-19 has meant the bar can't bring in some of the distillers they wanted to work with, so the current focus is on what they have on hand and what they're able to collect. "When travel opens up, we have lots of rum runners, including my parents who usually get to Hong Kong three times a year."
That said, Tiana muses that if there wasn't a pandemic, she doesn't think The Daily Tot would have opened. "It's given us time to really work on the concept, plus we really got our value for money in rent as we could negotiate, but I still firmly believe landlords will be the death of Hong Kong. At least this pandemic has brought the industry closer together – everyone's been so supportive."
"The Daily Tot is independent, and not part of a big parent company," says Tiana. "It's just a bunch of us who like to go out and drink and though the situation is bad, I believe we'll come out the other side. Being stuck inside is not the Hong Kong way, so as soon as people can, they'll be out there supporting the industry." 
The Daily Tot 58 Hollywood Road, Central, Hong Kong. +852 2366 6836.facebook.com/dailytot.hk – check the FB page for operating hours as these may change due to pandemic measures.