Kuala Lumpur-based independent bottler Eiling Lim talks whisky, sniffing out the best casks and the joys of being a woman in a male-dominated industry. By Holly Graham 
I never thought of being an independent bottler when I had my first taste of single malt whisky 11 years ago. Growing up in a Malaysian Chinese family, my parents always told me to take up business studies so that I could find a good and stable job or even own my own business one day. But it's only when I met my husband Luc Timmermans eight years ago that I was inspired to bottle my own whisky, as he used to be an independent bottler and whisky collector too! When we moved to Belgium, I didn't want to just sit at home, so he motivated me to be an independent bottler of spirits.
My passion for drinks started with wine. In my twenties, I was part of a group of friends who would meet two or three times a week to wine and dine. I explored the world of amazing French wines and champagne before my friends decided that it was time to pour me some whisky. I still remember it like it was yesterday: one of my friends poured me a dram of Port Ellen 25-year-old whisky from an independent bottler; I took a sip and my eyes lit up as I fell in love with that smoky single malt. After that, I started exploring Scottish single malt whisky with a focus on the Islay region due to my love for those peaty and smoky profile. Little did I know that at that time, the Port Ellen whisky was from a legendary closed distillery – I guess I just have a good palate for the finer things in life!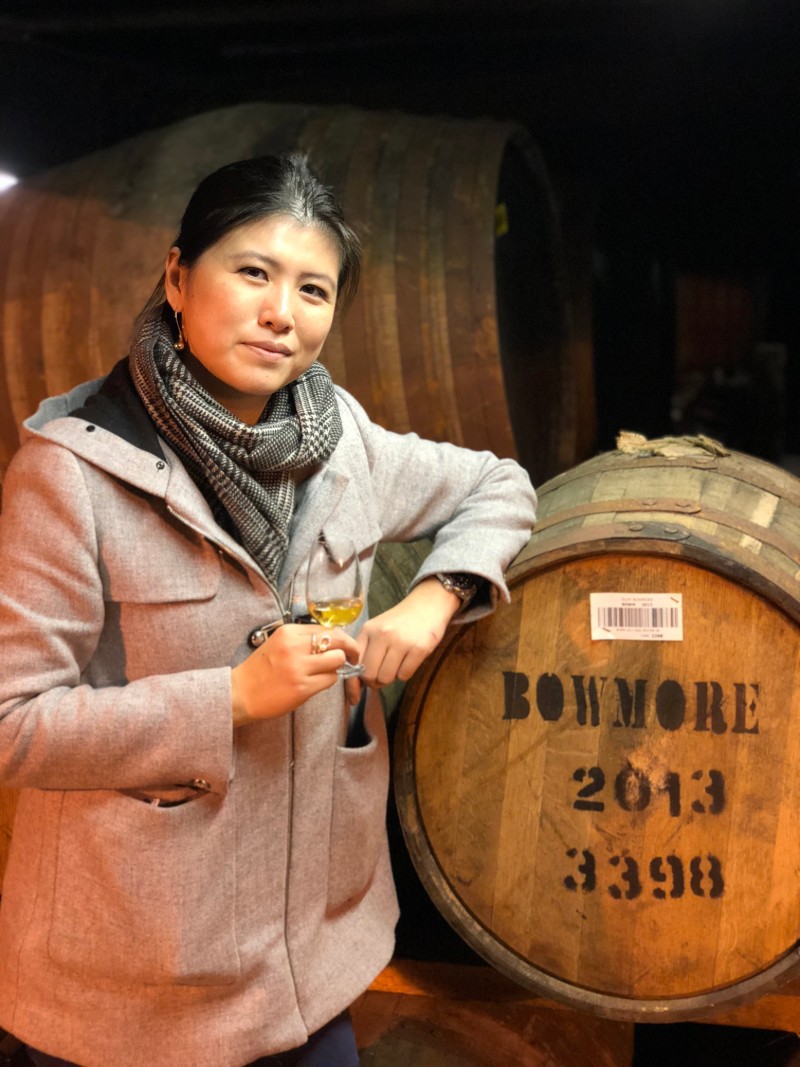 Learning the trade is not difficult, but sourcing casks is. Lots of people think that I just knock on the doors of distilleries to buy casks, but it doesn't work like that! Many independent whisky bottlers buy their casks through cask brokers – because it's still a big blended whisky market – meaning casks are exchanged between distilleries and the extras then are sold to the independent bottlers. But of course, with today's fast growing demand for exclusive whisky, many companies have allowed individuals or independent bottlers to purchase a cask directly from them.
The most important part of being an independent bottler is being able to sniff out good casks. It's all about practice, too – the more you taste, the better you will be at identifying the notes in the spirit. We try to taste as many different whiskies as possible when attending whisky festivals, or sometimes go through Luc's archive where he's saved 50ml or 100ml of every bottle of whisky he's opened. We have boxes and boxes of whisky in sample bottles that will last a lifetime!
It all started with whisky and then I ventured into bottling gin, rum and now vermouth. My favourite product to work with is gin, due to its versatility as a spirit. I have the gins produced in Belgium from a great farm distillery that uses only the best raw materials from start to finish. I even sent Asian ingredients to Belgium for the production of the pandan, nangka and galangal gin.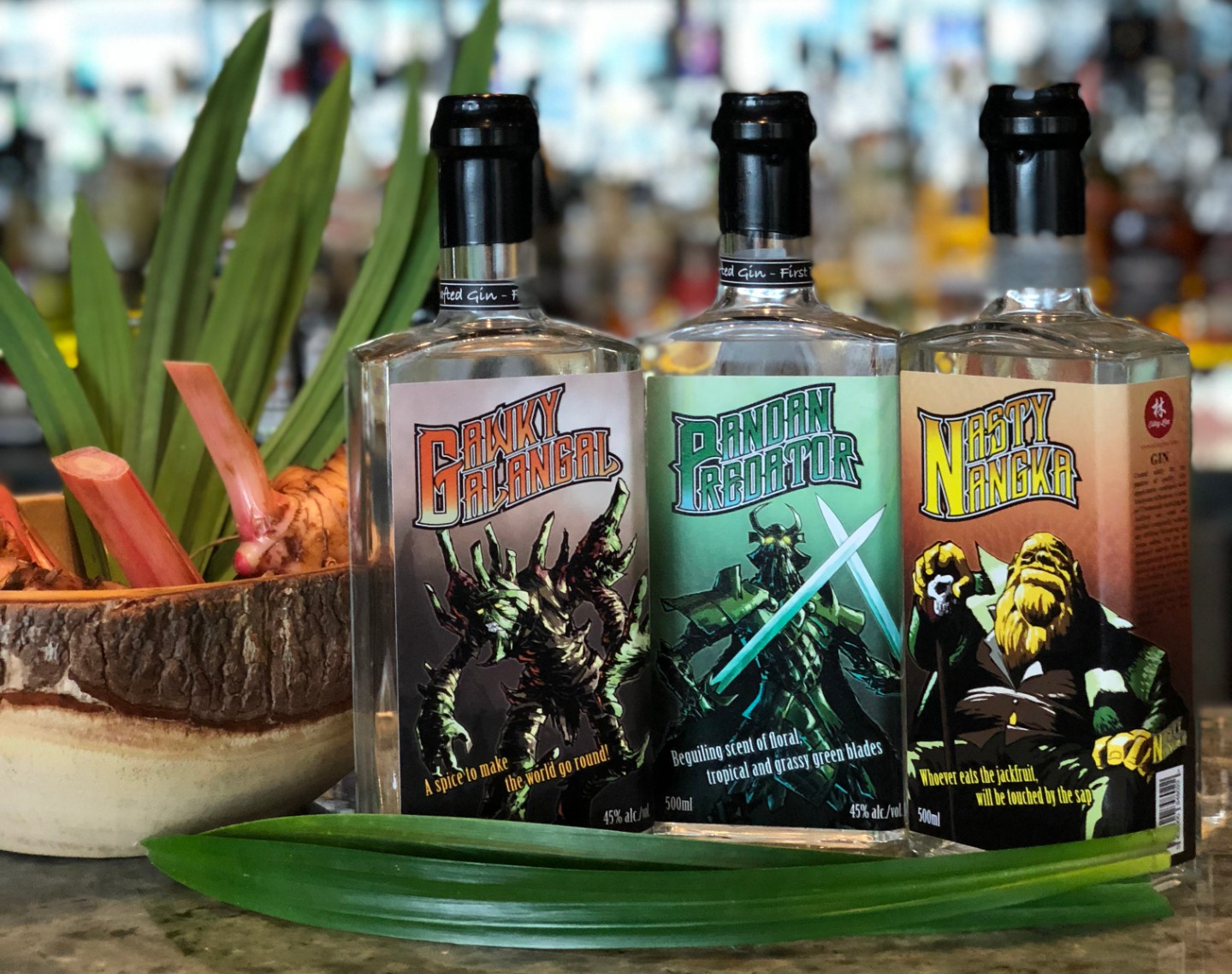 One of my most challenging days was when I was at the warehouses of Glenfarclas. I was allowed to buy casks from them and my target was to choose the best cask we could from the year 1979, because it was atypical to bottle a plain oak Glenfarclas instead of a sherry cask, which they were famous for. Our itinerary started after breakfast in the warehouses where the casks were. It was a very cold day so my hands were freezing and I needed to be able to nose and taste the whisky by warming up the whisky glass in my hands – tasting a whisky in the cold is very tough! By noon, we had tasted over 20 casks from 1979 and palate fatigue set in, as it was so difficult tasting so many whiskies from casks of the same vintage. After lunch, we tasted around 30 more casks, selected a few contenders and then tasted them again at a normal room temperature before selecting the one that we wanted to purchase. That evening, I was so full of whisky that I couldn't bring myself to drink another dram. I think at that moment I said that I wouldn't drink another drop of whisky for the whole month!
I actually don't feel lost in a male-dominated whisky world because being a woman makes my brand more special.
Many are intrigued when it comes to a whisky bottled by a woman. The consensus is that most women don't like whisky because it is often seen as a man's drink. My challenge was to convince male customers that as a woman, I can sniff out a good whisky as well as they do. I have no fear of high alcohol strengths in a spirit; I taste beyond the alcohol to reveal the notes underneath, because of course, a whisky has to be pleasurable to drink.
I don't feel lost in a male-dominated whisky world because being a woman makes my brand more special, and my husband is always by my side and supporting me in everything I do. What advice would I give to women wanting to go into this industry? Trust yourself and just go for it! Don't worry about criticisms and obstacles because it only makes you stronger.
I admire Bessie Williamson because she was a Scottish distillery manager and former owner of the Laphroaig distillery – which is one of my favourite distilleries. She was the first woman to manage a Scotch whisky distillery in the 20th century and I dedicated a bottling to her "Bessie's Dram". Another whisky hero is Silvano Samaroli – a pioneer in cask strength whisky bottlings. Many of his whisky bottlings today are legendary and without him, the whisky scene would be mundane and boring. He sadly passed away in 2017 but his name and reputation lives on.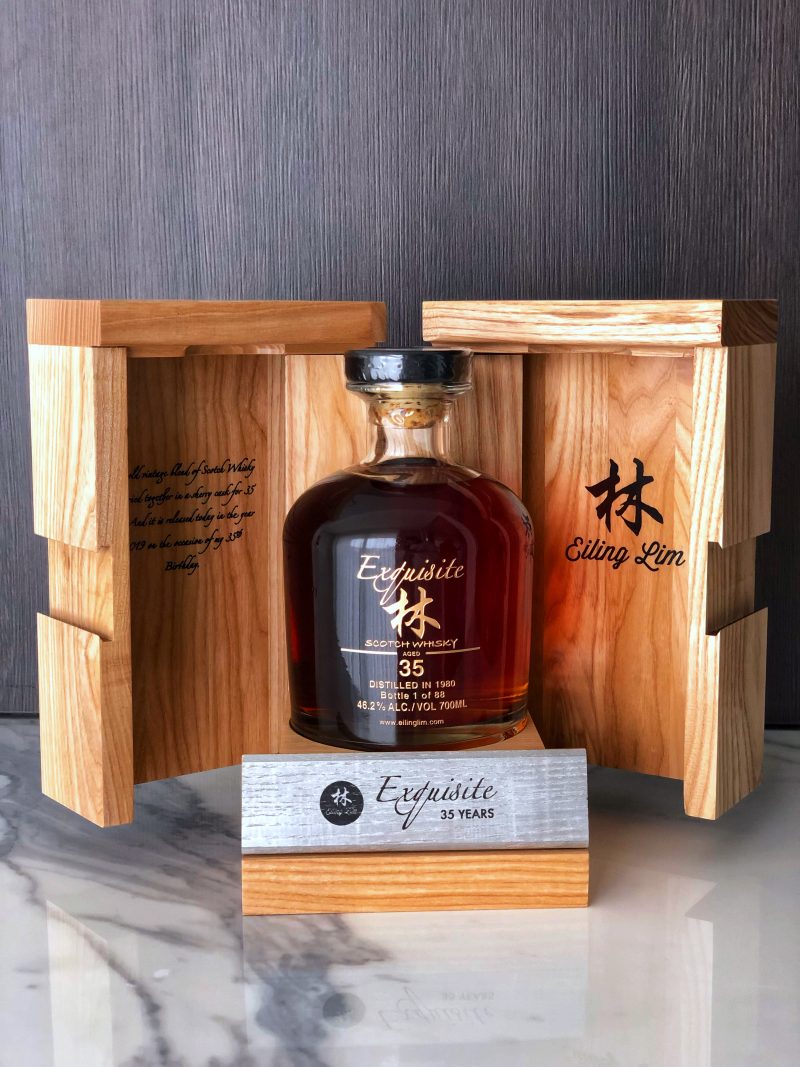 My proudest moments are when customers follow every bottle I release without needing to taste it before buying. I have many customers that buy every bottle I release and it's heartwarming to know that they trust my taste when it comes to choosing whisky. 
A big whisky trend at the moment is no age statement bottlings, because distilleries want to meet the growing demand by having less maturation. It's definitely not my favourite whisky trend, but I do agree that sometimes age in a whisky doesn't matter too much, as it also depends on the cask used to mature the liquid. I also like the whisky tastings and whisky festivals that are so popular nowadays. There is almost a big whisky festival or show each year in every country that encourages people to go and taste all the different bottlings, including independent bottlings.
Looking at the current whisky situation where casks have become super expensive, I may just stop bottling it because it is no longer pleasurable for me, and focus on gin, rum and vermouth. It's becoming stressful to find good whisky at affordable prices. I used to be able to buy a good aged cask for €40/50 a bottle but those days are gone! Nowadays these casks are almost tripled if not octupled!
My dream dram has to be a Bowmore Bouquet 18-year-old 1966 by Samaroli. It is regarded as a legendary whisky by all whisky enthusiasts and sadly today the bottle is unattainable due to its exorbitant price, but my husband saved a 50ml sample when he drank four bottles of it before we met! I intend to crack open this sample when I have tasted enough old Bowmore to agree with him that it is indeed the best of the best.