A constantly updated list of Asia's newest openings and upcoming venues. By Holly Graham.
Hong Kong
The Diplomat
Now open
This upcoming project from John Nugent (formerly of Lily & Bloom) promises classic American cocktails. It's ideally located in Hong Kong's new f&b hub H Code, smack bang next to Tell Camellia.
Singapore

Live Twice
Now open
Tour de force Jigger & Pony Group bring another bar to their burgeoning family, adding Live Twice to the fold. Touted as an intimate cocktail bar drawing inspiration from the mid-century modern era in Japan, the bar is set to have a minimalist menu of 14 cocktails that stay true to classic Japanese style bartending and craftsmanship.
Barbary Coast
Now open
Barbary Coast comes from the brains of hospo heroes Michael Callahan and Celia Schoonraad, founders of hospitality consultancy firm The Compound Collective. Spread across three historic shophouses, Barbary Coast's historic building has an original land lease that dates back to the early 1800s, featuring two concepts. Named after the San Francisco district known for its nightlife and rapid population growth during the gold rush of 1849, sailors often docked to this land of promise in the hope of riches. The bar imagines what would have happened if adventurers headed from San Francisco's bustling Barbary Coast to Singapore's Boat Quay – a homage to what they would have left behind in San Francisco, yet unique to the time and place that would become Boat Quay. Deadfall on the lower level takes inspiration from the dive bars typical of the original Barbary Coast, whilst the upper level The Ballroom draws from the exclusive jazz clubs and dance halls of the gold rush era.
Thailand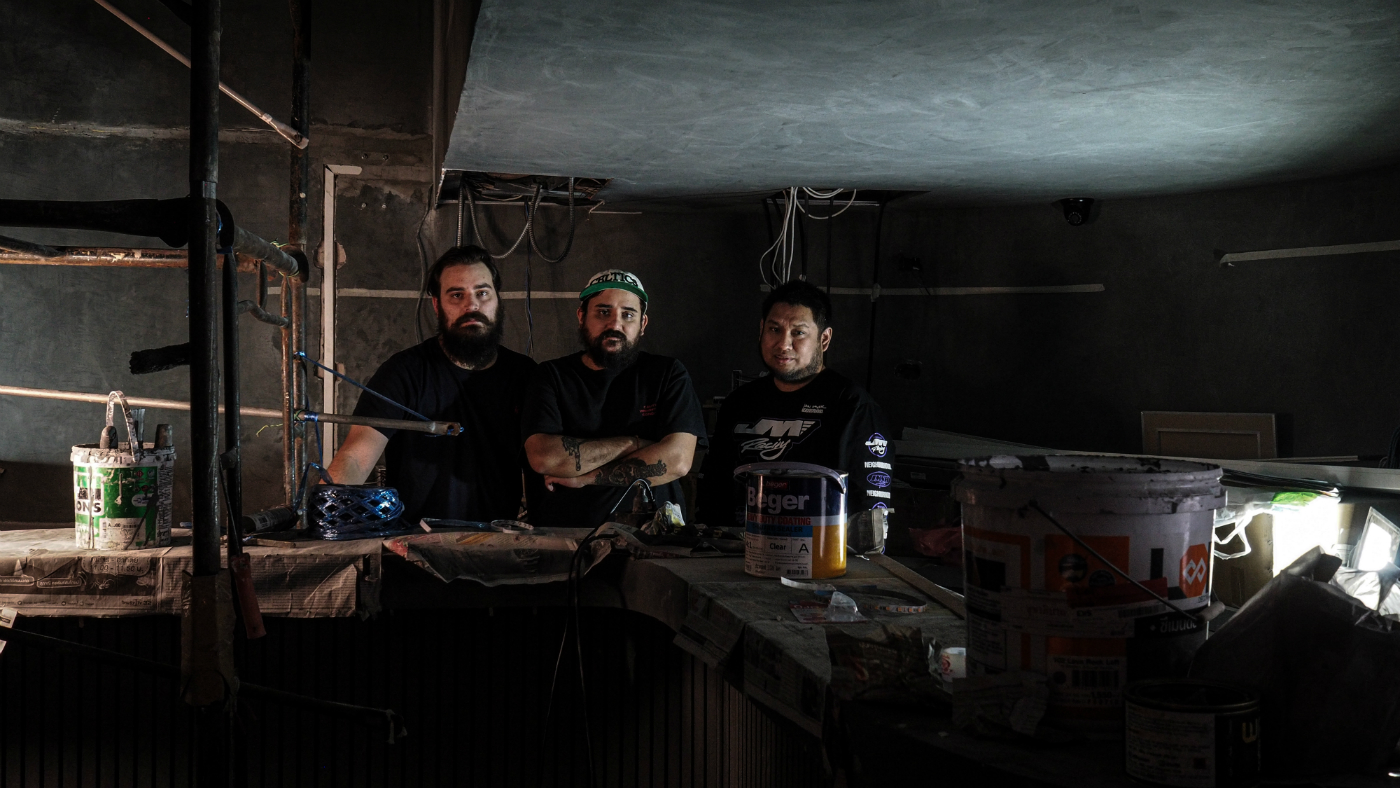 Konkord, Bangkok
Now open
Bangkok's hot new collab comes from one of Bangkok's craft cocktail founding fathers, Sitthan "Turk" Sa-Nguankun – founder of Bangkok bars Sugar Ray You've Just Been Poisoned, Q&A, Thaipioka, Sugar Ray Apartments and Alonetogether – in partnership with Philip Stefanescu and Sebastian De La Cruz of the capital's acclaimed Tropic City. The team are set to drop Konkord – a high-end cocktail bar housed in a space with an intimate club feel and a modern retro style meets brutalist design – in mid-December. The champions of Konkord are cocktails and music, with both facets being equally important as the other.
Konkord's bistro cafe-esque front bar nods to European aperitivo culture, serving a range of classics and spirit-forward cocktails, as well as amaro and vermouth drinks, coffee, sandwiches and bites. Deeper into the venue, the cocktail bar will be music and drink driven, showcasing ever-evolving cocktails as well as international and local DJs and performers from a diverse range of genres.
Philtration, Bangkok
Now open
Elysium Enterprise is a new mega f&b joint venture by 17 partners hailing from varied industries, including architecture, fashion design, interior design, construction, furniture, media, marketing, traditional Thai medicine, photography and f&b management. Shavinraj "The Fairy Godfather" Gopinath heads up the bar programs, and the first of many projects to come is Philtration, dubbed a modern take on an oriental apothecary style bar. Taking its name from philter, which is a potion to make someone fall in love, Philtration will be based in Bangkok's Siam Central area in the old factory basement of the Moh Mee family, who were traditional Thai medicine practitioners for generations. Sticking with the theme, cocktails will focus on herbs, medicine, spices and teas to pay homage to the family. 
Vietnam
Clu, Hanoi
Now open
In the heart of Hanoi's old quarter, Clu comes from the brains behind the capital's established Kumquat Tree. The minimalist interior is inspired by Tron Legacy – so think black punctuated by neon and a bar top made from discarded computer parts –  and the venue touts itself as a futuristic dive bar serving great drinks in an atmosphere devoid of pretense – as dive bars should be.
Drinks include banana based The Yellow God and The Real Forbidden Fruit is a zero waste cocktail that uses a whole pineapple. Drinks will also feature locally sourced Vietnamese ingredients such as ambrella, homemade Viet falernum and Vietnamese spirits.
Indonesia

Pantja, Jakarta
Now open
Pantja is the soon-to-open Jakarta punch bar by Kabir Suharan, ex Diageo Reserve brand ambassador for Indonesia. Meaning five in Sanskrit – for alcohol, citrus, sugar, water and spice, the five ingredients needed to make punch – Pantja takes inspiration from the 1600s, when punch was often comprised of what were then exotic ingredients from far off lands, particularly alcohol and spices from Indonesia. The bar pays tribute to this history by focusing on a program of punches made from Indonesian ingredients. 
Myanmar
Madame Em's, Yangon
Now open
Native Yangonite Pyae Phyo has over 15 years of hospitality experience under his belt, and has now decided it's time to do his own thing. He's out to give Yangon locals a new nightlife experience in the form of a "proper" cocktail bar – small, intimate and community based. Pyae wants the bar to create equal opportunities and be a beacon that encourages the city's hospitality community to grow. He says in a heavily Buddhist populated country, alcohol is still quite frowned upon, and as a Buddhist himself, is still facing lots of difficulties and challenges – including people constantly telling him not to open a bar. So, he's aiming to prove that the community can do great things even if it means working with something their god literally forbids.
The bar is named and conceptualised around Pyae's wife Emma – hence the name Madame Em's – whose favourite phrase is "Who fucking cares". The bar is based around her ride or die attitude, the flavours she loves and the memories she cherishes. "I want to celebrate her and all the other super women out there," says Pyae. Of course, there's the menu: it's experimental, but pays homage to local ingredients and flavours through signature drinks and classics. The rest, apparently, is a secret for now.
---
Got a new or upcoming bar you want to shout about or preview on DRiNK? Email a few sentences detailing who is behind the project and the concept, plus anything else that might be useful to holly@drinkmagazine.asia.