This post is sponsored by Patrón
The Korean bartender will be heading to Mexico for the global finals in January.
Willy Park, bartender at Alice Cheongdam in Seoul, wowed judges with his energetic performance and thoughtful cocktail Be(e) Around at the Patrón Perfectionists North Asia finals on Friday, bagging him a ticket to the global finals in Mexico. Judges Shingo Gokan, Theo Watt and Nick Cox had a tough decision to make, deciding between the six bartenders from South Korea and Japan as they battled it out at Boccalino Bar at Four Seasons Seoul.
Before finalists and guests were treated to an afterparty where last year's Patrón Perfectionists North Asia winner Pat Park and Shingo Gokan served up Patrón cocktails, we caught up with a very excited Willy to discuss his win, as well as last year's champ Pat.
Congratulations Willy! How do you feel?
I can't believe it! I am excited, scared and a little bit sad – it's very emotional. My mum was watching a live stream of the finals, as she still lives in my hometown, Daegu. She called me as soon as she heard the announcement to say congratulations.
How did you become a bartender?
I've had so many career changes! My first job was as a bassist in a band, then I became a hairdresser. People kept asking me why I changed my job so much, but I eventually decided to try a career in bartending, and found my true calling. I've been bartending for over eight years now and I love it.
There's a story behind the reason I felt a little sad about winning: When I told my dad I wanted to be a bartender, he was very upset, as a lot of Korean people don't think bartending is a very respectable job. He said if I wanted to bartend, I had to leave home. He was a kind man, but very strict, and passed away a few years ago. I know he's looking down on me with pride, but if he was alive, I would take my trophy home to show him and say: "Dad, I did it! I was the champion in a competition!"
Who is your inspiration?
My mum is very open minded, and when I chose to bartend, she said: "If you want to be a bartender, just show me you can do it." She is a chef and worked in Italy for a decade, so she understands the f&b industry and was really helpful when I was creating my cocktail. She was my taste tester and helped me refine the flavour.
I also look up to other bartenders, of course. As a technical bartender, I think Simone Caporale is amazing, and when it comes to hospitality and service, Terry Kim is my favourite. The person who taught me all about bartending is Evan Noh, from Four Seasons Seoul – he taught everything about making cocktails, service, hospitality and competitions. We also worked together at Charles H. He's a really nice guy.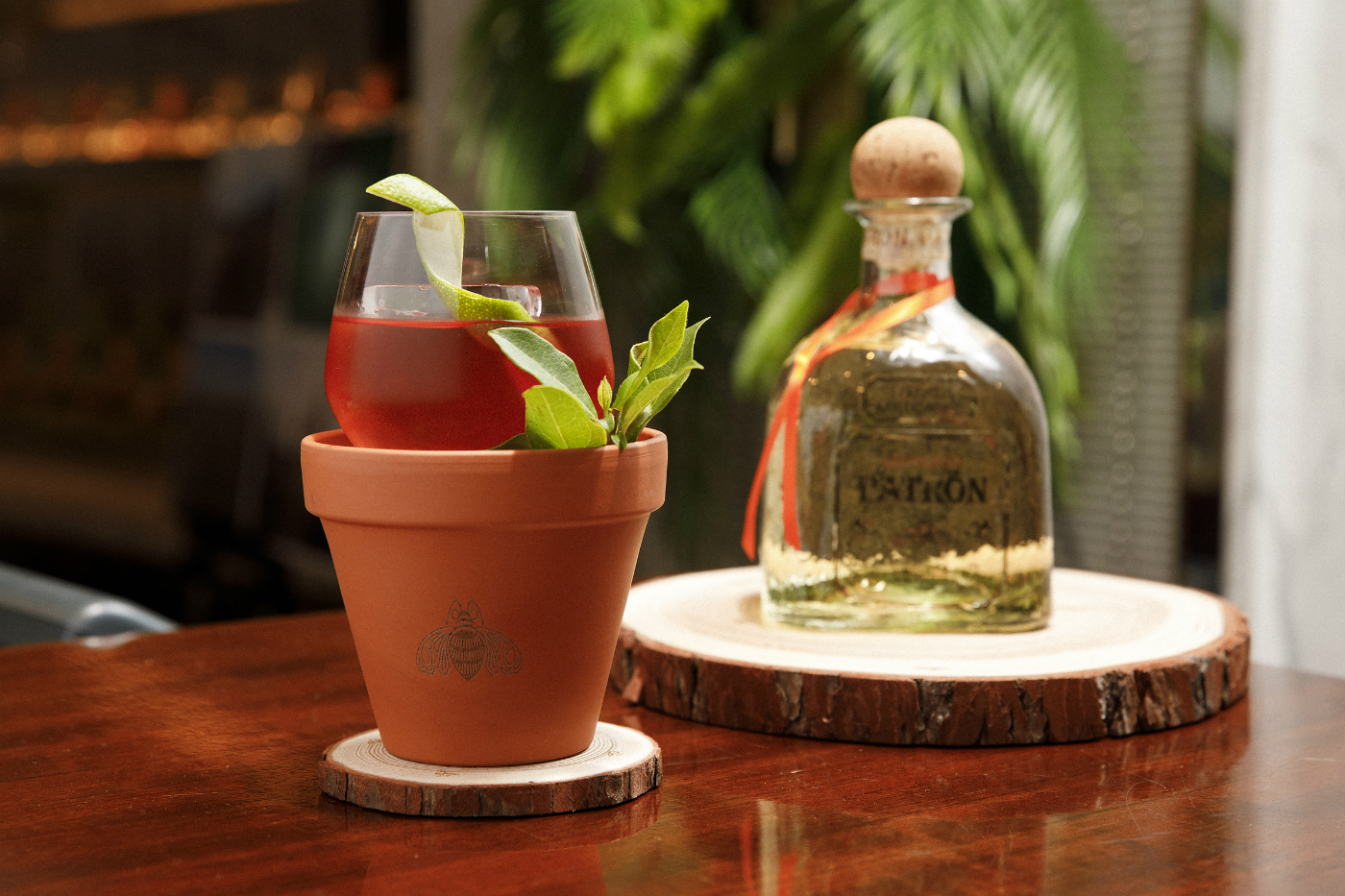 Tell us about your winning drink Be(e) Around
The name has two meanings: the Patrón bee logo, which can be seen around the world, and just "to be around" – representing me and Patrón together.
One of the biggest issues in our society right now is sustainability and recycling – so many people throw away things that can be reused. As my mum is my biggest inspiration, I always watch her while she's cooking. I see her cutting herbs and she doesn't just use the leaves ­– she also uses the stems, as well as roots, to infuse sauces.
When I last went back to my hometown, Daegu, Mum told me she had bought some wine from Spain, and that she would cook if I made the cocktails. I made sangria and was cutting the peels from the orange and suddenly my Mum got upset. She asked why I was throwing away parts of the fruit, took my orange peel and used it in her cooking. She also makes perfume as a hobby, so used the orange for that too.
Patrón is also very sustainability-driven and eco-conscious. They replant trees and use spent agave as fertiliser, among other things. So when thinking of my concept, I was looking through the Patrón website and drew inspiration from their sustainability practices.
The cocktail uses Patrón Reposado, and cranberry and hazelnut cordial I make by infusing cranberry juice with hazelnut and cacao nibs using a sous vide. I infuse kaffir lime leaves and leftover lime husks into the agave to make use of the pieces of lime that would normally be discarded.
The drink is placed in a clay pot, which serves as the coaster, so I ground the spent dehydrated lime to make the "earth" and then place lime seeds in it so you can grow the lime when you finish your drink! Plus, when the ice melts after you finish your drink, you can use this in the clay pot to water your plant!
The drink is sweet and sour, but it's clear. There are lots of different kinds of acid, but I chose tartaric acid – if I had used real lemon or lime juice, it wouldn't be as clear.
What's your plan for Mexico?
I will certainly prepare a lot so my presentation is even better than the regional finals. I have some ideas on how to change it, but it's top secret. You'll have to wait and see in Mexico!
I've never been to Mexico, but I have some Mexican bartender friends there that I met at another competition – I can't wait to make more friends! Everyone did such a great job at the North Asia finals, so I'm very excited to see all the finalists in Mexico.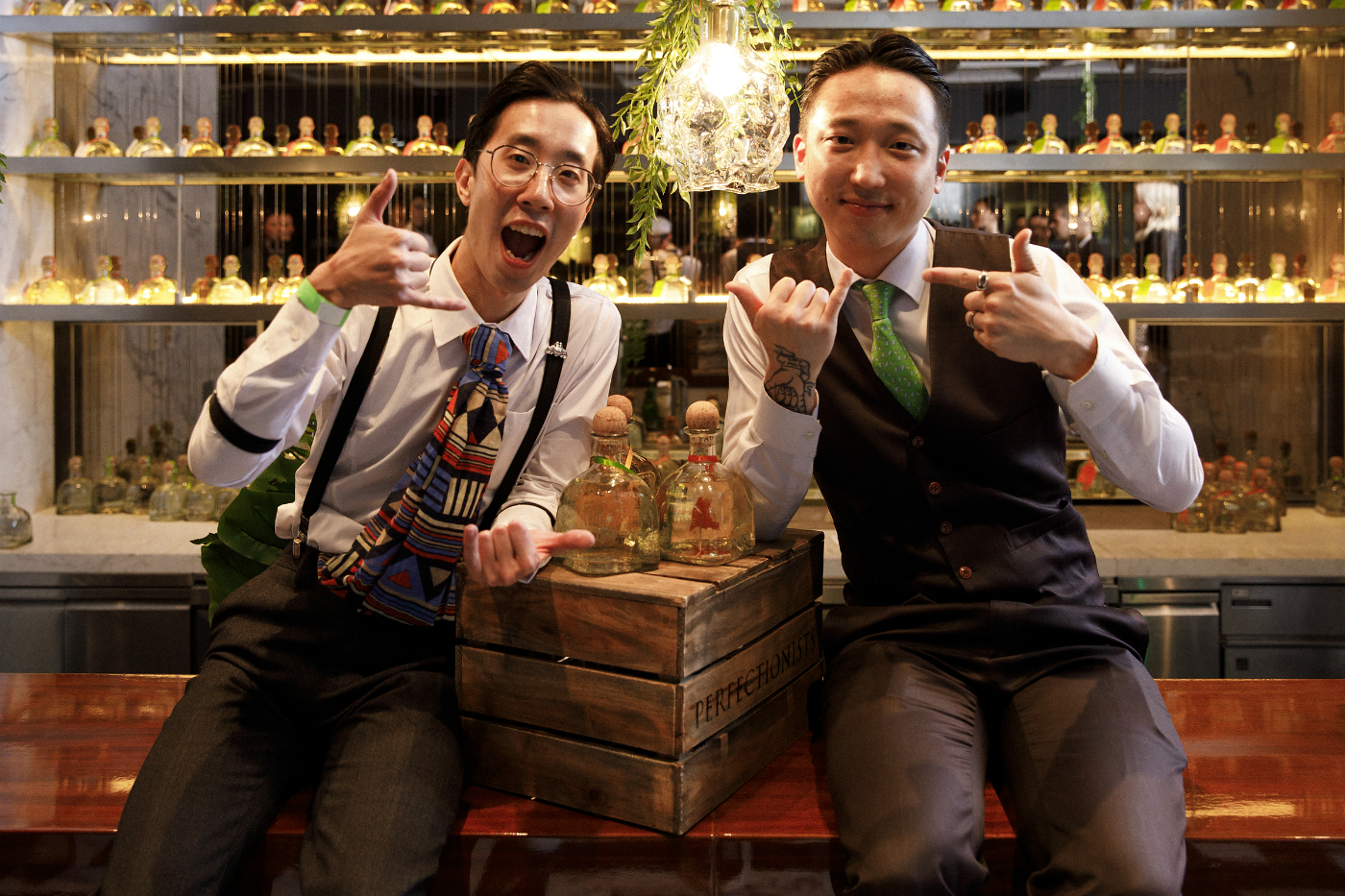 Hi Pat! What did you think of this year's Patrón Perfectionists?
It was intense and fun – though we could sense the competitor's nerves, every bartender on the stage showed us their passion for Patrón, just like last year. It was really great to have Shingo Gokan here to judge and guest bartend, too. He shared his knowledge and skills with us in his masterclass and cocktails.
What did you think of winner Willy's performance at the competition?
Just like I did last year, Willy showed his understanding of Patrón's commitment to our environment. His presentation was all about Patrón's efforts and how they related to his drink, Be(e) Around. He recycled lots of his ingredients to show Patrón's harmony with the environment. He did an awesome job!
What advice do you have for Willy when he goes to Mexico?
One of the most important things when you're at Hacienda Patrón is to enjoy every moment. Hacienda Patrón is literally heaven for everyone who loves tequila. Everything is simply perfect! Just show your passion, knowledge, and skills and you'll do great.
Recipe (Click to view)
Be(e) Around by Willy Park