Devender Kumar chats about flair, customer connections and how he had no idea his bar has made it onto the Asia's 50 Best Bars list. By Holly Graham.
I moved from India to Hong Kong to become the bar manager of 8½ Otto e Mezzo Bombana Hong Kong four and a half years ago, having become a bartender by accident. I left school at 19 and started to train to become a mechanic in my native New Delhi, earning about USD0.5 a day. And I hated it. One day, I saw a flair bartender on the American TV talent show 30 Seconds to Fame, and was inspired, so decided to learn it myself. It was still pretty cool back then and my cousin owned an events and hospitality company, so I went there to learn the basics. One day he was short staffed at an event, so I went to help him as a bar back and it was one of the best experiences of my life. There were over 5,000 people and it was one of the first times I'd heard people speaking English. After that, I was super motivated, so took up English conversation and grammar classes and worked at more events.
After finding my passion for bartending, I went on to study at The Institute of Bar Operations and Management (IBOM) – one of the best institutes in India of its time – and worked at more events. After a while, my boss saw my potential and made me the flair instructor. It was intimidating as my students were well educated, well dressed and spoke English. But I figured we both had something we wanted to learn from each other – in my case English. So I had a rule that we would only speak in English in class. After expanding my language skills, I then began to focus on elements such as spirit education.
How can we make changes if trends are repeated over and over again?
After my studies I moved to Mumbai head up the bar team at Ellipsis, which was was one of the best career moves I've made. It refined me a lot. But it was when I started at Otto e Mezzo in 2013 that I really refined my style, to that of simplicity – realising the importance of the liquid in the glass. Ultimately, when I leave a bar, I remember the taste or smell of the cocktails. Aromas and taste conjure memories, so for me, they matter the most. But I always remember the experience and conversation too – so before becoming a great bartender you must be a good host. Ellipsis taught me that, but not in the same way Otto e Mezzo has.
I believe working in a restaurant bar is the best way to hone your hosting skills, as well as gaining really detailed knowledge of ingredients and seasonality. Think about it. When you order food at a restaurant, you're often asked if you have any dietary requirements or preferences, but how often do people ask you that at a bar? Working on the restaurant floor has taught me to approach bartending in a different manner. I really recommend bartenders try to work in restaurant bars, it's a real learning curve.
There's not many things that irk me, but when it comes to making cocktails, a customer's fear of change can be disheartening. How can we make changes if trends are repeated over and over again? Some guests aren't used to coming outside of their comfort zone, so I try my best to encourage them to be adventurous. If you don't like it, you can always go back to what you know and I'll be more than happy to make the original drink for you, because at least you tried something different. It also helps me feel connected to my customers – which I love.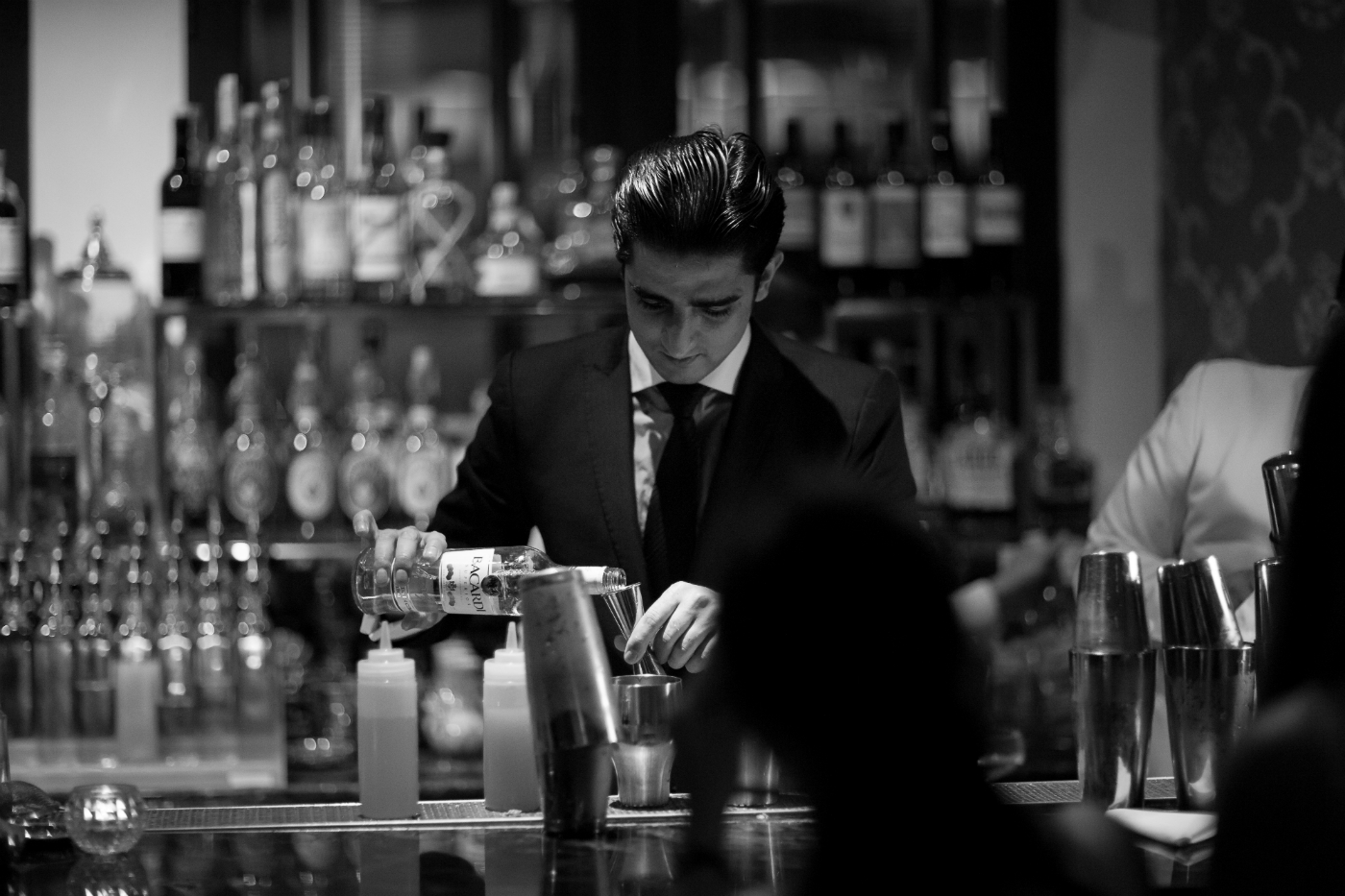 Even if they aren't regulars, there's other ways I feel connected to guests too. For example, one of my guests recently proposed to his girlfriend that he originally met at the bar, so that creates a strong connection between us and them – we feel like we're a part of it. When people ask how they met, they will always remember Otto e Mezzo.
Although it can be hard to change the way Hongkongers drink, I'm really happy to be part of the city's internationally recognised cocktail scene, but it's taken a while to get to the level it is now. When I first came to Hong Kong, it felt like there were very few cocktail bars. But in my time here I've seen so many different and wonderful bars open. As much as I would love to move to London or New York and work in an already established bar scene, Asia is growing rapidly and it's really exciting.
My new favourites in Asia are Tokyo's Mixology Salon, Atlas in Singapore and Hong Kong's very own Coa and The Old Man. Sure, The Old Man is Hemingway themed and that's done a lot around the world, but everyone has their own interpretation of the theme, and the guys there have done an amazing job. Coa's Jay Khan impresses me immensely too – his knowledge of agave and leap of faith to introduce the city to a category they're not familiar with is inspiring.
If I hadn't have become a bartender, I am pretty sure I would've been a teacher
One of my heroes is Simon Sinek, author of Start With Why and Leaders Eat Last, especially when it comes to management. He teaches you how to look at things from a different perspective – to look at things from your staff's side. People that hire managers like me assume we know everything. But we don't, we need to learn and grow too. So if or when I open my own bar, my primary objective is to educate people. When I taught my students at IBOM, they went on to implement skills I taught them at other venues – skills that I had learned from someone else and so on, like a domino effect. If I hadn't have become a bartender, I am pretty sure I would've been a teacher. Teaching is complicated. Every individual's pace and understanding is different, but as a teacher you have to bring everyone together and that's a beautiful thing.
One of my proudest achievements was the bar making Asia's 50 Best list for the last two years. Being recognised by your fellow industry peers is a great feeling, especially because we're a three Michelin starred restaurant (and also on Asia's 50 Best Restaurants list) so to get recognition for the bar as well is amazing. I actually didn't know we'd made the list last year – I was back in India and the Hong Kong bartender Whatsapp group suddenly told me "Dave, you're number 26 on the list". The initial email had gone to our PR company but they didn't tell me as I was in India, so at first I thought the group chat was lying! I guess becoming a bartender was a good choice then!