We ask Quinary owner and bartending legend Antonio Lai how often bars should get refreshed. By Holly Graham.
Antonio Lai's Quinary in Hong Kong may rank at 40 on the World's 50 Best and seven on Asia's 50 Best (making it Hong Kong's best bar) but he's not one to rest on his laurels. Quinary has revealed subtle yet much needed changes to its interior, which poses the question: how often does a bar need a touch-up?
"Three is the magic number," says Lai. "Everyone changes their menu fairly often but you've got to refresh your venue at least every three years. I'm not saying a big overhaul or change of concept but just a nip and tuck." The biggest visual change is the replacement of Quinary's dark, filing cabinet-esque print wall for a brighter, flowery scene and semi-alfresco seating, allowing customers to people watch as they drink.
Smaller, less noticeable changes also improve the way the bar functions too. "We've changed the seating so we can seat another six customers. It doesn't seem like a lot, but we get pretty busy and getting rid of two big tables and replacing them with smaller ones means we can sit different combinations of guests. We've also opened a new station to make specific drinks, especially our bestseller the Earl Grey Caviar Martini. We sell almost a thousand of those a month, so it definitely helps with speed of service."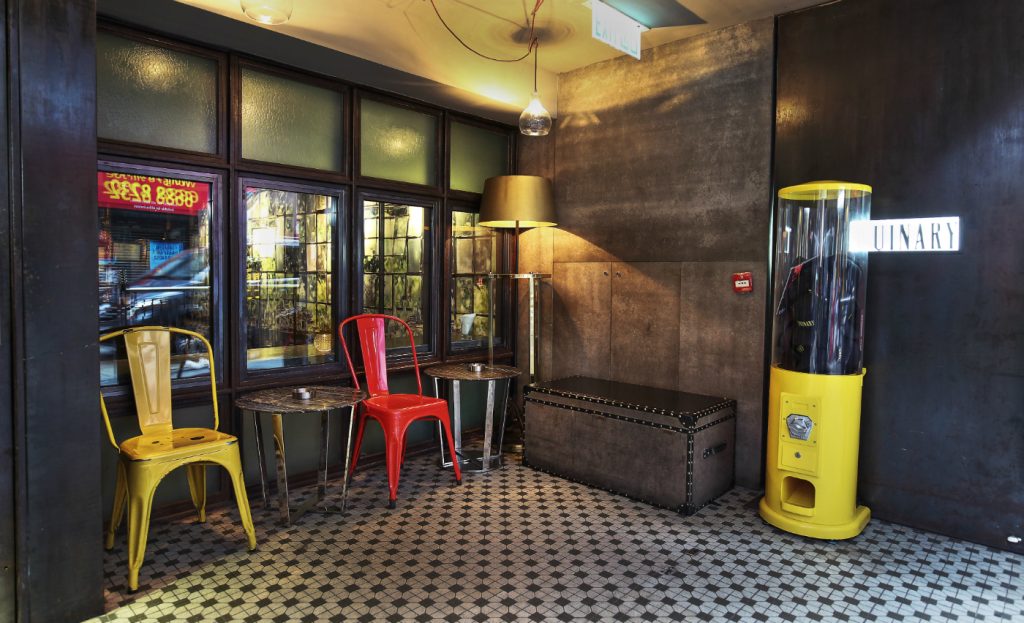 Lai has also noticed an increase in guests from Mainland China so has expanded payment options. "We have Mainland Chinese guests coming in as they've seen photos of the Earl Grey Martini on WeChat, so we've had to make UnionPay an option too, as it makes it easier for them." Cashing in on the Earl Grey Martini's icon status, Lai has also installed a coin operated machine outside the bar that dispenses pins in the shape of the popular drink for HK$20.
Bar manager Samuel Kwok has added a few new drinks to complement the new look. "I've added some low ABV drinks. They're very trendy right and good for business – I find our customers tend to drink more cocktails if they're less boozy. I also created Grate Expectations, a cheddar cheese fat-washed mezcal cocktail with sand ginger, apple yoghurt syrup, apple purée and fresh lime juice. It sounds weird but the combination works really well and again, mezcal is very on-trend right now and really beginning to find its feet in Hong Kong."
Lai finishes: "We tweak every three years because customers, especially in Hong Kong, get bored. So many new bars open here every month and amazing places like The Old Man are small and intimate, with great service and affordable drinks, so we need to compete. But we have some loyal regulars, so we're careful not to change too much."