Wild Turkey's Master Distiller Eddie Russell preaches the importance of yeast in bourbon production. By Holly Graham. 
Following in the footsteps of his father and grandfather, Eddie Russell joined Wild Turkey as a relief operator in 1981. Fast forward to now, and Eddie is one of Wild Turkey's master distillers and in his first visit to Hong Kong, he gives some love to one of the most overlooked elements of bourbon production: yeast.
"In the early days of bourbon production, everyone had their own strain of yeast. Nowadays a lot of distillers use brewer's yeast, but for us, it's really important because it does impart flavours which in our case are spicy and nutty notes." During prohibition, many producers lost their yeast and a lot of the strains used today can be traced back to the Jim Beam strain, because they managed to save theirs.
Wild Turkey's yeast was also saved and is still made from scratch every week, though processes have changed a lot since Jimmy Russell's (Eddie's father) time, when back in the day he took sole care of it. "One of the funniest stories dates back to when I started in 1981 and we were bought by Pernod Ricard. They wanted to know who took care of the yeast and couldn't believe Jimmy still did it. He kept three batches – one at the distillery, one at home and one at his brother's house a few counties away. Nowadays, we have facilities that take care of it for us, but we still make it from the petri dish every week. And he still keeps a batch at home!"
"Yeast is the horse that makes your alcohol"
Most distillers culture their yeast in a sweet environment, but Jimmy was taught to grow it in a sour environment. "Sour mash whiskey yeast should start in a sour mash environment. Fermentation starts around 70 degrees, in which the yeast eats the sugar and splits and grows, producing heat and carbon dioxide. At 80 degrees, water is added to keep it dormant – a reason Wild Turkey doesn't produce yeast in the summer as it's difficult to control temperatures."
Yeast storage isn't the only thing that's changed in bourbon production over the years. "When Jimmy started, he did everything. He was the plant manager, master distiller, human resources manager and union negotiator. He ordered all the grains, took care of the yeast and was one of the in-house tasters. At the end of the day he would even be in bottling making sure the labels looked right, as he wanted to see everything through from beginning to end. The first time I saw him work with yeast, I was amazed, especially as I had never really seen that part of the production. He would sit over a little flame and heat up a small metal ring that he'd put in the petri dish to capture the smallest, whitest cells. He'd put it in the test tube, remove the oxygen from it by inserting some flaming cotton and close it off. Then, over 24 hours it grew, then went into a 50ml flask and then to the gallon jugs."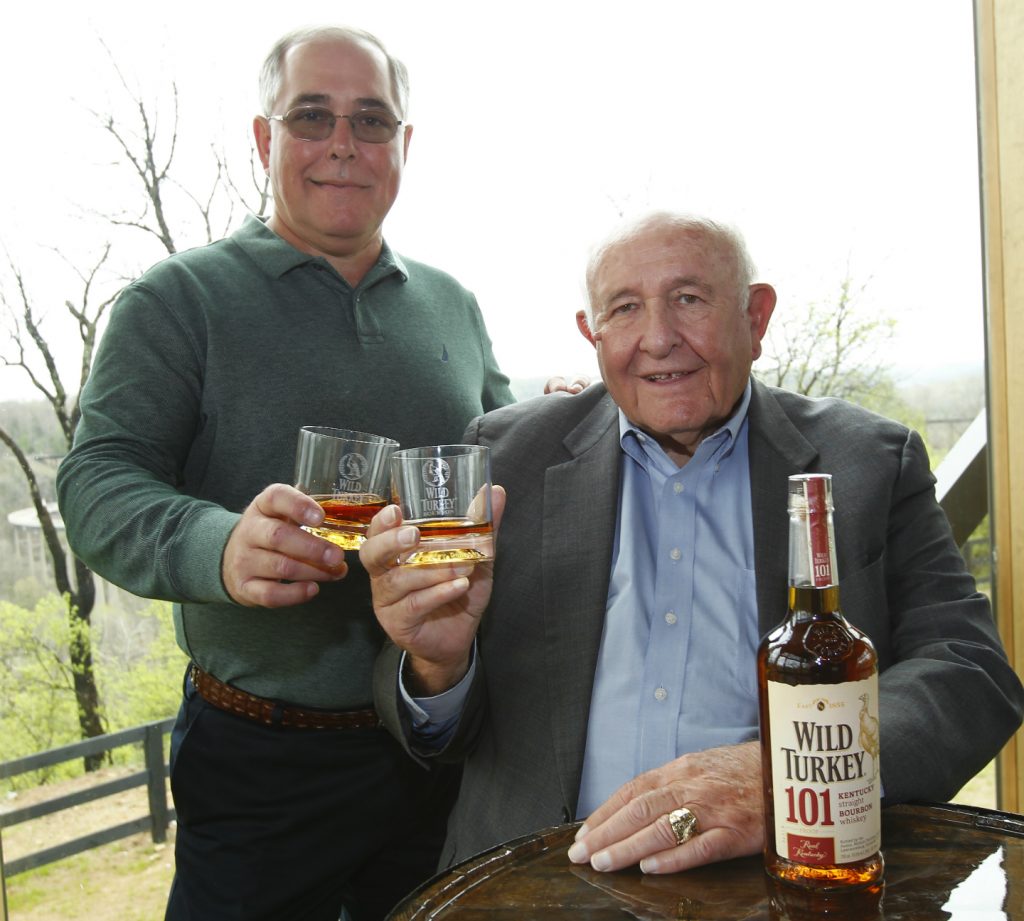 Up until five years ago, the Russells would still take care of most elements but since being bought by Campari, Wild Turkey has grown. "Jimmy worked seven days a week and would've worked 24 hours a day if he could. Management used to come from within the company but now it's from the outside, and you didn't need to have a college degree because Jimmy was going to teach you. Nowadays, our supervisors are qualified chemical engineers, so they have a head start on what happens in the process." Eddie thinks his generation and the likes of Freddie Noe and Craig Beam of Jim Beam will be the last distillers to learn the way they did, but insists "It's not a bad thing, it's just different."
So why does Eddie think yeast is the unsung hero of bourbon? "Yeast is the horse that makes your alcohol. Everybody talks about grains, barrels and ageing. True, 60-65 percent of bourbon's flavour comes from the barrel but without that yeast you wouldn't have alcohol.  We've used the same strain from the very beginning and never tried a different one as that would contaminate the system. Though Jimmy will tell you every part of the process is equally important, without that yeast we couldn't replicate what Wild Turkey tastes like today."