Bees produce a veritable larder of ingredients for the cocktail bartender. Paul Mathew looks at how these can be drawn upon to add aroma, flavour and texture to make your creations buzz.
Alcoholic drinks utilising honey are nothing new. Mead (fermented honey) originated over 7,000 years ago, possibly in China, and was famously the go-to drink of the Ancient Greeks, Romans and the Vikings. Across Europe, monks and physicians spiced it with everything from ginger, citrus, cinnamon and cloves through to tea, while in East Africa it was traditionally flavoured with bitter herbs to make Tej, a beer-like mead.
Like beer, all of these fermented honey "wines" were safer to drink than straight water at the time, with honey having particularly notable antiseptic qualities. The current resurgence in craft brewing and the trend for fermentation has seen mead reappear in all sorts of guises, from bone-dry "champagne" styles through to heavily spiced and hopped varieties – all lending themselves to mixing with their aromatic properties.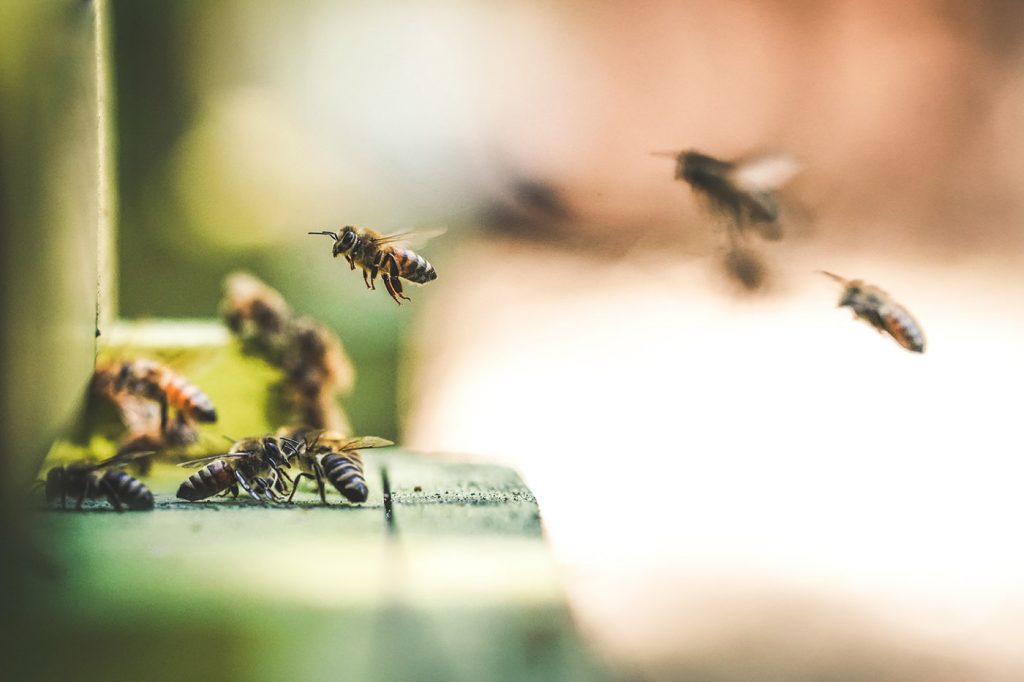 Earlier this century the dubious spirits of Prohibition were sometimes masked with honey, giving rise to drinks such as the Bee's Knees (gin, lemon, honey), a classic that's seeing a resurgence in popularity fuelled by gin's renaissance. Some of these new brands, such as Dodd's from The London Distillery Company and Barr Hill from Caledonia Spirits, even include honey as a "botanical" ingredient during distillation. Whilst none of honey's sugars (mainly fructose, glucose and maltose) are carried over in the distillation, we're so familiar with its aroma that it can give us the perception of sweetness and perhaps even a suggestion of mouthfeel as we think of honey's syrupy viscosity.
Even without working directly with honey, there's a lot for the bartender to choose from. Besides its affinity with gin, honey has long been used with whiskies – Drambuie, which dates back to the 1880s, uses Scottish heather honey, while much more recently bourbon brands have launched hugely successful honey liqueurs such as Jim Beam Honey and Jack Daniel's Tennessee Honey. Vodka too has its fair share, with the likes of krupnik – a herbal, sweetened spirit from Poland – and 42 Below Manuka, which is made in New Zealand from local Manuka honey.
Bees aren't just about honey, though, and bartenders are increasingly using other hive products in their cocktails. Balvenie recently held a competition in the UK in partnership with Bermondsey Street Bees, an urban apiary in southeast London, where bartenders not only used honey for their whisky cocktail recipes but also bee pollen, beeswax and, in the case of Charlotte Paterson from Original Sin, a combination of honey, beeswax and a tincture of propolis, the dark-brown resinous glue that bees use to seal their hives. Propolis is a combination of beeswax, tree resin, pollen and bee saliva. It has a bitter, aromatic, almost astringent flavour that varies depending on the source of the resin and can work really well as a tincture or bitters substitute as Paterson did in her drink, Vestige, which comprised a muddled strawberry, fresh lemon balm, propolis tincture, honey beeswax and The Balvenie Doublewood, garnished with honeycomb.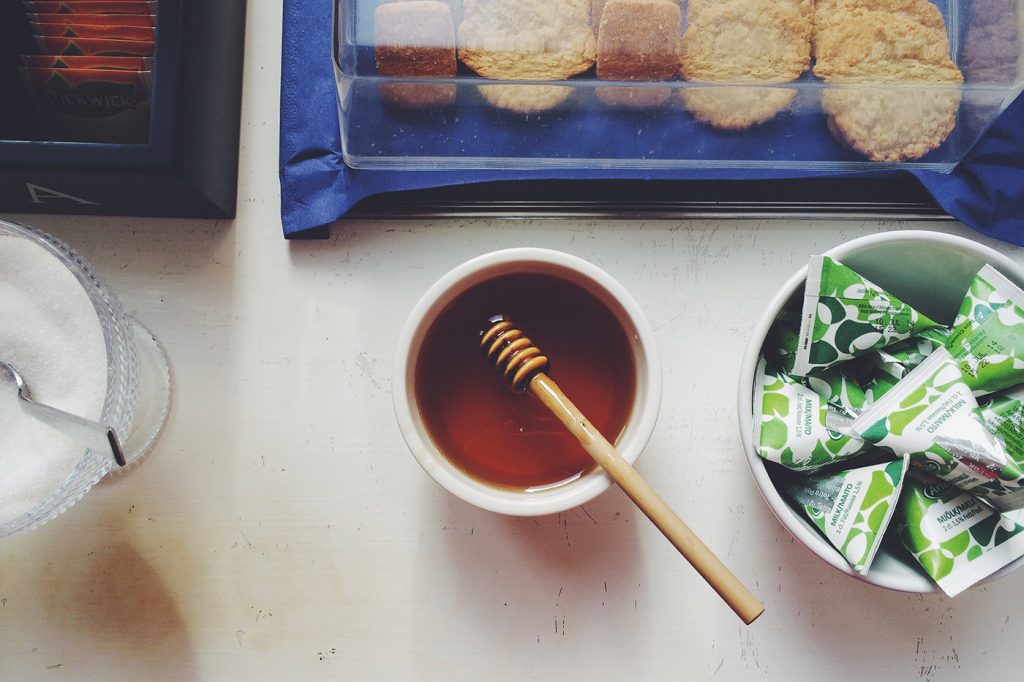 Bee pollen, or ambrosia, is another hive product that's seemingly on trend at the moment, cropping up at everything from World Class to Tales of the Cocktail in the last year (see recipes below). These strongly aromatic foraged pollen balls are collected from flowers by worker bees and can be very effective as a botanical note in an infusion, or as an aromatic garnish on top of a drink – with the character very much dependent on the type of flowers the bees have access to near the hive. Whilst not sweet in themselves, their perfume can give the perception of sweetness in much the same way as distilling with honey.
"Bees aren't just about honey, though, and bartenders are increasingly using other hive products in their cocktails"
Bee products fit very neatly with current bartending trends to use local and seasonal ingredients. Honey and pollen will always reflect the character of the flowers it has been sourced from. Emanuele Broccatelli of Cocktail d'Autore in Rome makes a delicious Reposado Tequila Old Fashioned using Italian chestnut tree honey – famed for is dark, spicy and bittersweet "amaro" style, this honey is only produced for a short period in late spring when the chestnut trees flower. Orange blossom honey, on the other hand, can be collected for a much longer period, and has that light, heady aroma of citrus flowers – perfect for a Ramos twist – while Scottish heather honey would seem a logical choice for whisky toddies on cold wintry evenings.
If you have access to a good source of natural, local honey, then you have a constantly changing sweetener with which to play, but it's not just the aroma and flavour that you can influence with your hive harvest. Drink texture is another area receiving a lot of love these days, and beeswax is a perfect way to add a "roundness" or mouthfeel to a cocktail. It is being widely used with the same methods as other fat-washed ingredients – melted, added, chilled and filtered off. Thomas Aske and Tristan Stephenson (aka Aske Stephenson) sell their example as a bottled cocktail called Revery (London Dry Gin, Picon Biere, sweet vermouth and a special blend of beeswax) and suggest either drinking it over ice for a rich flavour, or adding soda or lemonade for an almost creamy texture as the wax plays with the carbonation.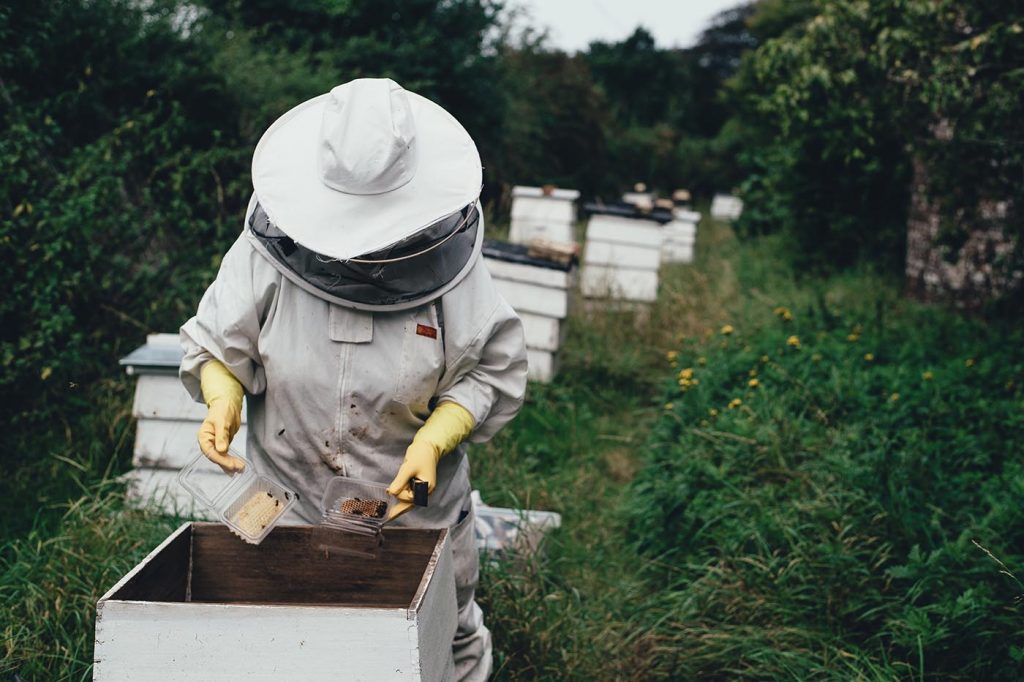 The hive, then, offers a one-stop shop for aroma, flavour and texture. Whether it's the nose and dryness of a traditionally fermented mead or the perfume of locally harvested floral honey, the mouth-coating roundness of beeswax, or the light scent of pollen, bees can help you tweak your next creation in a multitude of ways.
Recipes (click to view)
Stuck in the Meadle with You by Simone De Luca
Bees on Trees by Vance Henderson
Beeswax Old Fashioned by White Lyan
Shiso by Matt Whiley
Pollen a Pollen Bee by Aiden Bowie
---
Paul Mathew is a bar consultant and the owner of The Hide Bar, The Arbitrager and Demon, Wise and Partners in London.