The boost pushes Singapore to third in bar count behind the US and UK. By Dan Bignold.
Asia's cocktail scene turbocharged its reputation at last night's World's 50 Best Bars ceremony in London, with no fewer than 12 names from the region punching their way onto the 2017 ranking.
The top spot was taken by The American Bar at The Savoy Hotel in London, with last year's winner The Dead Rabbit slipping down to #5. Coming just behind, #2 went to London's Dandelyan and #3 to The Nomad in New York.
Meanwhile Asia underwent a significant re-rating after this year's voting, leaping from seven bars on the 2016 list up to 12 in 2017. Those 12 included four new entries, plus Singapore's Tippling Club, which under the beverage guidance of Joe Schofield, has returned to the list at #31 after a four-year absence.
Two Asian bars broke into the top ten, with Manhattan and Speak Low continuing their momentum in recent times to reach #7 and #10 respectively, up from #11 and #15 in 2016. Just behind came Hidetsugu Ueno's Bar High Five in Tokyo, at #13.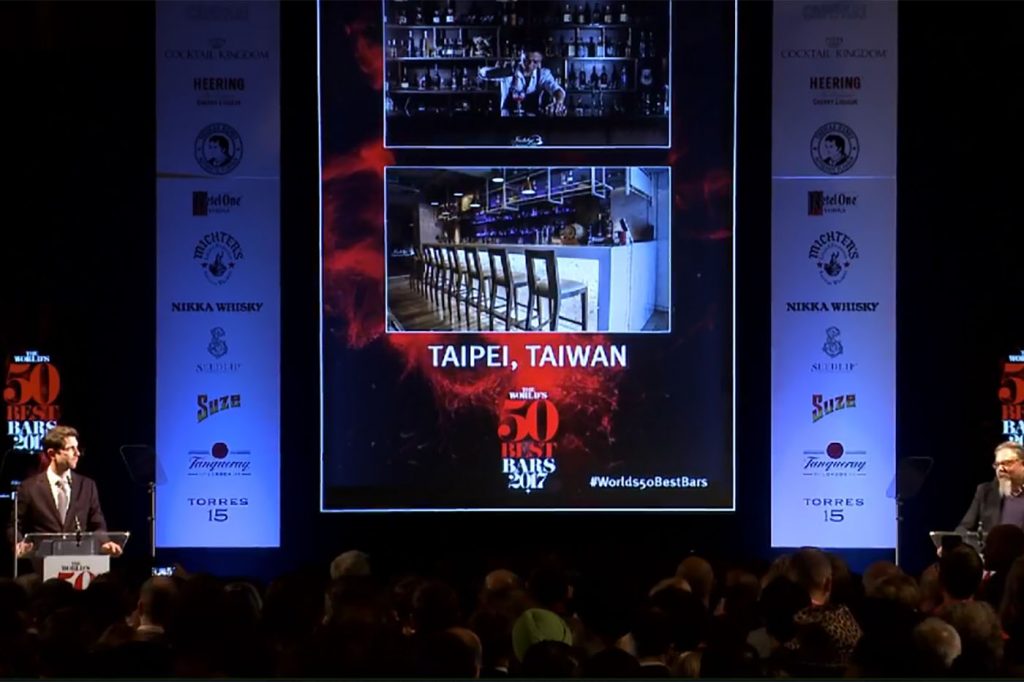 But arguably, the most notable Asian news came from Atlas in Singapore, which arrived in some style on the list at #15, the highest new entry of the evening –making it six bars from Singapore out of the 50, second only to the USA and UK for numbers of entries. Asia's other three new entries included Taipei's Indulge at #28, Tokyo's Bar Benfiddich at #36, and Singapore's Native at #47.
The other spots claimed by Asia were: Operation Dagger, Singapore, at #24 (#21 in 2016); 28 HongKong Street, Singapore, #25 (#14 in 2016); Quinary, Hong Kong, #40 (#41 in 2016); and Lobster Bar & Grill, Hong Kong, #49 (#27 in 2016).
"It's an incredible feeling to be among some of the best bars in the world, with one of the best teams in the world. Singapore has made quite an impression this year – we had six bars out there. It's great to be around these amazing talents and I hope we'll continue the journey and see many more amazing places open up in Asia." Philip Bischoff, Manhattan, Singapore.
There were also special individual awards for Iain Griffiths, named the Bartenders' Bartender, and Julio Bermejo, who was handed the Industry Icon award. New York's BlackTail meanwhile was dubbed Best New Opening during the evening.
Here's the full World's 50 Best Bars 2017 list, with this year's Asian entries in bold:
1 The American Bar at The Savoy, London
2 Dandelyan, London
3 The Nomad, New York
4 Connaught Bar, London
5 The Dead Rabbit, New York
6 The Clumsies, Athens
7 Manhattan at the Regent Singapore, Singapore
8 Attaboy, New York
9 Bar Termini, London
10 Speak Low, Shanghai
11 Little Red Door, Paris
12 Happiness Forgets, London
13 Bar High Five, Tokyo
14 Licoreria Limantour, Mexico City
15 Atlas, Singapore
16 Dante, New York
17 Oriole, London
18 Broken Shaker, Miami Beach
19 Candelaria, Paris
20 Himkok, Oslo
21 The Gibson, London
22 The Black Pearl, Melbourne
23 Floreria Atlantico, Buenos Aires
24 Operation Dagger, Singapore
25 28 Hongkong Street, Singapore
26 Trick Dog, San Francisco
27 Sweet Liberty, Miami Beach
28 Indulge Experimental Bistro, Taipei
29 Lost & Found, Nicosia
30 Baba Au Rum, Athens
31 Tippling Club, Singapore
32 BlackTail, New York
33 Jerry Thomas Speakeasy, Rome
34 Le Syndicat, Paris
35 Tales & Spirits, Amsterdam
36 Bar Benfiddich, Tokyo
37 Employees Only, New York
38 Schumann's, Munich
39 La Factoria, San Juan
40 Quinary, Hong Kong
41 Aviary, Chicago
42 Mace, New York
43 Nightjar, London
44 Linje Tio, Stockholm
45 The Baxter Inn, Sydney
46 ABV, San Francisco
47 Native, Singapore
48 Tommy's, San Francisco
49 Lobster Bar & Grill at the Island Shangri-La, Hong Kong
50 Imperial Craft, Tel Aviv
Other Asian bars on the 51-100 list:
56 Le Chamber, Seoul
62 Gibson, Singapore
64 Bar Trench, Tokyo
68 The Pontiac, Hong Kong
69 Stockton, Hong Kong
78 Charles H at the Four Seasons Seoul, Seoul
83 Star Bar, Tokyo
88 Gen Yamamoto, Tokyo
93 Bar Orchard Ginza, Tokyo
97 The Union Trading Company, Shanghai
99 Potato Head Beach Club, Bali
---
See the full list at their website.