Hint: His game plan embraced the competition.
In mid-2016, legendary New York bar Employees Only opened in Singapore just 50-meters down the road from our bar, Jigger & Pony. It was an exciting time for cocktail lovers, the lifestyle press and for us neighbours. Amoy Street on the fringe of the CBD has gone from a street known for Korean and Chinese food, to having no fewer than five incredible cocktail bars in just five years. As a bar owner, I received a lot questions from our customers, bartenders and shareholders: should we do anything differently now that more competition is at our door?
Maybe your first reaction to the news would be to launch a new menu, change the music playlist and extend a new happy hour promotion with 50 per cent discounts! My advice: slow down on doing the first thing that comes to mind, and organise your ideas. If you are like me, it helps to draw a nice diagram.*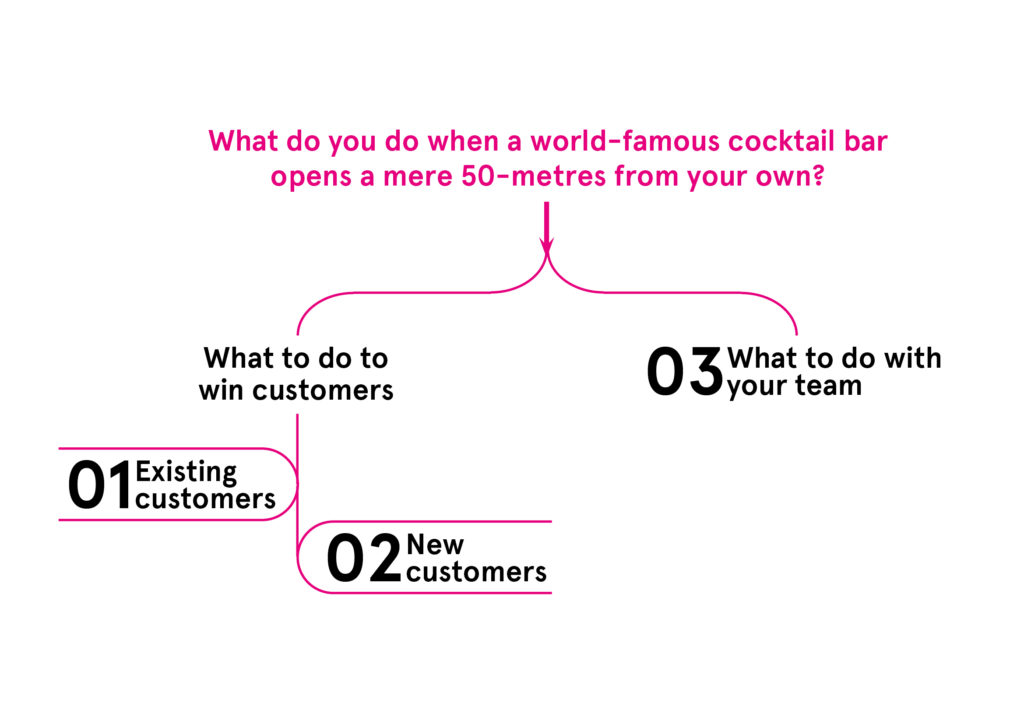 *As a former management consultant, I used to draw all sorts of charts and diagrams for a living.
1 Win the loyalty of existing customers
We were fortunate that our bars grew a loyal following of customers before the new competition moved in. Our first focus was to make sure they continued being regulars at the bar, by playing up the features of our bars that customers love. The goal wasn't to copy what Employees Only was doing differently, but rather, to celebrate what makes us unique.
Jigger & Pony has a large communal table up-front that's popular with groups, so we made sure the people sitting there are well taken care of. We improved our punch bowl service that large groups enjoy – making it with better ice, better garnishes and serving it with more table-side flourish. Behind the bar, we're known for our attention to detail, so we made sure that we kept our use of jiggers very prominent to contrast the free-pouring style of EO.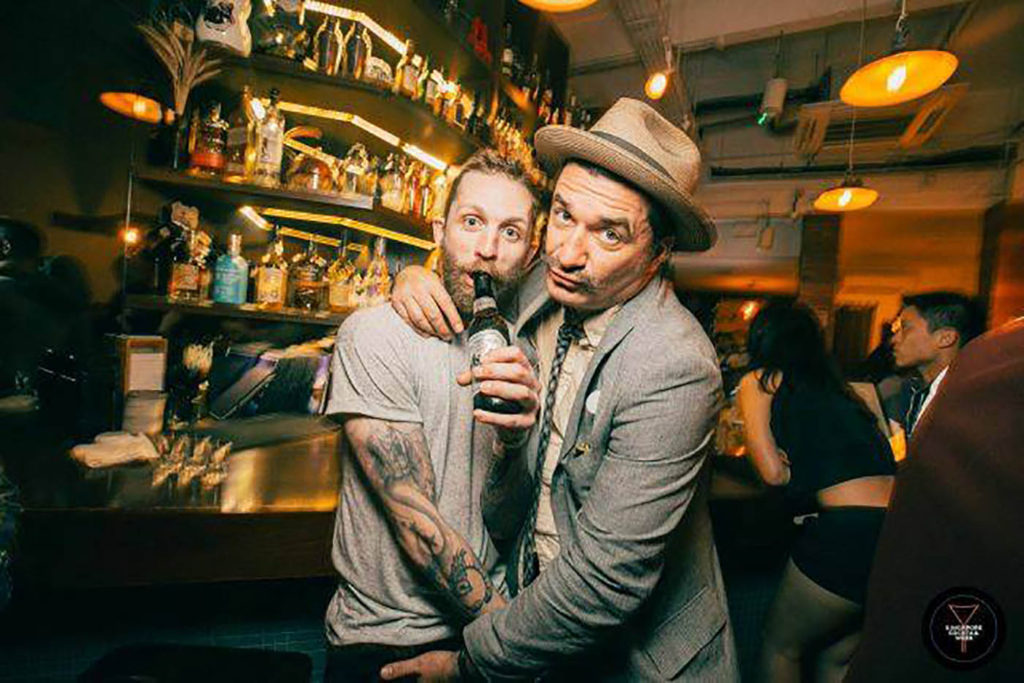 2 Welcome new customers and grow the pie
A new bar opening is also likely to bring a lot of new people to visit the neighbourhood. The more famous the bar, the bigger the PR hype. As soon as EO opened, we were well-prepared to welcome new visitors to the neighbourhood and to our bar. Sure enough, we started seeing a lot of new faces – many came to Sugarhall to fuel up on good food before the drinking, some came because the other bars are too crowded, but mostly people just love to bar-hop to multiple bars in a night. Our team was ready for them – welcoming them with a big smile and giving them the confidence that, yes, the good night continues.
It turns out, our bar industry is very different than the winner-takes-all battle of car hire companies. Singapore's Chinatown and Amoy Street in particular, became the equivalent of East Village in New York, with great bars within a convenient stumbling distance from one another. Every good bar on the street wants to make sure the customers have a great night in town. In other words, the goal is to work hand-in-hand with the neighbours. We send customers left and right from our bars, and stay ready to assist whenever someone needs extra ice, lemons or extra stock of champagne. Customers love the unique experiences at the different bars, come back more often to the street, and each time, they spend more money. The pie grows, and each of us gets to enjoy a slice of that pie.
3 Motivate your team
Newsflash: bartenders are a competitive bunch. The popularity of cocktail competitions comes from the healthy desire of bartenders to showcase that they are worthy to be the best in the world. We found that a high-level of competition on our doors really stoked the competitive juices of our team. We are eager to show the world that our beverage program, hospitality and service can match and better anyone else's. In a business where every little detail separate the great from the good, it helps to have everyone motivated. We focus our team energy on improving just a little bit every day – to smile a little wider, to be more attentive to the guests' needs, and to make the drinks faster and more consistently.
Fast forward nine months, and I am happy to report that both our bars continue to show double-digit percentage growth in business. I am even happier that Igor and Steve are routinely perched outside Sugarhall for a pre-shift beer, and that I haven't tired of the taste of Fernet Branca after all the EO trips. Amoy Street continues to be a magnet, most recently welcoming Vijay Mudaliar and his forward-pushing bar Native. If you have an amazing bar to open in Singapore, think about us. I would love to be your neighbour.
---
Indra Kantono is the co-owner of The Jigger & Pony Group of bars and restaurants, with venues Jigger & Pony, Sugarhall, Humpback, Flagship and Gibson under his belt.
Are you bar operator with an interesting insight on running a business to share? Speak to us at editor@drinkmagazine.asia.