Spirited-soaked barrels find more uses among coffee makers. By Natasha Hong.
Barrels have long become a catalyst in the world of food and drink for infusing innovative flavours, but Chicago's Dark Matter Coffee is now taking wood-ageing one step further than its peers. Instead of finishing already-brewed liquid, they're funnelling and agitating impressionable, green beans (coffee speak for pre-roasted crop) into pre-seasoned casks offered by local drink-making friends. Chicago-based brands such as craft brewers Three Floyds, Pipeworks and Revolution, spirits makers Koval and Letherbee, as well as bigger brands like Knob Creek and Basil Hayden's are all involved.
The idea pre-dates the spark shower of invention in this heady Third Wave era for coffee: in pre-plastic days, oak vessels, as we know, were used to transport everything from beer, rum, and yes, coffee beans across the seas. "The ultimate risk of barrel- ageing is pulling out excessive notes of wood or an ashy char," explains Dark Matter's barrel master Will Eder. "Our goal is to remove coffee as soon as we start to taste beer or spirit notes, and before we taste wood or char."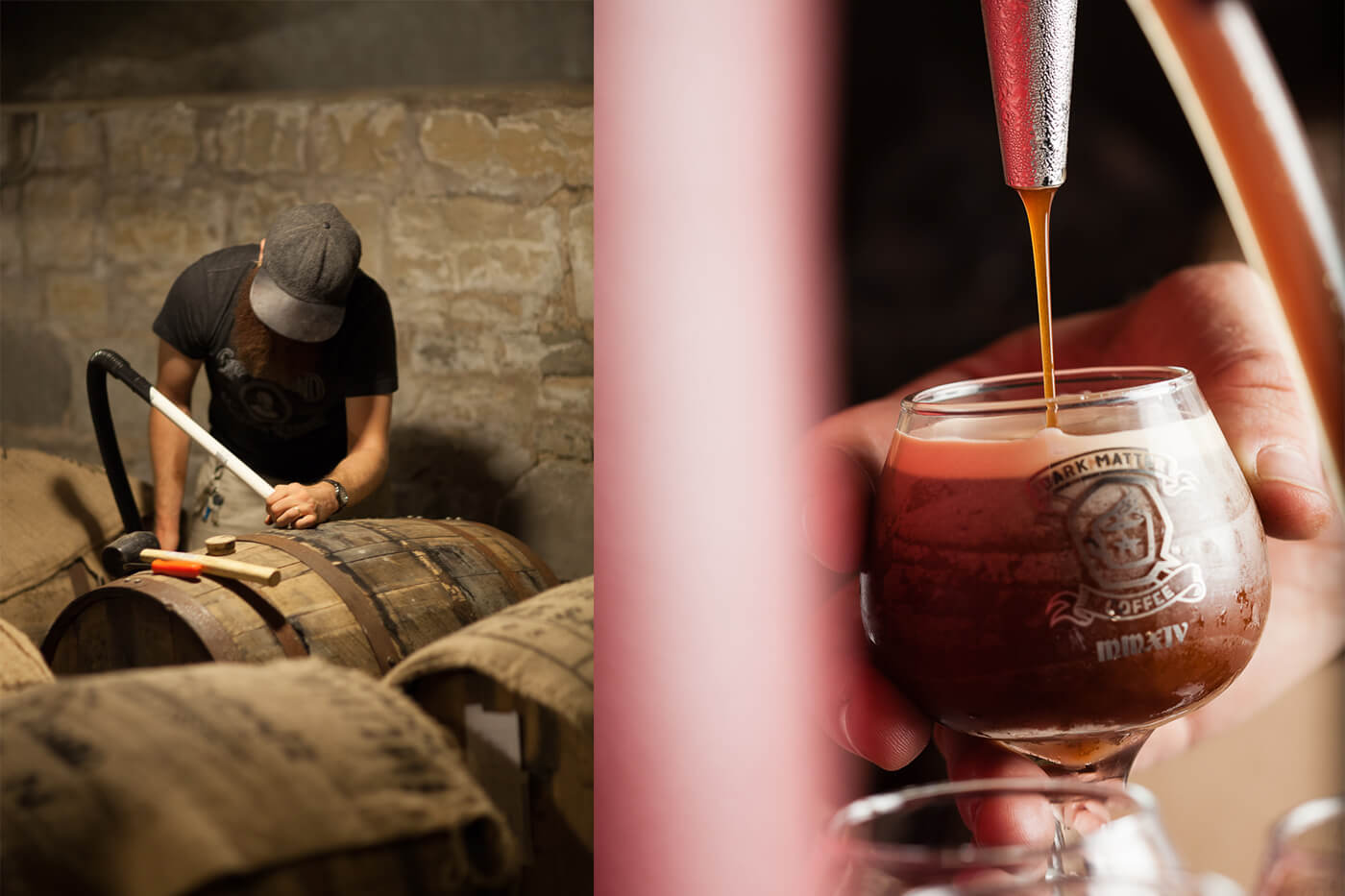 The key to getting a good batch is to allow the coffees – paired thanks to flavours either matching or contrasting with the barrel's former liquid – to retain their character, while taking on additional qualities. The resulting flavour isn't a direct translation of what was previously in the barrel, but Eder says, "We get notes that are indeed reminiscent of the liquids that were in before our coffee – straight bourbon barrel-aged coffees often taste of coconut and grape soda; bourbon-barleywine barrels yield super juicy notes, full of sweet red fruits."
Even though Eder and his team have sharpened their understanding over the last three years, they're working with still-alive barrels that can return unpredictable results. Moving forward, the team are working on a cask conditioning method that steeps liquids and beans in steel kegs. "We pressure-infuse coffee with everything from beer to wines, spirits, cocktails, and even brewed coffee with coffee beans," says Eder, with the results far easier to replicate and make consistent than in the barrels.
---
See darkmattercoffee.com for more, including delivery outside of the US.
This story was first featured in Issue 04 of DRiNK Magazine Greater Asia. Subscribe to the magazine here.