Bryson Rivera makes drinks by day and inks in his spare time. By Holly Graham.
Filipino Bryson Rivera is the assistant beverage operations manager at the JW Marriott hotel in Hong Kong, and just over a year and a half ago, he opened a tattoo studio called Circuit Square Tattoo in the heart of Hong Kong's Kowloon. 
"The Idea was born in 2003 with my friend Ronnie Ureta," explains Bryson. "He was the drummer in a band we used to be in together. He used to do home tattoos when we lived together in Hung Hom – where our current studio stands."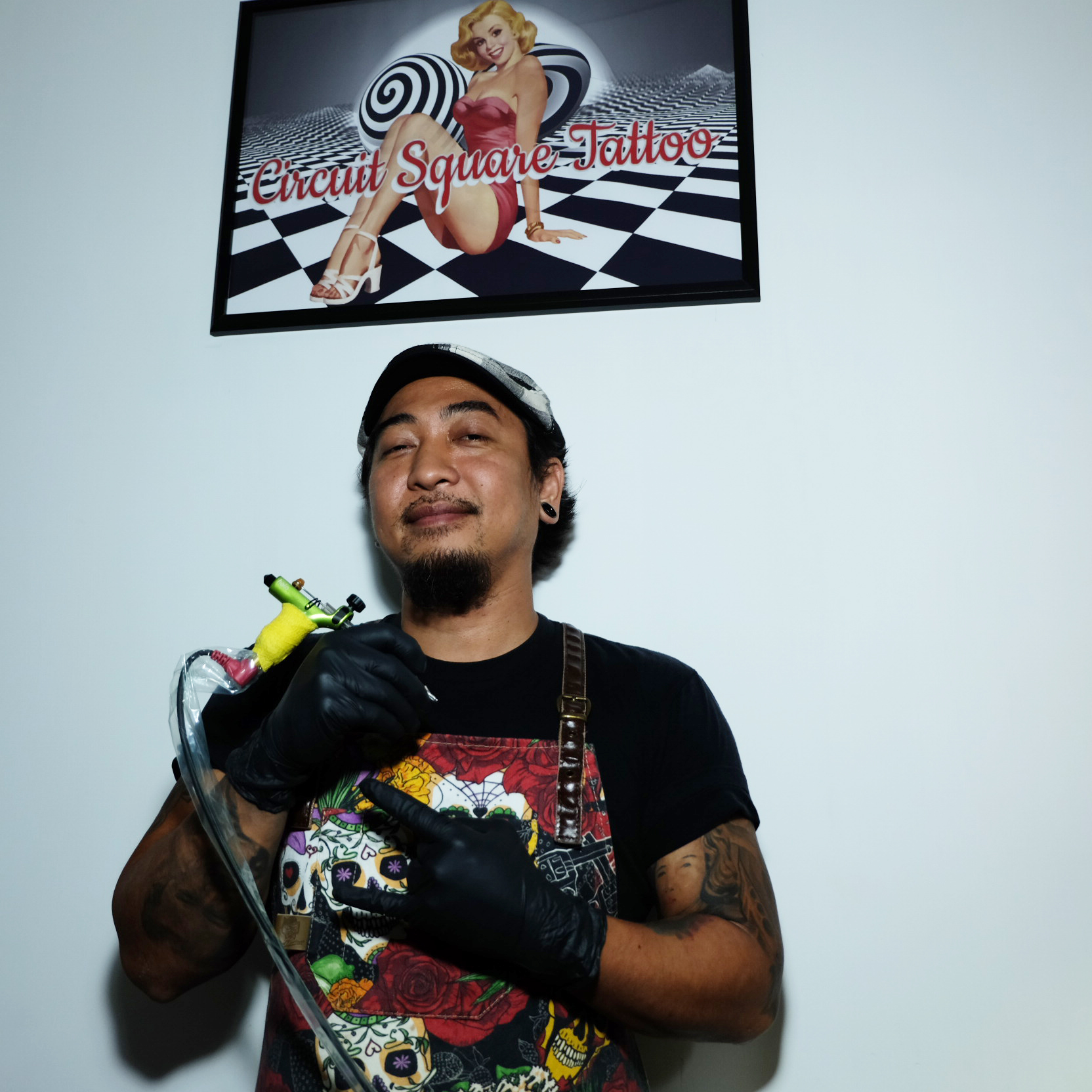 Bryson explains the idea had been long in the making, but eventually it had to come to fruition. "Every time we saw each other, we talked about it. We owed this to one another and both felt it was this pending dream that we still hadn't conquered, so one evening in June 2019, I sat down and started calculating the cost of opening the studio." After some number crunching, the pair realised that the studio was feasible, opening just under six months later in November 2019. 
On being a tattoo studio owner and a bartender, Bryson says the two don't differ much. "At a bar, we make a mark on our guests with our drinks and service. At a tattoo studio, we mark our clients with tattoos for life." He's actually currently training to do tattoos right now – Ronnie does the actual tattooing at the moment. "There's a lot to learn," he says. "You have to constantly sketch and play with the machine, pressures, your set up and work area. I've tattooed two people so far and though we're both nervous, that bonds me with my human canvas!"
Bryson says their main goal has always been to provide an outstanding hospitality experience, commenting: "I think it's quite hard to find that in tattoo studios. Both myself and Ronnie ensure that this is provided at Circuit Square, especially after working in the hospitality industry for more than 15 years!"
The bar industry in Hong Kong has been very supportive of the studio, according to Bryson, having them do "One drink, one ink" pop ups at events in bars and restaurants all over the city. "Our industry friends also send their guests and friends to our studio and of course, bartenders spend hours at our shop!"

When asked the burning question "Why do you think bartenders love tattoos?" Bryson replies: "I think it's our way to shine, plus another string to our story telling bow that prompts questions from our guests about our ink."
Bryson believes it's important to have a side hustle, to take you out of your comfort zone and learn new things. "The f&b industry can be frustrating at times. Sometimes I look forward to going to the studio more than work, as there's a drive that motivates you more, because it's mine – I have ownership."
Bryson's plans for the future and advice for those thinking of starting a side hustle? "I've thought about opening a combination of a tattoo studio and bar, and would tell anyone thinking of starting their own venture to not be afraid – get out there and discover new things even if it's a whole new industry for you. Bear in mind, we all started out from nothing."
Check out Circuit Square Tattoo on Instagram @circuitsquaretattoo