This post is sponsored by Nantou Distillery
Nantou Distillery's single malt Omar uses Scottish techniques blended with Taiwanese terrior to create a unique whisky in the growing Taiwanese whisky category.
Established in 2008, the Nantou Distillery in Taiwan is the producer of single malt whisky Omar. The distillery originally produced blended whisky brand Jade Supremacy for the domestic market, but due to the boom in whisky at the beginning of the 2010s, good quality and reasonably priced Scotch became difficult to source. Taiwan Tobacco and Liquor Corporation (TTL) decided to overcome this shortage of whisky by producing on its home turf, giving Nantou Distillery the task.
However, starting from 2013, Nantou's successive directors noticed the whisky in the warehouse showed excellent qualities. TTL decided rather than use it in a blend, they would launch a single malt and so, Omar was born. Omar enjoyed huge successes when it went to market, which included winning gold and silver medals from several renowned awarding bodies.
But what makes Omar unique? The Taiwanese terrior. For one, Nantou Distillery is also a winery, producing fruit wines, liqueurs and brandies, meaning Omar is aged in various flavoured casks such as those used once to make liqueurs, wines and brandy, giving the whisky the different varieties unique flavours and characteristics.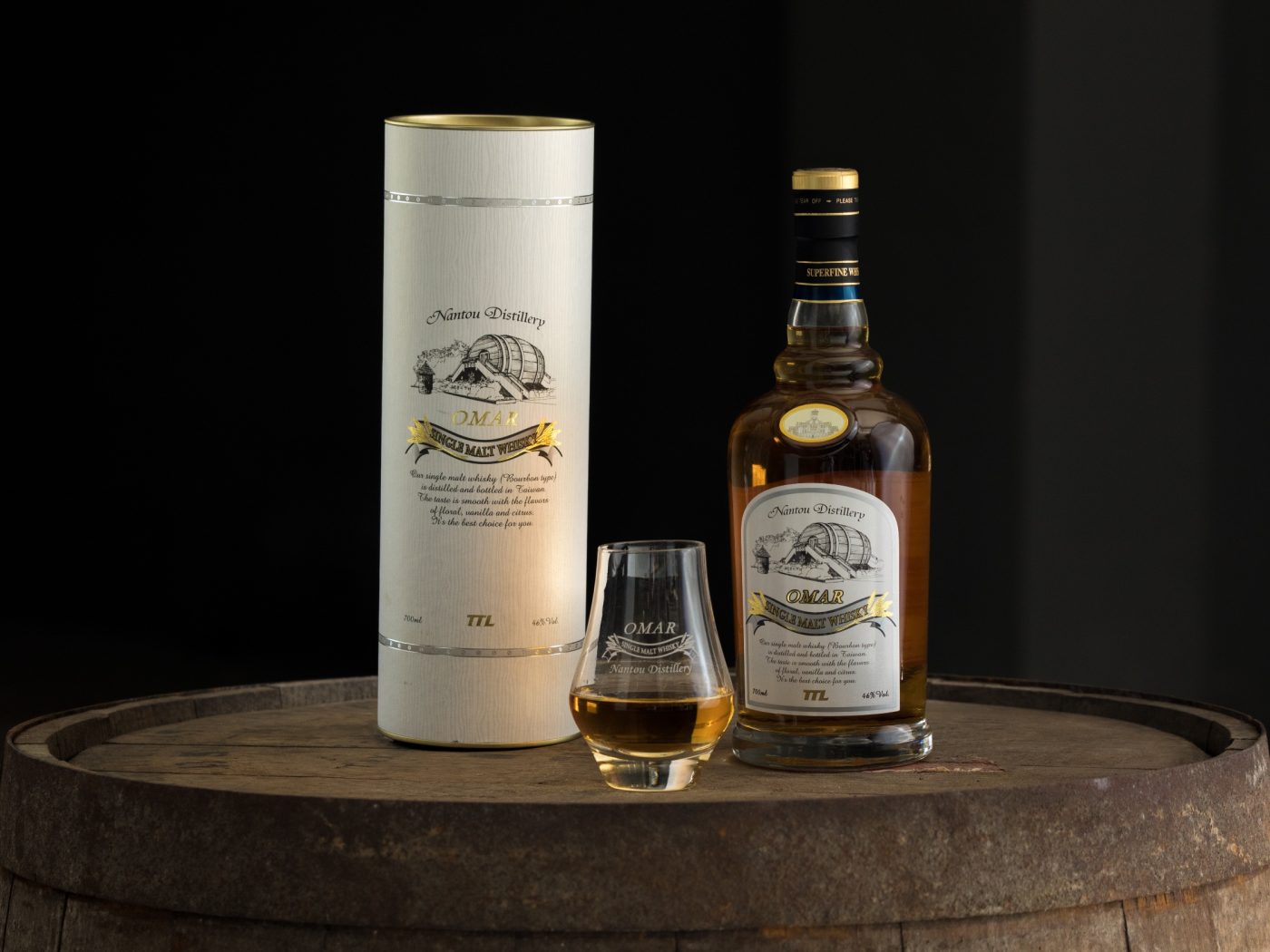 The distillery houses three malt storage tanks, one grain miller, one lauter mash tun, eight stainless steel washbacks and two pairs of copper pot-stills. Nantou Distillery imports commercial yeast and malt barley from Scotland to make Omar as it is too hot to grow barley in Taiwan. Of course, one thing that cannot be imported from Scotland is its climate – its wet, cold winters and warm summers are completely different to Taiwan, which is subtropical with warm winters and hot summers. Nantou Distillery whisky only produces Omar from October to April as to avoid the hot Taiwanese summer.
Each of Nantou Distillery's three malt storage tanks can store 50 tons, so 150 tons of malts are ordered every time and transported to the buffer tanks through a pneumatic conveying system for milling. A four-roll Bühler miller is used to grind malt and after being milled into grist, the malt then goes into the Huppmann lauter mash tun and is mixed with pure heated groundwater extracted from the central mountain range near Nantou County.
2,500 kg of malt is used at each mashing and the wort is collected three times. The first and second collections are mixed and an approximate total volume of 120 hectoliters, which is then pumped through a heat exchanger – where the mixed wort is cooled to around 19C – and then transported to the washbacks. The third running provides for a portion of the mashing liquor for the subsequent mash. The washbacks are made of stainless steel as mould grows easily on wooden ones – especially in Taiwan's humid climate.
Two of the stills are 9000 and 5000 litres and are used for the wash distillation, while the other two – 5000 and 2000 litres – are used for the spirit distillation. Another factor adapted due to Taiwan's climate is a two stage cooling system: a shell and tube condenser and a post-cooling system and the various distillations of spirit are mixed to obtain an average of 70 per cent abv.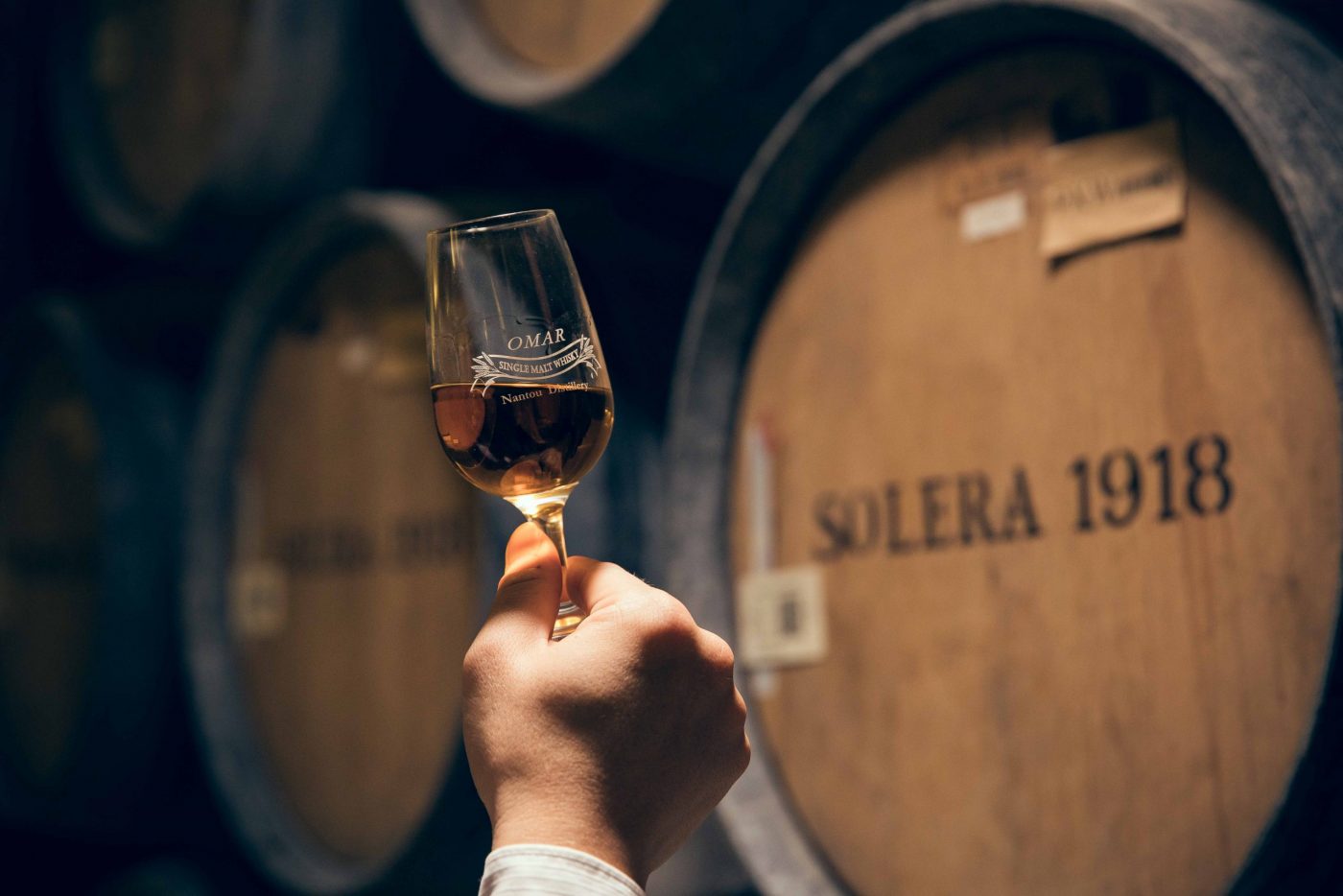 After dilution, the new spirit is aged mainly in Spanish sherry casks and American bourbon barrels. Maturation is accelerated to three times higher than in Scotland because of the climate, and four year old expressions taste more like 10 to 12 year old whiskies and achieve rich flavours and a deep amber colouring. It's this distinct amber colouring that gives Omar its name, as omar means amber in Gaelic. Of course, with maturation three times faster, it means the angel's share is higher, so around six to seven per cent of the liquid is lost per year, compared to the one to two per cent Scotch loses. Omar also uses a non-chill filtered method and no caramel is added during production.
Omar has produced a cask strength single malt whisky, non-chill filtered whisky at 46 per cent abv and fruit liqueur finished whiskies such as lychee liqueur barrel finished and plum liqueur barrel finished whiskies. Omar tends to boast tropical fruit aromas that vary greatly from Scotch, intriguing many whisky experts. In 2017, Omar released a single cask single malt whisky made using Scottish peated malt which gives an aroma of baked sweet potato – a common Taiwanese dish – and on the palate, the smokiness is immediately present, chased by a long, fruity finish. It's this combination of classic Scottish techniques combined with Taiwanese terrior that gives Omar its unique qualities and tasting experiences.