This article is sponsored by Proof & Company and That Boutique-y Whisky Company
Liquid, labels and a love for all things unique: That Boutique-y Whisky Company is a maverick independent whisky bottler.
That Boutique-y Whisky Company (TBWC) is not your average independent whisky bottler – that's probably obvious from the name, for starters. Owned by Atom Brands (the company behind Master of Malt), TBWC is an extension of Master of Malt's success: the founders began travelling around the world selecting single casks, creating their own blends and bottling them.
Priding themselves on liquid quality, not quantity, they're all about the product, touting whiskies from all over the world and over 145 distilleries, including rarely seen bottlings from ones long closed.
1 A devil-may care name for a devilishly different company
When Nick Ravenhall, global head of sales at Atom Brands and Keeper of the Quaich first talks about the name behind TBWC, it's clear the company – though serious about whisky – doesn't take themselves too seriously. And this is something that is a huge part of the ethos behind TWBC and why they're disrupting the independent bottle category. "Boutique-y was a working title that just stuck and never got addressed and changed, and that's at the heart of everything – all we want is to be ourselves.
2 It's not just for Scotch lovers
Nick says though the liquids are top notch, they appeal to all manner of whisky fans. "Hardcore Scotch whisky independent bottler drinkers are always going to look for quality above all else, lamenting that stuff nowadays isn't as good as it used to be. Because we only really have a couple of competitors that can match us for quality, we tick their boxes."
TBWC reaches out to a whisky world that's Scotch dominated, but slowly becoming more receptive to new world liquids. "People want to learn more, so we're bringing bottlings from distilleries that no one's seen in Asia, such as Mackmyra in Sweden. With Mackmyra's single malt, we can talk about how the cold climate means a longer maturation time, and how they use local and European oaks to create different finishes native to the region. When you're explaining this to a whisky geek who's got a strong affinity and appreciation for Scotch, all of those qualities become super exciting for them."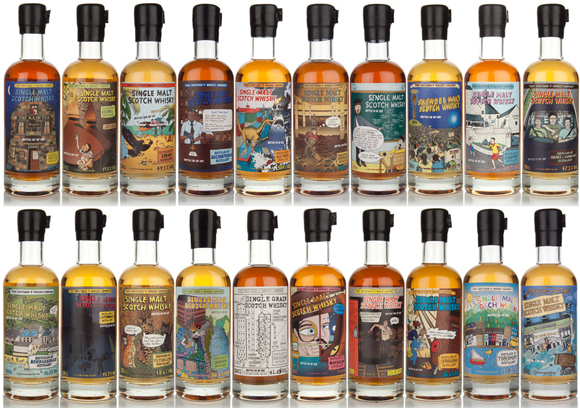 3 Uniting whiskies of the world
TBWC wants to break rules, and Nick says they've been talking at length on how to break the ones that apply to Scotch whisky, "not as an attack on them, but to make people think: 'Shit, what just happened there?'" One way is by creating a world whisky blend: rather than just taking a whisky from each region to meet expectations, they're sourcing interesting packages from around the new world to create a blend that tastes delicious. "It's not a Scotch blend, and it's not a single malt – but, we want people to say 'This is incredible', and make a point that it's a brilliant flavour combination."
4 Their labels are pretty bonkers
TBWC stays true to themselves through their labelling, too. When they started back in 2012, the small company ruffled some feathers because they put quirky, illustrated labels on their whisky. "Some people told us they wouldn't sell us whisky because 'we don't get it'. Sure, the labels are cartoony and fun, but it's all whisky geekery anyways," explains Nick. "The labels are based on ridiculous in-jokes or layers of silly plays on whisky geekdom."
Ben Ellefson, founder of Atom Brands, is the brains behind the madness of the label – one of his briefs for some of TBWC's Glenmorangie bottlings were based on the 16 Glenmorangie founders and swan neck gin stills they have. "He asked our artist to draw 16 giant swan men running around in a field!" says Nick.
Other early bottle labels were inspired by stories of the purchasing team's adventures, like them running through Princes Street in Edinburgh a la Trainspotting. "It's not so much about the liquid, but where they were when they got it," says Nick. "Or, labels could be based on the whisky's backstory, much like Dalmore" – the distiller was shut down and became a sea mine factory during the war, so TBWC's bottling of that particular blend has a giant sea mine on the label. "Some people won't know that, but geeks will know it – and that's important."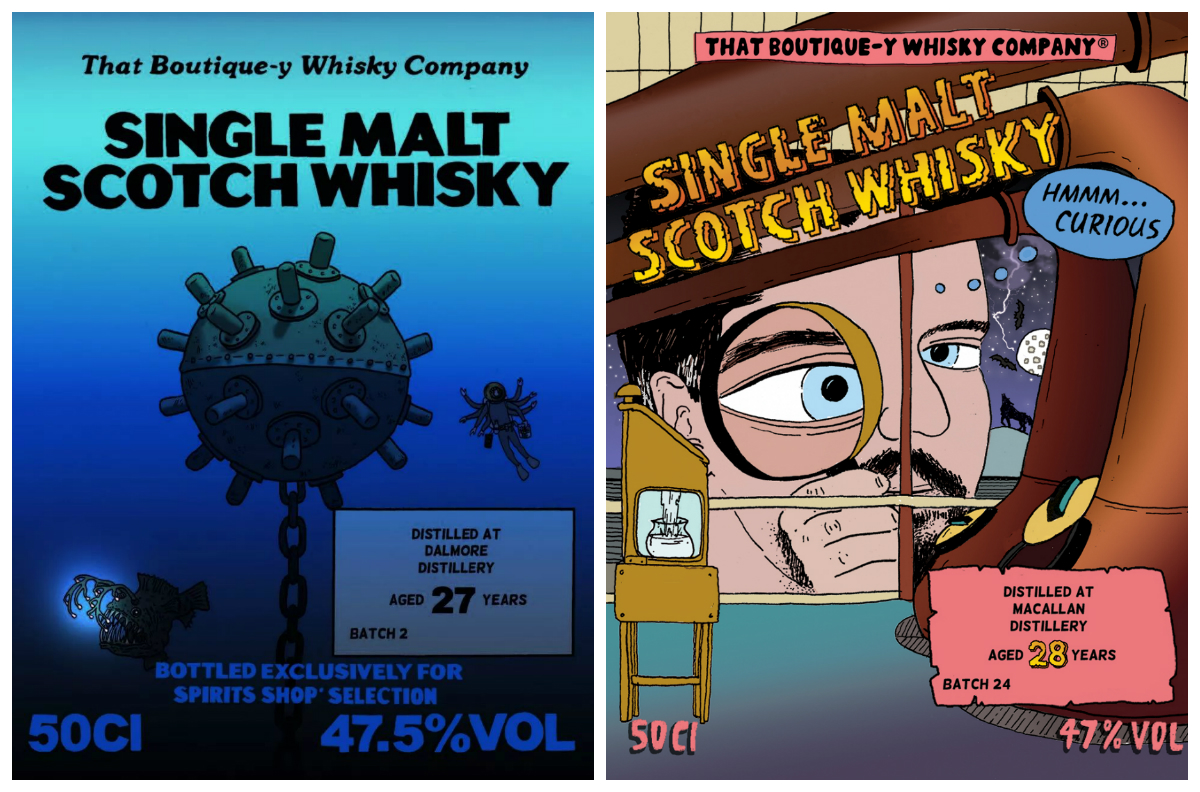 5 Sharing is caring
The brand's dedication to their branding's whisky geekdom, as they say, is fair enough – what's the point in creating another whisky brand just like the competition? "So many whisky brands are about status and showing off – there's great liquid out there that people with lots of money are buying just to put into a glass case and never try it. We get ridiculously good whisky – for example, we've just bottled one of the last casks of Karuizawa and we'll have 28, 29 and 30-year-old Macallan sherry butts coming soon – we could take all that amazing liquid, chuck it in some elite decanter and put it on the market for thousands of dollars… but we don't."
TBWC is pretty clear that they're all about sharing great products and not dressing them up with "unnecessary stuff which makes it inaccessible," says Nick. "Some people are actually more intrigued by what we're doing purely on the label."
6 Providing real whisky knowledge – no brand bullshit
Nick says they've piqued trade interest, and often get approached by what he calls "young bartenders who are thirsty for knowledge, but aren't as secure as the drinkers that sit at their bar." So, when it comes to trade interaction, "We don't lecture, we nurture," he explains –classes teach people how to blend and how the role of flavour works in blends, unravelling the concept behind why distilleries exist. TBWC's portfolio ambassadors aren't tied to a brand, which meanings "there's none of the usual brand bullshit," Nick says. "It's more about how and why each whisky sits in the categories. We can teach the trade how to buy for themselves, as well as how to curate their bars' selection or better sell to their customers."
TBWC also has a scheme they've dubbed the "community cask". When they're in a city, they'll invite anyone to come by – it doesn't matter if you sell loads of the bottles or not, they just want you to turn up, have fun and blend a cask together which can then be bottled to be stocked in your bar. They're hoping to launch that in Asia soon after their whisky tour to 11 Chinese cities, where they'll be hosting whisky dinners with different TBWC bottles to "spread some love and meet people."