Proof & Co's latest Four Seasons bar project in Kuala Lumpur is a celebration of local ingredients. By Holly Graham
Ashish Sharma, head bartender of Bar Trigona at the Four Seasons Kuala Lumpur, is no stranger to stellar hotel bars. He began his career with the hotel group in Mumbai in 2008, before moving to the Maldives and, most importantly, he was the head bartender for the opening team of Manhattan at the Regent Singapore that's twice been crowned Asia's best bar.
Four Seasons collaborated with Proof & Co conceived the idea of Manhattan, followed by Charles H in Seoul. Deciding to fill KL's gap where a great hotel bar should sit, Four Seasons once again collaborated with Proof, with Sharma leading the charge.
"Bar Trigona's concept focuses on local Malaysian ingredients. But we've gone deeper than gula melaka, pandan and the like, travelling Malaysia for ten days to source ingredients with strong stories," says Sharma. On their travels, Sharma and his team found small farms around KL, using the local government office to recommend places too. "We visited honey farms, fig farms, Fraser's Hill jungle, tea plantations around the Cameron Highlands, indigenous Orang Asli people (the oldest inhabitants of Peninsular Malaysia) – you name it."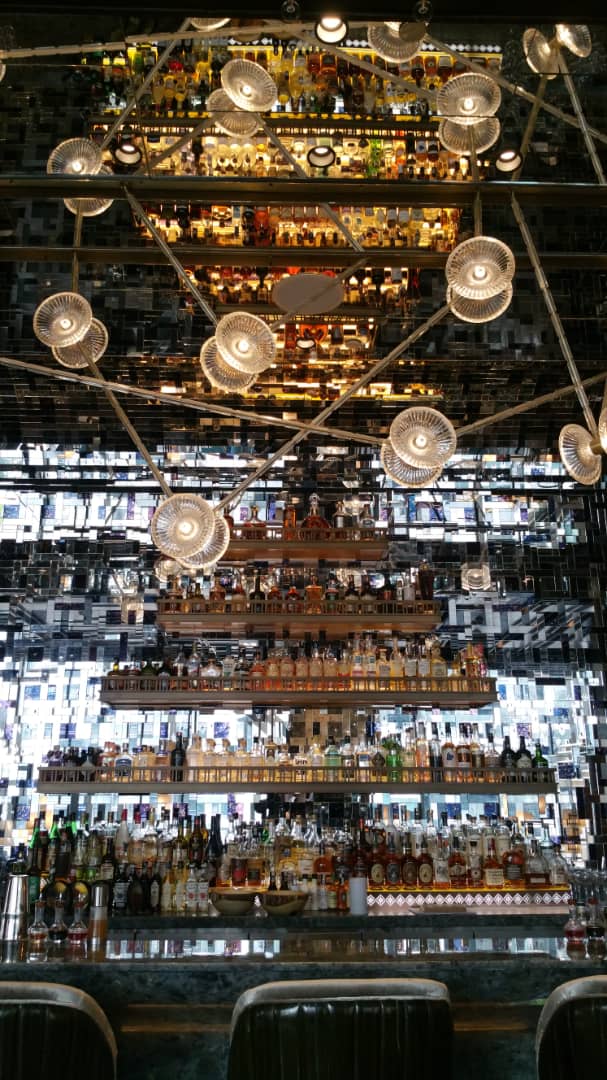 It was during these travels that the team discovered the trigona bees that produce a unique hive and honey at Dino's Trigona Honey Farm in Negeri Sembilan – just a 45 minute drive from KL. "It's run by three young guys in their backyard and we felt that this was something we should work with, as it has a strong story so that's how Bar Trigona was born." The bar itself has a real trigona hive displayed in a halved chunk of tree. "The hives are unique compared to others, and guests can take a look and see how they work and understand how the honey is made."
The menu is divided into four sections – fruit; leaf and flower; stem and seed; and roots, with each section featuring three cocktails and one mocktail. As well as the trigona hive, the bar displays local ingredients in cabinets so guests can see and taste them to aid their choices – with the bar even offering flights of local honey. Cocktails include Pollen – from the fruit section – which features the eponymous trigona honey, applejack, citrus, yoghurt and kaffir lime leaf and Terra from the root section, made with botanical gin, fresh lemon and turmeric, bianco vermouth and dry orange curacao.
Sharma says Malaysia is home to an abundance of excellent produce that a lot of people are not aware of. "We use these ingredients in food and cocktails to educate our guests on Malaysia's local produce. Every drink features a local ingredient, but we don't go crazy with these flavours – we just give a sense of them. For example, local turmeric leaves sent to us every day from a small farm are just used as garnishes. We don't want to go overboard."
Of the menu, Sharma says, "It's a never-ending project, as we'll keep searching for local ingredients and learn how to use them in our cocktails. The future plan is to create a barrel-aged menu of 13 cocktails representing the 13 different states of Malaysia. Of course, people have picked up on the nod to Manhattan's barrel ageing, but it's going to be very different and include local ingredients."
Sharma's backbar also includes bottles from Eiling Lim, a Malaysian bottler who travels the world and buys spirits by cask, then bottles them under her name. "She's got a lot of attention in the market and people order her bottles six months ahead, as stock is limited. We wanted to feature her bottles to further Malaysian heritage as they have a strong story about a Malaysian woman doing something different and doing it very well."
It's so easy to get almost any ingredient these days, but sometimes imported is not best. Local ingredients have a stronger story to tell.
Other future plans for the bar include the Trigona Forage Club, in which Sharma will take groups of bartenders on full day foraging trips to source produce to create food and drinks. "I want people to experience the produce themselves and get out of the bar. Plus, they can also meet local farmers as I want them to get recognition too. Though we live in the 21st century and it's easy to get almost anything, sometimes imported is not best. Local ingredients have a stronger story to tell and makes locals feel proud when they use it or consume it."
And it doesn't stop there. Sharma has reached out to bars known for their foraging and love of local ingredients, such as Native in Singapore, Agimat in Manila, Asia Today in Bangkok and Arack and Spices in Jakarta, to start a series of guest shifts based on foraging that will launch later this year.
Impressive menu concept aside, the bar is as stunning as the local produce and nods towards local elements too. "We have lots of lights to create the feeling of sitting under the stars and we also have lights shaped like a Chinese diablo," says Sharma. Mirror mosaics allow for lots of light reflection, and thanks to the hotel's location next to the Petronas Towers and busy highways, the bar's ambience dramatically changes after sunset. In a similar model to Charles H, Bar Trigona is semi-hidden, without signage and found behind a door accessed through the hotel's tea lounge.
Though new to the city, Sharma says the bar scene is undoubtedly progressing in KL. "It feels like Singapore five years ago. Back then, you could count on your hands the best bars there, now look it at. When we were opening, we felt KL didn't have any hotel bars with a strong concept, as I don't think hotel groups quite understand how much revenue and exposure they can get from a well executed bar."
Seems like Four Seasons isn't the only hotel to get the memo, as hot on its heels is the brand new W hotel in KL that Sharma says is set to have a great bar concept. "I'm sure in a couple of years, hotels will start to be more innovative with their bar programmes in the same way Singapore progressed after Manhattan opened. The market needs time but I think KL will be one of the biggest in the next two to three years."
Trailblazer Bar Trigona may be, Sharma is the first to admit he had difficulties during opening. "I didn't realise getting a steady supply of some ingredients would be so difficult. I had to change a durian flower garnish, as I thought it would be easy to get because I saw lots of them on my travels, but turns out they weren't so easy after all." Sharma is also learning how to preserve ingredients so they can be available for every day operations, saying, "We learn and adapt so much every day, but fortunately I have a really passionate team who love explaining the concept, and it's thanks to them that our customers keep coming back."
Recipe (click to view)
Trigona Old Fashioned by Ashish Sharma
---
Bar Trigona Four Seasons Kuala Lumpur, 145 Jalan Ampang, Kuala Lumpur, 50450, Malaysia. +60 3-2382 8670, fourseasons.com.