Penang isn't letting KL take all the plaudits when it comes to Malaysia's cocktail scene, with newcomers Out of Nowhere and Golden Shower joining the ranks. By Holly Graham. 
Kuala Lumpur has firmly cemented itself on the Asian bar hotlist, but snapping at its heels is Penang. The city – and in particular George Town – is already home to Ben Ng's hugely hospitable beer and cocktail haven Mish Mash, alongside the inspiring interiors (albeit with more casual drinks) found at boutique club Magazine 63 and Chinahouse – the latter a kind of cafe-art-bar-live-house never-ending rabbit hole that should be on everyone's tour of Penang. These are now joined by Out of Nowhere and Golden Shower.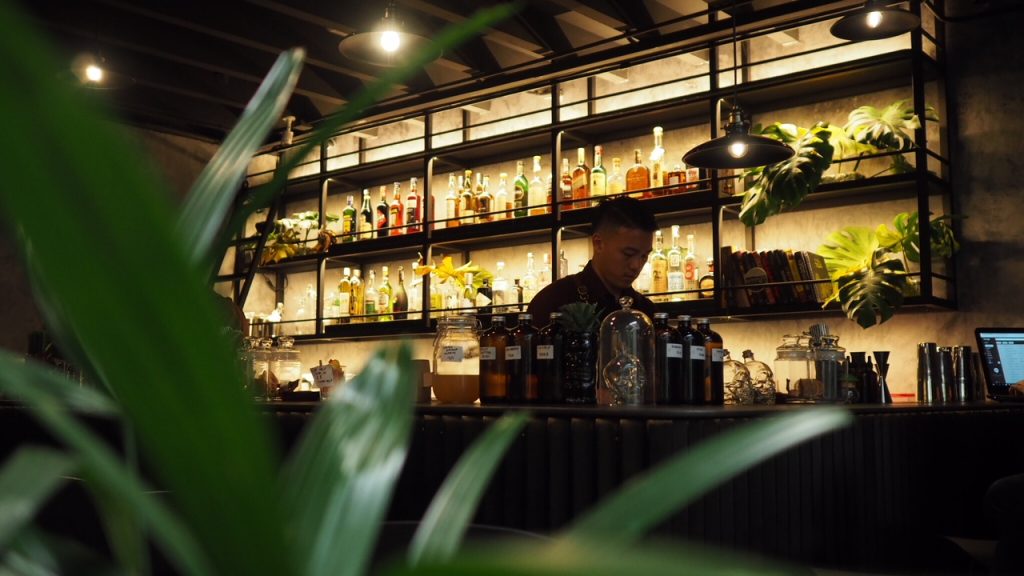 Out of Nowhere
The concept for Out of Nowhere was designed by bartender consultant Joel Poon and helmed by head barman Chris Saw. Poon opened Birch and the short-lived but highly ambitious Case Study in KL while Saw has worked at the likes of Lou Shang Bar, Pahit and Birch. The owners, looking to bring something different to Penang, approached Poon to open a speakeasy, and the bar is hidden behind a cozy coffee shop at the front. Of the bar's decor, Poon says, "We wanted to keep things simple and urban-minimalist, so the focus is more on our drinks and service." Brushed concrete walls and black furniture are punctuated by verdant green plants and a neat bar top, upon which sit bottles of housemade creations such as pandan rum.
Drawing from culture, cuisine, areas and people, blended with the British colonial period, the drinks program is a celebration of the city's unique heritage. "Our ambience is chilled as we're hidden away from the bustle of George Town but our cocktails are based on Penang nostalgia, as the space used to be a hotel called Nostalgia Inn," explains Poon. "We started out with a small menu concept, which is fairly out of the norm in Penang. We'll introduce new things from time to time to keep things fresh and interesting."
A highlight is the Roti Satu, meaning "one bread please" in Malay, a blend of smoked wood chip rum, bread infusion, coconut espresso and jackfruit foam that draws inspiration from the famous 50-year-old Roti Bakar shop down the road. "They have been through ups and downs, and have served people from all walks of life who come together to eat their signature charcoal-fired roti bakar and rich kopi-O," says Poon. Meanwhile the bestselling Netflix & Chill is a clarified milk punch with bamboo gin, Bacardi Carta Blanca, Becherovka, popcorn milk and chamomile tea – and takes three days of macerating, infusing and straining. "Admittedly, it takes some time to make, but the results are well worth the wait. When your hear 'popcorn', the first thing that pops into your mind is watching movies together, while milk reminds everyone of pre-bedtime milk as a kid."
---
Out of Nowhere 75  Jalan Kuala Kangsar, 10100 George Town, Malaysia. +60 16-421 8633, fb.com/outofnowhereeee.
---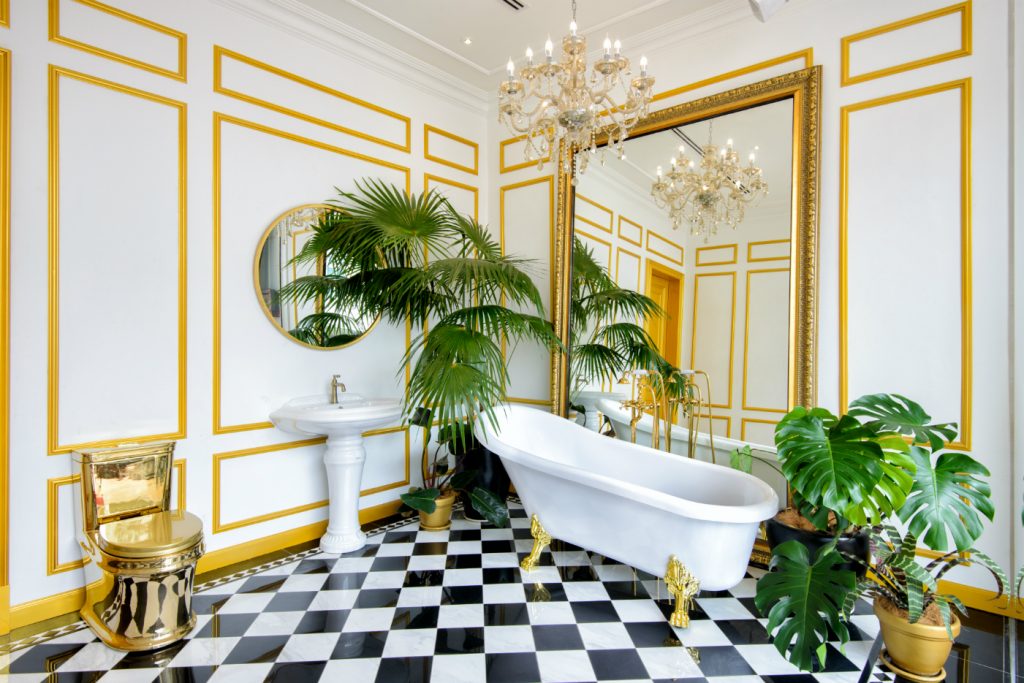 Golden Shower by Chin Chin
Golden Shower is a naughtily named, Insta-bait speakeasy courtesy of chefs Jack Yeap, Weng Chia and Waymann Cheong, partners from the izakaya-style bar and restaurant Chin Chin in George Town. Located in an old shop house on Lebuh Bishop, the pair wanted to give their native Penang a taste of the bar culture they've enjoyed on their many travels. Designed by local interior design firm Nevermore, guests start in a chandelier-lit bathroom – golden toilet and all – then enter through an unmarked doorway into a dark, graffiti-covered back alley before emerging into the millennial pink paradise of the lounge, home to the bar and an open kitchen. The bar has dubbed its aesthetic "ridiculously photogenic and fantastically pink" – an understatement. Pink walls, doors and upholstery are all complemented by gold tables and chair legs. 
Food is pinchos-style small plates, changing based on quality and availability of produce – . the current menu features an eclectic mix uni sashimi, foie gras and Japanese strawberries. The cocktail list, meanwhile, was created in collaboration with Callan Green at Wholly Spirits, featuring classics with a modern twist. The small menu of five cocktails includes the Picante Margarita (Cabeza tequila, lime, agave and Tabasco) and the Apple Avenue (Laird's Applejack, passion fruit, grenadine and orange bitters). Green calls the menu "classically driven", with each drink "designed to showcase the spirit and complement the chef's unique style".
---
Golden Shower by Chin Chin 86 Lebuh Bishop, 10200 Penang, Malaysia. +60 4-263 6868, fb.com/goldenshowerbychinchin.