The veteran of the Malaysian cocktail community is talking about your generation.
I am 33 years old and have worked in hospitality for 16 years, since I was 17. Like a lot of people, I started working in banqueting. It was just for money, but it helped build up my capacity for work. We had 2,000-people events. It helped me understand working long hours. Then I worked in an Irish pub – another rite of passage for bartenders. Banqueting gave me a clear picture of what the industry requires, which a lot of new talent in the industry might not experience. A lot of things are more mechanised now, and people are more selective about jobs. Back then we were paid 3.50RM (SGD1.13) per hour hour. You don't even think twice – "I'll do it." It's just to survive, pay for your college bills; it's not about chasing your dream.
There is an obvious difference between generations. Today, because of technology, the wealth of information has changed the way people enter the industry. Before, we had to work hard and save money to buy books. Now you can just go on the web. It's no longer about having or not having information. It's about filtering information. So young people have choices; it shortens their time to become a bartender. Back then we had to be a bar back for six months and you had to really prove yourself. I wasn't allowed to pour spirits or serve beer for six months. But that was about learning the patience you need later on – to develop your menu, to develop your own business.
I had to bar back and work the floor. I had 20 tables of four to take care of. You become very fast and learn not to waste time – getting it right. Today bartenders might not fancy working the floor. They think, "Oh, I'm a bartender, why should I work the floor." But you know, it humbles you. You clean the table, you talk to people, you have to attend to all their requirements. There's no three feet of bar to put distance between you and them. But once you've done it, it's normal. That builds a lot of understanding. If you have not gone through floor service – have just gone from bartender to bar manager – you will never learn how to run a bar. Business wise if you have 12 seats at the bar and 60 seats in the room, which is more important? The square feet that pay the bills is the floor.
The very first part is to build a relaxed relationship the moment the customer walks in: "Hey guys, take your time," or "We'll be right back to serve you." In Malaysia we have quite impatient consumers – people want it fast and want it their way. But once you have built that relationship, then they are like, "No problem, we know you are busy." But if they don't know you, you don't get that privilege. Even in a fine dining restaurant, consumer requirements nowadays, even for people who spend a lot, is a more natural approach. There's no formality anymore. That can make our job easier: you can be yourself. But that can also be hard when it's your 100th customer and you're tired. That's where self-motivation comes into it. Team motivation is the first part, but after that it's about yourself. You can't have people telling you all the time you're good. You need to motivate yourself to be the best.
"After you have driverless cars, I think you can have bartenders that are AI"
I'm not a fan of speakeasies. If I go out to drink I go to a beer bar, something casual. Most of the time bartenders go out we do that – so why would other people want to go to cocktail bars all the time too? The most important thing is you want people to come back to your bar frequently. Mish Mash is a casual day-to-day place. We love making our cocktails too, but we're happy to pour you wine or beer, and we're not going to look at you differently when you order beer.
We have lots of customers who come to drink Guinness. Malaysia has won the award for best Guinness brewed outside Ireland six years in a row. When we're trying to convince people to take a cocktail in a beer market like Penang, we actually target the Guinness drinkers not lager drinkers, because they're the ones looking for quality – so we encourage them to try something different one night. I don't want to position myself just with cocktails, but with good drinks. Otherwise it's tunnel vision.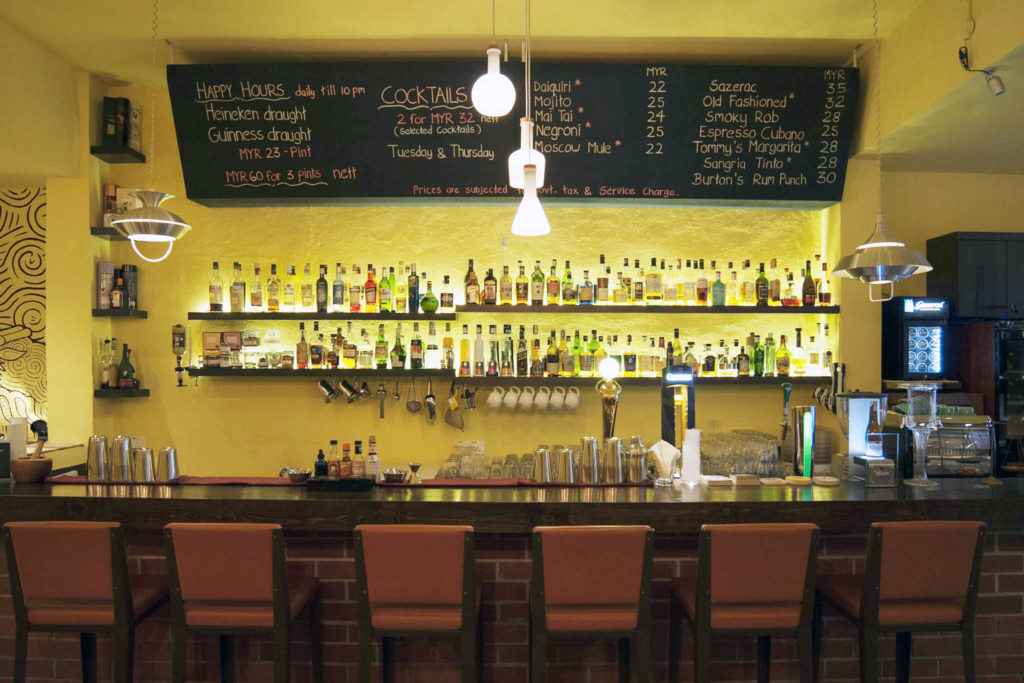 We've done about 13 menu changes in the last three years. When we first opened three years ago, consumers were very used to disco drinks. So when we made classics like a Daiquiri, we made them slightly sweeter. When we made a Negroni, we put more sweet vermouth in there. Anything that was dry or bitter or sour, we kept it in check. Bartenders might say that was wrong, but at the end of the day business proves itself with numbers. But the recipes have evolved. So, for example, over those three years, the amount of sugar in our cocktails has reduced by 30 per cent. In the Daiquiri, we've seen that people now enjoy that dryness from the rum. So we've adjusted it slowly – that was part of the plan.
After the Irish bar I went to the Eastern Oriental hotel, where I first learned about classics. We made a lot of Planters Punch, Martinis. Lots of stiff drinks. You had a lot of old British guys coming in to drink Pink Gins, returning customers every year who either used to be naval officers stationed here or work for trading companies. They would teach you how to make them – the rinsing of the bitters in a glass. We sold a ton, even though Pink Gins were rare in other bars. I didn't appreciate it back then – young bartenders were into flare – but these guys actually lived that era. They weren't rediscovering classic cocktails.
"Back then we had to be a bar back for six months and you had to really prove yourself. I wasn't allowed to pour spirits or serve beer for six months."
I went to the UK, and worked in a pub in Walsall in the West Midlands, where I was finishing my studies. I must have been the only Asian person in that pub. Then I went to London and worked in a bar in Ealing. Then I came back to KL to work with Monin and do some consulting. Then I thought I would come back to Penang to open Mish Mash.
I am not the tallest person, but when I build a bar I build it higher, because the bar's not for me. Same for the business: it has to be skewed towards the consumers. You have to find that fine balance between your concept and your drinkers. So when I opened my own bar, I wanted to understand the mass market. The most important part is not to have too much self-love. People don't come to pray to you. They don't want to listen to your story for five minutes. You should be listening to their story.
It's not just bartenders, it's the generations – Gen Y and Gen Z. They've had better social development. Better family units. Better lives. In the previous generation, you got love but it was tough love – your parents sent you out to work. Today you get parents who say, "If you don't get 3000RM per month, stay at home." There is no need to chase it. So the kind of attention you get is different. When you interview young people, they come in and tell you what they want to earn, not what they can do for the company. "How many hours per day? How many days holiday do I get."
We already see a trend: customers are drinking less. So as much as the industry is moving forward – another golden age for cocktails – it's growing in social media hype only. People are drinking less hard spirits. Or, people are buying more spirits for home consumption, because now people have fancy houses and before they didn't. And this is affecting the bar. So, if the whole service industry has that self- important attitude, then it's not going to work.
I think our industry is shrinking – it's a sunset industry. Real estate rental is increasing, but spending is not. So we'll have to cut down on the skilled workforce. Bartenders will be replaced by robots, or there will be automated dispensing machines in bars. If you put that idea in front of bar owners, 80 per cent would take it. Already some customers think, "I don't mind about not having good service. I just want a nice place to sit and get my drink quickly." After you have driverless cars, I think you can have bartenders that are AI.
---
Mish Mash 24 Jalan Muntri, George Town, Penang, Malaysia. +60 17 536 5128, fb.com/mishmashpg.
This story was first published in Issue 06 of DRiNK Magazine.